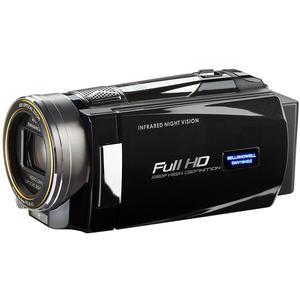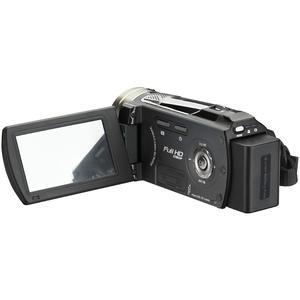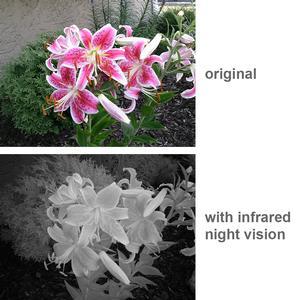 ITEM INCLUDES

Bell & Howell DNV16HDZ 1080p HD Video Camera Camcorder with Infrared Night Vision (Black) with:

Storage Pouch
Li-ion Rechargeable Battery
USB Cable
Power Adapter
A/V Cable
HDMI Output Cable
Software CD-ROM
Instruction Manual

Bell & Howell DNV16HDZ HD 1080p Camcorder w/ Infrared Night Vision

Touch digital video camcorder with infrared night vision.

The Bell & Howell DNV16HDZ is an affordable high definition camcorder that records up to 20 hours of video to removable SD/SDHC memory cards (20 hours per 32GB card). The DNV16HDZ HD features a 16.0 MP resolution built-in digital camera, 10x optical zoom, slow motion playback, and much more to help you capture your memories in sharp detail. Other useful features like the 3.0" Touch Widescreen LCD display with 270° swivel and the built-in video light/camera flash further aid in getting just the right shot.

In addition, the DNV16HDZ HD also gives you the ability to capture vivid HD video in 16:9 widescreen format (1920 x 1080p) with a frame rate of 30fps and H.264 compression. Take quality photos or video in the dark with night scene mode and or with infrared night vision; even the darkest images will stand out in stark contrast.

Key Features:

Built-in 16.0 Megapixel Digital Camera
Impressive 4000x3000 resolution of 16.0 Megapixels for sharp, crisp still images. The high quality image sensor that ensures sharp, vivid HD video also gives you brilliant digital photographs.

3.0" Full-Touch Large Swivel 16:9 Wide LCD Screen
High resolution LCD display that rotates up to 270 degrees for multiple viewing angles. The touch panel LCD screen enables intuitive interaction with the camcorder, putting the power to capture and create exquisite images at your fingertips. The widescreen format makes shooting in 16:9 mode and composing shots even easier.

Innovative Touch Screen Controls
The 3.0-inch wide color LCD display also functions as a touch screen control for all settings of the camcorder as well as instant on-screen AE selection, rotate and playback controls. For example, slide right or left to browse file, circle to rotate.

10X Optical Zoom
Offers you more flexibility to get just the shot you need by giving you the choice of 10x optical zoom under 1080p video resolution. You will always be able to get the shot you need, no matter how close or far away and always with the quality you expect.

Ultra-Sleek, Compact and Lightweight Design
Making the technology and features of the DNV16HDZ HD even more impressive are its compact size and lightweight design. Measuring only 2.1" wide, 2.3" high and 5.4" deep, and weighing in at only 13.1 ounces without a battery pack, it combines considerable video storage capacity and advanced features in a small, convenient-to-carry body. You will find more places than ever to use your DNV16HDZ HD because it's so easy to have with you more of the time.

1080p HD Video & You Tube Direct Up-Load
Easily capture 1080p HD video up to 30 fps with 16:9 aspect ratio. Upload your videos to YouTube quickly and easily using the USB drive.

1920 x 1080 Full HD Recording
Your videos have never looked better. The DNV16HDZHD delivers 1920 x 1080 Full HD, from capture to recording to playback. Your memories are preserved in stunning clarity, and ready for playback on your HDTV.

H.264/AVC Advanced Video Codec
Longer Recording of Higher-Quality Videos! Files recorded in MPEG-4 H.264 are about half the size of DVD files (MPEG-2), but with better picture quality. Vivid and sharp, they're ideal for playback on big-screen TVs.

Motion Detection
If this function is turned on, the camcorder will start to record video automatically if it detects a movement. Stops recording if it does not detect movement.

SD/SDHC & microSD Card Slot
The advantages of flash memory go beyond the added recording time. You'll also appreciate the quick response time, because it doesn't have to wait for moving parts. Press the record button and your DNV16HDZ HD starts recording video faster than you've ever seen before. In addition, when you review your footage, it will come up more quickly.

Intelligent Backlight Compensation
Recording in backlighting situations will make video and picture dark. With backlight compensation function, it will lighten the video and picture, helping to prevent a washed-out look in bright parts of an image and black-outs in parts with shadows.

Night Scene Mode
The Night Scene Mode setting in the Program AE of the DNV16HDZ HD reduces video "noise" and helps to prevent overexposure of artificial lighting from buildings and street lamps while shooting video outdoors in the dark.

Infrared Night Vision
Night Vision keeps capturing the action long after the sun has gone down. With Infrared night vision, even the darkest images will stand out in stark contrast. Get great-looking, professional pictures, day or night!
25 accessories found for Bell & Howell DNV16HDZ 1080p HD Video Camera Camcorder with Infrared Night Vision (Black)
Bell & Howell DNV16HDZ HD 1080p Camcorder
– TECHNICAL SPECIFICATIONS –
---
Imaging Sensor:
1/2.5-inch 5.0 Megapixel CMOS Sensor, 16.0 megapixels enhanced
Media Type:
SD/SDHC
microSD
Video Format:
Format: H.264 (MOV)
Resolution: QVGA (30fps), WVGA (30fps), HD 1080p (30fps)
With EIS: WVGA (30fps), HD 1080p (30fps)
Video Resolution:
High Definition 1920 x 1080
Still Image:
4000 x 3000
Still Image Resolution:
16.0 Megapixel (Firmware Interpolated)
Lens Type:
F/4.6, f=46mm
Zoom:
10x optical zoom
Display:
3.0" True Color Touch LCD Display, Swivel Screen (270 degree rotation)
White Balance:
Auto / Sunny / Cloudy / Tungsten / Fluorescent
Color Effects:
Color / B&W / Sepia
Infrared Light:
On / Off, Effective Range: 0.5m ~ 1m (Video)

Built-in Flash:

Auto / Off, Effective Range: 1m ~ 1.5m (Camera)
Self-Timer:
5 sec. / 10 sec.
Interface:
NTSC / PAL Component Video Output and Composite Video Output
Mini USB 2.0 (High Speed)
HDMI-to-Mini HDMI
Languages:
English, Traditional Chinese, Simplified Chinese, German, Italian, Spanish, French, Turkish, Portuguese, Deutsche, Japanese, Russian, Korean and Arabic
Power Source:
Li-ion battery pack
Storage:
SD/SDHC & microSD memory card (up to 32GB, Class 10)
Dimensions (WxHxD):
2.1 x 2.3 x 5.4 in ( 53 x 58 x 137mm)
Weight:
13.1 oz. (371g) without battery and memory card