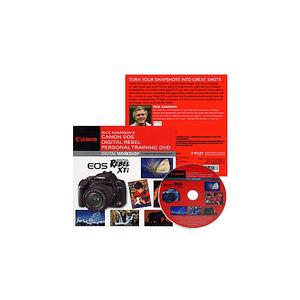 ITEM INCLUDES

Canon DVD: Rick Sammon's Canon EOS Digital Rebel XTi Personal Training with:

Watch and learn as Rick Sammon, popular photo expert and Canon Explorer of Light, takes you on a ninety minute safari through the art, craft, and fun of digital photography -- no matter what digital SLR you own. You'll discover picture-taking techniques that turn snapshots into great shots -- while you become familiar with the controls of the Rebel XTi. Learn how to great shots using metering modes, white balance, fill flash, and more. It's like a one-on-one workshop with the master.

Rick Sammon
A Canon Explorer of Light, leads more photography workshops (national and international), gives more seminars, and has written more books (27 to date) and articles (1,000+ to date) to date than any other photographer. His love of photography and teaching is evident in all his work...although Rick considers it "good fun."


Topics Include:

Metering and Bracketing
White Balance / Color Temperature
ISO / Flash Overview
Time Value
Aperture Priority / Depth of Field
Depth of Field Preview
AF Modes / Focus Points
Exposure Compensation
Custom Functions
Programmable Buttons
Composition
...and much more.
6 accessories found for Canon DVD: Rick Sammon's Canon EOS Digital Rebel XTi Personal Training


CANON
Mfr#:
1950B001

PRECISION DESIGN
Mfr#:
PD1000

PRECISION DESIGN
Mfr#:
RS-0445

PRECISION DESIGN
Mfr#:
PD-58PVTR

TAMRON
Mfr#:
AF017C-700