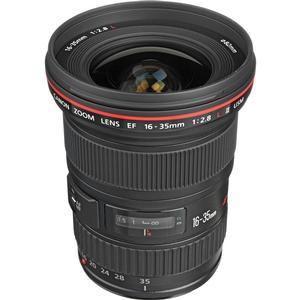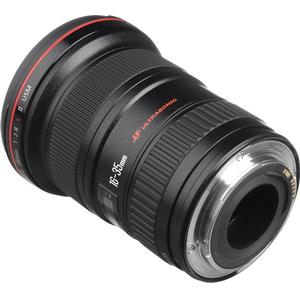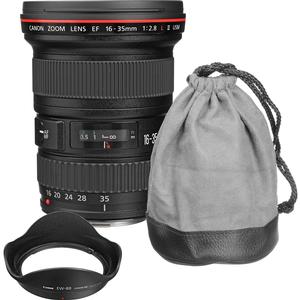 Canon EF 16-35mm f/2.8 L II USM Zoom Lens

ITEM INCLUDES

Canon EF 16-35mm f/2.8 L II USM Zoom Lens with:

Lens Hood
Soft Lens Case
Front & Rear Lens Caps
Instruction Booklet

$100 Mail-in Rebate Available when you purchase two or more eligible Canon EF lenses
(ends 4/1/2017) - Click for Details

Canon EF 16-35mm f/2.8 L II USM Zoom Lens

High-performance, ultra-wide zoom lens.

The EF 16-35mm f/2.8L II USM is a high performance, water-resistant, and ultra wide-angle Canon L-series lens. It has been specifically designed for improved edge-to-edge image quality that will meet the strict requirements of professional and high-end amateur photographers. It features 3 high-precision aspherical lens elements, each of a different type: ground, replica and GMo for even better image quality than the original EF 16-35mm f/2.8L USM. The circular aperture produces a beautiful and natural background blur when shooting at wider apertures. Other features include internal focusing, a ring type USM (Ultra Sonic Monitor), and new AF algorithms for fast and quiet autofocusing.

Key Features:

Ultrasonic Motor (USM)
Instead of large noisy drive trains powered by conventional motors, Canon USM lenses employ the minute electronic vibrations created by piezoelectric ceramic elements. The focusing action of the lens is fast and quiet, with virtually instantaneous stops and starts. USM lenses also draw minimal power from the camera, ensuring longer battery life.

Asphericalelements
Wide-angle lenses and fast normal-focal-length lenses often suffer from spherical aberration. When the light rays coming through the center of the lens do not converge at the same point as light rays coming through the lens edge, the image appears blurred because there is no sharp point of focus. Canon's Aspherical elements use a varying curved surface to ensure that the entire image plane appears focused. Aspherical optics also help to correct curvilinear distortion as one might find in ultra wide-angle lenses. Finally, Canon can design aspherical elements with extremely precise variable curvature of one or both sides, making possible lighter and more compact lenses.

Dust and Water-Resistant Construction
L-series EF lenses are highly dust- and water-resistant thanks to rubber seals at the switch panels, exterior seams, drop-in filter compartments and lens mounts. Moving parts, such as the focusing ring and switches, are also designed to keep out environmental contaminants, providing reliable performance under harsh conditions.

Circular Aperture
Canon lenses featuring circular aperture diaphragms employ curved blades to create a smoothly rounded opening as the lens is stopped down. As a result, out-of-focus background highlights are rendered as natural-looking rounded shapes rather than as distracting polygons. These lenses deliver smooth, consistent stop-down action (even at 10 fps), near-silent operation and excellent optical characteristics.

Inner Focusing
An inner focusing lens has the focusing lens group(s) in front of the diaphragm, allowing for compact optical systems that produce faster AF. And because the front of the lens does not rotate to focus, filter orientation remains constant.
29 accessories found for Canon EF 16-35mm f/2.8 L II USM Zoom Lens
Canon EF 16-35mm f/2.8L II USM Lens
– TECHNICAL SPECIFICATIONS –
---
| | |
| --- | --- |
| Lens Mount: | Canon EF |
| Focal Length: | 16-35mm |
| Aperture: | f/2.8 (fixed) |
| Diagonal Angle of View: | 108°10' - 63° |
| Minimum Focus Distance: | 0.92 ft. (0.28m) |
| Lens Construction: | 16 elements / 12 groups |
| Focus Type: | Auto with full-time manual |
| Image Stabilization: | None |
| Filter Size: | 82mm, P=0.75mm/1 filter |
| Dimensions (Diam. x Length): | 3.5 x 4.4 in. (88.5 x 111.6mm) |
| Weight: | 22.6 oz. (640g) |
Compatible with the following Canon digital SLR cameras, including:
Rebel SL1
Rebel T3
Rebel T3i
Rebel T4i
Rebel T5
Rebel T5i
Rebel T6
Rebel T6i
Rebel T6s
EOS 60D
EOS 70D
EOS 80D
EOS 6D
EOS 7D
EOS 7D Mark II
EOS 5D Mark II III IV
EOS 5DS
EOS 5DS R
EOS 1Ds Mark II III
EOS 1D X
EOS 1D X Mark II