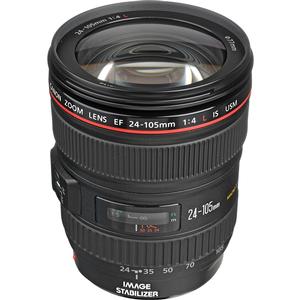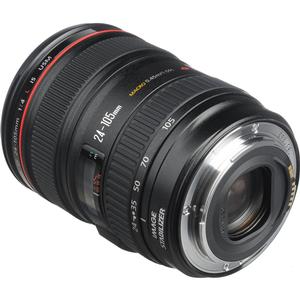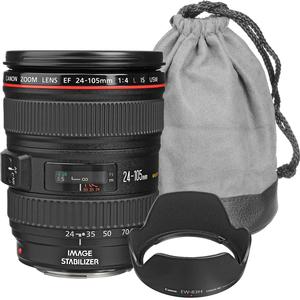 ITEM INCLUDES

Canon EF 24-105mm f/4 L IS USM Zoom Lens with:

Lens Hood
Drawstring Pouch
Front & Rear Lens Caps
Instruction Booklet

$100 Mail-in Rebate Available when you purchase two or more eligible Canon EF lenses
(ends 2/4/2017) - Click for Details

Canon EF 24-105mm f/4 L IS USM Zoom Lens

A high-performance zoom lens with Image Stabilizer that
covers focal lengths from wide angle to mid-telephoto.

This easy-to-use standard zoom lens can cover a large zoom area ranging from 24mm wide-angle to 105mm portrait-length telephoto, and its Image Stabilizer Technology steadies camera shake up to three stops. Constructed with one Super-UD glass element and three aspherical lenses, this lens minimizes chromatic aberration and distortion. The result is excellent picture quality, even at wide apertures. Canon's ring-type USM gives silent but quick AF, along with full-time manual focus. Moreover, with dust- and moisture-resistant construction, this is a durable yet sophisticated lens that meets the demands of advanced amateur photographers and professional photographers alike.

Key Features:

Superb Auto-Focus
The ring-type USM motor found in the EF 24-105mm f/4L IS USM employs ultra-sonic frequency vibrations to drive auto focus with unrivalled speed and near-silent operation. A powerful CPU and improved AF algorithm contribute to speed performance. Good holding torque stops the lens with precision and accuracy, the instant it arrives at the correct focus point and without overshoot. Photographers can choose manual focus instantly and at any time simply by moving the manual focus ring without first having to switch out of auto focus mode.

Constant f/4 Aperture from 24 to 105mm
The EF 24-105mm f/4L IS USM offers the highest possible optical quality with no change in aperture over the full focal range of the lens. This allows photographers to set exposure at the widest aperture and zoom all the way through to 105mm without having to vary the shutter speed. It is the perfect lens for professional photographers looking for a lightweight and extended zoom alternative to its EF 24-70mm f/2.8L USM counterpart. The lens employs an almost perfectly circular barrel aperture, helping create attractive, defocused backgrounds.

Image Quality
To limit lens size and improve image clarity over the total image area, an Ultra-Low Dispersion glass (UD) element is used to eliminate the secondary chromatic aberrations that otherwise reduce sharpness and introduce color fringing. Aspherical lens elements correct spherical aberration for crisp, high contrast corner-to-corner quality. By optimizing Super Spectra lens coatings and lens element shaping, Canon's engineers have been effective in suppressing flare and ghosting – more prone to occur with digital cameras due to reflection off the image sensor. By increasing light absorption, coatings reduce reflections off lens element surfaces to deliver crisp, undistorted images with natural color balance.

EOS System Integration
The EF 24-105mm f/4L IS USM includes distance metering information, providing compatibility with the E-TTL II flash system of late model EOS cameras. When used in conjunction with Canon's range of EX Speedlite flash units, the lens passes distance information to the flash algorithm for markedly improved flash exposure metering. To match the weather resistance afforded by EOS-1 professional camera bodies, an O-ring seals the lens against the lens mount and numerous seals around the lens' moving components provide protection against the ingress of dust and moisture.
29 accessories found for Canon EF 24-105mm f/4 L IS USM Zoom Lens
Canon EF 24-105mm f/4 L IS USM Zoom Lens
– TECHNICAL SPECIFICATIONS –
---
Lens Mount:
Canon EOS
Focal Length:
24-105mm
Maximum Aperture:
f/4
Minimum Aperture:
f/22
Maximum Magnification:
0.23x (at 105 mm)
Minimum Focus Distance:
1.48 ft. / 0.45m
Lens Construction:
18 elements in 13 groups
Diaphragm Blades:
8
Focus Type:
Auto / Manual (Inner focusing system)
Image Stabilization:
Yes
Filter Size:
77mm
Dimensions (Diam. x Length):
3.3 x 4.2 in. (83.5 x 107mm)
Weight:
23.6 oz. (670g)
Other:
• Ring USM
• 5-group helical zoom system
Compatible with the following Canon digital SLR cameras, including:
Rebel SL1
Rebel T3
Rebel T3i
Rebel T4i
Rebel T5
Rebel T5i
Rebel T6
Rebel T6i
Rebel T6s
EOS 60D
EOS 70D
EOS 80D
EOS 6D
EOS 7D
EOS 7D Mark II
EOS 5D Mark II III IV
EOS 5DS
EOS 5DS R
EOS 1Ds Mark II III
EOS 1D X
EOS 1D X Mark II