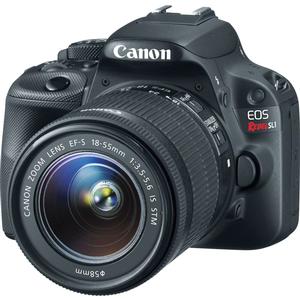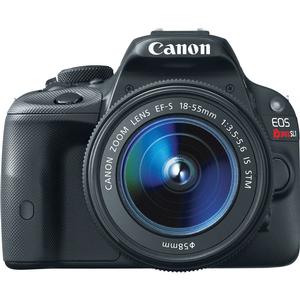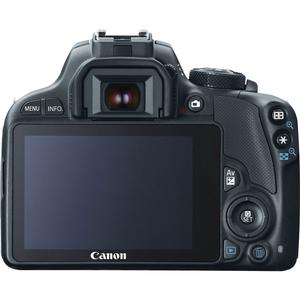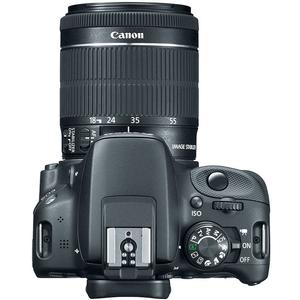 Canon EOS Rebel SL1 Digital SLR Camera & EF-S 18-55mm IS STM Lens (Black)

ITEM INCLUDES

Canon EOS Rebel SL1 Digital SLR Camera & EF-S 18-55mm IS STM Lens (Black) with:

LP-E12 Li-ion Battery Pack
LC-E12 Battery Charger
USB Cable
Wide Strap
Front & Rear Lens Caps
Eyecup
Software CD-ROM
Instruction Manual

Canon EOS Rebel SL1 Digital SLR Camera & EF-S 18-55mm IS STM Lens

Ignite your imagination.

The Canon EOS Rebel SL1 is small in size but enormous in performance. With a newly-designed 18.0 Megapixel CMOS (APS-C) sensor and speedy DIGIC 5 Image Processor, it delivers images of extraordinary quality -- ideal for those stepping up from a smartphone or compact camera. An impressive ISO range of 100-12800 (expandable to H: 25600) for stills and 100-6400 (expandable to H: 12800) for video plus up to 4.0 fps continuous shooting make this camera the go-to for any photo opportunity, even in dim lighting or when capturing fast action subjects.

Hybrid CMOS AF II delivers accurate AF tracking during Live View shooting, helping ensure your photos and movies are crisp and clear. The EOS Rebel SL1 makes amazing movies with Full HD Movie Mode with Movie Servo AF, working in concert with Canon STM lenses for smooth and quiet, continuous AF. In addition to its Optical Viewfinder, the EOS Rebel SL1 has a bright, wide Touch Screen 3.0" Clear View LCD monitor II, perfect for viewing a number of special scene modes and Creative Filters available in real-time display.

Included is the Canon EF-S 18-55mm f/3.5-5.6 IS STM lens which features one high-precision aspheric lens to reduce chromatic aberration and a 7-blade circular aperture to ensure beautiful, soft backgrounds. The Optical Image Stabilizer system offers the equivalent of four stops of compensation. This lens perfectly complements the Movie Servo AF feature found on select EOS Cameras with a compact six-group zoom system and a new stepping motor and focus mechanism to deliver smooth and quiet continuous AF during movie shooting.

Key Features:

Astonishingly compact
For ultra portability with a minimal footprint, the EOS Rebel SL1 is the world's smallest and lightest digital SLR camera (*Among digital SLR cameras which use APS-C size equivalent sensors. As of March 1, 2013, based on Canon's research). Weighing in at approximately 13 ounces, the EOS Rebel SL1's astonishingly compact size does not compromise its excellent performance as a member of the Canon EOS family: it features an 18.0 Megapixel CMOS (APS-C) sensor, the speedy DIGIC 5 Image Processor, a wide ISO range for both stills and video, and advanced AF performance. Designed for entry-level DSLR users, the EOS Rebel SL1 ensures performance and operation while still remaining compact.

ISO 100-12800 (expandable to H: 25600) for stills; ISO 100-6400 (expandable to H: 12800) for videos
Thanks to its DIGIC 5 Image Processor, the EOS Rebel SL1 features an ISO range of ISO 100-12800 (expandable to H: 25600) for stills and ISO 100-6400 (expandable to H: 12800) for videos that makes shooting possible in situations previously unthinkable without flash. The EOS Rebel SL1, with the DIGIC 5 Image Processor's remarkable noise-reduction technology, performs brilliantly in low-light shooting. Used with one of Canon's EF or EF-S lenses with Optical Image Stabilizer, the EOS Rebel SL1 can record beautiful images and video even when light sources are scarce.

18.0 Megapixel CMOS (APS-C) sensor
The EOS Rebel SL1 features a newly-developed Canon 18.0 Megapixel CMOS (Complementary Metal Oxide Semiconductor) sensor. Perfect for enlargements or for cropping detailed portions of the composition, the camera's sensor captures images with exceptional clarity and tonal range. This first-class sensor features many of the same technologies used by professional Canon cameras to maximize each pixel's light-gathering efficiency and has center pixels that aid in the EOS Rebel SL1's accurate AF performance. This APS-C size sensor creates an effective 1.6x field of view (compared to 35mm format).

DIGIC 5 Image Processor
The EOS Rebel SL1's DIGIC 5 Image Processor works with the camera's CMOS sensor to deliver images with incredible detail in more situations, without the need for artificial light sources. With the power of the DIGIC 5 Image Processor, the EOS Rebel SL1 can achieve higher ISO sensitivity, can shoot up to 4.0 fps continuously and can even perform advanced functions like displaying art filters in real time, new scene modes, lens correction and much more. The camera's brilliant imaging core supercharges every facet of still and moving image capture.

High-speed continuous shooting
The EOS Rebel SL1 can shoot up to 4.0 frames per second (fps) for up to approximately 7 consecutive RAW files or approximately 28 full-resolution JPEGs. Shooting at speeds of up to 1/4000 sec., the EOS Rebel SL1 can capture even rapidly unfolding scenes with ease.

EOS Full HD Movie Mode with Movie Servo AF
The EOS Rebel SL1 offers easy-to-use, professional video capture without compromise. Capable of shooting in a number of recording sizes and frame rates, the EOS Rebel SL1 offers outstanding video capturing performance, quality and simplicity. The EOS Rebel SL1 enables easy manual control of exposure, focus and Live View features, even in-camera editing! Movie Servo AF allows continuous autofocus tracking of moving subjects while recording video. When shooting video with one of Canon's STM lenses, Movie Servo AF takes advantage of the lens' stepping motor for smooth and quiet continuous AF. With an STM lens attached, the EOS Rebel SL1 meets high standards for SLR moviemaking performance!

Built-in monaural microphone, manual audio level adjustment
The EOS Rebel SL1 has an internal monaural microphone for audio capture and a wind filter feature to reduce wind noise when shooting outdoors. Sound recording levels can be manually (up to 64 different levels) or automatically controlled. A built-in attenuator is also provided to reduce audio clipping. For more advanced audio recording, the EOS Rebel SL1 is compatible with many third-party electret condenser microphones with a 3.5mm diameter plug.

Video Snapshot
With the Video Snapshot feature, the EOS Rebel SL1 can capture short video clips (of 2, 4 or 8 seconds) then combine them automatically into one video file as a snapshot or highlights "album". With no editing needed after shooting, the compiled video is perfect for sharing online or displaying directly on an HDTV via the camera's HDMI port. Additionally, stills can be recorded during video shooting simply by pressing the camera's shutter button. During playback, video clips in an album can be reordered or deleted.

Wide 3.0" Clear View Touch LCD II with multi-touch operation and Touch AF
Using capacitive touch screen technology similar to today's popular mobile devices, the EOS Rebel SL1's gorgeous LCD monitor is touch-sensitive, delivering intuitive operation with ease. Two-finger touch gestures can be used for zooming or changing images. Menu and quick control settings can be accessed, and focus point and shutter release can be activated with the touch of a fingertip using Touch AF. Displaying fine detail (at approximately 1.04 million dots), the camera's Touch Screen Wide 3.0-inch Clear View LCD monitor II is perfect for composing and reviewing images. Thanks to a new, solid construction between the monitor's resin-coated cover and the liquid crystal display, reflections are minimized, and the display can be viewed, without glare, from any number of angles. The LCD's surface is treated with a smudge-resistant coating to minimize fingerprints and to maintain a bright, clear image display.

Optical Viewfinder with approx. 0.87x magnification
In addition to its amazing multi-touch screen, the EOS Rebel SL1 also sports an Optical Viewfinder, ideal for composing shots when shooting in bright conditions or capturing the moment as it unfolds. Shooting with the Optical Viewfinder also ensures steadier images. The viewfinder displays exposure, AF, flash, plus other relevant image information right along with the image. The 0.87x magnification factor ensures that subjects are easier to find and track.

Scene Intelligent Auto mode
The EOS Rebel SL1 features Scene Intelligent Auto mode, which incorporates a number of Canon technologies to deliver the best possible exposure. Joining Picture Style Auto, Automatic Lighting Optimizer, Automatic White Balance, Autofocus, and Automatic Exposure, Scene Intelligent Auto mode analyzes the image, accounting for faces, colors, brightness, moving objects, contrast, even whether the camera is handheld or on a tripod, and then chooses the exposure and enhancements that bring out the best in any scene or situation. Users without extensive photography knowledge or experience will not need to puzzle over settings; the Scene Intelligent Auto mode simplifies DSLR image capture so photographers can simply concentrate on composing images.

9-point AF system (including a high-precision dual-cross f/2.8 center point)
When shooting through the viewfinder, the EOS Rebel SL1 has exceptional autofocus with a sophisticated 9-point AF system, including a high-precision dual-cross f/2.8 center point, for accurate focus whether the camera is oriented in portrait or landscape position. A proven AI Servo AF system achieves and maintains consistent focus with an exceptional degree of reliability.

Hybrid CMOS AF II
Canon's amazing Hybrid CMOS AF System is perfect for shooting photos and video in Live View. Combining two different kinds of AF -- phase and contrast detection -- and aided by pixels on the camera's CMOS sensor that assist in predicting subject location, continuous focus tracking becomes faster and more accurate than ever before in Live View. And with the EOS Rebel SL1 you'll get Hybrid CMOS AF II, which provides the same fantastic performance as the original but boasts an increased AF area that covers approximately 80% of the sensor for easier composition. This performance is enhanced further by Canon's line of STM lenses, which provide smooth and quiet operation.

Advanced Creative Filters that can be displayed in real time during Live View shooting
Adding to the fun and creative possibilities available with the EOS Rebel SL1, the camera offers seven different creative filters for still images: Art Bold Effect, Water Painting Effect, Miniature Effect, Fisheye Effect, Grainy B/W, Soft Focus and Toy Camera Effect. Each effect can be applied in three different levels (low, standard and strong), and easily previewed on the LCD panel during Live View shooting. The EOS Rebel SL1 also features the new Miniature Effect for Movies. You will be amazed and delighted by the artistry that these creative filters will allow you to create.

Effect Shot mode and Background Simulation
Among the dynamic new features designed to make creative photography both intuitive and fun, the EOS Rebel SL1 has Background Simulation, which makes it easy for beginners to achieve dramatic blurred or sharpened backgrounds. The result is previewed on the LCD screen, so users can see in advance how their final image will look. Plus, a new Effect Shot feature automatically captures two shots simultaneously: one without effect, and one with a preselected Picture Style or Creative Filter effect. This makes it easy to see how each effect changes the photo without compromising the original image. Effect Shot mode is available in both Live View and viewfinder-based shooting, and can easily be viewed immediately in playback mode.

New Special Scene Modes: Kids, Food and Candlelight
The EOS Rebel SL1 has three new easily accessible scene modes to capture the perfect image the first time. Kids mode ensures high-speed shutter priority, focus tracking, healthy skin tones and flash when needed; Food mode delivers bright, vivid food images, limits flash by default and limits the red tint often associated with "restaurant plate" photography. With Candlelight mode, the camera will take care not to blow out the scene, maintaining the glow of the candle, leaving the flash off and reducing exposure fluctuation.

Compatible with EF and EF-S lenses
The EOS Rebel SL1 is compatible with all Canon lenses in the EF lineup, including compact and lightweight EF-S lenses, ranging from ultra-wide angle to super telephoto lenses and including the STM series, like the new EF-S 18-55mm f/3.5-5.6 IS STM, optimized for video shooting. Canon lenses employ advanced optical expertise and micron-precision engineering to deliver outstanding performance and deliver beautiful results. Special technologies like Canon's Optical Image Stabilizer help to minimize the effect of camera shake, effectively adding up to four stops of light; STM lenses even feature a stepping motor for smooth and quiet continuous autofocus while capturing video. With an array of lenses perfect for travel, sports, still life and everything in between, photographers can truly maximize the quality and performance of their EOS Rebel SL1.

Lens Aberration Correction
The EOS Rebel SL1 features lens correction tools that compensate for lens characteristics that can affect overall image quality. The EOS Rebel SL1's Peripheral Illumination Correction feature corrects light falloff in the corner of the image according to the characteristics of the lens being used. It even has correction data for a number of popular lenses stored in its memory. With the EOS Rebel SL1's chromatic aberration correction tool, distracting color fringing can be corrected at the time of shooting.

Feature Guide
To help explain the specific function of features found on the EOS Rebel SL1, the Feature Guide displays a simple description helpful in determining the applicability for the situation at hand. It is displayed in each shooting mode, during mode dial operations, and for Quick Control screen functions. It appears automatically when a function is selected -- a lifesaver when trying to determine the best mode or function for the next picture. The feature guide works automatically by default, and can be disabled easily through the camera's menu.

GPS Compatible
With the optional GPS Receiver GP-E2 attached to the hot shoe or the digital terminal, the EOS Rebel SL1 can record location, including latitude, longitude and altitude, and has the ability to track the trajectory of movement with its logging function. An electric compass records the camera's orientation during each shot, and world time information is recorded through GPS syncing.

JPEG Resizing
To create images suitable for sharing by email or online, the EOS Rebel SL1 can resize JPEG files, in-camera, of varying pixels (aspect ratio cannot be changed, only the image size can be decreased) while leaving the original image untouched.

Photobook Set-up
Photographers can share their images in book form with the EOS Rebel SL1's convenient Photobook Set-up feature. Users can easily choose specific images, images in a folder and even all images, then specify their sequence and layout. The results can be printed in book form with ease.

Image Rating
To help organize images recorded to the camera's storage, the EOS Rebel SL1 makes it simple to rate individual images from one star to five. Therefore, image browsing, printing and slide shows can be based upon those ratings.

Cropping
Eliminating the need to post-process in the computer, photographers can easily crop their photos right in the EOS Rebel SL1. Perfect for direct connection to a printer, or in situations when it wasn't possible to zoom in enough with a zoom lens, cropping is a viable solution thanks to the camera's excellent 18.0-megapixel resolution. Users can choose vertical or horizontal images, and 3:2, 4:3, 16:9, even 1:1 aspect ratios.
39 accessories found for Canon EOS Rebel SL1 Digital SLR Camera & EF-S 18-55mm IS STM Lens (Black)
Canon EOS Rebel SL1 Digital SLR Camera
– TECHNICAL SPECIFICATIONS –
---
Camera Type:
Digital AF/AE single-lens reflex camera with built-in flash
Effective Pixels:
18.0 million
Total Pixels:
18.50 million
Sensor Type:
APS-C CMOS
Sensor Size:
22.3 x 14.9mm
Image Sizes:
Large: Approx. 17.90 Megapixels (5,184 x 3,456)
Medium: Approx. 8.00 Megapixels (3,456 x 2,304)
Small 1: Approx. 4.50 Megapixels (2,592 x 1,728)
Small 2: Approx. 2.50 Megapixels (1920 x 1280)
Small 3: Approx. 0.35 megapixels (720 x 480)
RAW: Approx. 17.90 Megapixels (5,184 x 3,456)
Image Formats:
JPEG, RAW (Canon RAW 2nd edition), RAW+JPEG
Movie:
MOV, MPEG-4 (Image data: H.264, Audio: Linear PCM)
[Full HD] 1920 x 1080 (30 fps/25 fps/24 fps)
[HD] 1280 x 720 (60 fps/50fps)
[SD] 640 x 480 (30 fps/25fps)
Lens Mount:
EF mount
Image Stabilization:
None (available in lenses)
Autofocus Type:
TTL secondary image-forming, phase-difference detection
9 points (Center AF point is AF cross-type at f/5.6, Center AF point is vertical line-sensitive at f/2.8.)
Center AF point: EV -0.5 - 18
Other AF points: EV 0.5 - 18
(At room temperature and ISO 100, based on Canon's testing standards)
Manual Selection
Auto Selection
Focus Modes:
Autofocus
One-Shot AF
Predictive AI Servo AF
AI Focus AF (*Switches between One-Shot AF and AI Servo AF
Manual focus
ISO Sensitivity:
Manual setting range of ISO 100-12800, expansion to ISO 25600
Auto, ISO 100-6400 (in whole-stop increments)
In Creative Zone modes, the maximum ISO speed (ISO 400, 800, 1600, 3200, or 6400) for ISO Auto can be set.
With Highlight Tone Priority, ISO 200 or higher will be set.
Shutter Type:
Vertical-travel, mechanical, focal-plane shutter with all speeds electronically-controlled
* Electronic 1st curtain and mechanical 2nd curtain
Shutter Speeds:
1/4000 to 30 sec. (total shutter speed range; available range varies by shooting mode), bulb, X-sync at 1/200 sec.
* Settable in 1/3- or 1/2-stop increments.
Continuous/Burst Shooting:
High-speed continuous shooting: Max. approx. 4.0 fps
* With One-Shot AF or AI Servo AF
Self-Timer:
10-sec. or 2-sec. delay
Exposure Metering System:
TTL maximum aperture metering with 63-zone metering sensor
Exposure Modes:
Evaluative metering (linked to all AF points)
Partial metering (center, approx. 9% of viewfinder)
Spot metering (center, approx. 4% of viewfinder)
Center-weighted average metering
Exposure Compensation:
Manual: ±5 stops in 1/3- or 1/2-stop increments
AEB : ±2 stops in 1/3- or 1/2-stop increments
Exposure Lock:
Yes, Auto and Manual
Exposure Bracketing:
EV 1.0 - EV 20.0 (at 73°F/23°C with 50mm f/1.8 II lens at ISO 100)
White Balance:
Auto, Preset (Daylight; Shade; Cloudy, Twilight, Sunset; Tungsten Light; White Fluorescent Light; Flash), Custom (Approx. 2,000° - 10,000°K), White Balance Correction, and White Balance Bracketing; Auto white balance with the image sensor; White balance correction:
Blue/amber bias: ±9 levels, Magenta/green bias: ±9 levels
Shooting Modes:
Single shooting
Continuous shooting
Silent single shooting
Silent continuous shooting
* Single silent shooting and continuous silent shooting are not possible when Basic Zone is selected, during Live View shooting, or when using AI Servo AF or AI Focus AF.
10-sec. self-timer/Remote control
2-sec. self-timer
Continuous shooting after 10-sec. self-timer (2 to 10 shots)
Flash:
Built-in pop-up flash
External Speedlite
Flash Control:
E-TTL II autoflash (evaluative flash metering and average flash metering), FE Lock
Flash Sync Terminal:
No
Flash Compensation:
±2 stops in 1/3-stop or 1/2-stop increments
Viewfinder:
Eye-level SLR (with fixed pentamirror)
Approx. 95% vertically and horizontally (with Eye point approx. 19mm)
Approx. 0.87x / 24.5° (50mm lens ∞, -1m-1)
Approx. 19 mm (At -1m-1 from the eyepiece lens center)
-3.0 to +1.0 m-1 (dpt)
Monitor Type:
TFT color, liquid-crystal monitor with Touch Panel LCD (capacitive type)
Monitor Size:
3.0 in. diagonal (wide 3:2)
Monitor Resolution:
1,040,000 Dots
Live View:
Still photo shooting and video shooting
Playback:
Single image display: Single image, basic information, detailed information, histogram display
Index display: 4/9/36/100 images
Jump display (Image jump w/ Main Dial): 1/10/100 images, by date, by folder, movies only, stills only, by rating
Histogram: Brightness / RGB
Storage:
SD / SDHC / SDXC
Power Source:
LP-E12 Battery Pack
LC-E12 Battery Charger
Optional AC Adapter Kit (ACK-E15)
Interface:
USB 2.0 (Hi-Speed)
AV Output
HDMI video out (Type C mini)
Remote control (optional RC-6)
Languages:
English, German, French, Dutch, Danish, Portuguese, Finnish, Italian, Norwegian, Swedish, Spanish, Greek, Russian, Polish, Czech, Hungarian, Romanian, Ukrainian, Turkish, Arabic, Thai, Simplified/Traditional Chinese, Korean, Japanese
Dimensions (WxHxD):
4.60 x 3.57 x 2.74 in. (116.8 x 90.7 x 69.4mm)
Weight:
14.36 oz. (407g) (CIPA standard)
13.06 oz. (370g) (Body only)
Canon EF-S 18-55mm f/3.5-5.6 IS STM Zoom Lens
– TECHNICAL SPECIFICATIONS –
---
| | |
| --- | --- |
| Lens Mount: | Canon EF-S (EOS) |
| Focal Length: | 18-55mm |
| Maximum Aperture: | f/3.5-5.6 |
| Minimum Aperture: | f/22-38 |
| Maximum Magnification: | 0.36x |
| Minimum Focus Distance: | 9.84 in. (0.25m) |
| Lens Construction: | 13 elements / 11 groups |
| Diaphragm Blades: | 7 |
| Focus Type: | Auto / Manual |
| Image Stabilization: | Optical IS (4 stops) |
| Filter Size: | 58mm |
| Dimensions (Diam. x Length): | 2.7 x 3.0 in. (69 x 75.2mm) |
| Weight: | 7.2 oz. (205g) |