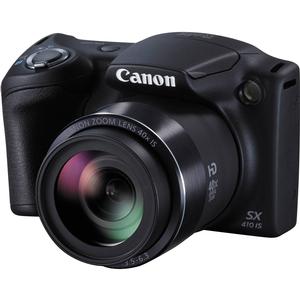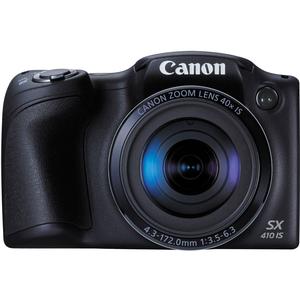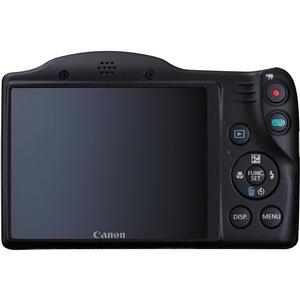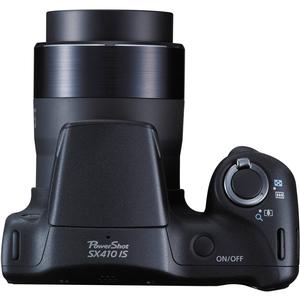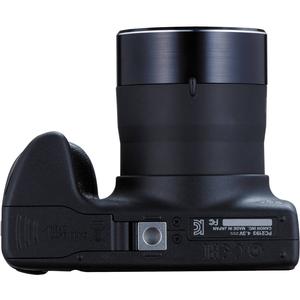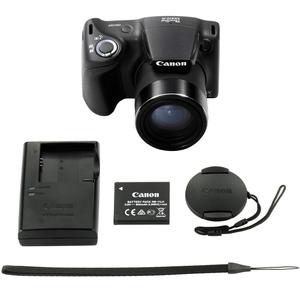 Canon PowerShot SX410 IS Digital Camera (Black)

Availability:
Out Of Stock
ITEM INCLUDES

Canon PowerShot SX410 IS Digital Camera (Black) with:

NB-11LH Li-ion Battery
Battery Charger
Wrist Strap
Lens Cap

Canon PowerShot SX410 IS Digital Camera (Black)

Amazing results are never too far away.

The PowerShot SX410 IS camera is packed with advanced Canon technologies that make it easy to capture your best images ever. The camera's powerful 40x Optical Zoom (24-960mm) and 24mm Wide-Angle lens gives you amazing versatility: you'll capture wide landscapes and zoom in for impressive close-ups you never thought possible -- all with bright, clear quality thanks to Canon's Optical Image Stabilizer and Intelligent IS. The 20.0 Megapixel sensor and Canon DIGIC 4+ Image Processor help create crisp resolution and beautiful, natural images. Your videos will impress too: simply press the Movie button to record lifelike 720p HD video -- even zoom in and out while shooting.

Images you'll want to keep and share are easy to achieve with Smart AUTO that intelligently selects proper camera settings so your images and video look great in all kinds of situations. You'll get creative with fun Scene Modes like Fisheye Effect, Toy Camera Effect and Monochrome, and see and share it all with the camera's big, clear 3.0" LCD with a wide viewing angle. For versatility and value, the PowerShot SX410 IS camera is a best bet!

Key Features:

40x Optical Zoom and 24mm Wide-Angle Lens :
Once you start shooting with PowerShot SX410 IS camera, you'll quickly wonder how you ever did without the versatility of its powerful zoom lens. The 40x Optical Zoom lens has a reach all the way from 24mm to 960mm, so if you're capturing a child on stage from the back of the auditorium, you'll see her every expression. The Wide-Angle lens just as easily delivers superb landscapes and large group portraits. The Optical Image Stabilizer helps ensure you get clear, noise-free images, even at the long end of the zoom.

20.0 Megapixel Image Sensor:
The PowerShot SX410 IS camera's 20.0 Megapixel CCD sensor delivers impressive photos with fine detail and brilliant color. The high resolution helps provide superb image quality even when cropping or making very large prints.

Canon HD Video Advantage:
The PowerShot SX410 IS camera lets you record highly detailed 720p HD video at up to 25 frames per second with clear sound. Imagine the fun and excitement of being able to shoot high definition video whenever you want, right from your compact digital camera.

DIGIC 4+ Image Processor:
The Canon DIGIC 4+ Image Processor powers the PowerShot SX410 IS camera's advanced functions and capabilities. Its accelerated processing speed creates fast, responsive performance, for a shooting experience that's easy and natural.

The DIGIC 4+ Image Processor also enhances image quality: processing of high ISO shots has been shortened by approximately 60% compared to the DIGIC 4 Image Processor. This significantly reduces noise for brilliant color, smooth gradations, and beautiful detail even in low light. The processor's highly efficient design also extends battery life.

Dedicated movie button, Wind Filter feature and Optical Zoom while shooting:
The PowerShot SX410 IS camera has a dedicated movie button that lets you start and stop recording instantly. The camera is always ready to shoot stills or video whenever you want. The camera also incorporates an electronic wind filter, which helps suppress wind noise that can muffle or distort the sound. You can even use the camera's full range of optical zoom when you're shooting a video without sacrificing HD video resolution.

Secure Enhanced Grip:
Canon developed an innovative grip for the PowerShot SX410 IS, optimized specifically for the camera's powerful zooming capability. The invitingly curved grip fits effortlessly into your hand. Without any strain, your fingers comfortably and naturally reach the shutter, helping to minimize the potential for shake at long zoom lengths.

Intelligent IS:
The latest advance in Canon Optical Image Stabilization technology, Intelligent IS, analyzes camera movement and applies the best shake correction method for the shooting situation. For stills, the system automatically selects among Normal, Panning, Macro (Hybrid) and Tripod IS modes. When shooting video, the system automatically selects among Dynamic, Powered, Macro and Active Tripod IS modes. With Intelligent IS, you can concentrate on image capture, letting the camera make the most effective IS settings to help capture the steadiest possible image.

Still Images:

| | | | |
| --- | --- | --- | --- |
| | | | |
| NORMAL IS | PANNING IS | MACRO IS | TRIPOD |

Video Recording:

| | | | |
| --- | --- | --- | --- |
| | | | |
| DYNAMIC IS | POWERED IS | MACRO IS | ACTIVE TRIPOD IS |

Smart AUTO:
Smart AUTO is a sophisticated Canon technology that makes getting that great shot as simple as pressing the shutter button. It automatically detects scenes by assessing various factors in both the background and the subject. Detected scenes are analyzed using predefined shooting situations. The camera then makes optimal settings to help facilitate the best possible image capture, whether you're shooting stills or video. With Smart AUTO, all you have to do is frame your shot and capture away.

Creative Shooting Modes:
The PowerShot SX410 IS camera provides shooting modes that easily give your shots a distinctly artistic feel without the need for any extra lenses and filters. Super Vivid heightens and saturates colors for eye-popping intensity. Poster Effect eliminates gradations between colors for an illustrative feel. Miniature Effect enhances perspective in a scene, blurring the top and bottom to make it look as if it were created with miniature models. You can also make a quirky portrait using the Fisheye Effect or add a beautiful single-tone effect with Monochrome. Toy Camera Effect simulates a vintage look as if capturing the photo using a "toy" or pinhole camera.

Shooting Modes:
PowerShot cameras offer shooting modes that make it easy to take impressive photos in a wide range of shooting situations by providing intelligent presets with optimized settings.

| | | |
| --- | --- | --- |
| | | |
| PROGRAM | LIVE VIEW | SMART AUTO |
| | | |
| POTRAIT | FACE SELF-TIMER | LOW LIGHT |
| | | |
| CREATIVE FILTERS | FISHEYE EFFECT | MINIATURE EFFECT |
| | | |
| TOY CAMERA EFFECT | MONOCHROME | SUPER VIVID |
| | | |
| POSTER EFFECT | SNOW | FIREWORKS |

| | |
| --- | --- |
| | |
| LONG SHUTTER | MOVIE |

Large 3.0-inch LCD screen:
Easy to see from a wide angle, the camera's 3.0-inch LCD screen with a great resolution of approximately 230,000 dots gives you the big picture, whether you're shooting, reviewing or showing off your images. This high-resolution screen offers a crisp, clear picture to make shooting, playback and using the camera's menu functions especially convenient.

ECO mode:
The ECO mode can be activated via a dedicated button for easy power preservation when an outlet is unavailable or the moment is too exciting to put the camera down. ECO Mode quickly wakes the camera from sleep when a button is pressed so you won't miss the moment.
18 accessories found for Canon PowerShot SX410 IS Digital Camera (Black)
Canon PowerShot SX410 IS Digital Camera
– TECHNICAL SPECIFICATIONS –
---
Effective Pixels:
20.0 megapixels
Total Pixels:
20.5 megapixels
Sensor Type:
CCD
Sensor Size:
1/2.3 in.
Image Sizes:
16:9 - 4608 x 2592 / 3264 x 1832 / 1920 x 1080 / 640 x 360
3:2 - 4608 x 3072 / 3264 x 2176 / 2048 x 1368 / 640 x 424
4:3 - 4608 x 3456 / 3264 x 2448 / 2048 x 1536 / 640 x 480
1:1 - 3456 x 3456 / 2448 x 2448 / 1536 x 1536 / 480 x 480
Movie:
Movie file format: MOV
Audio: Linear PCM (Mono)
Lens Type:
4.3-172mm (24-960mm equiv.)
Optical Zoom:
40x
Digital Zoom:
Up to 4x
Image Stabilization:
Optical
Focus Range:
Wide: 0 in. (0.0cm) - Infinity
Telephoto: 4.6 ft. (1.4m) - Infinity
Wide Macro: 0 in. (0.0cm) - 1.6 ft. (0.49m)
ISO Sensitivity:
ISO 100-1600
High Sensitivity Mode: 100-6400
Aperture Range:
f/3.4 - 5.8
Monitor Type:
TFT-LCD with Anti-reflection coating
Monitor Size:
3.0 in. diagonal
Monitor Resolution:
230,000-dots
Flash:
Built-in
Storage:
SD / SDHC / SDXC memory card
Power Source:
Rechargeable Li-ion Battery NB-11LH
Interface:
USB 2.0
Audio / Video out
Dimensions (WxHxD):
4.1 x 2.7 x 3.3 in. (104.4 x 69.1 x 85.1cm)
Weight:
11.5 oz. (325g)