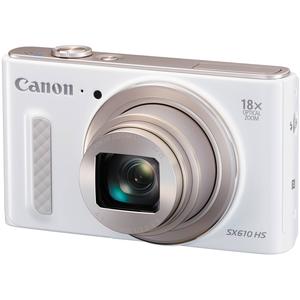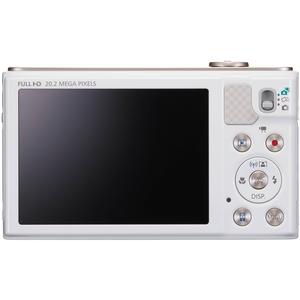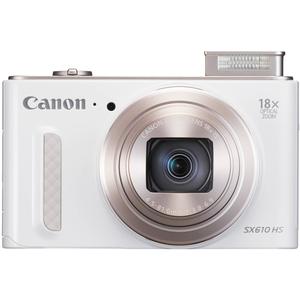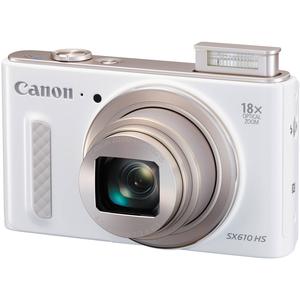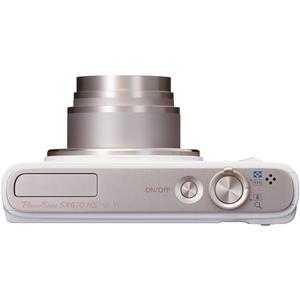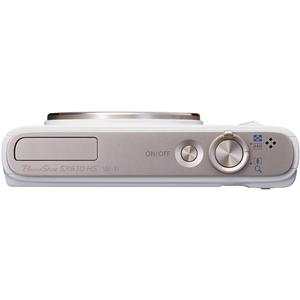 ITEM INCLUDES

Canon PowerShot SX610 HS Wi-Fi Digital Camera (White) with:

NB-6LH Li-ion Battery
Battery Charger
Wrist Strap

Canon PowerShot SX610 HS
Wi-Fi Digital Camera (White)

Sleek and Slim with a Powerful Zoom.

Along with its impressively slim profile and stylish new design, the Canon PowerShot SX610 HS Wi-Fi Digital Camera boasts a powerful array of advanced capabilities. The 18x Optical Zoom gives you excellent versatility, while Intelligent IS helps ensure virtually shake-free images at any zoom length, and Auto Zoom helps you frame your subject and keep it in focus. Built-in Wi-Fi and NFC make this a great camera to have with you all day long: send images and video to compatible mobile devices and your computer, share directly with select social networking sites, shoot remotely with your smartphone or tablet and more.

Image quality is beautifully sharp and resonant, even when you're shooting in low light, thanks to the 20.2 Megapixel High-Sensitivity CMOS sensor and DIGIC 4+ Image Processor, which together create the Canon HS SYSTEM. And just press the dedicated movie button to capture vividly lifelike 1080p Full HD video. For documenting and sharing your life, the PowerShot SX610 HS camera is the perfect partner.

Key Features:

18x Optical Zoom:
The powerful 18x Optical Zoom range (35mm equivalent: 25-450mm) on the PowerShot SX610 HS camera is ideal for capturing memories of kids' achievements on the sporting field, recitals, plays and concerts -- all those times when your access to the action is limited. From landscapes and wildlife to city scenes and more, this camera has you covered -- all while fitting in your pocket. Zooming action is quick and precise, and genuine Canon optics help ensure brilliant clarity. Chromatic aberration is compensated across the entire range, and the lens's high optical resolving power works with the camera's high-resolution sensor and advanced image stabilization systems to produce clear, sharp, beautifully detailed images at any zoom length.

Intelligent IS:
It's easy to capture clear, steady images, even in low light without using a tripod. That's because the camera is equipped with Canon's innovative Intelligent IS. The system automatically analyzes camera movement and applies the best shake correction method for the shooting situation -- allowing you to focus on framing and capturing your shot. For stills, the system selects from Normal IS, Panning IS, Macro (Hybrid) IS and Tripod modes. When shooting video, the system selects from Dynamic IS, Powered IS, Macro (Hybrid) IS and active Tripod IS modes. Icons clearly mark the image stabilization mode, whether you're shooting still images or video.

Still Images:
NORMAL IS
PANNING IS
MACRO IS
TRIPOD




Video Recording:
DYNAMIC IS
POWERED IS
MACRO IS
ACTIVE TRIPOD IS

 

Built-in NFC (Near Field Communication):
PowerShot digital cameras with built-in NFC (Near Field Communication) technology eliminates the need to manually find and open the new Canon Camera Connect app on your mobile device. Simply touch the NFC icon on your camera to your compatible Android device, and the Camera Connect app will launch automatically for quick, easy sharing of your images. Built-in NFC technology also makes it simpler to install the app. If the app hasn't been installed yet, once you touch the devices together for the first time, the download screen will display automatically. Now, NFC helps ensure making a connection to a compatible Android device truly seamless. Simply touch the camera against an NFC-equipped device with the Canon Camera Connect app installed, and the Wi-Fi connection is established no camera operations required. Even if your camera is off, NFC turns the camera on and establishes the connection (confirming the camera's nickname and privacy settings before the first connection is required).

Built-in Wi-Fi makes sharing quick and easy:
Built-in Wi-Fi technology for on-the-go convenience when you want to share your photos and videos with friends, family and the whole world. Easily post your images to social networking and media sites -- Facebook, Twitter, YouTube, Flickr, and Google Drive -- through CANON iMAGE GATEWAY directly from your PowerShot camera, or save them to the online photo album to share anytime, anywhere. The camera can also connect directly to both iOS and Android devices, and upload images via the free Canon Camera Connect app without a computer. You can control the destination of your uploads to share with everyone or to selected groups, and even add comments. Sharing video is also easy with Wi-Fi equipped PowerShot cameras, which record video using the easy-to-share MP4 format. Enhanced Wi-Fi makes posting in real time possible, so you can keep everyone up to date with photos and video even as events unfold. Wi-Fi technology also allows you to transfer images to other Wi-Fi equipped PowerShot cameras or print your photos directly to a PictBridge (Wireless LAN) certified printer.

Image Sync Function:
The Image Sync Function has been improved and expanded. In addition to wirelessly transferring photos and videos through CANON iMAGE GATEWAY to your computer, now you can view and download them from your smartphone. Take them anywhere, anytime, and use your familiar smartphone operations to view and share them.

Remote Shooting with the Camera Connect App:
With the built-in Wi-Fi on the PowerShot SX610 HS camera, you can use your smartphone or tablet to remotely control the camera. Simply connect wirelessly to your device and access the free Canon Camera Connect app. Your device will show a live image of the camera's capture -- perfect for a commemorative group photo, wildlife shots and all kinds of situations. The camera's versatile 18x Optical Zoom, flash, self-timer and shutter are all under your control, with images being saved to your camera as usual. In addition, the new Camera Connect app is now universal to PowerShot and Canon EOS cameras with built-in Wi-Fi, so if you switch between cameras, operation is easy and familiar.

Mobile Device Connect Button:
The camera's dedicated Mobile Device Connect Button gives you one-touch access to your compatible mobile device or computer (utilizing Image Sync function). You can transfer photos and videos to your smartphone or tablet for immediate sharing to a computer on the same network. When the camera finds a linked computer on the same wireless network, images are sent directly to it. Otherwise, images are temporarily stored on CANON iMAGE GATEWAY then transferred once a connection is made -- very convenient when you're on vacation or out for the day.

Compatibility with Canon Connect Station CS100:
The PowerShot SX610 HS camera is fully compatible with Canon's brand new photo and video storage device: the Canon Connect Station CS100. By simply tapping with NFC, photos and videos are wirelessly transferred to the Connect Station CS100 where up to 1 TB of hard drive space (has the capacity for approximately 150,000 photos or approximately 70 hours of video content) and simple menus make them easy to store, manage and sort by albums, date or device name. From there, images and videos can be viewed in Full HD on an HDTV (via an HDMI cable), sent to compatible wireless printers, viewed/uploaded/downloaded smartphones and tablets or PCs, and shared with other Connect Stations.

20.2 Megapixel High-Sensitivity CMOS Sensor:
The PowerShot SX610 HS camera employs a 20.2 Megapixel High-Sensitivity CMOS sensor, which delivers state-of-the-art imaging performance and is optimized for use in compact cameras. Utilizing a sophisticated light-capturing design, it provides high sensitivity for improved high ISO capture with reduced noise. It is also a high-speed design, capable of rapidly capturing and moving image data to the processor, enabling faster continuous shooting and faster autofocus.

DIGIC 4+ Image Processor:
The Canon DIGIC 4+ Image Processor powers the PowerShot SX610 HS camera's advanced functions and capabilities, including Hybrid Auto, Creative Shot, and Full HD video shooting at 30p in the easy-to-share MP4 format. Its accelerated processing speed creates fast, responsive performance, for a shooting experience that's easy and natural. The DIGIC 4+ Image Processor also enhances image quality in several ways. Processing of high ISO shots has been shortened by 60% compared to the DIGIC 4 Image Processor. This significantly reduces noise for brilliant color, smooth gradations, and beautiful detail even in low light. The processor also allows for the integration of electronic Dynamic IS. This advanced system compensates for multiple motion types, effectively preventing angular blur, shift blur, and blur caused by parallel movement and tilt shift. The result is images that are reliably sharp and clear at all lengths of the camera's powerful zoom. The processor's highly efficient design also extends battery life.

Canon HS SYSTEM helps provide excellent low-light performance:
The slim, compact PowerShot SX610 HS camera gives you the power to capture beautifully detailed, naturally lit images even in low light -- reducing the need for flash and the occasionally unwelcome effects it produces. That's because the camera's 20.2 Megapixel High-Sensitivity CMOS sensor works with the DIGIC 4+ Image Processor to create the Canon HS SYSTEM, specifically engineered for spectacular low-light performance. With the Canon HS SYSTEM, you'll experience excellent tracking performance even in low light, and achieve gorgeous still image quality at ISO speeds up to ISO 3200; beautiful low-light shots are possible with minimal noise and maximum detail in highlight and shadow areas.

Full HD Video:
Gorgeous high definition video is yours throughout the camera's impressive zoom range, and starts immediately with a touch of the dedicated movie button. The PowerShot SX610 HS camera captures Full HD video at 30p (selectable for resolution), for notably smooth, lifelike quality that is truly at home even on a large screen HDTV. And now you can record in convenient MP4 format for the easiest online sharing.

3.0-inch High Resolution (922,000 dots) LCD:
The large, 3.0-inch high-resolution LCD screen makes it easy to both frame and review your shots. A resolution of 922,000 dots makes even the smallest details clear, and images are viewable even from a wide angle, so showing others what you've captured is easy, too.

Creative Shot mode:
In addition to the versatile power of its amazing 18x Optical Zoom, the PowerShot SX610 HS camera also turns out impressive artistic photos with Creative Shot mode. Rather than randomly applying filters, Creative Shot mode takes advantage of advanced Canon technologies to analyze the individual scene, subject and exposure to apply any of 46 filter options. In addition to the original shot, the camera automatically produces and saves five additional variations of the composition. Filter choices are grouped into Retro, Monochrome, Special and Natural categories to make exploring the world of artistic photography fun and easy, or simply select Auto to access the full range of effects. With Creative Shot mode, the result is stunning artistic photos that are perfect for sharing.

Hybrid Auto:
The PowerShot SX610 HS camera features Hybrid Auto, which records up to four seconds of video every time you shoot a still image, then automatically joins the clips and pictures into a video that captures the essence of special days: vacations, important occasions, or any time you're shooting many shots in a day. With Hybrid Auto, this "highlight reel" is stunningly beautiful. Hybrid Auto automatically recognizes the scene and optimizes camera settings to capture the highest possible image quality. The resulting 720p HD video is properly exposed, crisp and steady.

Smart AUTO:
Sophisticated Canon technology that makes getting that great shot as simple as pressing the shutter button, Smart AUTO automatically detects scenes by assessing various factors in both the background and the subject. On the PowerShot SX610 HS camera, detected scenes are analyzed using 32 predefined shooting situations. The camera then makes optimal settings to help ensure the best possible image capture, whether you're shooting stills or video. Smart AUTO also includes Advanced Subject Detection, which allows the camera to detect and track non-human moving subjects like animals and vehicles. With Smart AUTO, all you have to do is frame your shot and capture away.

Special Scene Modes with Creative Filters:
Special Scene Modes have fun and creative filters you can add to your photos without having to use a computer. You can make a quirky portrait using a Fisheye Lens Effect or add a beautiful single-tone effect with Monochrome. Toy Camera Effect simulates a vintage look as if capturing the photo using a "toy" or pinhole camera. Make a scene appear like a small-scale model with Miniature Effect, when shooting from a high vantage point. Super Vivid enhances an image for bright, intense colors while Poster Effect alters the contrast of an image for poster-like presentation.

| | | |
| --- | --- | --- |
| | | |
| Manual | Shutter | Live View |
| | | |
| Smart Auto | Portrait | High Speed |
| | | |
| Fisheye | Monochrome | Movie |

Auto Zoom:
Now, beautifully framed shots using the powerful 18x Optical Zoom are as easy as pressing the Auto Zoom button. With Auto Zoom, the camera automatically determines the correct size and framing by detecting the number of subjects. The system also detects faces that are too small, then zooms in to the proper length. Auto Zoom is a great feature for spontaneous everyday shooting, and especially useful for times when someone else (even a child) is using your camera, for instance at a tourist spot.
20 accessories found for Canon PowerShot SX610 HS Wi-Fi Digital Camera (White)
Canon PowerShot SX610 HS Wi-Fi Digital Camera
– TECHNICAL SPECIFICATIONS –
---
Effective Pixels:
20.2MP
Total Pixels:
21.1MP
Sensor Type:
CMOS
Sensor Size:
1/2.3"
Image Sizes:
16:9 - Large: 4608 x 2592; Medium 1: 3264 x 1832; Medium 2: 1920 x 1080; Small: 640 x 360
3:2 - Large: 4608 x 3072; Medium 1: 3264 x 2176; Medium 2: 2048 x 1368; Small: 640 x 424
4:3 - Large: 4608 x 3456; Medium 1: 3264 x 2448; Medium 2: 2048 x 1536; Small: 640 x 480
1:1 - Large: 3456 x 3456; Medium 1: 2448 x 2448; Medium 2: 1536 x 1536; Small: 480 x 480
Medium: 2592 x 1944 (High-Speed Burst and Low Light)
Movie:
MP4, MPEG-4 AVC/H.264
Lens Type:
4.5-81mm (35mm equivalent: 25-450mm)
Optical Zoom:
18x
Digital Zoom:
4x
Image Stabilization:
Optical
Focus Range:
Wide: 1.97" (5cm) - Infinity
Telephoto: 3.28' (1m) - Infinity
Macro: 1.97" (5cm) - 1.64' (50cm)
Quick: 9.84' (3m) - Infinity
ISO Sensitivity:
Auto, 80-3200
Aperture Range:
f/3.8 (W) - 6.9 (T)
Monitor Type:
LCD
Monitor Size:
3.0"
Monitor Resolution:
922,000 pixels
Flash:
Built-in
Wi-Fi:
Yes
NFC:
Yes
Storage:
SD/SDHC/SDXC memory card
Power Source:
NB-6LH Rechargeable Lithium-Ion Battery Pack
Interface:
HDMI D (Micro)
USB 2.0
Dimensions (WxHxD):
4.1 x 2.4 x 1.1 in. (105.3 x 61 x 26.7mm)
Weight:
6.7 oz. (191g)