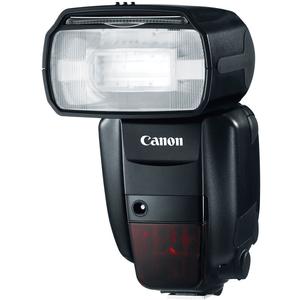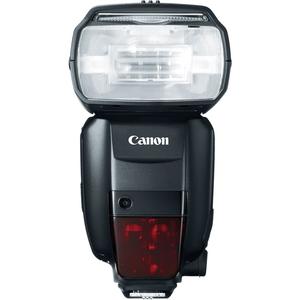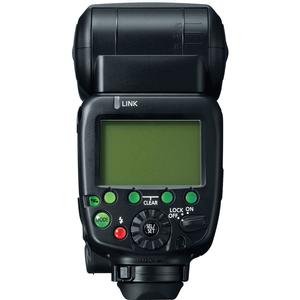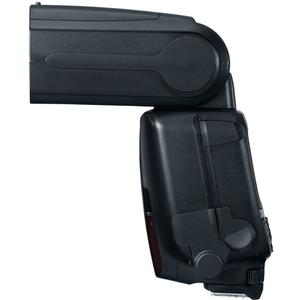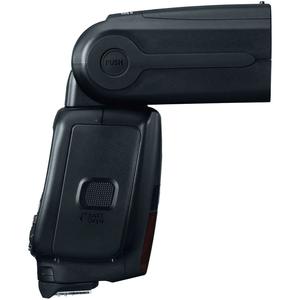 ITEM INCLUDES

Canon Speedlite 600EX-RT Flash with:

Soft Case
Stand
Color Filter Holder
Soft Case for Filter Holder
Color Filter SCF-E1OR1
Color Filter SCF-E1OR2
Case for Filters
Instruction Manual

Canon Speedlite 600EX-RT Flash

Wireless, powerful, high speed flash unit.

The Canon Speedlite 600EX-RT is engineered to provide a new level of performance and reliability for professional flash photography with today's most advanced DSLRs. The Speedlite 600 EX-RT allows photographers to expand their creativity using wireless speedlites with the reliability of radio triggering. The Speedlite 600EX-RT offers an expanded zoom range and a higher guide number, plus a number of improvements over its predecessor in both operation and feel. It features a dot-matrix LCD panel for display of all pertinent shooting information, backlit controls plus an internal sound generator. Reliability is ensured with improved hot shoe contacts, improved flash head durability and the most comprehensive dust and water sealing system ever on a Canon Speedlite flash. A color filter holder helps maintain accurate color in a variety of ambient light conditions.

Key Features:

Wireless Radio Communication:
The Speedlite 600EX-RT represents the next generation in wireless flash systems. In addition to traditional optical wireless transmission, the Speedlite 600EX-RT facilitates radio controlled, two-way wireless transmission up to 98.4 feet, among up to 5 groups with a total of 15 individual Speedlites. Communicating on 2.4 GHz frequencies, the Speedlite 600EX-RT does not have the same directional limitations of traditional wireless optical transmitters. Where other wireless signals can be interrupted by physical obstacles, radio controlled systems excel. 15 transmission channels are available, selectable manually or automatically, and radio transmission IDs can be set to prevent misfiring in the event of signal interference on the same channel.

Expanded Zoom Range:
For effective flash photography in more situations than previously possible with a Speedlite flash, the Speedlite 600EX-RT has an improved guide number of 197ft. (60m) at ISO 100. It offers 20mm to 200mm coverage, and when the extendable wide panel is pulled out, flash coverage moves as wide at 14mm. Plus, to maximize power and minimize energy consumption, the Speedlite 600EX-RT can be directed to zoom in accordance with the cameras image sensor size (full-frame, APS-H and APS-C).

Durable, Dust-free, and Weather Resistant:
The Speedlite 600EX-RT is the most rugged, durable and reliable Speedlite in the Canon arsenal with construction on par with high-end Canon DSLRs. The flash head is more rugged and durable than its predecessor and a redesigned hot shoe contact ensures seamless communication. Dust and water resistance has been improved significantly as well: all moving parts and areas surrounding the flashes display and buttons are sealed for uninterrupted performance in harsh conditions. A new dust and water resistant adapter for the mounting foot creates a dust and water resistant seal between camera and flash.

AF Assist Beam:
Working in conjunction with EOS SLRs, the Speedlite 600EX-RT automatically provides illumination using its built-in AF assist beam. This means more accurate AF, faster, even in dark or low contrast situations, with all lenses 28mm or longer. Compatible with the AF frame of all EOS cameras, the Speedlite 600EX-RT even works perfectly with the 61-Point High Density Reticular AF found in the EOS-1D X and the EOS 5D Mark III.

Easy Visibility:
A significant upgrade over previous flashes, the Speedlite 600EX-RT features an all-new dot matrix LCD panel (172 x 104 dots). This new LCD displays Flash status, wireless configuration and all flash settings with more detailed information in comparison to previous systems. With its new screen combined with backlit operation buttons, the Speedlite 600EX-RT is as easy to operate in the dark as in daylight.

Color Filter Holder:
To ensure consistent color in both the foreground and background of an image, the Speedlite 600EX-RT features a new color filter holder. By placing a color filter over the front of the flash head, the color temperature of the flash can be made to match that of the ambient light. Color information and light output decrease can be transmitted from the Speedlite 600EX-RT to the camera for proper white balance and exposure.

Creative Flexibility:
To accommodate any number of shooting styles, the Speedlite 600EX-RT has 18 custom functions for the ultimate in flexibility. Options include Flash exposure bracketing controls, modeling flash, test firing controls, AF assist control, power and energy saving features, beep and much, much more. Personal functions, like LCD panel illumination color and Master/Slave configurations are also easily set on the Speedlite 600EX-RT.

Full Swivel:
The Speedlite 600EX-RT's flash head is designed for easy bounce flash, in any direction. The head can be angled 90° up, 7° down and can rotate 180° left and right. A bounce lock with release button helps things stay in place. Additionally, when the flash head is positioned front and up 90°, the Speedlite 600EX-RT features a catch light panel to create catch light in the eyes of the subject for a more expressive look.
21 accessories found for Canon Speedlite 600EX-RT Flash
Nikon SB-600 AF Speedlight Flash
– TECHNICAL SPECIFICATIONS –
---
Type:

Shoe Mount E-TTL II and E-TTL

Guide Number:

85.3 ft. (26m) at 20mm
196.9 ft. (60m) at 200mm at ISO 100

Coverage:

20mm to 200mm

Bounce Head:

Yes (90° up, 7° down)

Swivel Head:

Yes (180° left and right)

Recycling Time:

Normal Flash: 0.1 to 5.5 sec. (approx.) with AA/LR6 alkaline batteries
Quick Flash: 0.1 to 3.3 sec. (approx.) with AA/LR6 alkaline batteries

Power Source:

Four AA/LR6 alkaline batteries or rechargeable Ni-MH or Lithium Batteries

Display:

LCD Panel, backlit buttons

Dimensions:

3.1 x 5.6 x 4.9 in. (79.7 x 142.9 x 124.5mm)

Weight:

15.0 oz. (425g)

Other:

AF Assist Beam
Compatible with the following Canon digital cameras, including:
EOS 60D
EOS 70D
EOS 77D
EOS 80D
EOS 1D X
EOS 1D X Mark II
EOS 5D Mark II
EOS 5D Mark III
EOS 5D Mark IV
EOS 5Ds
EOS 5Ds R
EOS 6D
EOS 7D
EOS 7D Mark II
EOS Rebel SL1
EOS Rebel T3
EOS Rebel T3i
EOS Rebel T4i
EOS Rebel T5
EOS Rebel T5i
EOS Rebel T6
EOS Rebel T6i
EOS Rebel T6s
EOS Rebel T7i
EOS M
EOS M3
EOS M5
EOS M6
Powershot G15
Powershot G16
Powershot G1
Powershot G1 X
Powershot G1 X Mark II
Powershot G3 X
Powershot G5 X
Powershot SX40 HS
Powershot SX50 HS