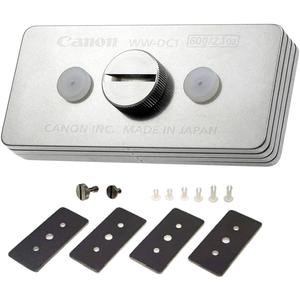 ITEM INCLUDES

Canon WW-DC1 Waterproof Case Weight with:

4 stainless steel weights (60g each)
6 plastic pins (2 sm, 2 med, 2 lg)
2 weight-securing screws (1 long, 1 short)

Canon WW-DC1 Waterproof Case Weight

The Canon WW-DC1 Waterproof Case Weight is a set of four stainless steel plates that attach quickly and easily to any Canon WP-DC case. Depending on the interior volume of the case, the weight of the camera, and the characteristics of the body of water (particularly salt water versus fresh water), these plates can be added or removed to find the perfect balance and achieve neutral buoyancy (where the case neither floats nor sinks when underwater). This makes handling the case below the surface much easier, and prevents it from floating away if the user accidentally lets go.

The WW-DC1 comes with four stainless steel plates weighing 60 grams (2.1 ounces) each, two stainless steel screws (one long, one short) that attach to the case, and six plastic pins of differing sizes to keep the plates secure.
0 accessories found for Canon WW-DC1 Waterproof Case Weight