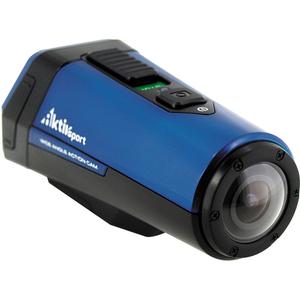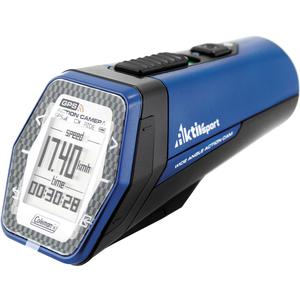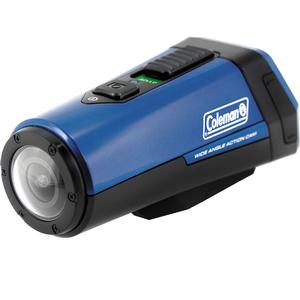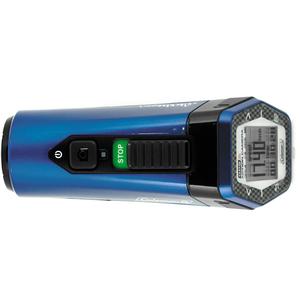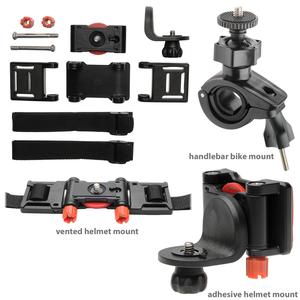 ITEM INCLUDES

Coleman Aktivsport CX9WP GPS HD Video Action Camera Camcorder (Blue) with:

Vented Helmet Mount
Curved Adhesive Mount
Handlebar Bike Mount
Internal Li-ion Battery
USB Cable
Image Editing CD
Instruction Manual

Coleman Aktivsport CX9WP
GPS HD Action Camcorder

Waterproof POV Camera with 1080p HD Video.

The Coleman Aktivsport CX9WP GPS HD Action Camcorder is a 1080p HD Video and Still Camera that packs 16.0 megapixel quality and impressive durability. Built to cover all the action and extreme sports, it records amazing quality HD videos at 60 frames-per-second.

The Aktivsport HD (CX9WP) comes with a number of accessories, including: handlebar bike mount, vented & adhesive helmet mounts for use on just about any surface. Built-in GPS records speed, distance, time and calories burned, which can be viewed on the unique 1.4-inch OLED status display. The ultra-compact design also features a 170-degree wide-angle lens with built-in G Sensor for auto rotation.

Key Features:

Professional 1080p High Definition Video
The 16 megapixel CMOS image sensor captures rich high definition video in 1080p at 30fps, 960p at 30fps or 720p at 60fps, with the press of a button. Another button captures vivid still imagery without having to switch between video and picture settings, making it easy to concentrate on your activity. Automatic focus, white balance and exposure ensure beautiful picture and video quality in any setting.

170° wide-angle lens
Wide-angle lens gives you a 170-degree angle of view, allowing you to get closer to your subject while still fitting all the action in-frame as you record full HD 1080p movies.

Waterproof Protection (10 ft. / 3m)
A system of waterproof seals and gaskets keeps water out so you can take pictures as deep as 10 feet (3 meters) underwater.

Shockproof Protection
Rugged body and innovative shock-absorbing construction are designed to withstand a 3.2-foot drop.

Freezeproof Protection
Withstands extreme weather conditions, as it is operable in temperatures from -10°C/14°F to 40°C/104°F.

Ideal for skiing, mountain biking, skateboarding, water sports, and other outdoor activities.

GPS Mapping
Add an entire new layer to your videos. The built-in GPS receiver tracks your speed, distance, time and calories while also recording in beautiful hands-free HD.

1.4-inch OLED
Change menu and GPS settings to view our speed, distance, time and calories burned in Aktivsport mode.

Variety of Uses
Shooting hands-free video shouldn't be limited to just a few sports. The Aktivsport offers a variety of mounts already included, specifically tailored for a full range of activities and interests. Included with the Aktivsport you get a handlebar bike mount, vented & adhesive helmet mounts making it the ideal camera for skiing, skating, surfing, biking, motocross racing and more.
34 accessories found for Coleman Aktivsport CX9WP GPS HD Video Action Camera Camcorder (Blue)
Coleman Aktivsport CX9WP GPS HD Action Camcorder
– TECHNICAL SPECIFICATIONS –
---
Lens:
170° wide-angle field of view
Focusing Range:

0.5m - Infinity
HD Video Resolution Modes:
1080p: 1920x1080 pixels (16:9), 30 fps
720p: 1280x720 pixels (16:9), 60 fps
720p: 1280x720 pixels (16:9), 30 fps
Still Image:
16.0 MP (4608x3456)
5.0 MP (2592x1944)
3.0 MP (2048x1536)
Sensor:
5MP CMOS image sensor
Memory:
microSD card up 32GB
Status LCD Display:
1.4" OLED
Battery:
Built-in Lithium-Ion
Charging:
via USB to computer & AC power adapter
Interface:
USB 2.0
HDMI to Mini-HDMI Type (C)
Dimensions (WxHxD):
1.8 x 2.2 x 4.9 in. (46 x 56 x 124mm)
Weight:
5.7 oz. (162g)