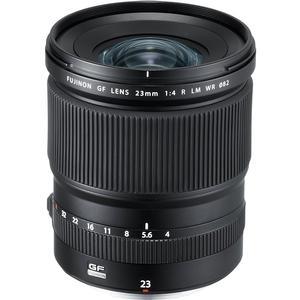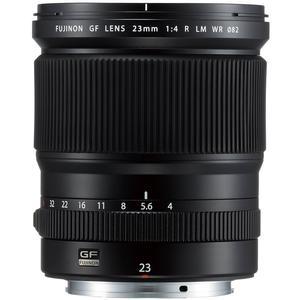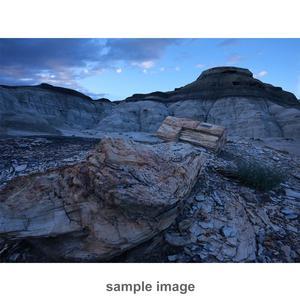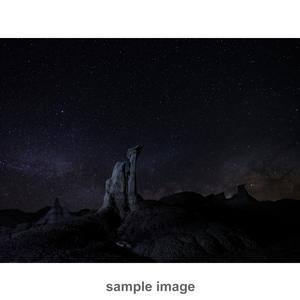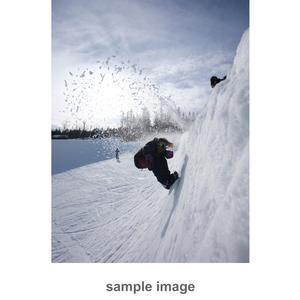 ITEM INCLUDES

Fujifilm GF 23mm f/4.0 R LM WR Lens with:

Lens Hood
Lens Case
Front & Rear Lens Caps
Instruction Manual

Fujifilm GF 23mm f/4.0 R LM WR Lens

Super wide-angle lens for scenery and architecture.

The Fujifilm GF 23mm F4 R LM WR is a super wide-angle lens specifically designed for the Fujifilm G Mount and 43.8 x 32.9mm sensor. With a focal length equivalent to 18mm in the 35mm format, it is perfectly suited for landscape and architectural applications. Despite the super-wide angle of view, distortion is kept to a minimum, and with the high-resolution performance extending all the way to the edges, sharp depiction power as if looking at an actual landscape is achieved.

It features fast and quiet AF due to a linear motor, is dust and weather resistant, and is capable of operating in environments as cold as 14° F (-10°C). The lens combines high performance and reliability as a professional work tool.

Key Features:

High Image Quality
This super wide-angle lens with a focal length equivalent to 18mm in the 35mm format offers optimal performance for shooting landscapes and architectural photography. Using a combination of aspherical lenses, super ED lens, and ED lenses, this high image quality lens limits chromatic aberrations by arranging the elements in a well-balanced manner before and after the aperture.

Low Distortion with High Resolving Power
With a 12 groups and 15 elements construction using two aspherical lenses, one super ED lens, and three ED lenses, this lens suppresses distortion despite being a super wide-angle lens with a 99.9° angle of view. Also, thanks to the optimal arrangement of the Super ED lens and three ED lenses, chromatic aberration of magnification is thoroughly suppressed, achieving high resolution performance all the way to the edges.

Nano GI Coating
Nano GI coating has been applied to the lens that is effective on incident light entering the lens from diagonal angles due to the nature of the super wide-angle lens. Despite being a super wide-angle lens, the occurrence of ghosting and flare is effectively suppressed.

Fast, Silent Autofocus
By adopting an inner focusing AF system to lighten the weight of the focus lens, and using a linear motor to drive the lens elements, fast and quiet AF is achieved, allowing for comfortable shooting.

Weather / Dust Resistant, and Low-Temperature Operation
The lens has been sealed in nine areas, allowing you to shoot outdoors in wet, cold or dusty conditions. Create epic photography regardless of cold weather (14 degrees F / -10 degrees C), dusty environments and in light rain outdoors.

High Operability
The aperture ring has a C position (command dial mode) to allow lens aperture value to be changed via the command dial on the camera body. A locking mechanism has been added to the A (Auto) and C positions to prevent unintended movements of the aperture dial.

Brass Lens Mount
The lens mount is made from brass for strength, durability and reliability.
26 accessories found for Fujifilm GF 23mm f/4.0 R LM WR Lens
Fujifilm GF 23mm f/4.0 R LM WR Lens
– TECHNICAL SPECIFICATIONS –
---
Lens Configuration:
15 elements 12 groups (includes 2 aspherical ,1 Super ED , 3ED elements)
Focal Length (35mm format equivalent):
f=23mm (18mm)
Angle of View:
99.9°
Max. Aperture:
f/4
Min. Aperture:
f/32
Aperture Control:
Number of blades: 9 (rounded diaphragm opening)
Step size: 1/3EV (19 steps)
Focus Range:
38cm - ∞
Max. Magnification:
0.09x
Filter Size:
82mm
External Dimensions (D x L):
3.5 x 4.0 in. (89.8mm x 103mm)
Weight:
1.86 lbs. (845g)
Compatible with the following Fujifilm digital cameras: