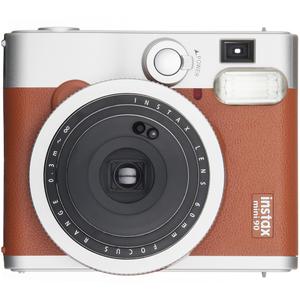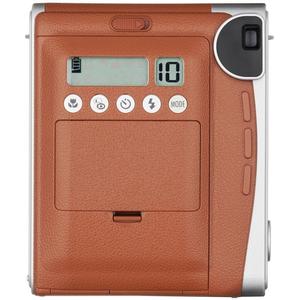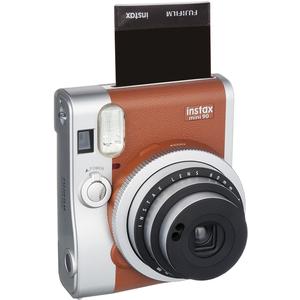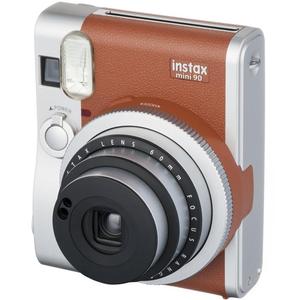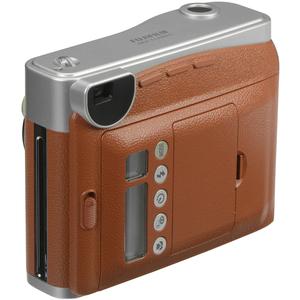 ITEM INCLUDES

Fujifilm Instax Mini 90 Neo Classic Instant Film Camera (Brown) with:

NP-45A Li-ion Battery
Battery Charger
Shoulder Strap
Owner's Manual

Fujifilm Instax Mini 90 Neo Classic Instant Film Camera

Exceeding all expectations.

The Fujifilm Instax Mini 90 Neo Classic Instant Film Camera is designed with a classic look and has a variety of functions that enhance user control and ease-of-use. Create pictures with perfect exposure even in low light situations thanks to the high performance flash. Choose from a variety of modes -- including Party, Landscape, Kids, Bulb Exposure, Macro and Double Exposure modes -- and get the perfect picture by simply rotating the Mode dial.

| | | |
| --- | --- | --- |
| | | |
| INSTANT PHOTOS | LCD STATUS DISPLAY | HIGH POWER FLASH |

Key Features:

High performance flash:
The high performance flash emits the ideal amount of the light finely adjusted for the distance to the subject and ambient brightness. It helps to optimize the exposure.

Party mode:
The party mode enables the background as well as the subject to be captured brightly.

Landscape mode:
It is best suited to target a distant subject (3m to ∞).

Kids mode:
This mode is helpful to capture fast moving subjects like children and animals.

Brightness control:
You can add a low-key or high-key effect by controlling the brightness of photos.

| | | | |
| --- | --- | --- | --- |
| | | | |
| Normal | Bright | Brighter | Dark |

Macro mode:
The newly equipped macro mode lets you enjoy stunning close-up photography.

Bulb exposure mode:
In bulb exposure mode, the shutter remains open (up to 10 seconds) while the shutter button is depressed, enabling photo capture that shows attractive night views and light streaks. You can take expressive photos, with more fun added to instax photography.

Double exposure mode:
By selecting the double exposure mode and pressing the shutter button twice, you can superimpose two different images in one frame to create an artistic photo. Show your creativity with a unique photo.

MODE dial:
By rotating the dial, you can switch modes and functions while looking through the viewfinder.

Tripod socket:
The tripod socket mount enables the instax to be attached to a tripod giving it stability, especially important when using the double exposure or bulb mode.

Battery:
A rechargeable battery is used to get the most pictures possible.

Power switch & Shutter button:
The power switch and shutter button are placed close to each other, making it easy for you to switch on and take a picture quickly.
12 accessories found for Fujifilm Instax Mini 90 Neo Classic Instant Film Camera (Brown)

FUJIFILM
Mfr#:
600016402

FUJIFILM
Mfr#:
16321418

FUJIFILM
Mfr#:
16437401

FUJIFILM
Mfr#:
16437396

LENSPEN
Mfr#:

OP/TECH
Mfr#:
3401002

PRECISION DESIGN
Mfr#:
PD-5CK

PRECISION DESIGN
Mfr#:
PD-50PVTR

PRECISION DESIGN
Mfr#:
PD-C10

PRECISION DESIGN
Mfr#:
PD-C15

PRECISION DESIGN
Mfr#:
PD-T14

PREMIUM TECH
Mfr#:
PT-32
Fujifilm Instax Mini 90 Neo Classic Instant Film Camera
– TECHNICAL SPECIFICATIONS –
---
| | |
| --- | --- |
| Film: | Fujifilm Instant Color Film "instax mini" (separately available) |
| Film size: | 86mm x 54mm |
| Picture size: | 62mm x 46mm |
| Lens: | Move in / out type lens, 2 components, 2 elements, f=60mm, f=12.7 |
| Viewfinder: | Real image finder, 0.37x, with target spot and parallax adjustment for macro mode |
| Focusing: | Motor-driven 3-range switching, 0.3m - ∞ (macro mode: 0.3m - 0.6m, normal mode: 0.6m - 3.0m, landscape mode: 3.0m - ∞) |
| Shutter release: | Programmed electronic shutter release, 1.8 - 1/400 sec. shutter speeds (macro mode: aperture automatically fixed at F22, bulb mode: maximum 10-second shutter open time) |
| Exposure control: | Automatic, LV5.0 - 15.5 (ISO800), lighten-darken control ±2/3EV, +1EV |
| Film feeding out: | Automatic |
| Flash: | Automatic electronic flash (with brightness adjustment function), forced firing mode (with brightness adjustment function), flash off mode, red eye reduction mode |
| Liquid Crystal Display (LCD): | Exposure counter (number of remaining shots), Macro mode, Brightness control, Self timer, Flash ON / OFF, Mode button(Party / Kids / Landscape / Double exposure / Bulb) |
| Power supply: | NP-45A lithium-ion battery |
| Dimensions: | 3.6 x 4.5 x 2.3 in. (91.9 x 113.4 x 57.2mm) |
| Weight: | 10.4 oz. (296g) (excluding battery, strap, and film) |