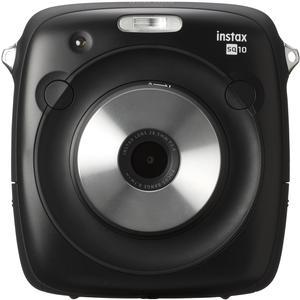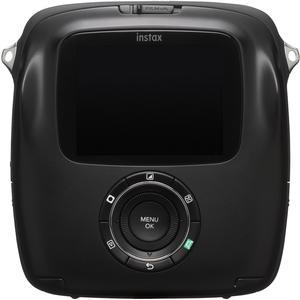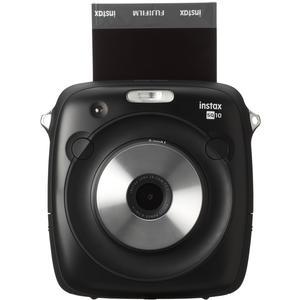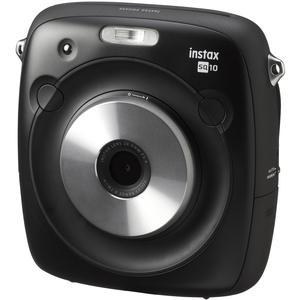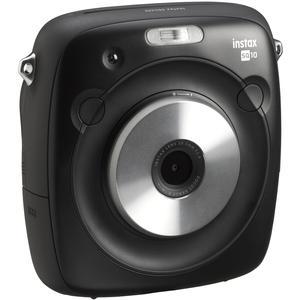 ITEM INCLUDES

Fujifilm Instax Square SQ10 Hybrid Instant Film & Digital Camera with:

NP-50 Li-ion Battery
USB Charging Cable
Hand Strap
2x Strap Rings
Clip Attaching Tool
User's Guide

Fujifilm Instax Square SQ10 Instant Film & Digital Camera

Release your creativity with the first hybrid instant camera.

The Fujifilm Instax Square SQ10 Instant Film & Digital Camera is the first hybrid instant camera that takes new INSTAX SQUARE film. The SQ10 is the first camera within its range equipped with a digital image sensor and digital image processing technology, which enables image editing and processing before printing and results in great image quality. This takes INSTAX to the next level and allows consumers to add a creative, artistic edge to their photos!

The SQ10 features an iconic design and a thin, round, symmetrical shape for easy holding. It takes bright photos in low-light conditions and close-up shots from a distance of up to 3.9 in. (10cm). Automatic exposure control and autofocus make taking pictures easy, and it offers simple operation with a 3" LCD monitor and operation dial with three main functions -- ten different filters, vignette control and brightness adjustment. Users have the ability to apply effects before or after printing.

In addition, the SQ10 features dual shutter buttons (one on each side of the camera). It includes a rechargeable battery, allowing users to shoot up to 160 images with one charge. Images taken can be printed instantly or saved in internal memory or on a microSD / microSDHC card to print at a later time, and photos can be transferred between the camera and a computer by micro-USB. Compatible only with INSTAX SQUARE film (sold separately).

SAMPLE IMAGES

Key Features:

Square Format:
Square photos are enjoying a resurgence in popularity for their retro look that adds character to every photo, no matter what the composition is. Enjoy a wider range of uses and forms of expression.

1:1 Aspect Ratio:
The square format is well-known as an effective format in artistic photography. While it has become popular in recent years, square photography has been around for longer than you think - it's been a beloved and widely used format among photo lovers for around 90 years. The instax SQUARE has a screen size of 62mmx62mm, providing perfect 1:1 dimensions. Whether your favorite subjects are portraits or landscapes, this format provides dramatic framing for your photos.

Quality as a Work of Art:
Instax film is a culmination of photo film production technology and photography know-how that we have amassed through ongoing research since Fujifilm was first established. In addition to outstanding color reproduction and stability, unique antioxidant technology has been used to keep instax photos in better condition for a longer period of time. With instax film, the beautiful colors you see when you first take the photo will look just the same after many years.

Analog and Digital:
The first instax system with digital imaging technology. In addition to a dramatic leap in photo quality, this system comes with filtering functions that provide a whole new creative experience.

Unlimited Expression:
You can enjoy over 3,000 photography styles - just from three buttons and one dial! You can change the settings whenever you want - before or after you take the photo!

Filter:
The SQ10 has 10 different filters such as saturation and tone. Switch between styles easily to get the picture you want.

Vignette:
Vignette, the peripheral light can be adjusted between 19 levels. This allows you to place your line of view in the center of the photo, making it ideal for portraits and still lifes.

Brightness:
Brightness adjustment with 19 levels. Allowing you to easily adjust brightness levels of your images and prints.

Select and Print:
Print your favorite shots, as many times as you like!

Select a Photo from the Thumbnails:
Photos you have printed before are saved in the Print History.

Trim the Photo:
Zoom or move and trim the photo to print it with the composition you want.

Reprint and Share
Print photos and share them with friends.

Improved Image Quality:
Digital imaging technology allows you to take close-ups as close as 3.9 in. (10cm) from the subject and auto-focus and adjust the exposure in dark areas, providing vivid photos in a wide range of scenes in your everyday life.

| | |
| --- | --- |
| | |
| NIGHT SHOT | MACRO SHOT |

Product Design:
Setting a new standard of instax design with its symmetrical form and simple user interface that breaks the mold the photography world has always known.

Dual Shutter Button:
Most of the cameras we use have the shutter button on the right. The SQ10 has a dual shutter system with two shutter buttons -- one on the right and one on the left. At last there's a camera for lefties! It provides a new perspective for righties too -- try pressing the shutter with your left hand and capture the world from a different angle. There's far more to this change than simply adding a second button -- this simple change is driving a new form of creativity.

Body Combines a High-quality Feel with the Iconic Instax Design:
The SQ10 has an iconic design and thin, round, symmetrical shape for easy holding. The lens ring is made with shaved metal and the feel of some of the resin parts has been changed to add a sense of depth and variety throughout the solid black body.

New User Interface Design:
Easy operation is one of the instax's greatest merits, and our new user interface is no exception. Intuitive operations make shooting, editing, processing and printing a snap. The SQ10 is designed so that you can concentrate on the composition of your photo. The LCD monitor keeps displayed information to a minimum and the buttons and dial are in the bottom center area of the camera.

Optional Features:
Get the most out of the SQ10 with these handy features!

Double Exposure:
Combine two shots into a single print with double exposure mode.

Bulb Exposure:
Bulb exposure mode allows the shutter to remain open for up to 10 seconds capturing long exposure shots.

Thumbnail Print:
You can also print photos saved as thumbnails.

Print from a microSD Card:
Insert a microSD card in the camera and save your photos to here. You can also insert a microSD card from another camera and print photos you took on that camera. And the internal memory holds around 50 images without a microSD card.
0 accessories found for Fujifilm Instax Square SQ10 Hybrid Instant Film & Digital Camera
Fujifilm Instax Square SQ10 Instant Film & Digital Camera
– TECHNICAL SPECIFICATIONS –
---
CAMERA SPECIFICATIONS
Effective Pixels:
1920 x 1920
Sensor Type:
CMOS
Sensor Size:
1/4"
Lens Type:
28.5mm fixed focal length (in 35mm format equivalent)
Shutter Speed:
1/29500 sec. to 1/2 sec.
Bulb
Focus Range:
3.9 in. (10cm) to infinity
ISO Sensitivity:
Auto, ISO 100-1600
Aperture Range:
f/2.4
Monitor Type:
TFT Color LCD
Monitor Size:
3.0"
Monitor Resolution:
460,000 pixels
Flash:
Built-in
Storage:
Built-in memory
microSD / microSDHC memory card
Power Source:
NP-50 Rechargeable Battery
Interface:
Micro USB
Dimensions (WxHxD):
4.7 x 5 x 1.9 in. (119 x 127 x 47mm)
Weight:
1 lb. (450g) (including film and battery)
PRINTER SPECIFICATIONS
Film:
FUJIFILM Instant Film "instax SQUARE" (Purchased separately)
Photo Capacity:
10 prints/pack
Film Size:
3.4 x 2.8 in. (86 x 72mm)
Image Size:
2.4 x 2.4 in. (62 x 62mm)
Supported Image Size:
800 x 800 dots
Printing Solution:
12.5 dots/mm (318 dpi, 80 ?m dot pitch)
Printing Levels:
256 levels per color (RGB)
Supported Image Format:
JPEG (Some images saved with a photo editing/processing software may not be displayed or printed.)
Printing Time:
Approx. 12 seconds
Print Timing:
Printing shortly after shooting/Printing after selecting image
Printing Function:
Images on built-in memory/micro SD card
Reprint:
Printable up to the past 50 prints (Up to 50 images stored in print history)
Digital Zoom:
Up to 2.4 X in printing (Output pixels: 800 x 800)
Film Detection:
Yes (Automatic ejection when inserted)