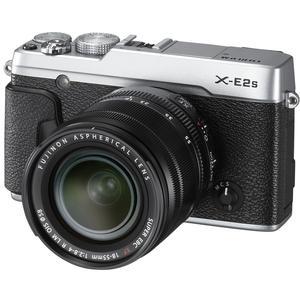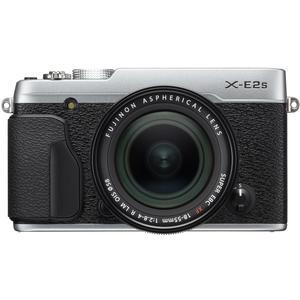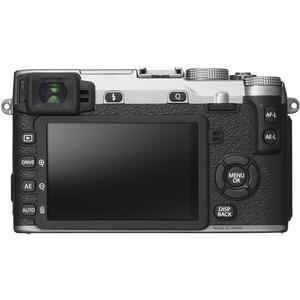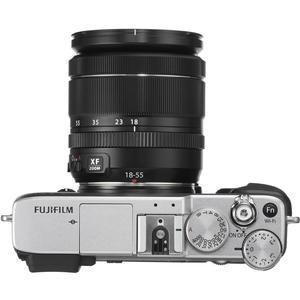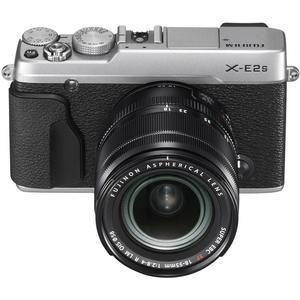 ITEM INCLUDES

Fujifilm X-E2S Wi-Fi Digital Camera & 18-55mm XF Lens (Silver) with:

NP-W126 Li-ion Battery
Battery Charger
Shoulder Strap
Body Cap
Metal Strap Clip
Protective Cover
Clip Attaching Tool
Owner's Manual

Fujifilm X-E2S Wi-Fi Digital Camera & 18-55mm XF Lens (Silver)

Engage with Your Subject and Capture Pictures Your Way

Sense the detail, mood and atmosphere of your scene. The advanced rangefinder design of the Fujifilm X-E2S allows you to capture the moment as it happens while viewing your subject in perfect detail through the viewfinder. From Film Simulation to improved performance and faster autofocus -- the new features on the X-E2S enable you to capture your vision in as true-to-life a way as possible.

Included with the Fujifilm X-E2S is the XF 18-55mm f/2.8-4 R LM O.I.S. lens. This single versatile zoom features a maximum aperture of f/2.8 and a broad focal length range from 27mm wide angle to 84mm telephoto (35mm format equivalent), allowing the photographer to respond to a variety of scenes.

Superbly portable thanks to its compact size, the fast linear motor-driven autofocus and the built-in functionality of four stops of image stabilization ensure comfortable, confident shooting even in challenging situations.

Key Features:

DESIGN

Die Cast Magnesium for both the Top and Front Covers
Die cast magnesium is used for both the top and front covers to ensure a solid, rigid body that remains lightweight at just 350g. The grip, which is shaped to fit perfectly in your hand, helps to deliver high image quality and impeccable overall performance.

LCD Monitor Clearly Displays both Images and Information
The LCD monitor features approximately 1.04M-dots. Both images and shooting information are clearly displayed and easy to see, even in dark scenes. Scratch-resistant reinforced glass provides excellent visibility and reduces reflections.

Priority Was Given to the Operation of the Metal Dials
The shutter speed and exposure compensation dials are milled from a metal block. As a result, they're comfortable to use, easy to grip, perfectly torqued and operate with a reassuring "click."

Grip Enhances Operability
The grip enhances mobility to match the rangefinder design, delivering a firm hold and quick dial operation even when holding one-handed.

Function Buttons for Fast Operation
Seven function buttons are arranged in the easiest-to-use positions so you can configure settings intuitively and quickly, even while looking through the finder.

Made in Japan
The mark of high quality. "MADE IN JAPAN" shows that exacting standards have been used from design to production to maximize performance and deliver high quality images.

CONTROL

Dials Offer Intuitive Operation
The shutter speed dial and exposure compensation dial can be changed with the right hand while holding the camera and adjusting the lens aperture with the left hand. Through the combination of settings on the shutter speed dial and aperture ring, Program (P), Shutter Speed Priority (S), Aperture Priority (A) and Manual (M) modes can easily be selected. In addition, fine exposure control is possible with a compensation range of up to ±3.0EV in 1/3 EV steps.

Quick Menu Customization and Seven Function Buttons
Pressing the Quick Menu Button allows the user to display and edit 16 shooting options, such as ISO sensitivity and Film Simulation. In addition, the seven function buttons can be used to quickly make setting changes.

Switch to Full Auto at the Press of a Button
The camera automatically recognizes scenes from 58 different options before selecting the optimal shooting settings. As the focus mode is also set to Auto in this Full Auto mode, it's ideal for those times when you just want to shoot freely and not worry about missing anything. It is also possible to set your favorite scene using the camera menu.

IMAGE QUALITY

80 years of photo film research adds up to color reproduction that's second to none
Over decades of film manufacture Fujifilm has perfected the skill of color reproduction and it lives on in the FUJIFILM X-E2S. Pleasing skin tones, natural blues and greens, and the ability to perfectly record the diversity of white balance conditions throughout the day are all taken in the camera's stride, and it also boasts a wide dynamic range for better reproduction of detail.

Recreating the colors of Fujifilm's photographic films
Film Simulation, perfected through Fujifilm's passion and philosophy of color reproduction over 80 years of photographic film manufacturing, allows users to create the colors and tones of photographic film, delivering high quality results with ease. If you shoot RAW, the in-camera RAW processing function enables any of the 11 Film Simulation options to be applied post-capture, broadening your shooting options.

| | |
| --- | --- |
| | |
| Velvia/Vivid | Astia/Soft |

| | | |
| --- | --- | --- |
| | | |
| Provia/Standard | Classic Chrome | Monochrome (+Ye / R / G Filter) |
| | | |
| Pro Neg. Hi | Pro Neg. Std | Sepia |

Maximizing the power of APS-C-sized X-Trans CMOS II sensor
Due to the X-Trans CMOS II sensor architecture that eliminates the need for an optical low-pass filter (OLPF) and integrates FUJFILM's originally developed color filter array, the FUJIFILM X-E2S reproduces scenes with resolution and clarity rivaling a larger sensor. X-Trans CMOS II sensor incorporates an original color filter array with a highly random pattern, eliminating the need for an optical low-pass filter (OLPF). These filters are used in conventional systems to inhibit moiré at the expense of resolution. The X-Trans CMOS II sensor array lets the sensor capture unfiltered light from the lens, achieving an unprecedented level of resolution.

Lens Modulation Optimizer technology brings out the full potential of the XF lens.
The advanced Lens Modulation Optimizer (LMO) technology in the FUJIFILM X-E2S was made possible by the integrated development of the lens, sensor and processor. For each mounted lens, LMO high-precision processing of the lens focal length and aperture, as well as data from the screen center to the edges, corrects diffraction blur when shooting with a stopped down aperture and compensates for the slight blurring in the lens periphery. The result is edge-to-edge image quality with incredible sharpness and a sense of dimensional reality.

A remarkable leap in high sensitivity -- maximum ISO of 51200
Through the combination of the sensor and processor, you can shoot at high sensitivities up to ISO 51200. Deep blacks with less noise are captured even when using this ultra-high sensitivity, and hand-held shooting is now possible in even lower lighting conditions.

Ultra-fast electronic shutter
The camera is equipped with an ultra-fast electronic shutter with a maximum speed of 1/32,000 sec., so you can take pictures at wide apertures even in bright outdoor scenes. This means you can take full advantage of the bokeh effects from FUJINON XF lenses. Mechanical shutter, electronic shutter, or a combination of the two can be selected.

AUTOFOCUS

High-Speed Phase Detection AF
The camera's Intelligent Hybrid AF system combines the excellent autofocus speed of phase detection AF with the strong low light performance of contrast AF. The phase detection pixels in the center of the image sensor deliver autofocusing speeds as short as 0.06 sec. In addition, Phase Detection AF tracking abilities in dark conditions have been improved.

| | |
| --- | --- |
| | |
| Contrast AF Area | Phase Detection AF Area |

Faster together -- the X-Trans CMOS II sensor and EXR Processor II
The blazing image processing performance of the EXR Processor II not only produces images with increased resolution and higher quality at higher speeds, but also accelerates operational responses. The start-up time has improved to only approx. 0.5 sec. Working in tandem with the high-speed signal readout of the X-Trans CMOS II sensor, the processor reduces the shooting interval to 0.5 sec. and shutter time lag to 0.05 sec.

Continuous Shooting with AF-C
Features advanced motion prediction technology to predict the subject's movement, enabling high-speed continuous shooting while tracking with AF at up to 7.0 fps.

Delivering a more accurate focusing performance
Single-point AF divides the focus area into smaller sections to more accurately determine the distance to the subject for even greater focusing accuracy. The built-in phase detection pixels have the detection range of 0.5EV, an improvement from the previous 2.5EV, delivering phase detection AF performance that enables fast focusing in low-light conditions and on low-contrast subjects.

Face Detection And Eye Detection AF
In addition to the Face Detection, the camera is also equipped with Eye Detection AF to focus specifically on the subject's eye. This feature is perfect for shooting portraits with a shallow depth-of-field.

Auto Macro - close-up photography has never been easier
The new AF system features an Auto Macro function that eliminates pressing the Macro button before shooting close-ups while maintaining the conventional AF speed. This update eliminates the Macro function assigned to the Macro Button, allowing you to assign a different function to the button.

Improved AF in the Movie mode for smoother video recording
The optimized algorithm delivers a more natural and smooth AF action during movie recording

Six New AF Options to Capture the Subject Perfectly:

AF-S + Single Point - Delivers highly accurate autofocus on a specific area. Choose any one of 49-point focus areas, then select the size of the area in five different levels.
AF-S + Zone - Effective for a subject with moderate movements, which the Single Area mode may have difficulty capturing. Choose a 3x3, 5x3 or 5x5 AF area. Use the centrally-positioned 3x3 and 5x3 phase detection AF areas for faster autofocusing speeds.
AF-S + Wide/Tracking - The camera automatically selects and focuses using several of the 77-point focus areas. This is ideally suited to subjects with unpredictable movements, or multiple moving subjects.
AF-C + Single Point - Pin-points a subject with a fixed direction of movement, e.g. moving towards the camera. Choose any one of 49-point focus areas, and select the size of the area in five levels.
AF-C + Zone - Tracks a subject when shooting hand-held, using a 3x3, 5x3 or 5x5 area to maintain focus. Choose the phase detection AF areas for faster autofocusing speeds.
AF-C + Wide/Tracking - Perfect for capturing a subject that moves unpredictably up/down, left/right and closer/further from the camera. Suitable for shooting with a tripod, simply pick the starting position to start tracking the subject.

| | | |
| --- | --- | --- |
| | | |
| AF-S + Single Point | AS-S + Zone | AF-S + Wide/Tracking |
| | | |
| AF-C Single Point | AF-C + Zone | AF-C + Wide/Tracking |

FINDER

2.36M-Dot High-Precision Electronic Viewfinder
The FUJIFILM X-E2S is equipped with a 2.36M-dot organic EL electronic viewfinder with 100% coverage. The display is incredibly clear thanks to an optical structure using two glass lenses and one double-sided aspherical lens. Also, since effects such as Film Simulation and exposure compensation can be applied, you can check how an image will look in real time. It is also possible to display natural tones, just as the naked eye would, by turning the preview picture effects off.

Diopter Adjustment Dial
The FUJIFILM X-E2S offers a diopter correction dial that enables users to adjust the strength of the viewfinder in accordance with their eyesight. The dial is located on the side of the viewfinder and can be adjusted from -4m-1 - +2m-1.

0.62X Viewfinder Magnification with a New UI to Improve Framing
The X-E2S has a viewfinder magnification of 0.62x, making it larger and clearer than entry-level SLR cameras. A new user interface has been used to deliver an impressive viewfinder performance. A variety of information can be checked while concentrating on framing with the new display information design focusing on size and visibility.

Display Time Lag of 0.005 Seconds - Virtually Real-Time
The camera's real-time viewfinder has the world's shortest display time lag of 0.005 seconds making it possible to take panning shots of moving subjects. Combined with the new AF system, it's a great camera to capture movement.
42 accessories found for Fujifilm X-E2S Wi-Fi Digital Camera & 18-55mm XF Lens (Silver)
Fujifilm X-E2S Wi-Fi Digital Camera
– TECHNICAL SPECIFICATIONS –
---
Model Name:
FUJIFILM X-E2S
Number of Effective Pixels:
16.3 million pixels
Image Sensor:
23.6mm x 15.6mm (APS-C) X-Trans CMOS II with primary color filter
Total number of pixels: 16.7 million pixels
Ultra Sonic Vibration sensor cleaning system
Storage Media:
SD memory card / SDHC memory card / SDXC (UHS-I) memory card
File Format:
Still image
JPEG (Exif Ver 2.3), RAW (RAF format), RAW+JPEG (Design rule for Camera File system compliant / DPOF-compatible)

Movie
Movie File Format: MOV
Movie Video Compression: H.264
Audio: Linear PCM Stereo
Number of Recorded Pixels:

L: (3:2) 4896 x 3264 / (16:9) 4896 x 2760 / (1:1) 3264 x 3264
M: (3:2) 3456 x 2304 / (16:9) 3456 x 1944 / (1:1) 2304 x 2304
S: (3:2) 2496 x 1664 / (16:9) 2496 x 1408 / (1:1) 1664 x 1664

Motion Panorama:
L: Vertical: 2160 x 9600 / Horizontal: 9600 x 1440
M: Vertical: 2160 x 6400 / Horizontal: 6400 x 1440

Lens Mount:
FUJIFILM X mount
Sensitivity:
AUTO1/AUTO2/AUTO3 (Control available up to ISO 6400)
Equivalent to ISO 200 - 6400 (Standard Output Sensitivity)
Extended output sensitivity : Equivalent ISO 100, 12800, 25600 and 51200
Exposure Control:
TTL 256-zone metering, Multi / Spot / Average
Exposure Mode:
Programmed AE / Shutter Speed priority AE / Aperture priority AE / Manual exposure
Exposure Compensation:
-3.0EV - +3.0EV, 1/3EV step
(movie recording : -2.0EV - +2.0EV)
Image Stabilizer:
Supported with OIS type lenses
Face Detection:
Yes
Shutter Type:
Focal Plane Shutter
Shutter Speed:
(Electronic Shutter mode) 1sec. to 1/32000sec.
(P mode) 4sec. to 1/4000sec.,
(All other modes) 30sec. to 1/4000sec.
Time 30sec. to 1/4000sec.
Bulb (max.60min.)
Synchronized shutter speed for flash : 1/180sec. or slower
Continuous Shooting:
Approx. 7.0 fps (JPEG : max. approx. 18 frames)
Approx. 3.0 fps (JPEG : up to the capacity of the card)
* Recordable frame number may vary depending on the type of memory card used.
* The frame rate varies with shooting condition and the number of images recorded.
Auto Bracketing:
AE Bracketing (±1/3EV, ±2/3EV, ±1EV)
Film Simulation Bracketing (Any 3 types of film simulation selectable)
Dynamic Range Bracketing (100% · 200% · 400%)
ISO sensitivity Bracketing (±1/3EV, ±2/3EV, ±1EV)
White Balance Bracketing (±1, ±2, ±3)
Focus:

Mode
Single AF / Continuous AF / MF Distance Indicator / AF+MF

Type
Intelligent Hybrid AF (TTL contrast AF / TTL phase detection AF), AF assist illuminator available

AF frame selection
Single Point AF : 49 areas on a 7x7 grid (Changeable size of AF frame among 5 types), Zone AF : Selectable with 3x3 / 5x3 / 5x5 areas from 77 areas on an 11x7 grid, Wide/Tracking AF : Automatic selection from 77 areas on an 11x7 grid

White Balance:
Automatic scene recognition
Custom / Color temperature selection (K)
Preset: Fine / Shade / Fluorescent light (Daylight) / Fluorescent light (Warm White) / Fluorescent light (Cool White) / Incandescent light / Underwater
Self-Timer:
10 sec. / 2 sec. Delay
Interval Timer Shooting:
Yes (Setting : Interval, Number of shots, Starting time)
Flash:
Manual pop-up flash (Super Intelligent Flash)
Guide number : approx. 5 (ISO100 · m) / approx. 7 (ISO200 · m)
Flash Modes:
(Activated when external flash is connected)

Red-eye removal OFF
Auto / Forced Flash / Slow Synchro / Suppressed Flash / Rear-curtain Synchro / Commander

Red-eye removal ON
Red-eye Reduction Auto / Red-eye Reduction & Forced Flash / Red-eye Reduction & Slow Synchro / Suppressed Flash / Red-eye Reduction & Rear-curtain Synchro / Commander

* Red-eye removal is active when Face Detection is set to ON.
Hot Shoe:
Yes (Dedicated TTL Flash compatible)
Viewfinder:
0.5-in., approx. 2.360K-dot OLED color viewfinder
Coverage of viewing area vs. capturing area : approx. 100%
Eye point : approx. 23mm (from the rear end of the camera's eyepiece)
Diopter adjustment : -4m-1 to +2m-1
Magnification : 0.62x with 50mm lens (35mm format equivalent) at infinity and diopter set to - 1.0m-1
Diagonal angle of view : approx. 30° (Horizontal angle of view : approx. 25°)
Built-in eye sensor
LCD Monitor:
3.0-inch, aspect ratio 3:2, approx. 1,040K-dot, color LCD monitor (approx. 100% coverage)
Movie Recording:
Full HD 1920 x 1080 60p / 50p / 30p / 25p / 24p, Continuous recording : up to approx. 14 min.
HD 1280 x 720 60p / 50p / 30p / 25p / 24p, Continuous recording : up to approx. 27 min.
* Use a card with SD Speed Class with class 10 or higher
Photography Functions:
Advanced SR AUTO, Eye detection AF, Face Detection, Interval timer shooting, Auto Red-eye Removal, Select custom setting, Motion panorama, Color space, Setting (Color, Sharpness, D-range, Gradation), Film Simulation, Advanced Filter, Framing guideline, Frame No. memory, Histogram display, Preview depth of focus, Lens Modulatioon Optimizer, Pre-AF, Focus check, Focus Peak Highlight, Digital Split Image, Electronic level, Multiple exposure, Release priority / Focus priority selection, Fn button setting (RAW, Movie, etc.), ISO AUTO control, Instant AF setting (AF-S/AF-C), Interlock spot AE & Focus area, Selector button setting, AE-L/AF-L button setting, Edit/Save quick menu, Shutter Type
Film Simulation Mode:
11 type (PROVIA/STANDARD, Velvia/VIVID, ASTIA/SOFT, CLASSIC CHROME, PRO Neg Hi, PRO Neg. Std, MONOCHROME, MONOCHROME+Ye FILTER, MONOCHROME+R FILTER, MONOCHROME+G FILTER, SEPIA)
Dynamic Range Setting:
AUTO, 100%, 200%, 400%
Advanced Ffilter:
Toy camera / Miniature / Pop color / High-key / Low-key / Dynamic tone / Soft focus / Partial color (Red / Orange / Yellow / Green / Blue / Purple)
Playback Functions:
RAW conversion, Image rotate, Auto image rotate, Face Detection, Red-eye reduction, Photobook assist, Erase selected frames, Image search, Multi-frame playback (with micro thumbnail), Slide show, Mark for upload, Protect, Crop, Resize, Panorama, Favorites
Wireless Transmitter:
Standard
IEEE 802.11b / g / n (standard wireless protocol)

Access mode
Infrastructure
Wireless Function:
Geotagging, Wireless communication (Image transfer), View & Obtain Images, Remote camera shooting, PC Autosave, instax printer print
Other Functions:
PictBridge, Exif Print, 35 Languages, Date/Time, Time difference, Sound & Flash, High Performance, Preview exp. in Manual mode, EVF Brightness, EVF Color, LCD Brightness, LCD Color, Preview Pic. Effect, DISP. Custom Setting
Terminal:
Digital interface
USB 2.0 High-Speed / micro USB terminal
* connectable with Remote Release RR-90 (sold separately)

HDMI output
HDMI Mini connector (Type C)

Others
Microphone / shutter release input: 2.5mm stereo mini connector
Power Supply:
NP-W126 Li-ion battery
Dimensions:
129mm (W) x 74.9mm (H) x 37.2mm (D) / 5.08in. (W) x 2.95in. (H) x 1.47in. (D)
(Minimum Depth : 30.9mm / 1.22 in.)
Weight:
Approx. 350g / 12.3 oz. (including battery and memory card)
Approx. 300g / 10.6 oz. (excluding accessories, battery and memory card)
Operating Temperature:
0°C - 40°C (+32°F - +104°F)
Operating Humidity:
10 - 80% (no condensation)
Battery life for still images:
Approx. 350 frames (When XF35mmF1.4 R is set, LCD monitor on)
Battery life for movies:
Consecutive movie recording : approx. 110 min. (Face detection is set to OFF)
* Individual movies cannot exceed approx. 14 min. on Full HD mode, and approx. 27 min. on HD mode in length.
Startup Time:
Approx. 0.5 sec., when High Performance mode set to ON
Approx. 1.0 sec., when High Performance mode set to OFF
* Fujifilm research
Fujifilm 18-55mm f/2.8-4.0 XF R LM OIS Zoom Lens
– TECHNICAL SPECIFICATIONS –
---
Lens Mount:
Fujifilm X Mount
Focal Length:
18-55mm
Maximum Aperture:
f/2.8-4
Minimum Aperture:
f/22
Maximum Magnification:
0.15x
Minimum Focus Distance:
11.81 in. (30cm)
Lens Construction:
11 elements / 8 groups
1 Extra Low Dispersion Glass
3 Aspherical Elements
Diaphragm Blades:
7
Focus Type:
Auto / Manual
Image Stabilization:
Optical Image Stabilization
Filter Size:
58mm
Dimensions (Diam. x Length):
2.5 x 2.7 in. (65 x 70.4mm)
Weight:
11.6 oz. (330g)