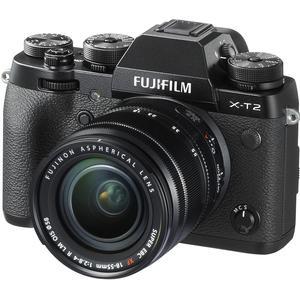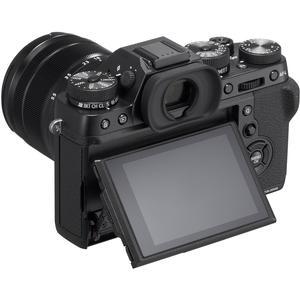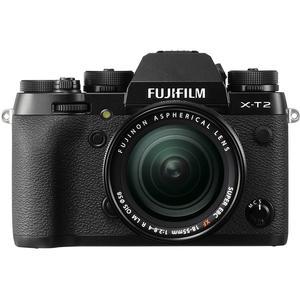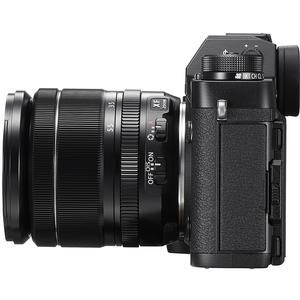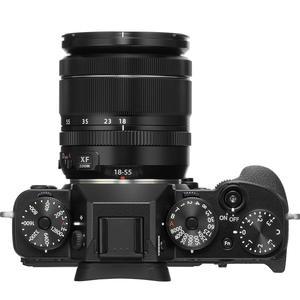 Fujifilm X-T2 4K Wi-Fi Digital Camera & 18-55mm XF Lens

ITEM INCLUDES

Fujifilm X-T2 4K Wi-Fi Digital Camera & 18-55mm XF Lens with:

NP-W126S Li-ion Battery
Charger
EF-X8 Flash
Shoulder Strap
Body Cap
Strap Clip
Protective Cover
Clip Attaching Tool
Hot Shoe Cover
Vertical Power Booster Grip Connector Cover
Sync Terminal Cover
Owner's Manual
Front & Rear Lens Caps
Lens Hood
Cloth Wrap

Fujifilm X-T2 Digital Camera &
18-55mm XF Lens

Creative Perfection.

In its compact, lightweight and robust body, the Fujifilm X-T2 Digital Camera delivers everything you need. A large, high definition EVF, easy to use dials, high-speed AF, and compatibility with an extensive range of high-performance interchangeable lenses make the X-T2 standout against its competitors. Film Simulation modes inherit the legacy of Fujifilm colors. Unparalleled image quality and outstanding 4K movie recording, made possible by the latest sensor and processing engine, it is the X series perfected. FUJIFILM X-T2 features the 24.3MP X-Trans CMOS III, an APS-C sensor with no low-pass filter boasting the highest performance in the history of the X Series, as well as the X-Processor Pro high-speed image processing engine to deliver outstanding color reproduction and gradation of tones in both stills and videos with high ISO sensitivity and low noise.

The FUJIFILM X-T2 also features AF-C Custom Settings for even higher accuracy in focus-tracking moving subjects. You can customize settings to optimize AF characteristics according to the type of subject movements. Approx. 1.8 times the amount of information needed to produce 4K video (3840x2160) or 2.4 times required for full HD video (1920x1080) is packed in to create premium image quality with low moiré or artifacts. Mechanical dials are provided for key operation, including the shutter speed, ISO sensitivity, exposure compensation, drive modes and metering modes. The settings can be adjusted even when the camera is turned off, so that you can be always ready for the next shot. For the prevention of operation errors, the dials for shutter speed and ISO sensitivity are equipped with a Lock & Release button, and are designed with extra height for operability improvement from FUJIFILM X-T1.

This bundle includes the FUJINON XF 18-55mm f/2.8-4 R LM OIS Lens. This single versatile zoom features a maximum aperture of f/2.8 and a broad focal length range from 27mm wide angle to 84mm telephoto, the photographer can respond to a variety of scenes. Superbly portable thanks to its compact size, the fast linear motor-driven autofocus and the built-in functionality of four stops of image stabilization ensure comfortable, confident shooting even in challenging situations.

Note: The X-T2 body is weather-sealed, but the 18-55mm XF lens is not weather-sealed. Weather-sealed lenses are available separately.

Key Features:

24.3MP X-Trans CMOS III Sensor:
The FUJIFILM X-T2 features a 24.3MP X-Trans CMOS III APS-C sensor for outstanding image quality. Its highly random pixel array effectively reduces moiré and false colors without the use of an optical low-pass filter. When combined with an XF lens, the sensor delivers images with a perceived resolution far greater than the number of pixels used. Other features include outstanding read speed, high-speed continuous shooting, high-precision AF tracking, highly faster live view refresh rate and superb video recording.

Excellent image processing from X-Processor Pro:
The X-Processor Pro image processing engine is approximately four times faster than the previous model. The increased built-in memory and enhanced computational power bring out the maximum capabilities of the X-Trans CMOS III sensor. It produces high quality images and improves response times for shorter delays between shots, reduced shutter-release time lag and greater AF precision. The engine also delivers faster Live View refresh rates and reduces image delay when tracking moving subjects.

Film Simulation modes reflect Fujifilm's color philosophy created through years of photographic film manufacturing:
Incorporating knowledge developed from over 80 years of photographic film manufacturing, the FUJIFILM X-T2's Film Simulation modes allow you to enjoy different color tones and rich gradations as if actually swapping films. A total of 15 modes are available, including PROVIA and Velvia to reproduce vibrant colors, plus ACROS for fine-detailed monochrome images. The Grain Effect function can be combined with all Film Simulation modes to add a textured look and deliver a greater range of artistic effects.

| | | |
| --- | --- | --- |
| | | |
| Provia / Standard | Velvia / Vivid | Astia / Soft |
| | | |
| Classic Chrome | Pro Neg. Hi | Pro Neg. Std |
| | | |
| Acros | Monochrome | Sepia |

Precisely capturing the subject:
AF performance has been improved in a number of keys areas. The fast and accurate phase detection AF now covers a larger part of the frame and has been optimized in the area where users are most likely to position the main subject. At the same time, the FUJIFILM X-T2 boasts significant focusing improvements on small highlights, low contrast subjects and subjects with fine textures, which have previously caused problems for focal plane phase detection AF. Contrast detection AF, which excels in low light conditions, has also received a performance boost, with the ability to accurately focus in light levels as low as -3EV. The camera also refocuses more regularly during the slow burst mode in AF-C.

Phase Detection:
The phase detection area has been expanded by approx. 230% compared to previous models, with the number of focus points increasing from 49 to 91 (up to 325). The camera also activates phase detection AF more frequently to take advantage of its AF speed and accuracy in a greater variety of situations.

AF Algorithm:
The AF algorithm has been improved to boost the camera's ability to capture subjects that have previously caused problems for phase detection AF. Subjects with delicate textures, such as bird feathers, can now be focused on quickly and precisely.

Eye Detection AF automatically detects human eyes:
Choose Face Detection to automatically detect human faces, or turn on Eye Detection AF to automatically detect and accurately focus on human eyes for successful portraits with a shallow depth of field. You can also define the area of priority focus, for example right or left eye, or the eye closer to the camera. These functions have been upgraded for improved accuracy to a level that will impress professional photographers. They are particularly effective when shooting with the XF56mmF1.2 R / XF56mmF1.2 R APD or XF90mmF2 R LM WR lenses.

Pinpoint accurate focusing in MF mode:
The FUJIFILM X-T2 has a variety of functions that assist pinpoint focusing in the MF mode. Set the Focus Mode Lever to MF and rotate the focus ring to access a variety of MF Assist functions. These include Focus Peaking, in which color is used to show the parts of the image that are in focus, and Digital Split Image, where focus is achieved by lining up the split image strips in the center. These features are particularly useful in macro photography and portraiture, which involve a shallow depth of field and require focusing precision.

Focus Lever to instantly change the focusing point:
The focus area can be changed in eight directions using the FUJIFILM X-T2's Focus Lever: up/down, right/left and diagonally. This allows users to make quick changes to the focus area for accurate focusing after composing an image. This feature is useful not only to shift the AF points during autofocusing, but also to quickly choose the area to be enlarged in MF Assist mode during manual focusing.

A new AF brain to capture the decisive moment every time:
Fujifilm has substantially improved the AF-C algorithm to boost the accuracy of the FUJIFILM X-T2's ability to track moving subjects. You can now fine tune how the camera reacts to the way the subject moves within the frame, how fast the subject moves and where in the frame the camera prioritizes focus. The five presets in the AF-C Custom Settings represent combinations of these three factors.

Tracking Sensitivity:
This setting allows you to specify whether the camera should switch its focus to a different subject or retain its focus to wait for the subject to reappear. This control is useful when the object you are tracking disappears behind an obstacle, goes out of the frame or when a second object at a substantially different distance from the subject comes into the frame, Selecting 0 makes the camera switch its focus immediately, while choosing 1-4 progressively lengthens the time it will retain focus.

Speed Tracking Sensitivity:
This setting defines the camera's tracking characteristics based on changes to the subject's speed. Selecting 0 (constant speed), the camera does not consider change of speed when predicting subject movements. Choose 2 (variable speed) and the camera takes speed changes into account when predicting subject movement, making it suitable for accelerating or decelerating subjects.

Zone area Switching:
This setting is available only in the Zone AF mode, and allows you to specify which part of the selected focusing zone should be given focusing priority. Select CENTER to maintain focus in the center of the frame, or FRONT to switch the focus to a subject at the front of frame when the original subject moves out of shot. AUTO tracks the subject you first focused on.

AF-C Custom Settings:
The AF-C Custom Setting allows you to select one of five AF presets according to the subject's movements to obtain perfect focus tracking. Based on how the subject moves, you can select a preset from, for example, Preset 2: Ignoring obstacles, Preset 3: For subjects that accelerate / decelerate, Preset 4: For subjects that suddenly come into the frame or Preset 5: Subjects with erratic movements to obtain optimum settings for accurate subject tracking. A combination of three factors: Tracking sensitivity, Speed tracking sensitivity and Zone area switching, may be manually set and registered as Preset 6: Custom.

Preset 1: Basic:
This is a standard setting for moving subjects in general. It is used by default when there is no specific AF-C Custom Setting selected. This is closest to the AF-C setting on previous models.

Preset 2: Ignoring obstacles:
Suitable when objects other than the subject enter the focusing area due to the subject going out of the frame or obstacles obscuring the subject.

Preset 3: Accelerating / decelerating subjects:
The perfect setting for subjects whose speed of movement changes significantly. It is particularly effective when using a lens featuring a linear motor for high-speed focus tracking.

Preset 4: For subjects that suddenly come into the frame:
Allows the camera to instantly focus on a subject that comes into the focusing area, with priority given to objects closest to the camera. It is ideal for subjects that suddenly appear in the focusing frame.

Preset 5: Erratically moving subjects:
This is suitable when subjects are moving at varying speeds in different directions, coming in and out of the focusing area. It is perfect for shooting field sports, etc.

Preset 6: Custom:
Manually create a preset optimized for the specific movement characteristics of your subject. You can adjust subject retention level, acceleration / deceleration level and zone area priority to your preference, then save them using this preset.

High-resolution Real Time Viewfinder with a 0.77x magnification ratio:
The 2.36-million-dot high-resolution organic EL electronic viewfinder has a magnification ratio of 0.77x, a horizontal viewing angle of 31 degrees, and a display time lag of just 0.005 seconds. The viewfinder, which is 2 times brighter than the previous model, also features an automatic brightness adjustment function so it's easy to see in all conditions - even intense backlighting. It completely eliminates moiré or false colors, and boasts performance comparable to an optical viewfinder, but with the added advantage of displaying a live view that reflects exposure settings.

Up to 100 fps EVF refresh rate for a clear display even in low light:
As standard, the EVF refreshes at a rate of 60 fps, but in Boost mode this jumps to 100fps, which continuously displays even fast-moving subjects smoothly to deliver a performance comparable to that of an optical viewfinder. The fast refresh rate is maintained even in low light for easy framing during night shooting.

Focusing on subjects with erratic movements:
Continuous shooting performance has also been improved, enabling up to 11fps when using the mechanical shutter and 5fps in the Live View mode. The viewfinder blackout time is now less than half that of the previous model. This means that you can track a fast-moving subject more easily for an extended period of time during continuous shooting. The combination of advanced continuous shooting options and EVF performance deliver continuous AF-C shooting never previously thought possible with mirrorless cameras.

Fresh shooting experience with clear details and a comfortable at-a-glance view of your settings:
"FULL" mode takes full advantage of the high magnification ratio of the FUJIFILM X-T2's viewfinder to give an unrivaled view of the scene. "NORMAL" provides an optimum view, including shooting settings and "DUAL" is specially designed for manual focusing with a clever split view. In the "NORMAL" and "FULL" modes, the view automatically rotates for a vertical orientation when the camera is held vertically.

FULL:
Taking full advantage of the high magnification ratio of the FUJIFILM X-T2's viewfinder, "FULL" mode gives you the full field of vision available. Any obstruction of the view is avoided by placing shooting information at the top and bottom of the display screen. Ideal for composing expansive landscapes, Wide is also great when manually focusing portraits and other subjects, allowing you to easily determine the perfect focus.

NORMAL:
When shooting with Autofocus, the "NORMAL" mode lets you concentrate on framing the shot while keeping you aware of how the shooting conditions are changing, making it the perfect setting for sports and action photography.

VERTICAL:
Hold the camera vertically and the information display automatically and smoothly rotates so it's ideally positioned for easy reading. Without taking your eye from the viewfinder, you can also check your images in vertical orientation for a truly seamless shooting experience.

DUAL:
In the viewfinder's "DUAL" mode, you can enjoy a view of the subject unlike anything seen through a traditional optical viewfinder. In Manual Focus, Dual cleverly displays a split screen that lets you see both a regular view of the scene, as well as the Focus Assist view (Focus Peaking and Digital Split Image Focus) at the same time, so focusing is easy and precise.

Outstanding 4K high-definition video:
The FUJIFILM X-T2 captures approx. 1.8x the required number of pixels for 4K video (4K/30P, 25P, 24P) and 2.4x the required data for full HD video (1080/60P, 50P, 24P) to deliver superior movie quality free from moiré or artifacts. It also supports the high bit rate of 100Mbps.

Film Simulation on video recording:
Film Simulation modes are available during video recording. Movie shooters can enjoy extra creativity, without the need for lengthy post-production, including monochrome video in ACROS and documentary-themed tones in CLASSIC CHROME. You can also change settings such as aperture, shutter speed and exposure compensation while recording video.

Simultaneous HDMI output to an external monitor:
Video can be output via HDMI during recording, allowing you to simultaneously check footage on the camera's LCD monitor or EVF and an external monitor. The data can even be recorded onto an external recorder as you film in the uncompressed format. As for 4K movie, you can choose log gamma "F-Log" to record a wider dynamic range than normal video mode.

Solid body with resistance to dust, moisture and low temperatures:
The FUJIFILM X-T2's body is made of magnesium alloy. Despite being compact and lightweight, it is both solid and highly durable. The body is also weather-sealed in 63 points to achieve a high level of resistance to dust and moisture. Couple this with its ability to work in temperatures down to -10°C and you'll see the camera is ready for anything. Similar weather-sealing is applied to the dust-resistant and water-resistant lenses and the Power Booster Grip to provide weather resistance across the entire system.

Dual SD card slots:
The body features dual slots to accommodate two SD cards for highly reliable data storage. Both Slot 1 and Slot 2 are compatible with UHS-II standards for excellent write speeds. You can use the slots for sequential recording, backup, sorting to record RAW files in Slot 1 and JPEG files in Slot 2, or assign one of the slots for video storage.

Three-direction tilting LCD screen:
The FUJIFILM X-T2 features a premium LCD screen that can tilt in three directions. Tilt it up and down when shooting in landscape, and upward when shooting in portrait. The screen remains positioned on the optical axis of the lens for easier high-angle and low-angle shooting. The 3-inch LCD has 1.04 million dots and uses toughened glass.

Exceptionally balanced for a comfortable and reliable grip:
The FUJIFILM X-T1's grip has been further developed and now offers even greater comfort on the FUJIFILM X-T2 thanks to a larger area set aside as a thumb rest. Locking mechanisms have also been introduced for the SD Card Cover and Battery Cover.

Lockable dials deliver quick and simple handling:
Key exposure controls are dial-based, such as setting the shutter speed, ISO sensitivity, exposure compensation, Drive Mode and Metering Mode. This means settings can easily be changed, even when the camera is turned off.

Exposure Compensation Dial with the C position:
The frequently-used exposure compensation function can be operated using the top-plate dial for adjustments in 1/3 increments up to ±3EV. Select the C position for exposure compensation of up to ±5EV using the camera's Command Dial. When using the Power Booster Grip featuring the Command Dial, select the C position to access exposure compensation with the camera held in the portrait orientation.

Highly-durable focal plane shutter with a maximum speed of 1/8000 sec.:
The FUJIFILM X-T2 features a focal plane shutter with a maximum speed of 1/8000 sec, flash sync speed of 1/250 sec and durability of 150,000 shots. It also supports an ultra-fast, silent-operating electronic shutter with a maximum speed of 1/32,000 sec that allows you to shoot at wide apertures, even in bright sunlight.

Boost mode enhances performance:
The FUJIFILM X-T2 is the first camera to feature the Boost mode, improving AF speed and EVF refresh rate. When fitted with the grip, the camera uses multiple batteries simultaneously to improve its performance on various aspects in the Boost mode, including continuous shooting, shooting interval, shutter release time lag and blackout time.

Vertical Power Booster Grip (optional):
The Vertical Power Booster Grip VPB-XT2 can fit two batteries to boost the maximum number of shots per charge to approx. 1,000. It not only lets you hold the camera vertically more confidently, but also features a shutter release button, Q button, focus lever, command dials, AE-L button and more to maintain the same level of excellent operability during shooting. The grip features a tripod mounting socket in line with the camera's optical axis, and is resistant to dust and water. The grip itself has battery-charging functionality, and is capable of fully charging two batteries in two hours.

Red Badge Zoom:
Of the diverse lineup of FUJINON lenses, Red Badge zooms are the perfect fit for X-T2. Add the Vertical Power Booster Grip to the body to hold the camera more comfortably, while making toughness features available for the entire system. Advanced performance, including high-speed AF and fast continuous shooting, allows you to capture difficult scenes.

X Mount Lens:
Every facet of the development and design of Fujifilm's original X Mount began with a clean slate. The result was the marriage of high-precision optical engineering with the latest digital technology. From the acclaimed high resolution XF lens series to the compact portability of the XC lens series, each lens exploits the full potential of the X Mount's descriptive performance.
43 accessories found for Fujifilm X-T2 4K Wi-Fi Digital Camera & 18-55mm XF Lens
Fujifilm X-T2 Digital Camera & 18-55mm XF Lens
– TECHNICAL SPECIFICATIONS –
---
Camera Type:
Mirrorless interchangeable lens camera
Effective Pixels:
24.3MP
Sensor Type:
CMOS
Sensor Size:
23.6 x 15.6 mm
Image Sizes:
L: (3:2) 6000 x 4000 / (16:9) 6000 x 3376 / (1:1) 4000 x 4000
M: (3:2) 4240 x 2832 / (16:9) 4240 x 2384 / (1:1) 2832 x 2832
S: (3:2) 3008 x 2000 / (16:9) 3008 x 1688 / (1:1) 2000 x 2000
Image Formats:
JPEG, RAW
Movie:
MPEG-4 AVC/H.264
Lens Mount:
Fujifilm X Mount
Image Stabilization:
Supported with OIS type lenses
Autofocus Type:
Intelligent Hybrid AF (TTL contrast AF / TTL phase detection AF)
Focus Modes:
Single AF / Continuous AF / MF
ISO Sensitivity:
Auto, 200-12800 (Extended Mode: 100-51200)
Shutter Type:
Mechanical
Shutter Speeds:
30 - 1/8000 second
Continuous/Burst Shooting:
Up to 14 fps for up to 42 frames in JPEG format
Up to 14 fps for up to 28 frames in raw format
Up to 8 fps for up to 83 frames in JPEG format
Up to 8 fps for up to 33 frames in raw format
Up to 5 fps for unlimited frames in JPEG format
Up to 5 fps for up to 39 frames in raw format
Self-Timer:
10 sec., 2 sec.
Exposure Metering System:
Average metering, Center-weighted average metering, Multi-zone metering, Spot metering
Exposure Modes:
Aperture Priority, Manual, Program, Shutter Priority
Exposure Compensation:
-5 EV to +5 EV (in 1/3 EV steps)
Wi-Fi:
Built-in
White Balance:
Automatic Scene Recognition, Color Temperature, Custom, Fine, Fluorescent (Cool White), Fluorescent (Daylight), Fluorescent (Warm White), Incandescent, Shade, Underwater
Flash:
External only
Flash Control:
TTL
Flash Sync Terminal:
Hot Shoe, PC Terminal
Flash Compensation:
-5 EV to +5 EV (in 1/3 EV steps)
Viewfinder:
Electronic
Monitor Type:
LCD
Monitor Size:
3.0"
Monitor Resolution:
1,040,000
Live View:
Yes
Weather Sealed:
Yes
GPS:
Not available
Storage:
SD / SDHC / SDXC memory cards
Power Source:
NP-W126S Rechargeable Lithium-ion Battery Pack
Interface:
1/8" Microphone
2.5mm Sub-mini (2-Ring)
HDMI D (Micro)
Micro-USB
USB 3.0
Dimensions (WxHxD):
5.2 x 3.6 x 1.9 in. (132.5 x 91.8 x 49.2mm)
Weight:
1.1 lb. (507g) (with memory card and battery)
Fujifilm 18-55mm f/2.8-4.0 XF R LM OIS Zoom Lens
– TECHNICAL SPECIFICATIONS –
---
Lens Mount:
Fujifilm X Mount
Focal Length:
18-55mm
Maximum Aperture:
f/2.8-4
Minimum Aperture:
f/22
Maximum Magnification:
0.15x
Minimum Focus Distance:
11.81 in. (30cm)
Lens Construction:
11 elements / 8 groups
1 Extra Low Dispersion Glass
3 Aspherical Elements
Diaphragm Blades:
7
Focus Type:
Auto / Manual
Image Stabilization:
Optical Image Stabilization
Weather Sealed:
No
Filter Size:
58mm
Dimensions (Diam. x Length):
2.5 x 2.7 in. (65 x 70.4mm)
Weight:
11.6 oz. (330g)