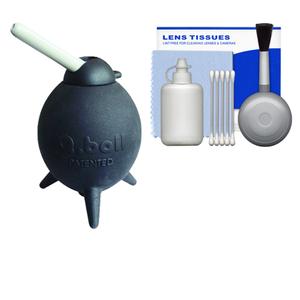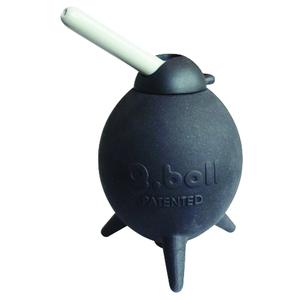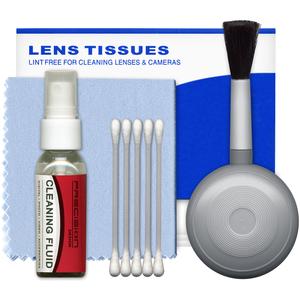 ITEM INCLUDES

Giottos Q.Ball Rocket Air Blower with:

Giottos Q.Ball Rocket Air Blower

Keep your lens and camera dust free!

This Giottos air blower is an excellent way to remove dust off sensitive equipment parts without physical contact. It works great when used on digital camera sensors, lenses, telescopes, computer keyboards, microscopes, communications equipment, musical instruments or just about any precision equipment.

ITEM INCLUDES

Precision Design 5-Piece Camera & Lens Cleaning Kit with:

Lens Cleaning Tissue
Lens Cloth
Lens Cleaning Liquid
Blower Brush
Cotton Swabs

1 Year Precision Design USA Warranty

Precision Design 5-Piece Lens Cleaning Kit

Essential items for the proper maintenance of your equipment.

It's obvious that the cleaner the lens, the sharper your pictures will be. Dirt, dust, and fingerprints will degrade the image quality of even the finest optics. However, it's equally important to avoid using incorrect cleaning materials which can permanently damage your photo equipment.

This 5-piece cleaning kit contains everything you'll ever need to properly clean your lenses, including a bottle of cleaning solution, lens tissues, cotton swabs, a blower brush, and a microfiber cloth.
0 accessories found for Giottos Q.Ball Rocket Air Blower
Reviews are for the first item in the kit:
Giottos Q.Ball Rocket Air Blower