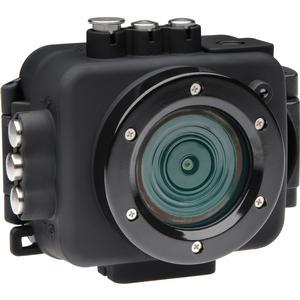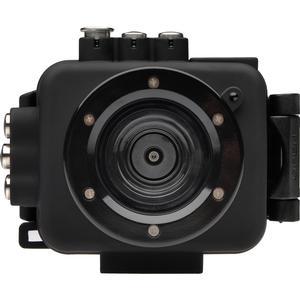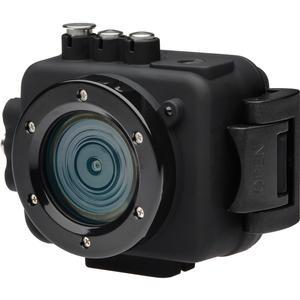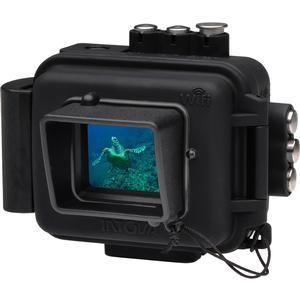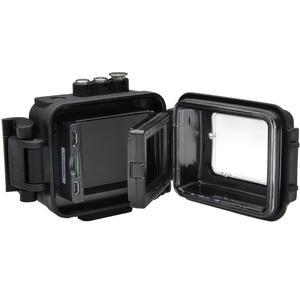 ITEM INCLUDES

Intova Edge X Waterproof Sports HD Video Camera Camcorder with:

Lithium-ion Battery
Floating Wrist Strap
USB Cable
Lens Cap
Anti-glare Hood
Silicone Grease
Quick Start Guide
CD-ROM Software

Intova Edge X Waterproof Sports HD Camcorder

Waterproof POV Camera with 1080p HD Video

Small and compact, the Intova Edge X offers full 1080p high definition video with a 160° wide-angle lens. This design allows a maximum view angle without the significant distortion found in wider lens angles. Built-in Wi-Fi allows the user to operate and see what is on the viewfinder remotely on a laptop, tablet or smart phone, and also to enable wireless file transfer. The Edge X supports microSD cards up to 64GB (class 10 required for HD video recording).

Intova's unique and patented Unibody design builds the electronics directly into the compact housing. The housing is constructed of rugged polycarbonate with a rubberized armor coating. The optically flat glass lens port has a water-repellent and anti-reflective coating. Its flat design allows seamless operation above or below water. Waterproof to 200 feet (60 meters), the housing includes buttons for full camera control in any environment.

The Intova Edge X's high-quality 1.5-inch LCD screen acts as both a viewfinder and playback monitor. To save battery life, the LCD can be turned off when not in active use. Edge X utilizes a standard 1/4" tripod thread to fit a wide range of Intova mount accessories.

HOUSING OPENS TO ACCESS MEMORY CARD, BATTERY AND USB/HDMI PORTS

Key Features:

Beautiful 1080p HD Video:
Records all the action with a 160° wide-angle lens, capturing all the backgrounds and peripheral moments that can be missed with a narrower field of view. Sophisticated camera technology automatically adjusts the exposure and white balance, ensuring crisp, beautiful video every time. You can choose between three different video resolutions, 1080p, 960p, 720p and 480p enabling you greater creative flexibility.

12 Megapixel Still Photos:
The Edge X shoots 12 megapixel (by interpolation) photos for stunning, high-quality prints.

1.5" Full Color TFT LCD Display:
A compact 1.5-inch color LCD display acts as both viewfinder and playback monitor and features sharp, natural color that makes it easy to compose shots, read menus and view photos, even in bright sunlight or underwater.

160° wide-angle lens:
Wide-angle lens gives you a 160° angle of view, allowing you to get closer to your subject while still fitting all the action in-frame as you record full HD 1080p movies.

Built-in Wi-Fi
The Edge X comes Wi-Fi-enabled to communicate instantly with smartphones. Combined with the downloadable camera app, you can preview and line up a shot remotely from your phone or tablet (Android or iOS device), change camera settings, shot recording, photo capture and playback, directly through your mobile device. You can even download content from the camera to your smartphone instantly and share content wirelessly across your favorite social media platforms.

On Camera Controls:
Three buttons on top and three buttons along one side mean you can access critical functions, such as record START/STOP and changing between photo and video modes, while the camera is fully water-sealed.

Waterproof Protection (200 ft. / 60m):
A revolutionary system of waterproof seals and gaskets keeps water out so you can take pictures as deep as 200 feet underwater when using the outer casing.

OPTIONAL ACCESSORIES

Shockproof Protection:
Rugged body and innovative shock-absorbing construction are designed to withstand a 3.2-foot drop.

Freezeproof Protection:
Withstands extreme weather conditions, as it is operable in temperatures from -10°C/14°F to 40°C/104°F.

microSDHC storage:
You'll be able to store hundreds of high-quality photos and videos with microSDHC memory cards up to 64GB (class 10 required for HD video recording).

Standard 1/4" tripod thread:
A standard 1/4" tripod thread accommodates a broad array of optional Intova mount accessories (not included).

Variety of Uses:
Shooting hands-free video shouldn't be limited to just a few sports. Intova offers a full system of mounts (sold separately), specifically tailored for a full range of activities and interests. From helmet mounts, handle bar mounts and tripod connections to ski, skate, motocross, and whitewater attachments.

Ideal for skiing, mountain biking, skateboarding, water sports and other outdoor activities.
35 accessories found for Intova Edge X Waterproof Sports HD Video Camera Camcorder
Intova Edge X Waterproof Sports HD Camcorder
– TECHNICAL SPECIFICATIONS –
---
Lens:
160° wide angle
Video Codec:

H.264
HD Video Resolution Modes:
1080p HD @ 30fps
960p HD @ 30fps
720p HD @ 30fps
VGA @ 30fps
Video File Type:
MOV (Quick Time Movie)
Photo Resolution:
12MP, 10MP, 8MP, 5MP
Digital Zoom:
60x
LCD Display:
1.5" TFT LCD
Depth Rating:
Waterproof to 200 ft. (60m)
Housing:
Polycarbonate with UV injection
Patented Unibody design with full function control buttons
Burst mode:
3, 5 or 10 photos
Memory:
Supports microSD card up to 64GB, built in 32MB flash memory
Battery:
1150 mAh Lithium-Ion Battery
Charging:
via USB to computer & AC power adapter
Interface:
USB 2.0
HDMI D (Micro)
Dimensions (WxHxD):
2.8 x 3.3 x 2.4 inches (71 x 84 x 61mm)
Weight:
7.09 oz. (201g)