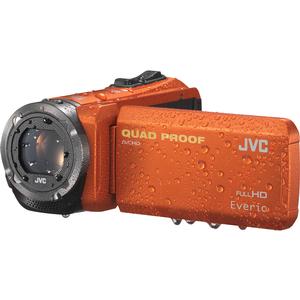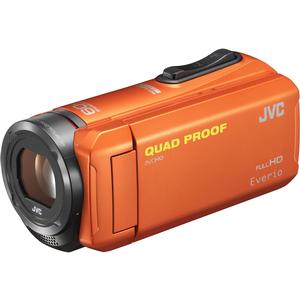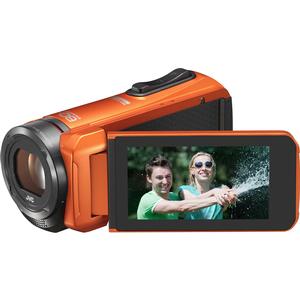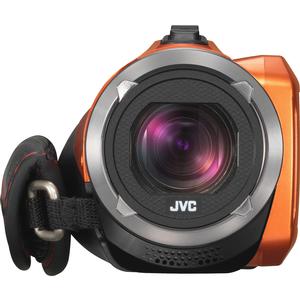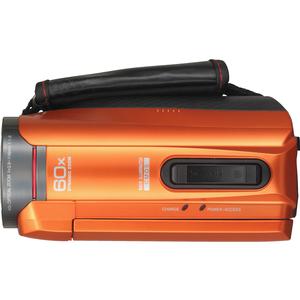 ITEM INCLUDES

JVC Everio GZ-R320 Quad Proof Full HD Digital Video Camera Camcorder (Orange) with:

AC Adapter
USB Cable
A/V Cable
Everio Media Browser 5 Software
Instruction Manual

JVC Everio GZ-R320 Quad Proof
Full HD Camcorder

Your memories keep shining whether it's raining or snowing.

The JVC Everio GZ-R320 takes stunning HD video, and is ready for everything. A Quad Proof design makes it water proof, dust proof, shock proof & freeze proof. A five hour battery means you can continue recording far longer than a typical camcorder. Take this camcorder places you would never take a normal camcorder for videos that are unlike anything possible with a normal camcorder. Rain, Snow, Swimming Pools, Off-Road, Amusement Parks -- you name it.

Look forward to legendary JVC video quality with a high performance HD zoom lens, high bit-rate AVCHD recording, zoom microphone and advanced image stabilizer -- all features that are not available from a typical smart phone or tablet.

Key Features:

Quad Proof Design:
Everio is water-proof down to 16.4 ft. (5m), as well as dust-proof and freeze-proof down to -10°C/14°F. Take this camcorder on any adventure and it can withstand the most extreme conditions.

| | |
| --- | --- |
| | |
| WATERPROOF 16.4 FT. (5M) | DUSTPROOF |

| | |
| --- | --- |
| | |
| FREEZEPROOF 14°F (-10°C) | SHOCKPROOF 4.9 FT (1.5M) |

5 Hour Internal Long-Life Battery:
With a high-capacity battery built into the camcorder, you'll have plenty of power to shoot entire events without worry, and with no risk of damage by having to change the battery in bad weather.

Compatible with Portable Battery and USB Charging:
In emergency situations where you need a little more juice, just connect a portable battery (commercially available smartphone accessory) and keep on shooting. Or you can Quick Charge via micro USB terminal to extend recording time as well.

40x Optical/60x Dynamic Zoom:
Everio offers 40X optical zoom, and up to 60x Dynamic Zoom range. The powerful CMOS sensor maintains HD resolution even when exceeding the optical zoom range.

Zoom Microphone:
The zooming microphone changes the focal point to match the picture from wide to telephoto, so you can always hear what you see.

Super Lo Lux:
Everio's Super LoLux ensures superior sensitivity to low light. With a 2.5M Back-illuminated CMOS sensor, you can capture clear images with precise colors even in low light. No worry while indoors or in dark situations.

| | |
| --- | --- |
| | |
| WITHOUT SUPER LOLUX | WITH SUPER LOLUX |

Full HD 1920 x 1080 Recording:
AVCHD enables you to record, watch and share excellent video with native Full HD 1920 x 1080 resolution. And with 1080/60p progressive recording, each individual frame is a complete, high-resolution picture, so you can capture blur-less still images from recorded video.

10 Megapixel Stills:
In addition to Full HD video, Everio can also record still pictures with an image size of up to 10 Megapixels. Enjoy stills with zoom power that digital still cameras and smartphones just can't match.

K2 Technology:
The same audio technology used in recording studios to restore sound elements that are lost during digital compression, assures realistic sound of recorded scenes. K2 is applied during the recording process so it's effective even when playback isn't done at the camcorder.

Auto Wind Cut:
Automatically turns Wind Cut ON and OFF depending on wind conditions using an original algorithm and tuning, so scenes won't sound noisy or unnaturally muted.

Enhanced Image Stabilization:
Everio features A.I.S. (Advanced Image Stabilizer) technology for effective camera-shake compensation, especially in the wide-angle range.

| | |
| --- | --- |
| | |
| WITHOUT IMAGE STABILIZATION | WITH IMAGE STABILIZATION |

Close-up Sub-Window:
You can enlarge a specific area of the screen and record both the sub-window and the original screen simultaneously. Keep an eye on the whole team while getting a special close-up look at your hero.

Time-Lapse REC:
Time-Lapse REC records one frame at a time at set intervals (1sec. - 80sec.). So you can watch movement that's hours long in just a few seconds when played back. It's great when you want to observe an event that takes place over a long period of time or to record unique-looking scenes in a creative way.

Special Effects Video Recording:
Interesting visual effects to spice-up any scene. Works with still images too.

Grainy Monochrome:
Turns any scene into a rough black & white image like an old film!

Food Mode:
Any dish looks more delicious as colors of foods are accented to "bring out the flavor"!

Special Effects Video Recording:
Baby skintones are enhanced to bring out every smile!

| | | |
| --- | --- | --- |
| | | |
| GRAINY MONOCHROME | FOOD MODE | BABY MODE |

Big-Button On-Screen Menu:
Menu buttons are enlarged for enhanced visibility and operability. And thanks to the pressure-sensitive touch panel, you can operate it even while wearing gloves.
20 accessories found for JVC Everio GZ-R320 Quad Proof Full HD Digital Video Camera Camcorder (Orange)
JVC Everio GZ-R320 Quad Proof Full HD Camcorder
– TECHNICAL SPECIFICATIONS –
---
Image Sensor:
1/5.8" 2,510,000 pixels (CMOS, back-illuminated)
Video Format:
MPEG4-AVC / H.264
Video Resolution:
1920 x 1080i / 60 fps (24Mbps)
1920 x 1080i / 30 fps (17Mbps)
1920 x 1080i / 30 fps (4.8Mbps)
Still Format:
JPEG
Still Resolution:
10 Megapixel
2 Megapixel, 1920 x 1080 (19:9)
Image Stabilization:
Advanced Image Stabilizer
Lens Type:
Konica Minolta HD Lens
Optical Zoom:
40x
Dynamic Zoom:
60x
Digital Zoom
200x
Aperture:
f/1.8
Waterproof:
16.4 ft. (5m)
Shockproof:
4.9 ft. (1.5m)
Dustproof:
IP5X
Monitor Type:
Touch Panel LCD (Approx. 230,000 dots)
Monitor Size:
3.0-inch
Intelligent Auto:
Yes
Microphone:
Built-in
Light:
N/A
Storage:
SD / SDHC / SDXC memory card slot
Power Source:
5 Hour Internal Li-ion Battery (3,200 mAh)
Interface:
(1) HDMI C (Mini)
(1) USB 2.0
Dimensions (WxHxD):
2.4 x 2.3 x 4.8 in. (60 x 59.5 x 122mm)
Weight:
0.63 lbs. (288g)