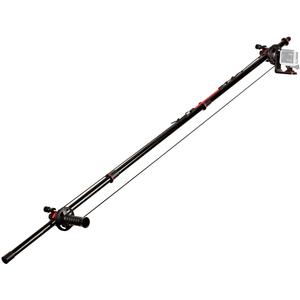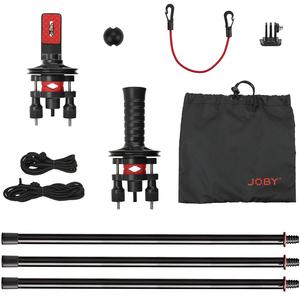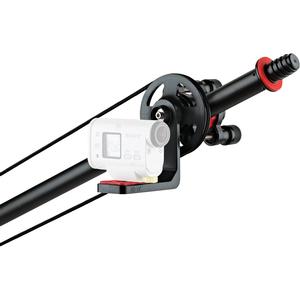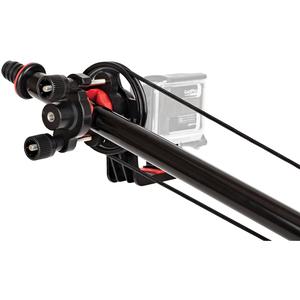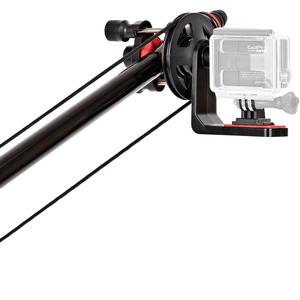 ITEM INCLUDES

Joby Extendable Jib Kit with Modular Poles for Action Cameras with:

Camera Mount and Pole Clamp
Monopod End Cap
Bungee Tensioner Cord
GoPro Tripod Mount Adapter
2x Pulley Cords
Handle and Pole Clamp
3x Extension Poles
Carry Bag

Joby Extendable Jib Kit with Modular Poles for Action Cameras

Capture epic cinema shots with your action cam.

The ultra-portable Joby Extendable Jib Kit with Modular Poles for Action Cameras allows you to capture unique crane shots. The right mix of shots can make your video stand out from the crowd. Capture classic cinema shots such as: the crane, low and high angle, panning, tracking and others. Get a new point of view and place your camera into hard-to-reach places.

Go anywhere! Take the lightweight and packable Jib Kit into the field without the weight and bulk of a large jib crane. The Action Jib Kit works great with any action video cam such as GoPro, Sony or Contour. Just mount your device and start shooting epic action video!

Key Features:

Fits any action cam:
The mounting bracket pulley comes with both a 1/4"-20 screw and a GoPro mount.

| | | |
| --- | --- | --- |
| | | |
| GoPro | Sony Action Cam | Contour |

Three Modular 20 in. (50.8cm) aluminum extension poles:
The three poles feature a painter's pole threading so you can create the pole length you want.

Use your phone as a display:
The handle has an extra 1/4"-20 screw so you can mount a GripTight and Locking Arm for remote video viewing.

Portable and packable:
All components come in a compact bag that you can carry with you on-the-go.

Adjust for any length:
Comes with two different adjustable lengths of cord to accommodate different pole lengths.

Smooth operation:
The bungee tensioner clips to the cord loops keeping it taught for smooth pulley operation.

Two removable, adjustable pole clamps:
Two Removable, Adjustable Pole Clamps. One at the base of the pole with the handle and the other at the end where the action camera will be mounted.

Clamping Jaws:
The red rubber clamping jaws can pull out and rotate 90 degrees for different pole sizes. Fits pole diameters between 1/2" and 1 1/2".

Use Your Phone as a Remote Display:
No more guessing whether your shot is in frame. Just mount your phone to the 1/4"-20 screw on the handle with a GripTight Mount + Locking Arm. Pair your phone to your action camera and you have a live display of what you are shooting.
0 accessories found for Joby Extendable Jib Kit with Modular Poles for Action Cameras
Joby Extendable Jib Kit with Modular Poles for Action Cameras
– TECHNICAL SPECIFICATIONS –
---
| | |
| --- | --- |
| Designed for: | Any action video camera including GoPro, Contour, and Sony |
| Available Color: | Black/Red |
| Materials: | ABS plastic, Teflon, nylon, steel, stainless steel, rubber, elastic |
| Connection: | GoPro Mount or 1/4"-20 screw |
| Dimensions in Bag: | 8.5 x 3.1 x 60.2 in. (19 x 7.8 x 152.8cm) |
| Pole Socket: | 3/4"-5 |
| Weight: | 23.5 oz. (665g) |