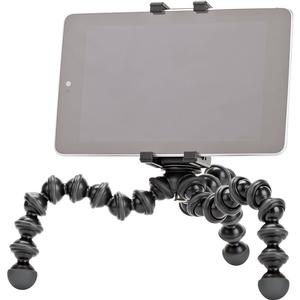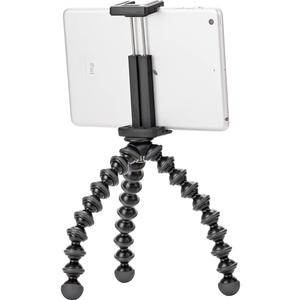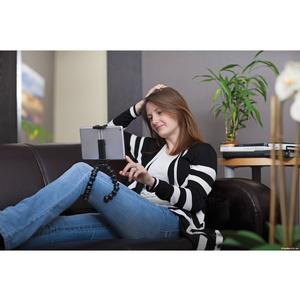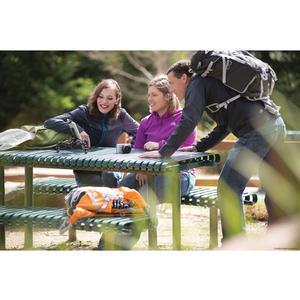 ITEM INCLUDES

Joby GripTight GorillaPod Tablet Stand with:

GripTight Mount
Quick-release Clip

Joby GripTight GorillaPod Tablet Stand

Fun & flexible everywhere you go.

The Joby GripTight GorillaPod Tablet Stand for smaller tablets provides a fun, flexible mounting stand for your tablet. Paired with a GorillaPod tripod, this stand allows you to position your tablet for the best viewing -- wrap around your leg or chair, position on railing, etc.

Featuring sturdy, prehensile legs, the GripTight GorillaPod helps you get a steady shot in virtually any environment. Its compact size means it can go anywhere, and unlike traditional tripods, the GorillaPod doesn't require a flat surface.

Whether you're shooting a memorable family portrait or simply looking to keep your tablet rock steady for postcard-quality photos, the GripTight GorillaPod is the perfect companion for your next great adventure!

Key Features:

Fits Best-Selling Small Tablets:
Adjustable grip fits all small tablets such as iPad mini with or without a case.

Reliable Rubber Grip Pads:
Secure device in place, even when turned sideways!

1/4-20" Universal Tripod Screw:
Connects to GorillaPods and most other tripods.

Quick-Release Clip:
Stays connected to the GripTight Mount for instant setup.

Foldable and Portable:
Mount legs fold in making it easy to fit in your pocket or bag.

Over Two Dozen Leg Joints:
Bend and rotate 360-degree giving you the flexibility to shoot anywhere!

Works in Portrait Mode:
Some applications like Facetime or reading eBooks are better in portrait mode. The flexible and adaptable GripTight Gorillapod can be set up for either landscape or portrait viewing. Get the best of both worlds in one compact stand!

Internal Steel Springs:
Mount expands to the size of your device and grips securely.

Experience Easy:
The GripTight GorillaPod Mount easily fits in your bag and is quick to set up. The GripTight Mount attaches to the GorillaPod via 1/4-20" screw. With the GripTight GorillaPod Stand's flexible, grippy legs, there are no limits to your creativity! Shoot from a new perspective, give night photography a go, capture shots with a macro lens, or make a time-lapse video--the GripTight GorillaPod Stand provides the flexibility to create any shot you can think of.

Fits a Range of Small Tablets:
Tablets with or without a case between 3.8 in. (96mm) and 5.5 in. (140mm) wide will fit the GripTight for smaller tablets.

Zach Doesn't Know How to Cook:
That's not a problem because hundreds of the best chefs are at his fingertips. Bring the experts to you no matter where you go or what you do. The GripTight GorillaPod Stand is so adaptable, you will invent new ways to make your small tablet more useful and your life a little easier.

The Ultimate Mini Entertainment System:
GripTight GorillaPod Stand is the perfect portable stand to take anywhere. See a movie in the mountains, Facetime on a train or Pinterest in the park. Change your perspective and find new places and uses for your small tablet.
0 accessories found for Joby GripTight GorillaPod Tablet Stand
Joby GripTight GorillaPod Tablet Stand
– TECHNICAL SPECIFICATIONS –
---
| | |
| --- | --- |
| Designed for: | Smaller tablets, with or without a case from 3.8 - 5.5 inches (96 -140mm) such as iPad Mini 3/2/1, Nexus 7, Samsung Galaxy Tab 4 7.0, Sony Xperia Z3 Tablet Compact, Kindle Fire HD (7"), Nook HD, etc. |
| Connection: | 1/4"-20 thread to work with any tripod |
| Materials: | Durable ABS plastic, TPE grip pads, steel springs, stainless steel pins |
| Product Dimensions (WxDxH): | 2.1 x 2.1 x 11.7 in. (54 x 54 x 297mm) |
| Product Weight: | 6.8 oz. (193g) |