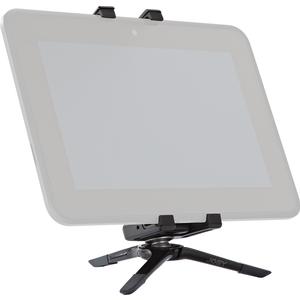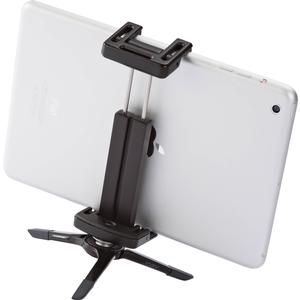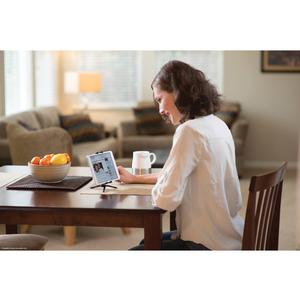 ITEM INCLUDES

Joby GripTight Micro Tablet Stand with:

Joby GripTight Micro Tablet Stand

Take a stand for a better view.

The Joby GripTight Micro Tablet Stand for smaller tablets provides a compact, foldable stand. Paired with the sleek, zinc-aluminum folding legs of the Micro Hybrid tripod, this stand allows you to position your tablet for the best viewing whether you are watching a movie, surfing the web, reading a blog post or setting up for a photo.

The Micro Tablet Stand is elegantly concealed beneath the base of the tablet, the sleek form is convenient to carry and easily fits in any pocket or bag. The aluminum and zinc alloy construction is engineered for dependable stability, quick deployment and precise ball positioning. Plus, rubber grips provide rock-solid footing on any surface.

Key Features:

Fits All Best-selling Small Tablets:
Adjustable grip fits all smaller tablets, such as iPad mini and others, with or without a case, ranging in width between 3.8 - 5.5 in. (96 - 140mm).

Grips Your Device Safely and Securely:
Internal steel springs allow the mount to expand to the size of your tablet and grip it securely. Reliable rubber grip pads keep your device in place.

Adjust Your Device to the Viewing Angle You Need:
Machined-aluminum mini ball head lets you tilt your tablet 36° in any direction.

Deploys and Folds Quickly:
The GripTight Micro Stand quickly unfolds when you need it and folds up compactly to about the size of a beer bottle opener when you don't.

Easy at Home, Work or Play:
GripTight Micro Stand is portable, adaptable and ready no matter where you go. Connect with your friends on Skype, wrangle your inbox or relax with a flick. GripTight Micro Stand will hold your small tablet so you don't have to.

Small, Sleek, Tough:
Joby wanted to build a tablet stand that you could always carry with you but would still be sturdy and dependable out in the field. Designed with durable zinc alloy legs and a machined mini ballhead, the GripTight Micro Stand is super lightweight & compact. Unlike the protrusions or unwieldy size of other tripods, this was designed to be carried easily in your pocket. The GripTight Micro Stand for smaller tablets is only 5 in. (127mm) long when folded!

Fits a Range of Small Tablets:
Tablets with or without a case between 3.7 in. (96mm) and 5.5 in. (140mm) wide will fit the GripTight for smaller tablets.
0 accessories found for Joby GripTight Micro Tablet Stand
Joby GripTight Micro Tablet Stand
– TECHNICAL SPECIFICATIONS –
---
| | |
| --- | --- |
| Designed for: | Smaller tablets, with or without a case from 3.8 - 5.5 inches (96 -140mm) such as iPad Mini 3/2/1, Nexus 7, Samsung Galaxy Tab 4 7.0, Sony Xperia Z3 Tablet Compact, Kindle Fire HD (7"), Nook HD, etc. |
| Connection: | 1/4"-20 thread to work with any tripod |
| Materials: | Durable ABS plastic, TPE grip pads, steel springs, stainless steel pins,coated zinc-aluminum, silicone |
| Product Dimensions (WxDxH): | 4.6 x 4.6 x 4.9 in. (118 x 118 x 125mm) |
| Product Weight: | 3.9 oz. (111g) |