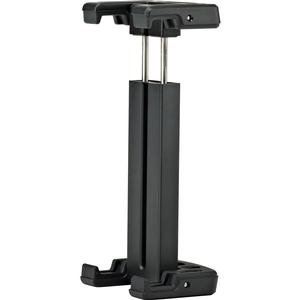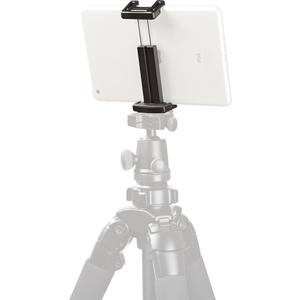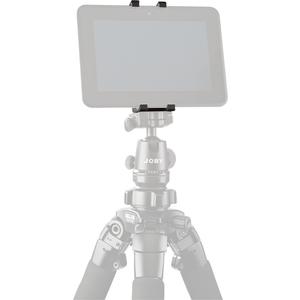 ITEM INCLUDES

Joby GripTight Tablet Mount with:

Joby GripTight Tablet Mount

A smart mount for everybody.

Mobile devices with cameras come in all shapes and sizes, but most tripod mounts only work with one model. Joby designed a solution that works with your gear, not against it. GripTight works with any tripod and fits a variety of small tablets. You can even keep your device in its snazzy case and pair it with your favorite accessories.

This Joby GripTight Tablet Mount provides a compact, foldable mounting solution for your smaller tablet (3.8-5.5 inches / 96-140mm). Pair with any tripod or stand with a 1/4"-20 screw and you are setup to take a video, photo or use as a secondary screen -- options are endless.

Key Features:

Experience Easy:
Go from pocket-sized to shooting in seconds! The GripTight Mount is foldable and super compact, and it quickly attaches to your tripod via a 1/4-20" screw. Because it doesn't require a special case or mounting mechanism, it's a breeze to set up. Stretch the clamp and insert your device. That's it! Because it adapts to the size of your device, GripTight Mount embraces the gear you've got now and the gear you're getting next year!

Mount easily expands to grip your device:
Internal steel springs allow mount to expand to the size of your device & grip it securely.

Grip your device safely & securely:
Reliable rubber grip pads secure your tablet in place.

Connects to most camera tripods and all GorillaPods:
Universal stainless-steel 1/4-20" screw fits almost every camera tripod.

Your tripod now plays nicely with your cases & accessories:
The GripTight Mount works well with your cases and other accessories. The slender, clamp-style design doesn't get in the way of your case, lenses, filter kits or mic but still keeps your tablet safe and secure.

Capture Still Photos and Video:
Your small tablet has a great camera, but can be awkward to shoot with. Mount your tablet on a tripod for a stable shot with improved quality.

Use Your Tablet as a Remote Monitor:
Photographers and videographers often use tablets tethered to a camera to view their work in the field. Mount your small tablet on a tripod to preview or live-view your shots.

"Kiosk" for Video Playback:
Mount your small tablet on a tripod as an easy and portable solution for people to view video at an event or presentation.
0 accessories found for Joby GripTight Tablet Mount
Joby GripTight Small Tablet Mount
– TECHNICAL SPECIFICATIONS –
---
| | |
| --- | --- |
| Designed for: | Smaller tablets, with or without a case from 3.8 - 5.5 inches (96 -140mm) such as iPad Mini 3/2/1, Nexus 7, Samsung Galaxy Tab 4 7.0, Sony Xperia Z3 Tablet Compact, Kindle Fire HD (7"), Nook HD, etc. |
| Connection: | 1/4"-20 thread to work with any tripod |
| Materials: | Durable ABS plastic, TPE grip pads, steel springs, stainless steel pins |
| Connection: | Universal Stainless Steel 1/4"-20 screw |
| Dimensions (WxDxH): | 1.9 x 0.4 x 4 in. (49 x 11 x 102mm) |
| Product Weight: | 1.8 oz. (51g) |