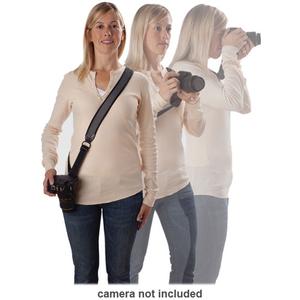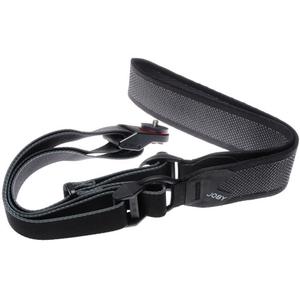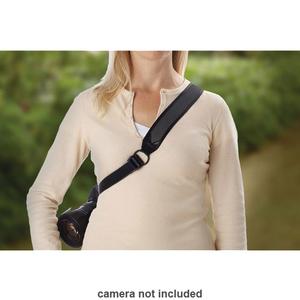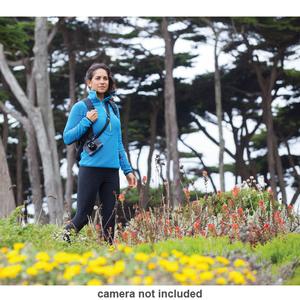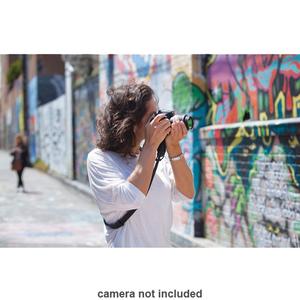 ITEM INCLUDES

Joby UltraFit Sling Camera Strap for Women (Charcoal) with:

Joby UltraFit Sling Camera Strap for Women (Charcoal)

Adapts from a secure cinch to flexible shooter instantly.

Designed specifically for women, the Joby UltraFit Sling Camera Strap is comfortable, even after hours in the field. The UltraFit Sling Strap embraces your curves, and is designed to prevent the common comfort problems you face -- so you don't have to suffer during a shoot. Comfort, speed & peace of mind -- guaranteed.

In one fluid movement, the UltraFit Sling Strap extends from cinched to shooting and back again. It is made from custom, high performance lightweight materials that keep your camera safe and secure without slowing your down. The exclusive SpeedCinch System and custom hardware allow you to keep your camera close and lock it in place. Say goodbye to jostling, swinging, bumping and dropping forever!

Key Features:

Design Philosophy
To replace the boring strap that came with your camera, Joby has created a dynamic and innovative camera strap that makes your photography comfortable, quick and much more fun. Start to finish, the UltraFit Sling Strap for Women is pure Joby design and innovation.

Designing for Comfort
After talking with photographers and testing every camera strap on the market, Joby discovered that nobody had designed a strap to work with your curves. Your camera strap should let you quickly and securely place your camera wherever it feels the most comfortable on your body.

Ergonomically Optimized for Your Curves
The UltraFit Sling Strap for Women will fit great, whatever your body type. The length and width of the strap pad, the length of the webbing, the size and placement of the pivot ring -- each is optimized for a woman's body. This camera strap conforms to the shape of your body instead of just lying flatly across it.

Tailored to the Female Form

S-Curve Shaped Pad for Comfort: A curved pad prevents the strap cutting uncomfortably across your chest.
UltraFit Layered-Pad Technology: Evenly distributes the weight of your camera across strong shoulder muscles, protecting tender neck muscles from strain.
Pivot Ring for a Perfect Fit: A custom-designed pivot ring allows the strap to curve around your chest, making it much more comfortable than camera straps designed for men.
Innovative Heat Press Binding Technique: Means there are no loose threads or abrasive points on our strap. Plus, soft-edged webbing contours to your body.

Designing for Speed
A lot of the time you spend shooting isn't with your camera at your face. Joby designed a camera strap that not only helps you capture fleeting moments, but also makes your downtime more enjoyable with your camera always at hand, but also hands free.

SpeedCinch System

The UltraFit Sling Strap dynamically adjusts in just seconds with a simple pull, unlike any other camera strap.
To cinch it close to your body, pull your camera and the circular chest pivot ring in opposite directions. Lock the strap in cinched position for added security when moving around or in crowded places.
To return to shooting mode, unlock the strap, grab your camera by its grip and draw it forward. The strap fluidly extends to arm's length.

Built for Fast & Easy Access

High-Performance Webbing: Best-in-class webbing is optimized to smoothly and quickly glide through the camera strap hardware.
UltraFit Layered-Pad Technology: Merges four fabrics to create a strap pad that is lightweight and still evenly distributes the weight of your camera.

Designing for Security
Protecting your camera is a top priority, especially when you're shooting out in the field. The SpeedCinch system, with its fiberglass-reinforced parts and safety locks, lets you comfortably cinch your camera closer to your body for peace of mind.

The UltraFit Peace of Mind

SpeedCinch System for Safety: Cinch your camera tight against your body to prevent swinging, bumping or accidental drops.
Lock for Security: Lock the strap in cinched position for added security in crowded places or during active movement.
Ball Bearing for Mobility & Stability: A ball bearing inside the attachment mechanism allows your camera to spin and rotate without unscrewing from the strap.
Stainless Steel 1/4-20" Thumbscrew: Strap easily and securely attaches to your camera.
Fiberglass-Reinforced Hardware: Is as strong and dependable as metal parts, yet still super lightweight.
0 accessories found for Joby UltraFit Sling Camera Strap for Women (Charcoal)