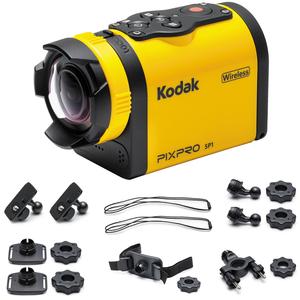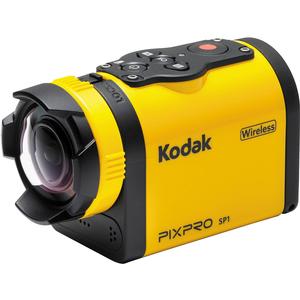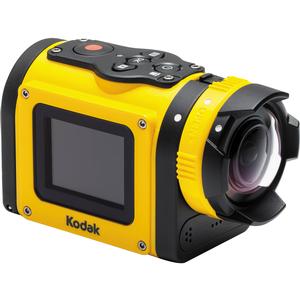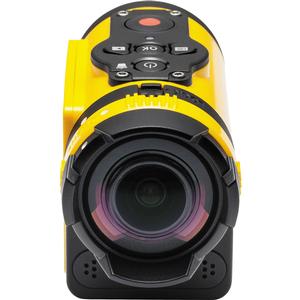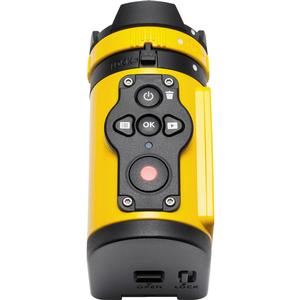 ITEM INCLUDES

Kodak PixPro SP1 Video Action Camera Camcorder - Explorer Pack with:

LB-080 Rechargeable Battery
Battery Charger
USB Cable
AC Adapter
Standard Lens Cover
Underwater Lens Cover
2 x Base Plate
2 x Tether
2 x Extended Arm
2 x Curved / Flat Adhesive Mount
Bar Mount
Vented Helmet Strap
Instruction Manual

Kodak PixPro SP1 Video Action Camera - Explorer Pack

Let the games begin.

Capture all your adrenaline-filled adventures in Full 1080p HD video with an ultra wide-angle lens and 14MP CMOS sensor. Rugged, compact and ultra-versatile, the Kodak PixPro SP1 Digital Action Cam easily mounts to helmets, boards, handlebars and just about anything else you can imagine. Waterproof up to 33 feet (10m) and shockproof up to 6.5 feet, this action cam can keep up with your non-stop life and go where others can't. With built-in wireless connectivity, sharing with your inner circle or the world couldn't be easier no matter what land, sea or mountain you're conquering. And with 10fps burst shooting in full resolution, face detection, auto exposure, underwater white balance, plus many more useful features and settings, the SP1 gets you everything your creative heart desires.

The included Explorer Pack consists of two base plates, two tethers, two extended arms, two curved/flat adhesive mounts, a bar mount, and a vented helmet strap.

Key Features:

Life in Motion
Life is an adventure and always moving. Why settle for only still moments when you can capture them in full 1080p HD video? The SP1 is built to go where you go, no matter how treacherous the terrain.

Lifelike Details
They say it's all in the details, and with 14 million pixels and a cutting-edge CMOS sensor, you're not about to miss any of them. Clear, crisp and detailed photos are a snap with the SP1 action camera.

The Wetter the Better
At the water's edge, in or under the water, the SP1 does it all. Waterproof up to 32 feet (10m) you can take this compact action camera swimming with the dolphins, on your trusted board for a killer wave or poolside to catch the action.

Handles the Hard Knocks
If you don't do anything half way then the SP1 is the camera for you. Shockproof up to 6.5' this action camera is built to withstand rugged adventures and practically anything you throw at it.

Keep it Clean
We know your expectations go beyond the water, that's why the SP1 was designed to be dustproof to keep sand and dirt out so you're not sweating the small stuff.

Cool in the Cold
It's not all sunshine and tropics. Your adventures take you into uncharted waters, snow and ice. The SP1 was designed to withstand the frigid cold up to 14°F without worry.

Wireless
We know there are just some moments that are absolutely legend. Why wait to post them and share them with the world? With built-in wireless connectivity the SP1 makes sharing easy as ever.

10FPS Multi-burst Shooting
The Kodak PixPro SP1 Action Cam is one heck of a action camera, but it doesn't stop there. Switch between HD video and still photos to capture more of everything you love to do. With 10fps (frames per second) multi-burst shooting for successive action shots, the SP1 is a work horse and gives you what you need, when you need it.

Full Range of Mounting Capabilities
Equipped with an integrated 1/4"-20 thread tripod connection, the SP1 doesn't require any special mount adapter to be used with the wide variety of universal mounts available.
29 accessories found for Kodak PixPro SP1 Video Action Camera Camcorder - Explorer Pack
Kodak PixPro SP1 Wi-Fi HD Action Camera Camcorder
– TECHNICAL SPECIFICATIONS –
---
Type:
POV HD Digital Action Camera
Imaging Sensor:
1/2.33" (7.77mm) MOS Sensor
Media Type:
Micro SD/SDHC (Class 4 or Higher up to 32GB)
Still Image:
14.24 megapixels
Video Format:
MP4 [Image: H.264; Audio: AAC [Stereo]
Video Resolution:
1920 x 1080, 30fps
1440 x 1440, 30fps
1072 x 1072, 30fps
1280 x 960, 50fps / 30fps
1280 x 720, 60fps / 30fps
848 x 480, 60fps
High Speed Movie: 848 x 480, 120fps
Still Image Resolution:
10MP: 3264 x 3264 (1:1)
5MP: 2592 x 1944 (4:3)
2MP: 1920 x 1080 (16:9)
Microphone/Speaker:
Built-in Microphone; Monaural Speaker
Lens Stabilization:
Electronic Image Stabilization
Aperture:
F/2.8
Minimum Focus Distance:
Approx.23 2/3inch (Approx.60cm)
Angle of View:
160°
LCD Display :
1.5 inch LCD Display
Interface:
Micro USB 2.0 Hi-speed
HDMI-Micro (D) Out
Battery Type:
LB-080 Rechargeable Battery
Dimensions:
3.3 x 2.0 x 1.6 inches (84.7 x 51.4 x 39.5 mm)
Weight:
5.47 oz. (155g)
Explorer Pack Accessories:
• Bar Mount
• Vented Helmet Strap
• 2x Curved / Flat Adhesive Mount
• 2x Extended Arms