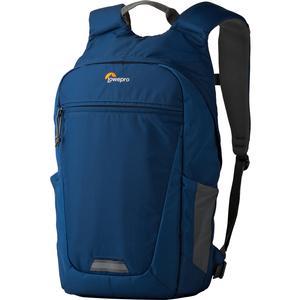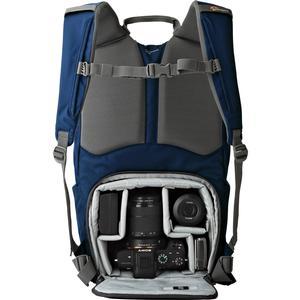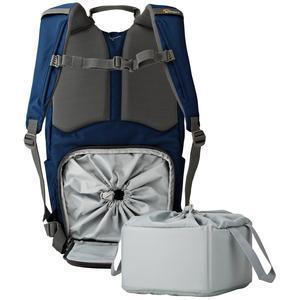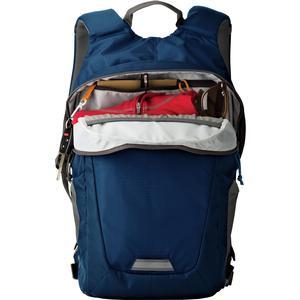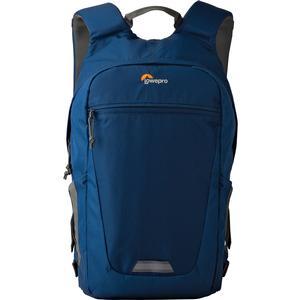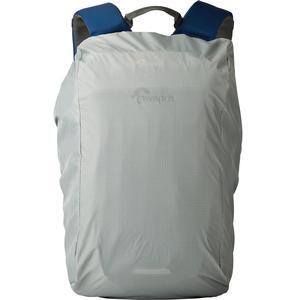 ITEM INCLUDES

Lowepro Hatchback BP 150 AW II DSLR Camera Backpack Case (Blue) with:

Removable Camera Compartment

Lowepro Hatchback BP 150 AW II DSLR Camera Backpack Case (Blue)

Convertible daypack for photo gear plus personal gear.

The lightweight, flexible and sporty Lowepro Hatchback BP 150 AW II DSLR Camera Backpack Case strikes the perfect balance of carrying photo gear along with your other essentials. "Hatchback" stands for body-side access. This means your camera gear is secure from entry while you are wearing the pack. The removable camera compartment allows you to quickly switch between a great photo backpack and a general-purpose daypack. Also, the camera compartment is padded with an adjustable divider system and a storm-flap closure for extra protection from moisture, dust and sand.

Keep your 8-inch tablet right at hand in the dedicated CradleFit pocket; it suspends and protects your go-to device from impact. Comfortable, moisture-wicking padding at the shoulders and lower back helps make this an easy, day-long carry solution. Use the adjustable sternum and waist straps to keep pack close to your body when you're on the move. Protect all your gear with the patented, built-in All Weather AW Cover; it safeguards pack and contents form rain, snow, dust and sand. A reflector loop adds a highly visible, extra attachment point. Two, stretch-mesh side pockets hold water bottles or other quick-grab items.

Fits: One DSLR with lens attached or one Mirrorless ILC with lens attached, plus 1-2 extra lenses, a flash, up to 8" tablet, memory cards, spare battery, charger, smartphone, clothing, water bottle, plus other accessories.

| | | | |
| --- | --- | --- | --- |
| | | | |
| Organize Your Gear | Removable Camera Compartment | Front Storage Pocket | Built-in AW Cover |

Key Features:

Plenty of Protected Pockets:
Space for your glasses, headphones, travel documents, keys and personal items.

Superior Carrying Comfort:
Moisture-wicking padding at shoulders and lower back give you day-long carrying comfort.

Convenient Side Pockets:
Fit a bottle, compact tripod, umbrella or whatever you need in the 2 stretch-mesh side pockets.

Converts to a Full Daypack:
Simply remove the camera compartment and expand the main compartment. The camera box has its own handles and storm flap.

Double Weather Protection:
Durable, water-repellent materials plus our All Weather AW Cover provide exceptional protection from water, snow, sand and dust.

Protection for Your Tablet:
The padded CradleFit tablet compartment suspends your tablet within the bag for worry-free protection.
11 accessories found for Lowepro Hatchback BP 150 AW II DSLR Camera Backpack Case (Blue)

DAVIS & SANFORD
Mfr#:
PROVISTA 6510

DOMKE
Mfr#:
PFWRFP-MD

PRECISION DESIGN
Mfr#:

PRECISION DESIGN
Mfr#:
DSLR400V

PRECISION DESIGN
Mfr#:
PD-58PVTR

PRECISION DESIGN
Mfr#:
PD-LSP1

SLIK
Mfr#:
613-338
Price:
$89.94

SUNPAK
Mfr#:
620-600-UPGBB

VIDPRO
Mfr#:
XM-8

VIVITAR
Mfr#:
VIV-SLING1

XIT
Mfr#:
XT12FLXTR
Lowepro Hatchback BP 150 AW II DSLR Camera Backpack Case
– TECHNICAL SPECIFICATIONS –
---
| | |
| --- | --- |
| Material: | 600D polyester and 210D nylon |
| Interior Dimensions: | 7.7 x 4.3 x 5.9 in. (19.5 x 11 x 15cm) |
| Tablet Compartment Dimensions: | 9.1 x 0.8 x 10 in. (23 x 2 x 25.5cm) |
| Exterior Dimensions: | 10.8 x 7.3 x 18.5 in. (27.5 x 18.5 x 47cm) |
| Weight: | 1.8 lbs. (0.8kg) |
Compatible with the following digital cameras:
Canon
Rebel T3
Rebel T3i
Rebel T4i
Rebel T5
Rebel T5i
Rebel T6
Rebel T6i
Rebel T6s
EOS 60D
EOS 70D
EOS 80D
EOS 1D X
EOS 1D X Mark II
EOS 5D Mark II
EOS 5D Mark III
EOS 5D Mark IV
EOS 5Ds
EOS 5Ds R
EOS 6D
EOS 7D
EOS 7D Mark II
Nikon
1 AW1
1 J2
1 J3
1 J4
1 J5
1 S2
1 V3
D3200
D3300
D3400
D5300
D5500
D7100
D7200
D7500
D500
D600
D610
D700
D750
D800
D800E
D810
D810A
D850
D4
D4s
D5
Df
Olympus
OM-D E-M1
OM-D E-M1 II
OM-D E-M5
OM-D E-M5 II
OM-D E-M10
OM-D E-M10 II
PEN E-P5
PEN E-PL5
PEN E-PL6
PEN E-PL7
PEN E-PL8
PEN E-PM2
PEN-F
Panasonic
Lumix DMC-G5
Lumix DMC-G6
Lumix DMC-G85
Lumix DMC-GF5
Lumix DMC-GF6
Lumix DMC-GF7
Lumix DMC-GF8
Lumix DMC-GH3
Lumix DMC-GH4
Lumix DMC-GH5
Lumix DMC-GM1
Lumix DMC-GM5
Lumix DMC-GX7
Lumix DMC-GX8
Lumix DMC-GX85
Lumix DMC-GX850
Pentax
645D
645Z
K-01
K-1
K-3
K-3 II
K-5
K-5 II
K-5 IIs
K-30
K-50
K-70
K-500
K-r
K-S1
K-S2
Q
Q-S1
Q7
Q10
Samsung
NX mini
NX1
NX30
NX300
NX500
NX1100
NX2000
NX3000
Sony
Alpha A7
Alpha A7 II
Alpha A7R
Alpha A7R II
Alpha A7R III
Alpha A7S
Alpha A7S II
Alpha A9
Alpha A3000
Alpha A5000
Alpha A5100
Alpha A6000
Alpha A6300
Alpha A6500
Alpha NEX-F3
Alpha NEX-3N
Alpha NEX-5R
Alpha NEX-5T
Alpha NEX-6
Alpha NEX-7
Alpha SLT-A37
Alpha SLT-A57
Alpha SLT-A58
Alpha SLT-A65
Alpha SLT-A68
Alpha SLT-A77
Alpha SLT-A77 II
Alpha SLT-A99
Alpha SLT-A99 II