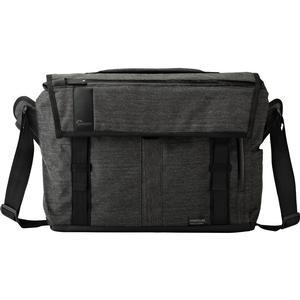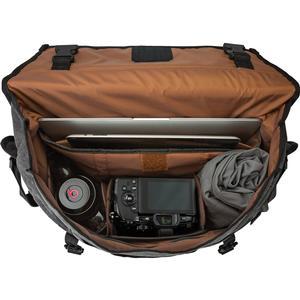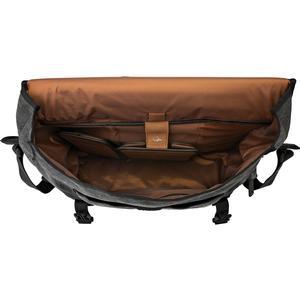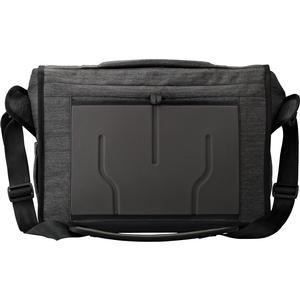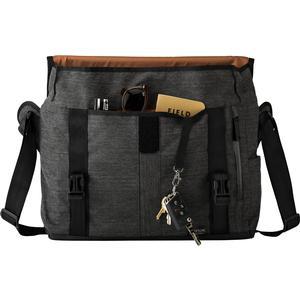 ITEM INCLUDES

Lowepro Streetline SH 180 Digital Camera Case (Black) with:

Lowepro Streetline SH 180 Digital Camera Case

Slim and protective, urban-style messenger bag.

The Lowepro Streetline SH 180 Digital Camera Case is a sophisticated, everyday, messenger-style shoulder bag offering a slim, protective and efficient way to move with your 13" laptop, tablet and personal gear through urban streets and on public transit. A low-profile FlexPocket features collapsible bellows that provide suspended protection from impact when deployed, and fold flat when not in use. This bag is ideal for storing and protecting headphones, standard DSLR camera, smartphone, sunglasses, etc.

Inclement weather is no problem with the custom blend of coated fabrics with the look of canvas and the high, moisture-repelling performance of a synthetic. The messenger-style design can be worn over the shoulder or across your body; an adjustable shoulder strap helps you get a custom fit. Multiple pockets offer easy access to quick-grab items like transit passes, keys, pens, etc. A stretch side pocket holds a compact umbrella. The super-roomy, under-flap storage space buckles closed for extra protection when needed. Plus, the convenient trolley sleeve/panel is crafted of non-snagging material.

Fits: One DSLR with lens attached OR one mirrorless ILC with lens attached, 1-2 extra lenses, a flash, up to 13" laptop and tablet, memory cards, spare battery, charger, portable hard drive, smartphone, plus other accessories.

| | | | |
| --- | --- | --- | --- |
| | | | |
| Organize Gear | Removable FlexPocket | Numerous Pockets | Moisture-Repelling Fabric |

Key Features:

Refined Details:
A smooth, non-sagging back panel seconds as a trolley pass-through while leather touchpoints, woven tech-fabric and bronze-tone lining all add a touch of luxury.

Moisture-Repelling Fabric:
Water-repellent coating and YKK Aquaguard zippered pockets help keep items safe from the elements.

Protect Your Devices:
The roomy interior is built to protect a 13" laptop and tablet, plus the essentials you will need for a day's outing. When used as a camera bad, the StreetLine SH 180 fits a standard DSLR and additional lens.

Flexible Protection:
The collapsible FlexPocket expands to add impact protection for cameras, hard drives and other fragile devices and items.

Everything Has A Place:
Numerous zippered organization pockets, padded internal phone pockets and a side stretch pocket ensure all your items have a safe home, yet remain easy to access.
11 accessories found for Lowepro Streetline SH 180 Digital Camera Case (Black)

DAVIS & SANFORD
Mfr#:
PROVISTA 6510

DOMKE
Mfr#:
PFWRFP-MD

PRECISION DESIGN
Mfr#:

PRECISION DESIGN
Mfr#:
DSLR400V

PRECISION DESIGN
Mfr#:
PD-58PVTR

PRECISION DESIGN
Mfr#:
PD-LSP1

SLIK
Mfr#:
613-338
Price:
$89.94

SUNPAK
Mfr#:
620-600-UPGBB

VIDPRO
Mfr#:
XM-8

VIVITAR
Mfr#:
VIV-SLING1

XIT
Mfr#:
XT12FLXTR
Lowepro Streetline SH 180 Digital Camera Case
– TECHNICAL SPECIFICATIONS –
---
| | |
| --- | --- |
| Exterior Materials: | 600D Oxford poly/cotton blend with a 3X PU weather and abrasion coating, tarpaulin base, premium leather |
| Interior Materials: | 70D nylon and polyester with proprietary finish for high water repellency |
| Exterior Dimensions: | 16.4 x 5.3 x 14 in. (41.6 x 13.5 x 35.5cm) |
| Interior Dimensions: | 15.5 x 4.9 x 13.5 in. (39.3 x 12.5 x 34.3cm) |
| Tablet Compartment Dimensions: | 12.2 x 0.6 x 9.1 in. (31 x 1.5 x 23.2cm) |
| Laptop Compartment: | 15.5 x 0.8 x 9.8 in. (39.3 x 2 x 25cm) |
| Weight: | 1.8 lbs. (0.8kg) |
Compatible with the following digital cameras:
Canon
Rebel T3
Rebel T3i
Rebel T4i
Rebel T5
Rebel T5i
Rebel T6
Rebel T6i
Rebel T6s
EOS 60D
EOS 70D
EOS 80D
EOS 1D X
EOS 1D X Mark II
EOS 5D Mark II
EOS 5D Mark III
EOS 5D Mark IV
EOS 5Ds
EOS 5Ds R
EOS 6D
EOS 7D
EOS 7D Mark II
Nikon
1 AW1
1 J2
1 J3
1 J4
1 J5
1 S2
1 V3
D3200
D3300
D3400
D5300
D5500
D7100
D7200
D7500
D500
D600
D610
D700
D750
D800
D800E
D810
D810A
D850
D4
D4s
D5
Df
Olympus
OM-D E-M1
OM-D E-M1 II
OM-D E-M5
OM-D E-M5 II
OM-D E-M10
OM-D E-M10 II
PEN E-P5
PEN E-PL5
PEN E-PL6
PEN E-PL7
PEN E-PL8
PEN E-PM2
PEN-F
Panasonic
Lumix DMC-G5
Lumix DMC-G6
Lumix DMC-G85
Lumix DMC-GF5
Lumix DMC-GF6
Lumix DMC-GF7
Lumix DMC-GF8
Lumix DMC-GH3
Lumix DMC-GH4
Lumix DMC-GH5
Lumix DMC-GM1
Lumix DMC-GM5
Lumix DMC-GX7
Lumix DMC-GX8
Lumix DMC-GX85
Lumix DMC-GX850
Pentax
645D
645Z
K-01
K-1
K-3
K-3 II
K-5
K-5 II
K-5 IIs
K-30
K-50
K-70
K-500
K-r
K-S1
K-S2
Q
Q-S1
Q7
Q10
Samsung
NX mini
NX1
NX30
NX300
NX500
NX1100
NX2000
NX3000
Sony
Alpha A7
Alpha A7 II
Alpha A7R
Alpha A7R II
Alpha A7R III
Alpha A7S
Alpha A7S II
Alpha A9
Alpha A3000
Alpha A5000
Alpha A5100
Alpha A6000
Alpha A6300
Alpha A6500
Alpha NEX-F3
Alpha NEX-3N
Alpha NEX-5R
Alpha NEX-5T
Alpha NEX-6
Alpha NEX-7
Alpha SLT-A37
Alpha SLT-A57
Alpha SLT-A58
Alpha SLT-A65
Alpha SLT-A68
Alpha SLT-A77
Alpha SLT-A77 II
Alpha SLT-A99
Alpha SLT-A99 II