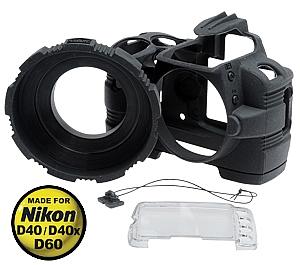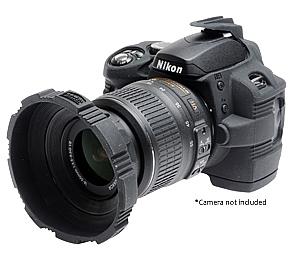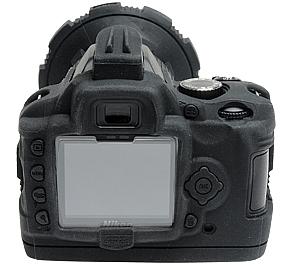 ITEM INCLUDES

MADE Rubberized Camera Armor Case for Nikon D40, D40x, D60, D3000 (Black) with:

Camera Armor
Lens Armor
LCD Shield
Lens Cap Leash

MADE Rubberized Camera Armor Case for Nikon D40, D40x, D60, D3000

Protect your camera with this silicone body & lens armor.

Custom Engineered for the Nikon D40, D40x, D60 & D3000, Camera Armor is an always-on protection system consisting of 4 parts: An elastomeric silicone Body Armor, a Lens Armor, a Lens Cap Lanyard and a Polycarbonate LCD Shield.

The precise fit covers up all of the important parts of your DSLR camera to protect it from impact, abrasion, dust and fingerprints without sacrificing any necessary camera functions or adding additional weight. Camera Armor provides protection in action and is uniquely designed so that all of the camera controls and access ports are completely functional and accessible without taking the camera out of the jacket. You can put the Camera Armor on your camera and leave it there while in your bag or taking pictures.

For maximum protection, this Camera Armor comes equipped with Lens Armor and lens cap lanyard as well as a clear polycarbonate LCD shield that protects the rear LCD screen from daily abuse.

Key Features:

Camera Armor is made of a proprietary silicone blend that is UV stable and will not fade, deform, or deteriorate over the lifetime of your camera.
Great For: Outdoor use, Multiple Camera use, Sporting Events, Inclement Weather Conditions, Hiking, Hunting, Birding, Snowboarding, Skiing, etc.
Improved camera grip to avoid accidental drops
Lens Armor fits most 52-77mm filter lenses
Dimensions (WxHxD): 5.0 x 3.7 x 2.5 in. / 126 x 94 x 64mm
Weight: 4.7oz. / 130g

Nikon D3000 OWNERS Please Note:
This Camera Armor is also compatible with the D60 & D40 Digital SLR Cameras, and included in the box is a D60 LCD screen. This LCD screen does not fit D3000 Camera.
11 accessories found for MADE Rubberized Camera Armor Case for Nikon D40, D40x, D60, D3000 (Black)

DAVIS & SANFORD
Mfr#:
PROVISTA 6510

DOMKE
Mfr#:
PFWRFP-MD

PRECISION DESIGN
Mfr#:

PRECISION DESIGN
Mfr#:
DSLR400V

PRECISION DESIGN
Mfr#:
PD-58PVTR

PRECISION DESIGN
Mfr#:
PD-LSP1

SLIK
Mfr#:
613-338
Price:
$89.94

SUNPAK
Mfr#:
620-600-UPGBB

VIDPRO
Mfr#:
XM-8

VIVITAR
Mfr#:
VIV-SLING1

XIT
Mfr#:
XT12FLXTR