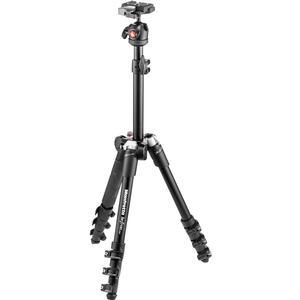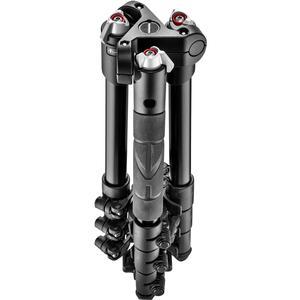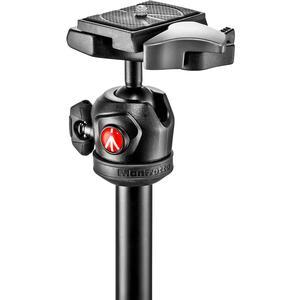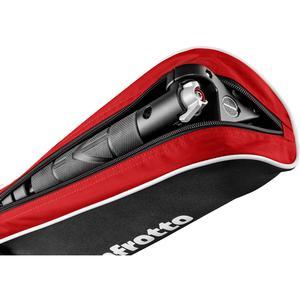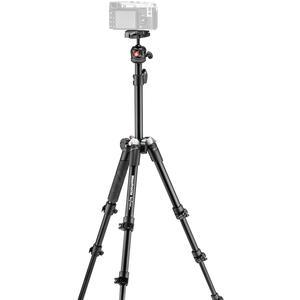 ITEM INCLUDES

Manfrotto BeFree One 51.2" Aluminum Tripod with Ball Head & Case (Black) with:

200PL Quick Release Plate
Fitted Carrying Case
Instructions

Manfrotto BeFree One 51.2" Aluminum Tripod with Ball Head & Case

Perfect for photographers who love to travel.

Designed to be ultra-compact and lightweight, the Manfrotto BeFree One 51.2" Aluminum Tripod with Ball Head & Case is dedicated to photographers who love to travel. The most portable Manfrotto tripod, it folds down to 12.6 inches (32cm), and the lightweight aluminum construction makes it easy to carry. However, it can be extended up to 51.2 inches (130cm) thanks to 4-section legs and telescoping center column.

The special folding system allows legs to perfectly fold around the head so that it fits into carry-on luggage and backpacks. The patented leg-angle selector ensures quick and secure set up, and the customized quick release adapter enables the foldable legs to pack very tightly. Its aluminum body guarantees stability, and it comes with a dedicated padded shoulder bag with a strap for convenient carrying.

In addition, the BeFree One includes an ultra-compact aluminum ball head with quick release plate and safety locks, all made in Italy with premium materials.

| | | |
| --- | --- | --- |
| | | |
| Ball Head with Quick Release Plate | Padded Shoulder Bag | Sturdy Aluminum Leg Locks |

Key Features:

Unique Folding Mechanism:
A high quality tripod that fits into carry-on luggage and backpacks; it's a dream come true for any photographer on the go. Thanks to the unique folding mechanism, the legs fold perfectly around the head and quick release plate attachment. In the closed position it is only 12.6 in. (32cm) long.

Telescopic Column:
BeFree One features a telescopic column that allows it to reach a maximum height of 51.2 in. (130cm) while enabling it to become ultra compact when folded.

Sturdy for Sharp Images:
This tripod's small size and portability don't mean compromise on sturdiness and image quality. The Manfrotto BeFree One delivers sharp images by keeping your camera steadily locked in the desired position, and can also be used in portrait mode. Its aluminum ball head is solid, quick and simple to operate. The Manfrotto Befree One has a maximum payload of 5.8 lbs. (2.5kg), guaranteeing stability and sturdiness even with longer zoom lenses.

Leg Angle Selectors:
The patented leg angle selectors quickly allow you to select between two inclinations offering maximum versatility for camera positioning.

Premium Italian Design
Befree One is the only 100% Made in Italy ultra compact tripod, carefully designed and superbly crafted with premium materials. Its reliable performance and stylish design make Manfrotto's BeFree One the perfect travel tripod for passionate photographers who want to take amazing pictures that truly represent their own travel experiences.
6 accessories found for Manfrotto BeFree One 51.2" Aluminum Tripod with Ball Head & Case (Black)

DOT LINE
Mfr#:
DL-0906

PRECISION DESIGN
Mfr#:
PD-007

PRECISION DESIGN
Mfr#:
PD-BPR

PRECISION DESIGN
Mfr#:
PD-TAGP

VANGUARD
Mfr#:
SB-100

VIVITAR
Mfr#:
VIV-VPT-350
Manfrotto BeFree One 52" Aluminum Tripod with Ball Head & Case
– TECHNICAL SPECIFICATIONS –
---
Material:
Aluminum
Leg Lock Type:
Flip Lock
Closed Length:
12.6 in. (32cm)
Max Height:
51.2 in. (130cm)
Min Height:
19.3 in. (49cm)
Plate Type:
200LT-PL
Head Type:
Ball Head
Base Type:
Ball
Color:
Black
Safe Payload:
4.4 lbs. (2.5kg)
Maximum Height
(with Center Column Down):
44.5 in. (113cm)
Weight:
3 lbs. (1.3kg)
Leg Angles:
25°, 51°
Center Column:
Telescopic 2-section
Lateral Tilt:
-90° / +30°
Panoramic Rotation:
360°
Front Tilt:
-90° / +30°
Top Attachment:
1/4" screw
Maximum Working Temperature:
140° F (60° C)
Minimum Working Temperature:
-22° F (-30° C)
Quick Release:
Yes
Legs Tube Diameters:
0.9, 0.8, 0.6, 0.5 in. (22.5, 19, 15.5, 12mm)