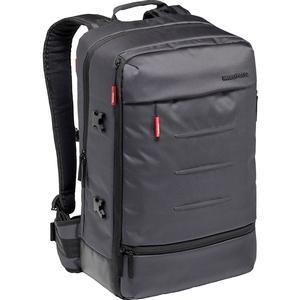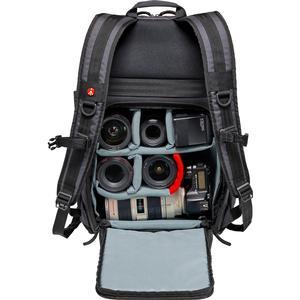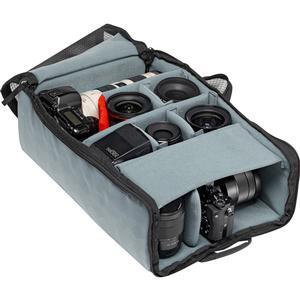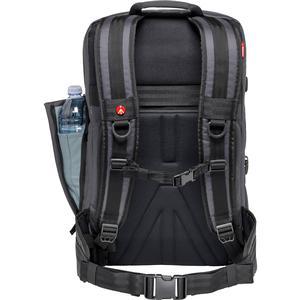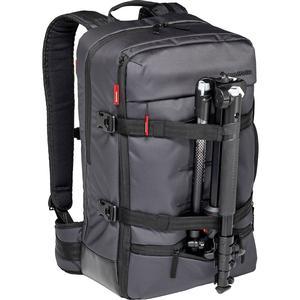 ITEM INCLUDES

Manfrotto Lifestyle Manhattan Mover-50 Digital SLR Camera Backpack with:

Padded Insert with Dividers
Rain Cover

Manfrotto Lifestyle Manhattan Mover-50 Digital SLR Camera Backpack

The perfect companion for your everyday city shoot!

The Manfrotto Lifestyle Manhattan Mover-50 Digital SLR Camera Backpack is perfect for city commuters and people who are always on the move with their photography kit. The Manfrotto Manhattan bags are designed to be carried from home to work or anywhere while you travel. With their urban look, they will be your perfect companion for everyday shooting.

Its internal branded removable insert instantly gives you two bags in one. The extremely functional internal pouch features the Flexy Camera Shell, an innovative protection system engineered by Manfrotto. It's big enough to accommodate your DSLR with 70-200 f/2.8 lens attached plus up to 4 lenses and a flash. In the top part there is also space for your premium mirrorless cameras (Compact System Camera) like a Sony A7 or Fujifilm XT series with standard zoom lens attached plus one additional lens. You can take your gear out using the secure back access or the easy top access.

On the front, the NeverLose tripod holder system allows you to carry your tripod, skateboard, personal items such as a jacket or even a drone. It will transform into a minimal chic Manfrotto Manhattan Backpack by storing the double webbing in its front panel. It has two padded compartments on the other side to hold a 15.6" laptop and an iPad Pro 9.7. If you don't need to take your photographic gear with you, you can simply remove the internal pouch and use your backpack as an everyday media bag.

Great attention has been placed on selecting the best materials: high quality ballistic fabric protects your bag from scratches and the coated material on the bottom part allows you to easily clean your bag. All external fabric is treated making it water repellent and a rain protector is also supplied just in case of adverse weather conditions.

Internal Pouch Fits:
One DSLR with 70-200mm f/2.8 lens attached, 4-5 extra lenses and a flash.

Top Compartment Fits:
One mirrorless ILC with zoom lens attached, an extra lens or flash.

Other Gear that Fits:
Up to 15.6" laptop, tablet, tripod, portable hard drive, memory cards, spare batteries, cables, water bottle, snack, plus other accessories.

| | | |
| --- | --- | --- |
| | | |
| REMOVABLE INSERT | PADDED BACK | SECURE CHEST STRAP |

Key Features:

Interchangeable Dividers:
Both modular and easy to use, these dividers allow you to custom fit the inside of your bag around your gear by creating the exact size compartment for you need.

| | |
| --- | --- |
| | |
| CUSTOMIZABLE INTERIOR | PADDED DIVIDERS |

Water Repellent:
A specially applied coating to the fabric makes it resistant to moisture.

External Tripod Connections:
This bag comes with the option and proper connections to attach your tripod externally.

Tablet Compartment:
Dedicated compartment for tablet.

Rain Protector:
Included fold-out protector which, when installed, creates a barrier between the wet outside and dry inside of your bag.

Laptop Compatible:
Protect your laptop during transport in this compartment.

Cabin Luggage:
This bag fits the standard to be used as carry-on luggage. (Due to ever changing restrictions, check with your carrier prior to departure).

Trolley Connection:
For easy wheel along transportation simply slide the designated strap connector over any standard trolley or luggage handle.

Flexi Dividers:
These custom designed dividers have the option to fold out of the way when needed or to be pulled out to protect your equipment in special situations.
11 accessories found for Manfrotto Lifestyle Manhattan Mover-50 Digital SLR Camera Backpack

DAVIS & SANFORD
Mfr#:
PROVISTA 6510

DOMKE
Mfr#:
PFWRFP-MD

OP/TECH
Mfr#:
3501242

PRECISION DESIGN
Mfr#:

PRECISION DESIGN
Mfr#:
DSLR400V

PRECISION DESIGN
Mfr#:
PD-58PVTR

PRECISION DESIGN
Mfr#:
PD-LSP1

SLIK
Mfr#:
613-338
Price:
$89.94

SUNPAK
Mfr#:
620-600-UPGBB

VIDPRO
Mfr#:
XM-8

XIT
Mfr#:
XT12FLXTR
Manfrotto Lifestyle Manhattan Mover-50 Digital SLR Camera Backpack
– TECHNICAL SPECIFICATIONS –
---
Material:
Water-repellent ballistic nylon, and a coated bottom panel
Type of Closure:
Zipper with Manfrotto aluminum zipper pulls
Tripod Holder:
Front pocket with straps for securing a small tripod
Carrying/Transport Options:
Top handle
Shoulder harness with connector
Waist Belt:
Yes
Total Interior Dimensions:
19.3 x 11.8 x 7.1 in. (49 x 30 x 18cm)
Camera Compartment Dimensions:
11.8 x 10.2 x 5.5 in. (30 x 26 x 14cm)
Personal Compartment Dimensions:
5.9 x 10.2 x 5.5 in. (15 x 26 x 14cm)
Laptop Compartment Dimensions:
16.5 x 10.2 x 0.8 in. (42 x 26 x 2cm)
Exterior Dimensions:
19.7 x 12.6 x 7.9 in. (50 x 32 x 20cm)
Weight:
3.5 lbs. (1.6kg)
Compatible with the following digital cameras:
Canon
Rebel T3
Rebel T3i
Rebel T4i
Rebel T5
Rebel T5i
Rebel T6
Rebel T6i
Rebel T6s
EOS 60D
EOS 70D
EOS 80D
EOS 1D X
EOS 1D X Mark II
EOS 5D Mark II
EOS 5D Mark III
EOS 5D Mark IV
EOS 5Ds
EOS 5Ds R
EOS 6D
EOS 7D
EOS 7D Mark II
Nikon
1 AW1
1 J2
1 J3
1 J4
1 J5
1 S2
1 V3
D3200
D3300
D3400
D5300
D5500
D7100
D7200
D7500
D500
D600
D610
D700
D750
D800
D800E
D810
D810A
D850
D4
D4s
D5
Df
Olympus
OM-D E-M1
OM-D E-M1 II
OM-D E-M5
OM-D E-M5 II
OM-D E-M10
OM-D E-M10 II
PEN E-P5
PEN E-PL5
PEN E-PL6
PEN E-PL7
PEN E-PL8
PEN E-PM2
PEN-F
Panasonic
Lumix DMC-G5
Lumix DMC-G6
Lumix DMC-G85
Lumix DMC-GF5
Lumix DMC-GF6
Lumix DMC-GF7
Lumix DMC-GF8
Lumix DMC-GH3
Lumix DMC-GH4
Lumix DMC-GH5
Lumix DMC-GM1
Lumix DMC-GM5
Lumix DMC-GX7
Lumix DMC-GX8
Lumix DMC-GX85
Lumix DMC-GX850
Pentax
645D
645Z
K-01
K-1
K-3
K-3 II
K-5
K-5 II
K-5 IIs
K-30
K-50
K-70
K-500
K-r
K-S1
K-S2
Q
Q-S1
Q7
Q10
Samsung
NX mini
NX1
NX30
NX300
NX500
NX1100
NX2000
NX3000
Sony
Alpha A7
Alpha A7 II
Alpha A7R
Alpha A7R II
Alpha A7S
Alpha A7S II
Alpha A9
Alpha A3000
Alpha A5000
Alpha A5100
Alpha A6000
Alpha A6300
Alpha A6500
Alpha NEX-F3
Alpha NEX-3N
Alpha NEX-5R
Alpha NEX-5T
Alpha NEX-6
Alpha NEX-7
Alpha SLT-A37
Alpha SLT-A57
Alpha SLT-A58
Alpha SLT-A65
Alpha SLT-A68
Alpha SLT-A77
Alpha SLT-A77 II
Alpha SLT-A99
Alpha SLT-A99 II