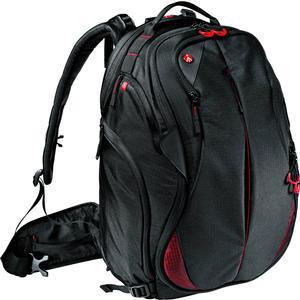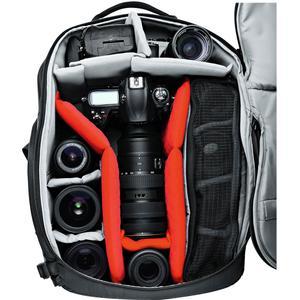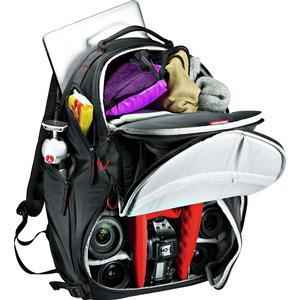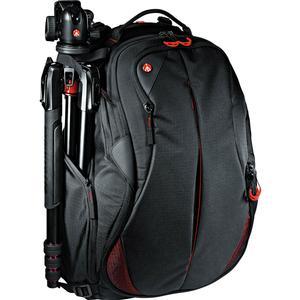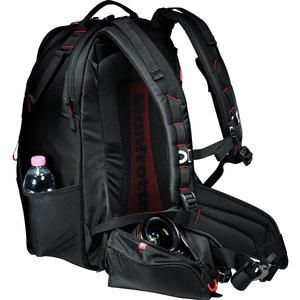 ITEM INCLUDES

Manfrotto Pro Light Bumblebee-230 DSLR Camera Backpack with:

Manfrotto Pro Light Bumblebee-230 DSLR Camera Backpack

Designed for outdoor shooters who are always on the move.

The Manfrotto Pro Light Bumblebee-230 DSLR Camera Backpack is a professional camera bag designed for outdoor shooters who are always on the move. This carry-on* pack is built to keep professional gear protected while providing long-wearing comfort. Its signature design Camera Protection System dividers safeguard a gripped DSLR body with 70-200 f/2.8 lens attached plus extra lenses, or a professional camcorder with its accessories. The "checkpoint-friendly" designated laptop-only section holds a 17" computer. The bag can be divided into top and bottom compartments by closing the main zipper stopper, making gear quickly accessible from the top. Alternatively, the top section can be reserved for personal items.

The unique AirSupport back & harness system not only distributes weight evenly on the shoulders, waist and hips but also maximizes breathability thanks to a suspended mesh panel. The load lifters, sternum straps, shoulder straps and waist belt are all fully adjustable in length to give you the utmost flexibility and comfort. The backpack's water-repellent Rip-Stop nylon / polyester fabric, hollowed ITW Nexus buckles and Duraflex hardware make the pack both ultra-lightweight and strong enough to withstand the most intense use, ensuring long-term protection for large amounts of gear.

The tuck-away NeverLose tripod connection is always ready to secure a variety of professional tripod sizes. Besides the external zip and stretchable pockets for accessories and a water bottle, there is also a lens pouch on the waist belt for super-quick and easy lens changing. This model comes with a DuoFace sun / rain cover, which provides extra protection in rough weather and reflects sunlight, keep gear cool and dry all day long.

*Note: Check with your airline for current carry-on requirements.

Fits: One DSLR camera with attached 70-200mm f/2.8 lens and battery grip, 9-10 extra lenses, a flash, up to 17" laptop, tripod, memory cards, spare batteries, portable hard drive, light jacket, water bottle, a snack, plus other accessories.

Key Features:

Interchangeable Dividers:
Both modular and easy to use, these dividers allow you to custom fit the inside of your bag around your gear by creating the exact size compartment for your needs.

Water Repellent:
A specially applied coating to the fabric makes it resistant to moisture.

UV Protection:
The silver side of the included rain protector will deflect direct sunshine and prevent your digital gear from overheating.

Camera Protection System:
Manfrotto's CPS - Camera Protection System has been specifically engineered and laboratory tested to guarantee the highest level of protection and shock resistance where it really counts.

External Tripod Connections:
This bag comes with the option and proper connections to attach your tripod externally.

Rain Protector:
Included fold-out protector which, when installed, creates a barrier between the wet outside and dry inside of your bag.

Laptop Compatible:
Protect your laptop during transport in this compartment.

Cabin Luggage:
This bag fits the standard to be used as carry-on luggage. (Due to ever changing restrictions, check with your carrier prior to departure).

Flexi Dividers:
These custom designed dividers have the option to fold out of the way when needed or to be pulled out to protect your equipment in special situations.
11 accessories found for Manfrotto Pro Light Bumblebee-230 DSLR Camera Backpack

DAVIS & SANFORD
Mfr#:
PROVISTA 6510

DOMKE
Mfr#:
PFWRFP-MD

OP/TECH
Mfr#:
3501242

PRECISION DESIGN
Mfr#:

PRECISION DESIGN
Mfr#:
DSLR400V

PRECISION DESIGN
Mfr#:
PD-58PVTR

PRECISION DESIGN
Mfr#:
PD-LSP1

SLIK
Mfr#:
613-338
Price:
$89.94

SUNPAK
Mfr#:
620-600-UPGBB

VIDPRO
Mfr#:
XM-8

XIT
Mfr#:
XT12FLXTR
Manfrotto Pro Light Bumblebee-230 DSLR Camera Backpack
– TECHNICAL SPECIFICATIONS –
---
Material:
Water-resistant nylon and foam padding
Type of Closure:
Zipper
Carrying/Transport Options:
Top and side strap handles Shoulder straps with connector and waist belt
Tripod Holder:
Side pocket with strap for compact tripod
Straps on waist belt provide secondary tripod attachment
Waist Belt:
Yes, padded
Interior Dimensions:
20.1 x 11.8 x 7.5 in. (51 x 30 x 19cm)
Exterior Dimensions:
20.9 x 12.6 x 10.2 in. (53 x 32 x 26cm)
Weight:
5.8 lbs. (2.7kg)
Compatible with all digital SLR / ILC cameras and most Pro Camcorders, including:
Digital SLR / ILC
Canon EOS
Fujifilm X
Nikon
Olympus PEN / OM-D
Panasonic Lumix
Pentax/ Ricoh
Sony Alpha A-Mount / E-Mount
Pro Camcorders / Digital Cine
Canon
Blackmagic Design
JVC
Panasonic
Sony