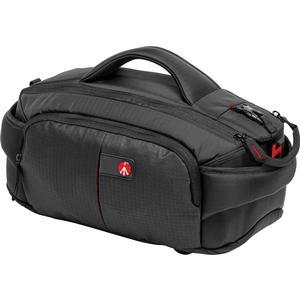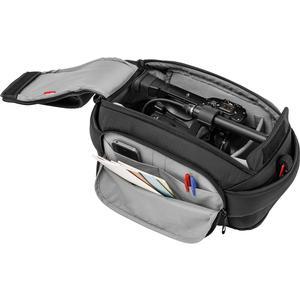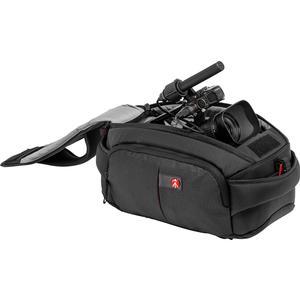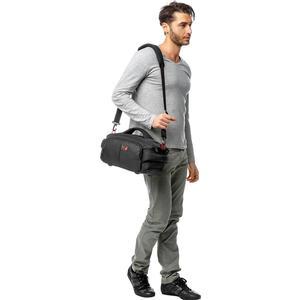 ITEM INCLUDES

Manfrotto Pro Light CC-191 PL DSLR Video Camera Case with:

Manfrotto CC-191 PL DSLR Video Camera Case

Optimal professional solution for protecting your gear.

The Manfrotto CC-191 PL DSLR Video Camera Case is an optimal professional solution for protecting, carrying and working with small camcorders. Signature Exo-Tough construction together with rip-stop nylon fabric protect the bag from external shock. Camera Protection Systems (CPS) safeguard your precious gear from vibration during transportation.

Intelligent dual-zipper top open design ensures big opening and quick camera access when on the move. A full-length external organizer pocket helps you to organize small accessories. It features a removable padded shoulder strap and compatibility to a standard trolley (wheeled luggage) that makes transportation even easier. Flexible divider systems make it compatible with a lot of different camera and camcorder models.

Fits: One camcorder or other camera, memory card, battery, charger, cables, smartphone, plus accessories.

Check out the Manfrotto fitting chart.

Key Features:

Camera Protection System:
Manfrotto's CPS Camera Protection System has been specifically engineered and laboratory tested to guarantee the highest level of protection and shock resistance where it really counts.

Interchangeable Dividers:
Both modular and easy to use, these dividers allow you to custom fit the inside of your bag around your gear by creating the exact size compartment for your gear.

Water Repellent:
A specially applied coating to the fabric which keeps it resistant to moisture

Cabin Luggage:
This bag fits the standard to fit as carry-on luggage (due to ever changing restrictions, check with your carrier prior to departure)

Trolley Connection:
For easy wheel along transportation simply slide the designated strap connector over any standard trolley or luggage handle.
13 accessories found for Manfrotto Pro Light CC-191 PL DSLR Video Camera Case

DAVIS & SANFORD
Mfr#:
PROVISTA 6510

DOMKE
Mfr#:
PFWRFP-MD

OP/TECH
Mfr#:
3501242

PRECISION DESIGN
Mfr#:

PRECISION DESIGN
Mfr#:
DSLR400V

PRECISION DESIGN
Mfr#:
PD-58PVTR

PRECISION DESIGN
Mfr#:
PD-LSP1

SLIK
Mfr#:
613-338
Price:
$109.94

SUNPAK
Mfr#:
620-600-UPGBB

VIDPRO
Mfr#:
LED-150

VIDPRO
Mfr#:
XM-8

XIT
Mfr#:
XT12FLXTR

XIT
Mfr#:
XT72MPPRO
Manfrotto CC-191 PL DSLR Video Camera Case
– TECHNICAL SPECIFICATIONS –
---
| | |
| --- | --- |
| Material: | Nylon |
| Tripod Connection: | Yes |
| Storage for Personal Items: | Yes |
| Exterior Dimensions: | 17.3 x 9.5 x 9.5 in. (44 x 24 x 24cm) |
| Interior Dimensions: | 15.8 x 7.9 x 6.7 in. (40 x 20 x 17cm) |
| Weight: | 2.4 lbs. (1.1kg) |
Compatible with the following digital cameras:
Canon
Rebel T3
Rebel T3i
Rebel T4i
Rebel T5
Rebel T5i
Rebel T6
Rebel T6i
Rebel T6s
EOS 60D
EOS 70D
EOS 80D
EOS 1D X
EOS 1D X Mark II
EOS 5D Mark II
EOS 5D Mark III
EOS 5D Mark IV
EOS 5Ds
EOS 5Ds R
EOS 6D
EOS 7D
EOS 7D Mark II
Nikon
1 AW1
1 J2
1 J3
1 J4
1 J5
1 S2
1 V3
D3200
D3300
D3400
D5300
D5500
D7100
D7200
D500
D600
D610
D700
D750
D800
D800E
D810
D810A
D4
D4s
D5
Df
Olympus
OM-D E-M1
OM-D E-M1 II
OM-D E-M5
OM-D E-M5 II
OM-D E-M10
OM-D E-M10 II
PEN E-P5
PEN E-PL5
PEN E-PL6
PEN E-PL7
PEN E-PL8
PEN E-PM2
PEN-F
Panasonic
Lumix DMC-G5
Lumix DMC-G6
Lumix DMC-G85
Lumix DMC-GF5
Lumix DMC-GF6
Lumix DMC-GF7
Lumix DMC-GF8
Lumix DMC-GH3
Lumix DMC-GH4
Lumix DMC-GM1
Lumix DMC-GM5
Lumix DMC-GX7
Lumix DMC-GX8
Lumix DMC-GX85
Pentax
645D
645Z
K-01
K-1
K-3
K-3 II
K-5
K-5 II
K-5 IIs
K-30
K-50
K-70
K-500
K-r
K-S1
K-S2
Q
Q-S1
Q7
Q10
Samsung
NX mini
NX1
NX30
NX300
NX500
NX1100
NX2000
NX3000
Sony
Alpha A7
Alpha A7 II
Alpha A7R
Alpha A7R II
Alpha A7S
Alpha A7S II
Alpha A3000
Alpha A5000
Alpha A5100
Alpha A6000
Alpha A6300
Alpha A6500
Alpha NEX-F3
Alpha NEX-3N
Alpha NEX-5R
Alpha NEX-5T
Alpha NEX-6
Alpha NEX-7
Alpha SLT-A37
Alpha SLT-A57
Alpha SLT-A58
Alpha SLT-A65
Alpha SLT-A68
Alpha SLT-A77
Alpha SLT-A77 II
Alpha SLT-A99
Alpha SLT-A99 II