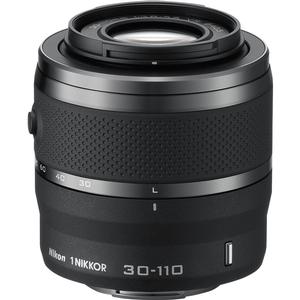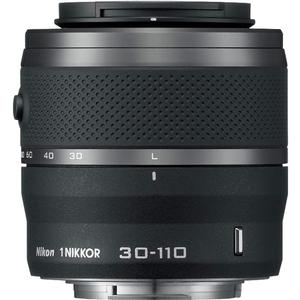 ITEM INCLUDES

Nikon 1 30-110mm f/3.8-5.6 VR Nikkor Lens (Black) with:

Front & Rear Lens Caps
HB-N103 Bayonet Lens Hood
Instruction Booklet

Nikon 1 30-110mm f/3.8-5.6 VR Nikkor Lens

Superior zoom coverage and high caliber images.

With a maximum aperture range of f/3.8-5.6, this CX-format Nikon 1 30-110mm f/3.8-5.6 VR Nikkor Lens captures every fine detail, making it ideal for a wide range of scenes, including sports to portraits. Compact and lightweight, the 30-110mm is equipped with Vibration Reduction (VR II) to keep moments sharp. Extend your reach with the 30-110mm (picture angle equivalent of an 81-297mm in 35mm format), and isolate subjects from their backgrounds with clarity. IF (Internal Focusing) maintains compactness of size, even when using the zoom.

Key Features:

Beautiful portraits focus on the person
A perfect compliment to the 10-30mm, the 30-110mm takes portraiture a step farther. Stunning portraits with soft focus background effects are yours. Compact and easy to carry, realize the most subtle expressions and minute details. 1 NIKKOR lens precision offers superior sharpness and color correction -- even at the widest aperture. Because portraits are usually taken spur of the moment, there is Vibration Reduction (VR II) to keep images blur-free.

Get in close, even from afar
Get up close and personal to inject panache to your sports photography using the 30-110mm lens. Equipped with Vibration Reduction (VR II), this lens separates subjects from their backgrounds, making it a great choice for honing in on subjects and create photos that are visually vibrant and perfect to upload to your blog or social media sites. Even at the most extended magnification, photos are rendered crystal clear and sharp, making the 30-110mm a perfect option for fast moving subjects from afar.

Wide depth of field surrenders dazzling views
Work with extended zoom range using the 30-110mm and produce sweeping looks that express your world. Subjects that need to be isolated from their backgrounds, such as a boat at sail, are easy with this lens. Equipped with Vibration Reduction (VR II) up to four stops, you'll nab every precise color detail seen with dramatic sunsets.

Vibration Reduction
This innovative VR system minimizes image blur caused by camera shake, and offers the equivalent of shooting at a shutter speed three stops (eight times) faster. It allows handheld shooting at dusk, at night, and even in poorly lit interiors. The lens' VR system also detects automatically when the photographer pans -- no special mode is required.

Extra-low Dispersion Glass
Nikon developed ED (Extra-low Dispersion) glass to enable the production of lenses that offer superior sharpness and color correction by minimizing chromatic aberration. ED glass offers all the benefits, yet none of the drawbacks of calcium fluorite-based glass. With this innovation, Nikon developed several types of ED glass suitable for various lenses.

Nikon Super Integrated Coating
To enhance the performance of its optical lens elements, Nikon employs an exclusive multilayer lens coating that helps reduce ghost and flare to a negligible level. Nikon Super Integrated Coating achieves a number of objectives, including minimized reflection in the wider wavelength range and superior color balance and reproduction.

Internal Focusing
Imagine being able to focus a lens without it changing in size. Nikon's IF technology enables just that. All internal optical movement is limited to the interior of the non-extending lens barrel. This allows for a more compact, lightweight construction as well as a closer focusing distance.
22 accessories found for Nikon 1 30-110mm f/3.8-5.6 VR Nikkor Lens (Black)
Nikon 1 NIKKOR VR II 30-110mm f/3.8-5.6 Lens
– TECHNICAL SPECIFICATIONS –
---
| | |
| --- | --- |
| Lens Mount: | Nikon 1 |
| Focal Length: | 30-110mm |
| Maximum Aperture: | f/3.8 |
| Minimum Aperture: | f/16 |
| Maximum Magnification: | 3.7x |
| Minimum Focus Distance: | 3.3 ft. (1.0m) |
| Lens Construction: | 18 elements / 12 groups |
| Diaphragm Blades: | 7 |
| Focus Type: | Auto / Manual |
| Image Stabilization: | VR II |
| Filter Size: | 40.5mm |
| Dimensions (Diam. x Length): | 2.4 x 2.4 in. (60 x 61mm) |
| Weight: | 6.2 oz. (175g) |
Compatible with any Nikon digital camera, including:
1 AW1
1 J1
1 J2
1 J3
1 J4
1 J5
1 S1
1 S2
1 V1
1 V2
1 V3