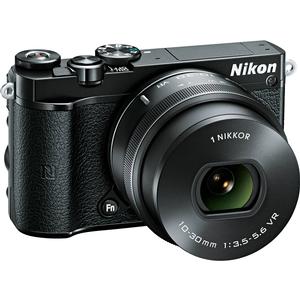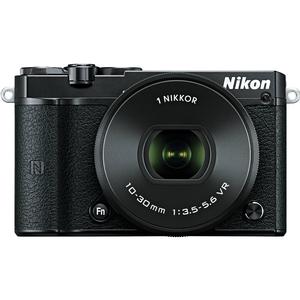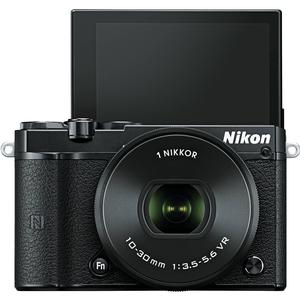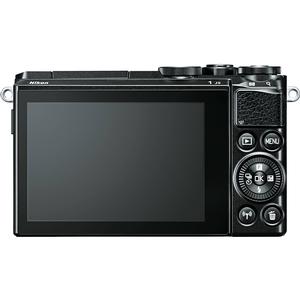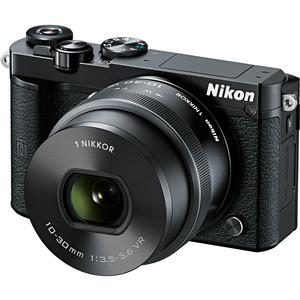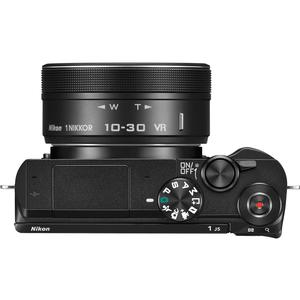 ITEM INCLUDES

Nikon 1 J5 Wi-Fi Digital Camera & 10-30mm Lens (Black) with:

EN-EL24 Li-ion Battery
Battery Charger
Micro USB Cable
Body Cap
Strap
Software Discs
Instruction Manual

Nikon 1 J5 Wi-Fi Digital Camera &
10-30mm VR PD-Zoom Lens

Breathtaking response that leaves digital SLRs far behind.

Meet the ultimate combination of image quality and portability, speed and versatility, creativity and connectivity: Nikon 1 J5. Masterfully designed on the inside and out, Nikon 1 J5 is faster than any DSLR on the market, achieves image quality and low-light performance few compact cameras can rival and yet is small enough to take on every outing. Shoot 20.8-megapixel photos, 1080/60p videos, time-lapse and slow-motion sequences, HDR (High Dynamic Range) images and much more. Pair it with any superb 1 NIKKOR lens, or add the optional FT-1 Mount Adapter and use legendary NIKKOR DSLR lenses.

With a 180-degree tilting touch screen, full manual control for those who want it, new onboard effects and even built-in Wi-Fi and Near Field Communication (NFC) for sharing your photos while on-the-go, Nikon 1 J5 is the intersection of advanced technology, image quality and portability.

This outfit includes the 1 NIKKOR VR 10-30mm f/3.5-5.6 PD-ZOOM lens. Featuring a unique capless design and power drive zoom, this thin, compact 3x zoom makes the ideal "standard" lens when portability and responsiveness are of prime importance. In addition, it offers excellent image quality and close-up capability.

Reducing camera shake is important, especially in low light or while shooting video, and VR (Vibration Reduction) image stabilization will help you adjust the zoom smoothly using a gentle swipe of your finger. And don't worry about picking up unwanted sounds, the 1 NIKKOR VR 10-30mm f/3.5-5.6 PD-ZOOM is as quiet as it is smooth.

Key Features:

20.8 megapixel CX-format CMOS image sensor
Capture in 20.8-megapixels of dazzling resolution. The Nikon 1 J5's all new back-side illuminated (BSI) CX-format CMOS image sensor gathers more light than a traditional CMOS sensor, enabling faster shutter speeds and enhanced low-light capabilities.

New image processing engine EXPEED 5A
Nikon's new EXPEED 5A image processing assures rich colors, smooth tones and razor-sharp details in every photo and Full HD video. And when the light is very low, shoot all the way up to ISO 12,800 with no fear of noise -- High ISO Noise Reduction stacks four separate images for clean, sharp low-light results.

Advanced hybrid AF
Nikon 1 J5's advanced AF covers virtually the entire frame with 171 AF points. The all-important central area employs both phase-detection and contrast-detect points, automatically switching between the two depending on subject and lighting. Quick phase-detection AF is used to capture most scenes, including dynamic action beyond the reach of digital SLR cameras. But in dim settings -- or when the subject lies outside the central frame -- contrast-detect AF takes over, effectively expanding the focus area to ensure that subjects near peripheries are precisely focused.

Capture sights other cameras miss
The Nikon 1 J5 achieves a level of speed and accuracy not even a DSLR can match. Its cutting-edge autofocus system uses 105 phase-detect AF points to instantly identify and focus on your subject. Hold down the shutter button and turn each second of action into 20 tack-sharp, full-resolution photos. Fix your focus, and the Nikon 1 J5 can capture at a mind boggling 60 frames per second continuously. A new Sports Mode optimizes the Nikon 1 J5 for fast-action, so you can switch from shooting pre-game portraits to on-field close-ups without missing a play.

Outstanding handling and creative control
The Nikon 1 J5 handles like a dream. Its 180° tilting touch screen lets you shoot from any angle that intrigues you and puts key controls -- even the ability to fire the shutter -- at your fingertips. You can quickly select an exposure mode, including full Manual control, from the dedicated PSAM dial, while the Command Dial makes it easy to navigate the Nikon 1 J5's intuitive menu system. You can even customize the Function button to recall your favorite menu or setting. Bring your creative vision to life.

Responsive touch control
The electrostatic 7.5-cm (3.0-in.) 1037k-dot LCD touchscreen makes the Nikon 1 J5 a pleasure to operate. Use the Touch Shutter function to quickly take photos focused on the point you tap; use Touch Focus to adjust the focus when taking a photo or filming in advanced movie mode; access key camera settings as well as filters and effects with the simple tap of your finger.

Create videos that amaze
Capture cinematic 1080/60p video with shallow depth of field, use ultra-smooth slow motion to create heroic-looking moments and even create beautiful time-lapse videos right in the camera. Active D-Lighting during movie shooting brings out more details in the highlights and shadows of your videos and continuous autofocus with Electronic Vibration Reduction (VR) technology keep your videos sharp and steady.

Send photos right to your smart device
Nikon Snapbridge describes the experience of quickly and easily sending photos wirelessly from the Nikon 1 J5 to a compatible smartphone or tablet using built-in Wi-Fi and NFC. Once connected, you can use your compatible smartphone or tablet to share your Nikon 1 J5 photos while on the go and even control the Nikon 1 J5 -- see what the camera sees and take pictures!

Remote shooting
Connect to a smart device and extend your shooting options. Take great self-portraits, or group shots with yourself in the frame, by using your connected smart device to release the camera shutter from a distance. Achieve the perfect composition by previewing shots on a large tablet screen.

Express your creativity
Even experienced shooters can find new inspiration in the Nikon 1 J5's Creative Mode. Explore HDR (High Dynamic Range) shooting or apply fun effects like Toy Camera, Miniature Effect, Cross Process and more. For video, easily create funny sped-up sequences with Fast Motion or a cinematic quick-cut sequence with Jump Cut.

| | | |
| --- | --- | --- |
| | | |
| HIGH-CONTRAST MONOCHROME | NIGHT LANDSCAPE | NOSTALGIC SEPIA |

Built-in flash
Shine some extra light on subjects with the pop-up flash. The compact flash unit automatically pops up in dim situations to provide enough light to illuminate subjects up to 6 m away from the camera.

Small size, huge performance
When you want to travel light but still capture beautiful photos and videos, the Nikon 1 J5 is the way to go. It delivers the portability of a compact digital camera but image quality that far surpasses most other compacts. It offers the versatility of interchangeable lenses and shooting speed beyond any DSLR on the market. Whether it's your primary camera or a companion to your DSLR, the Nikon 1 J5 can go wherever your creative vision takes you.

Experience true optical excellence
For over 85 years, NIKKOR has been the mark of optical excellence with over 90-million lenses sold worldwide. The Nikon 1 J5 connects you to that legacy with 11 superior 1 NIKKOR lens options, from wide-angle primes to telephoto zooms. Add the optional FT-1 Mount Adapter and use the Nikon 1 J5 with NIKKOR DSLR lenses, ideal for anyone who already owns a Nikon DSLR or simply wants to expand their capabilities with these marvels of optical precision.
28 accessories found for Nikon 1 J5 Wi-Fi Digital Camera & 10-30mm Lens (Black)
Nikon 1 J5 Wi-Fi Digital Camera
– TECHNICAL SPECIFICATIONS –
---
Camera Type:
Advanced Camera with Interchangeable Lenses
Effective Pixels:
20.8 million
Sensor Type:
CMOS
Sensor Size:
13.2mm x 8.8mm
Image Sizes:
Normal Panorama, horizontal pan (120:23 aspect ratio): 4,800 x 920
Normal Panorama, vertical pan (8:25 aspect ratio): 1,536 x 4,800
Wide Panorama, horizontal pan (240:23 aspect ratio): 9,600 x 920
Wide Panorama, vertical pan (4:25 aspect ratio): 1,536 x 9,600
Still Images (3:2 aspect ratio): 5,568 x 3,712 / 4,176 x 2,784 / 2,784 x 1,856
Still images (taken during movie recording; aspect ratio 3:2): 5,568 x 3,712 (1080/60p, 1080/30p)
Motion Snapshot (16:9 aspect ratio): 5,568 x 3,136
Image Formats:
Compressed 12-bit NEF (RAW)
JPEG: JPEG-Baseline compliant with fine (approx 1:4), normal (approx 1:8)
NEF (RAW) + JPEG: Single photograph recorded in both NEF (RAW) and JPEG formats
Movie:
HD: 1920 x 1080/60p
HD: 1920 x 1080/30p
HD: 1280 x 720/60p
HD: 1280 x 720/30p
Slow-motion: 1280 x 720/120 fps
Slow-motion: 800 x 296/400 fps
Slow-motion: 400 x 144/1200 fps
4K movies: 3840 x 2160/15p (14.99 fps)
Audio file format: ACC
Movie file format: MOV
Lens Mount:
Nikon 1 mount
Image Stabilization:
Available in VR lenses
Autofocus Type:
Hybrid autofocus (phase detection/contrast-detect AF)
AF-assist illuminator
Focus Modes:
Auto (AF)
Auto AF-S/AF-C selection (AF-A)
Single-Servo AF (AF-S)
Continuous-Servo (AF-C)
Full-time Servo (AF-F)
Manual Focus (MF)
ISO Sensitivity:
160- 12800
Shutter Type:
Electronic Shutter
Shutter Speeds:
Up to 1/16,000 sec.
Continuous/Burst Shooting:
20 frames per second at 20.8 MP
Self-Timer:
2, 10 sec. (Timer duration electronically controlled)
Exposure Metering System:
TTL metering using image sensor
Exposure Modes:
Programmed Auto with flexible Program (P)
Shutter-Priority Auto (S)
Aperture-Priority Auto (A)
Manual (M)
Scene Auto Selector
Exposure Compensation:
±3 EV in increments of 1/3EV
Exposure Lock:
Luminosity locked at detected value with AE-L/AF-L button
White Balance:
Auto
Incandescent
Fluorescent
Direct Sunlight
Flash
Cloudy
Shade
Preset Manual
All except preset manual with fine tuning
Shooting Modes:
Advanced movie mode (includes HD movie, 4K movie, time-lapse movie, slow motion, jump cut, fast motion and 4-second movie)
Auto Photo mode
Creative mode (including pop, retro, high-contrast monochrome, nostalgic sepia, HDR, easy panorama, soft, miniature effect, selective color, cross process, toy camera effect, cross screen, fisheye, skin softening, night landscape, night portrait, landscape, close-up, and portrait)
Motion Snapshot (16:9)
P programmed auto with flexible program, S shutter-priority auto, A aperture-priority auto, M manual
Best Moment Capture mode (includes Slow View, Active Selection, and Smart Photo Selector)
Flash:
Built-in
Flash Control:
i-TTL flash control using image sensor available
Flash Sync Terminal:
N/A
Flash Compensation:
-3 to +1 EV in increments of 1/3 EV
Viewfinder:
N/A
Monitor Type:
Tilting TFT-LCD with brightness adjustment
Monitor Size:
3.0 in. diagonal
Monitor Resolution:
1,037,000 dots
Storage:
microSD, microSDHC, microSDXC memory cards
Power Source:
EN-EL24 Lithium-ion Battery
EH-5b AC Adapter (Requires EP-5E Power Supply Connector)
Interface:
USB: Hi-speed USB
HDMI output: Type D mini-pin HDMI connector
Languages:
Arabic, Bengali, Chinese (Simplified and Traditional), Czech, Danish, Dutch, English, Finnish, French, German, Greek, Hindi, Hungarian, Indonesian, Italian, Japanese, Korean, Norwegian, Persian, Polish, Portuguese (European and Brazilian), Romanian, Russian, Spanish, Swedish, Tamil, Thai, Turkish, Ukrainian, Vietnamese
Dimensions (WxHxD):
3.9 x 2.4 x 1.3 in. (98.3 x 59.7 x 31.5mm)
Weight:
8.2 oz. (231g)
1 NIKKOR VR 10-30mm f/3.5-5.6 PD-ZOOM Lens
– TECHNICAL SPECIFICATIONS –
---
| | |
| --- | --- |
| Lens Mount: | Nikon 1 |
| Focal Length: | 10-30mm |
| Maximum Aperture: | f/3.5 - 5.6 |
| Minimum Aperture: | f/16 |
| Maximum Magnification: | 3x |
| Minimum Focus Distance: | 0.7 ft. (0.21m) |
| Lens Construction: | 9 elements / 7 groups |
| Diaphragm Blades: | 7 |
| Focus Type: | Auto / Manual |
| Image Stabilization: | Lens shift |
| Dimensions (Diam. x Length): | 2.3 x 1.1 in. (5.8 x 2.8cm) |
| Weight: | 3 oz. (85g) |