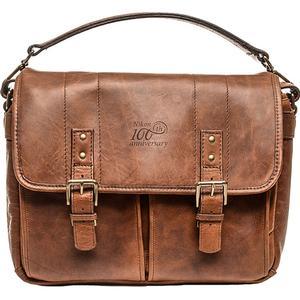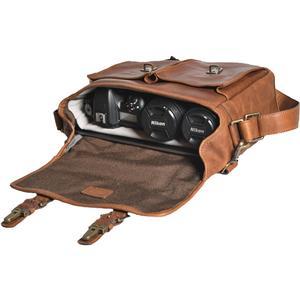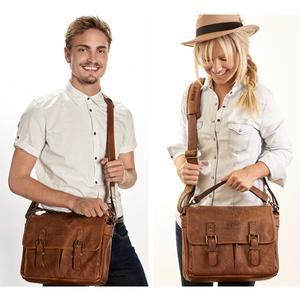 ITEM INCLUDES

Nikon 100th Anniversary Premium Leather Camera Bag (Brown) with:

Nikon 100th Anniversary Premium Leather Camera Bag

Full leather timeless design.

The Nikon 100th Anniversary Premium Leather Camera Bag is finely crafted, as are your most trusted Nikon cameras and lenses. This bag features a timeless design created by ONA, known for their fine leather goods, and is handcrafted of luxurious full grain Italian leather. It also features the Nikon 100th Anniversary logo embossed on the bag's front and Nikon name on the shoulder strap.

This bag may have a timeless retro design, but it can fit a modern tablet or laptop up to 11". Perfect for shooting with either a digital or film SLR camera, this bag has two accessory pockets in front to hold your necessities. Carry two different ways by grasping the top strap or slinging the adjustable messenger strap across your body.

Fits: One DSLR or film SLR, 2-3 lenses, a flash, up to 11" tablet or laptop, smartphone, spare batteries, memory cards, film, plus other accessories.

Key Features:

Aesthetically stylish:
The 100th Anniversary Messenger bag comes in the color of Antique Cognac, and features front closures that are designed to complement the overall aesthetic of the bag. This premium messenger bag will complement your style while protecting your Nikon camera gear with a padded interior, removable partitions, a large outer rear pocket and two front pockets. Customize the bag as you see fit.

Leather with metal clasps:
Soft, full grain Italian leather and coordinating metal clasps, removable padded shoulder and hand straps make this bag a statement to your taste in fine design. Handcrafted with care and attention to detail, this 100th Anniversary Messenger Bag would be an impressive addition to any Nikon fan's collection.

| | |
| --- | --- |
| | |
| Front Metal Closures | 100th Anniversary Logo |

Main interior:
The main interior area of the messenger bag measures 12" long x 9" high x 4" deep, large enough to hold a DSLR, 2-3 additional lenses and an 11" tablet or laptop. Customize the bag to suit your needs with the removable partitions. Carry additional small items in the two front pockets and the large rear pocket.
0 accessories found for Nikon 100th Anniversary Premium Leather Camera Bag (Brown)
Nikon 100th Anniversary Premium Leather Bag
– TECHNICAL SPECIFICATIONS –
---
| | |
| --- | --- |
| Material: | Leather |
| Type of Closure: | Metal clasp |
| Carrying/Transport Options: | Adjustable shoulder strap and top strap |
| Interior Dimensions: | 12 x 9 x 4 in. (30.5 x 22.9 x 10.2cm) |
Compatible with the following digital cameras:
Canon
Rebel T3
Rebel T3i
Rebel T4i
Rebel T5
Rebel T5i
Rebel T6
Rebel T6i
Rebel T6s
EOS 60D
EOS 70D
EOS 80D
EOS 1D X
EOS 1D X Mark II
EOS 5D Mark II
EOS 5D Mark III
EOS 5D Mark IV
EOS 5Ds
EOS 5Ds R
EOS 6D
EOS 7D
EOS 7D Mark II
Nikon
1 AW1
1 J2
1 J3
1 J4
1 J5
1 S2
1 V3
D3200
D3300
D3400
D5300
D5500
D7100
D7200
D7500
D500
D600
D610
D700
D750
D800
D800E
D810
D810A
D4
D4s
D5
Df
Olympus
OM-D E-M1
OM-D E-M1 II
OM-D E-M5
OM-D E-M5 II
OM-D E-M10
OM-D E-M10 II
PEN E-P5
PEN E-PL5
PEN E-PL6
PEN E-PL7
PEN E-PL8
PEN E-PM2
PEN-F
Panasonic
Lumix DMC-G5
Lumix DMC-G6
Lumix DMC-G85
Lumix DMC-GF5
Lumix DMC-GF6
Lumix DMC-GF7
Lumix DMC-GF8
Lumix DMC-GH3
Lumix DMC-GH4
Lumix DMC-GH5
Lumix DMC-GM1
Lumix DMC-GM5
Lumix DMC-GX7
Lumix DMC-GX8
Lumix DMC-GX85
Lumix DMC-GX850
Pentax
645D
645Z
K-01
K-1
K-3
K-3 II
K-5
K-5 II
K-5 IIs
K-30
K-50
K-70
K-500
K-r
K-S1
K-S2
Q
Q-S1
Q7
Q10
Samsung
NX mini
NX1
NX30
NX300
NX500
NX1100
NX2000
NX3000
Sony
Alpha A7
Alpha A7 II
Alpha A7R
Alpha A7R II
Alpha A7S
Alpha A7S II
Alpha A9
Alpha A3000
Alpha A5000
Alpha A5100
Alpha A6000
Alpha A6300
Alpha A6500
Alpha NEX-F3
Alpha NEX-3N
Alpha NEX-5R
Alpha NEX-5T
Alpha NEX-6
Alpha NEX-7
Alpha SLT-A37
Alpha SLT-A57
Alpha SLT-A58
Alpha SLT-A65
Alpha SLT-A68
Alpha SLT-A77
Alpha SLT-A77 II
Alpha SLT-A99
Alpha SLT-A99 II