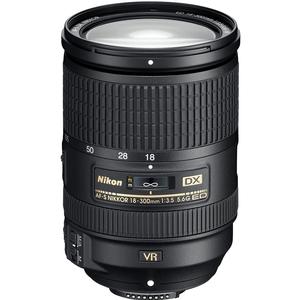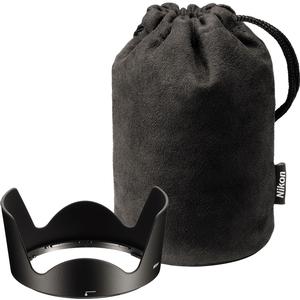 ITEM INCLUDES

Nikon 18-300mm f/3.5-5.6G VR DX ED AF-S Nikkor-Zoom Lens with:

Lens Hood
Soft Lens Case
Front & Rear Lens Caps

Nikon 18-300mm f/3.5-5.6G VR DX ED AF-S Nikkor-Zoom Lens

Nikon's most powerful all-in-one zoom lens ever.

If you want a single lens that can cover every imaginable shooting situation, from wide-angle groups to ultra-high-power zoom shots, look no further than the AF-S DX NIKKOR 18-300mm f/3.5-5.6G ED VR. Boasting the longest reach of any NIKKOR all-in-one zoom lens, it delivers the equivalent of 450mm — enough reach to bring the most distant action up close. Nikon's second generation VR II technology ensures every photo and HD video is razor-sharp, and Nikon's advancements in lens design deliver consistent, exceptional performance in any setting.

Its astounding 16.7x zoom range goes from a wide 27mm equivalent, great for group shots, vast landscapes and more, all the way to a super-telephoto 450mm equivalent, enough reach for wildlife photography and more. The lens can focus as close as 1.48 feet from your subject at 300mm. This ultra-high-power zoom capability means no subject or composition will ever be out of reach again.

At super-telephoto focal lengths, even the slightest camera movement can cause image blur. Fortunately, the 18-300mm VR features Nikon's second-generation Vibration Reduction technology (VR) to ensure every handheld photo and HD video is razor sharp. Shoot at shutter speeds 4-times slower than otherwise possible, a major advantage in low-light situations where a slower shutter speed means brighter, richer images.

This lens also features a Silent Wave Motor (SWM) for ultra-fast, ultra-quiet autofocusing, as well as Aspherical (AS) lens elements and Extra-low Dispersion (ED) glass elements for maximum contrast and minimum lens flare and ghosting. It's also great for close-up shooting. Even more amazing, the 18-300mm VR does all this in a surprisingly compact, lightweight package.

| | | | | |
| --- | --- | --- | --- | --- |
| | | | | |
| Wide-angle (1x) | | Super-telephoto (16.7x) | | Low-light |

Key Features:

16.7x Zoom versatility
A remarkable 18-300mm one-lens solution — adept in a wide variety of situations. Picture angle equivalent of a 27-450mm lens in 35mm format.

Nikon VR (Vibration Reduction) Image Stabilization
Vibration Reduction, engineered specifically for each VR NIKKOR lens, enables handheld shooting at up to 4 shutter speeds slower than would otherwise be possible, assuring dramatically sharper still images and video capture.

Three Extra-low Dispersion (ED) elements
Offers superior sharpness and color correction by effectively minimizing chromatic aberration, even at wide aperture settings.

Exclusive Nikon Silent Wave Motor (SWM)
For fast, accurate and quiet autofocus.

Flower-shaped lens hood
Included lens hood shades the objective from unwanted, image-degrading light.

Three aspherical lens elements
Virtually eliminates coma and other aberrations, even at wide apertures.

Nikon Super Integrated Coating (SIC)
Enhances light transmission and offers superior color consistency and reduced flare.

Rounded 9-blade diaphragm
Renders more natural appearance of out-of-focus image elements.

M/A focus mode switch
Enables quick response to changing situations between manual and autofocus operation.
34 accessories found for Nikon 18-300mm f/3.5-5.6G VR DX ED AF-S Nikkor-Zoom Lens
Nikon 18-300mm f/3.5-5.6G VR DX ED AF-S Nikkor-Zoom Lens
– TECHNICAL SPECIFICATIONS –
---
Lens Mount:
Nikon AF-S
Focal Length:
18-300mm
Maximum Aperture:
f/3.5
Minimum Aperture:
f/22
Maximum Magnification:
0.32x
Minimum Focus Distance:
1.48 ft.(0.45m)
Lens Construction:
19 elements / 14 groups
3 ED Glass Elements
3 Aspherical Elements
Diaphragm Blades:
9
Focus Type:
Auto / Manual
Image Stabilization:
Yes (VR)
Filter Size:
77mm
Dimensions (Diam. x Length):
3.3 x 4.7 in. (83 x 120mm)
Weight:
29.3 oz. (830g)
Compatible with any Nikon manual focus, autofocus film or digital SLR camera , including:
D3100
D3200
D3300
D3400
D5100
D5200
D5300
D5500
D7000
D7100
D7200
D7500
D90
D300
D300s
D500
D600
D610
D800
D800E
D810
D810A
D850
D3
D3s
D3x
D4
D4s
D5
Df