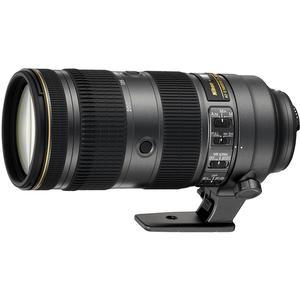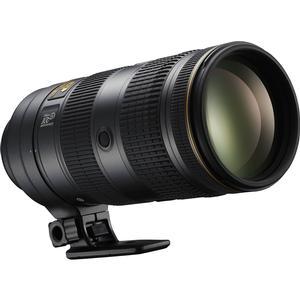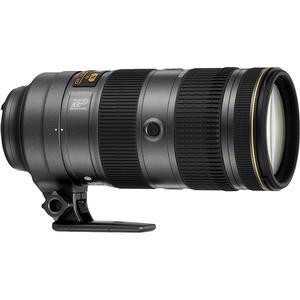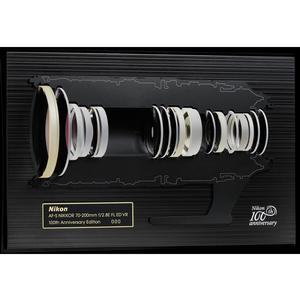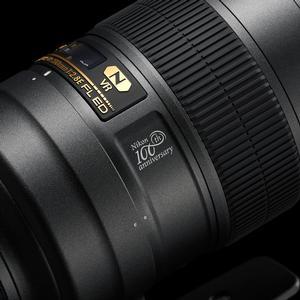 ITEM INCLUDES

Nikon 70-200mm f/2.8E FL ED VR Zoom-Nikkor Lens (100th Anniversary Edition) with:

100th Anniversary Glass Elements Stand and Case
Lens Hood
Front & Rear Lens Caps
Case
Tripod Collar

Nikon 70-200mm f/2.8E FL ED VR
Zoom-Nikkor Lens
(100th Anniversary Edition)

A legendary lens commemorating a legendary event.

When choosing a lens to commemorate Nikon's 100th anniversary, the superb Nikon 70-200mm f/2.8E FL ED VR Zoom-Nikkor Lens (100th Anniversary Edition) quickly rose to the top. It's the benchmark for fast telephoto zoom lenses, unrivaled for low light, sports, wildlife, concerts, weddings, portraits and more, and a mainstay for pros and passionate shooters around the world.

The limited NIKKOR 70-200mm 100th Anniversary Edition features a special metallic gray finish and Nikon's 100th anniversary logo, and it comes with an exclusive collectors display showcasing the internal construction of the lens elements -- 22 elements in 18 groups -- so you can appreciate and share the lens in an entirely new way.

Key Features:

Special 100th anniversary design:
The exterior has a brilliant metallic gray finish for a sleek look. Also, this edition has Nikon's 100th anniversary commemorative logo on the side.

| | |
| --- | --- |
| | |
| METALLIC FINISH | 100th ANNIVERSARY LOGO |

Collector's display of lens elements:
Displays all 22 actual lens elements in a beautiful display stand and case. Includes engraved plate displaying your lens' special edition serial number.

Images that astound:
The AF-S NIKKOR 70-200mm f/2.8E FL ED VR produces images that have a life of their own. Six ED glass elements, Fluorite (FL) and High Refractive (HRI) lens elements and Nano Crystal Coat (N) all but eliminate distortion and glare and maximize contrast and sharpness, even in difficult backlit situations. The constant f/2.8 maximum aperture produces beautiful, creamy background blur, and the masterful design and construction ensures this lens will be a legend.

Enhanced handling:
The AF-S NIKKOR 70-200mm f/2.8E FL ED VR has four focus function buttons right on the lens barrel, perfect for engaging autofocus or AF Lock. The zoom and focus rings have reversed positions for more comfortable, stable zooming. Its magnesium alloy barrel, High Refractive Index (HRI) lens element and lightweight Fluorite (Fl) element located near the front of the optical group keep the lens evenly balanced. The tripod collar ring spins on ball bearings for smooth transitions between horizontal and vertical shooting.

Brilliant in low light:
Shoot with the aperture wide open at f/2.8 across the entire zoom range -- from 70mm to 200mm -- for sharp, bright images with smooth, creamy background blur. Close focus has been improved from 4.6 feet (1.4m) to approx. 3.6 feet (1.1m), allowing for stunning close-up portraits. Combined with a high-ISO Nikon DSLR,the AF-S NIKKOR 70-200mm f/2.8E FL ED VR opens new possibilities for capturing indoor sports, wildlife at dusk and dawn, wedding receptions and so much more.

Built for the field:
You don't get a second chance to capture the decisive moment, and weather conditions rarely cooperate. The AF-S NIKKOR 70-200mm f/2.8E FL ED VR is designed for exactly these moments. An all new weather-sealing design ensures you can keep shooting through nearly any condition. Every movable part of the lens barrel -- nine parts in all -- are extensively sealed for dust and water drop resistance. Additionally, the front lens element is coated with Nikon's non-stick Fluorine coat, resisting dirt, fingerprints and smudges.

Sharp shooter:
Camera movement during exposure robs sharpness. It's that simple. Nikon's VR image stabilization has been enhanced from 3.5 stops to up to ~4.0 stops, a must-have feature when working handheld, on a monopod or even a tripod. A specialized Sports Mode is optimized for camera pans and fast-action sports, and the Tripod Mode eliminates the subtle ground vibrations that are constantly passing through a tripod or monopod. Capture subjects with outstanding sharpness, even in low light.

Flawless focus:
During high-speed continuous shooting with a fast DSLR like D5 or D500, the lens' electromagnetic diaphragm syncs with the camera shutter for remarkably consistent exposure, even with a teleconverter. AF tracking is improved, too, especially for notoriously difficult subjects: those with unpredictable or very slow movement, those moving at random speeds and those approaching the camera at high speed. Nikon's Silent Wave Motor (SWM) powers ultra-fast, near-silent internal focusing (IF) with no breathing effect across the entire zoom range.
31 accessories found for Nikon 70-200mm f/2.8E FL ED VR Zoom-Nikkor Lens (100th Anniversary Edition)
Nikon 70-200mm f/2.8E FL ED VR Zoom-Nikkor Lens (100th Anniversary Edition)
– TECHNICAL SPECIFICATIONS –
---
| | |
| --- | --- |
| Lens Mount: | Nikon F |
| Focal Length: | 70-200mm |
| Maximum Aperture: | f/2.8 |
| Minimum Aperture: | f/22 |
| Maximum Magnification: | 0.21x |
| Minimum Focus Distance: | 3.6 ft. (1.1m) |
| Lens Construction: | 22 elements / 18 groups |
| Diaphragm Blades: | 9 |
| Focus Type: | Auto / Manual |
| Image Stabilization: | Vibration Reduction |
| Filter Size: | 77mm |
| Dimensions (Diam. x Length): | 3.5 x 8 in. (88.5 x 202.5mm) |
| Weight: | 3.2 lbs. (1430g) |
Compatible with any Nikon digital SLR camera, including:
Df
D3
D3s
D3x
D4
D4s
D5
D300
D300s
D500
D600
D610
D700
D750
D800
D800E
D810
D810A
D7000
D7100
D7200
D7500
**D5300, D5200, D5100, D5000, D3400, D3300, D3200, D3100, D3000 will work without Autofocus.**