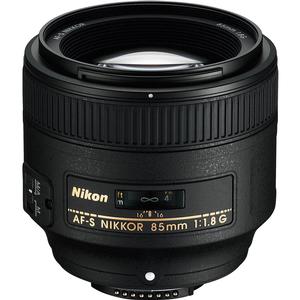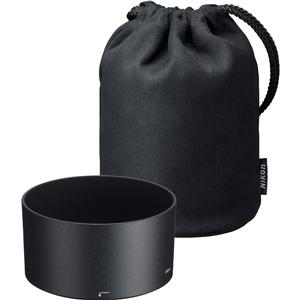 ITEM INCLUDES

Nikon 85mm f/1.8G AF-S Nikkor Lens with:

Semi-Soft Case
Front & Rear Lens Cap
Bayonet Lens Hood
Instruction Manual

Nikon 85mm f/1.8G AF-S Nikkor Lens

Fast aperture, medium telephoto portrait
lens for exceptional stills and HD video.

Designed for use with Nikon's FX-format DSLR cameras, the AF-S NIKKOR 85mm f/1.8G is a medium telephoto f/1.8 lens that features Nikon's Internal Focus (IF) system, providing fast and quiet AF and producing sharp and clear images at all apertures. Its fast maximum aperture is ideal for taking stills or HD videos under ideal lighting, in low light, head and shoulder portraiture, weddings or concerts. When mounted on a DX-format DSLR, it has an effective field of view of 127mm.

This medium telephoto portrait lens is great for use in the studio, on set or for shooting in available light; producing stills or HD video of people with attractive skin tones and beautiful background blur. With its fast f/1.8 aperture, the AF-S NIKKOR 85mm f/1.8G will capture even low-light situations with stunning brilliance.

When you need to isolate the subject from the background, as when shooting portraits – indoors or outdoors – stills or HD video, the AF-S NIKKOR 85mm f/1.8G renders a beautiful, natural background blur (Bokeh) at its wider aperture settings.

Key Features:

SAMPLE PHOTO

Silent Wave Motor (SWM)
Enables high-speed autofocusing that's extremely accurate and super quiet.

Super Integrated Coating (SIC)
Enhances light transmission and offers superior color consistency and reduced flare.

Internal Focusing (IF)
Provides fast and quiet autofocusing without changing the length of the lens, retaining subject working distance throughout the focus range.

M/A Focus Mode Switch
Enables quick response to changing situations between manual and autofocus operation.

Rounded 7-blade Diaphragm
Renders more natural appearance of out-of-focus image elements.
34 accessories found for Nikon 85mm f/1.8G AF-S Nikkor Lens
Nikon 85mm f/1.8G AF-S Nikkor Lens
– TECHNICAL SPECIFICATIONS –
---
Lens Mount:
Nikon F-Bayonet
Focal Length:
85mm
Maximum Aperture:
f/1.8
Minimum Aperture:
f/16
Format:
FX/35mm
DX
Maximum Magnification:
0.12x
Minimum Focus Distance:
2.62 ft. (0.8m)
Lens Construction:
9 elements / 9 groups
Diaphragm Blades:
7
Focus Type:
Auto / Manual
Filter Size:
67mm
Dimensions (Diam. x Length):
3.1 x 2.9 in. (80 x 73mm)
Weight:
12.4 oz. (350g)
Other:
• Silent Wave Motor
• Super Integrated Coating
• Internal Focusing
Compatible with any Nikon manual focus, autofocus film or digital SLR camera , including:
D3100
D3200
D3300
D3400
D5100
D5200
D5300
D5500
D7000
D7100
D7200
D7500
D90
D300
D300s
D500
D600
D610
D800
D800E
D810
D810A
D850
D3
D3s
D3x
D4
D4s
D5
Df