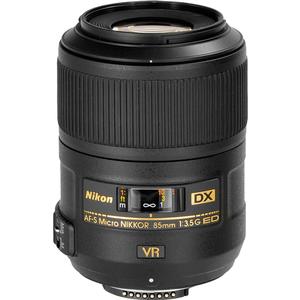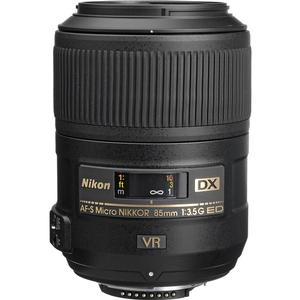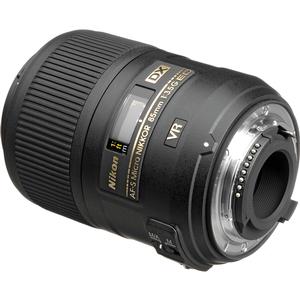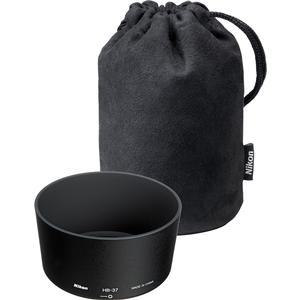 ITEM INCLUDES

Nikon 85mm f/3.5 G VR AF-S DX ED Micro-Nikkor Lens - Factory Refurbished with:

Front & Rear Lens Caps
Lens Case
Lens Hood

Nikon 85mm f/3.5G VR DX ED AF-S NIKKOR Lens

Ideal for extreme close-up and general photography
with continuous autofocus from infinity to life-size (1:1).

Ideal for those new to macro photography, the AF-S DX MICRO NIKKOR 85MM F/3.5G VR boasts a 1:1 reproduction ratio, allowing photographers to get lifelike close-ups of more intricate textures and details, even down to the fine texture on flower petals or insect wings. On top of this, the VR II system provides both a steady viewfinder image for composition and sharper results at slow shutter speeds or when shooting movie clips.

The Nikon DX format provides a compact and light form factor that balances well with Nikon's range of DSLRs. With a picture angle equivalent to a focal length of 127.5mm in FX/35mm format, it extends options beyond those offered by standard kit lenses, ideal for portraits or candid photography.

Nikon's acclaimed ED glass provides crisp high contrast results rendered with attractive background blur thanks to the rounded nine blade diaphragm. The SWM ensures smooth, discrete auto focusing and the non-rotating front element enables the use of lens mounted flash accessories.

Key Features:

Compact, DX-format Micro NIKKOR Close-up Lens
An ideal choice for close-up, nature, portrait and general photography.

Nikon VR II (Vibration Reduction) Image Stabilization
Vibration Reduction, engineered specifically for each VR NIKKOR lens, enables handheld shooting at up to 4 shutter speeds slower than would otherwise be possible, assuring dramatically sharper still images and video capture.

Nikon Super Integrated Coating (SIC)
Enhances light transmission and offers superior color consistency and reduced flare.

Internal Focus (IF)
Provides fast and quiet autofocusing without changing the length of the lens, retaining subject working distance throughout the focus range.

SAMPLE PHOTO

M/A Focus Mode Switch
Enables quick response to changing situations between manual and autofocus operation.

Close Focusing to 0.9 Feet
Extends versatility with focusing from infinity to life-size (1:1 reproduction ratio).

Extra-low Dispersion (ED) Element
Offers superior sharpness and color correction by effectively minimizing chromatic aberration, even at wide aperture settings.

Exclusive Nikon Silent Wave Motor (SWM)
For fast, accurate and quiet autofocus.

Rounded 9-blade Diaphragm
Renders more natural appearance of out-of-focus image elements.
12 accessories found for Nikon 85mm f/3.5 G VR AF-S DX ED Micro-Nikkor Lens - Factory Refurbished


MANUFACTURER
Mfr#:
CK501

LENSPEN
Mfr#:
NLP-1C



NIKON
Mfr#:
8228

PRECISION DESIGN
Mfr#:
PD-TL01

PRECISION DESIGN
Mfr#:
PD-007

PRECISION DESIGN
Mfr#:
DSLR300

PRECISION DESIGN
Mfr#:
PD-58PVTR

VIVITAR
Mfr#:
VIV-CPL-52

VIVITAR
Mfr#:
VIV-UV-52
Nikon 85mm f/3.5 G VR AF-S DX ED Micro-Nikkor Lens
– TECHNICAL SPECIFICATIONS –
---
Lens Mount:
Nikon F-Bayonet
Focal Length:
85mm
Maximum Aperture:
f/3.5
Minimum Aperture:
f/32
Maximum Magnification:
1.0x
Minimum Focus Distance:
0.9 ft. (0.286m)
Lens Construction:
14 elements / 10 groups
Diaphragm Blades:
9
Focus Type:
Auto / Manual
Image Stabilization:
VR
Filter Size:
52mm
Dimensions (Diam. x Length):
2.9 x 3.9 in. (73 x 98.5mm)
Weight:
12.5 oz. (355g)
Other:
• ED glass element
• Super Integrated Coating
• Internal Focusing
Compatible with any Nikon manual focus, autofocus film or digital SLR camera , including:
D3100
D3200
D3300
D3400
D5100
D5200
D5300
D5500
D7000
D7100
D7200
D7500
D90
D300
D300s
D500
D600
D610
D800
D800E
D810
D810A
D850
D3
D3s
D3x
D4
D4s
D5
Df