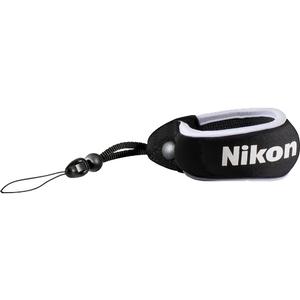 ITEM INCLUDES

Nikon Coolpix Floating Wrist Strap with:

Nikon Coolpix Floating Wrist Strap

Keep your precious photos afloat with this floating strap.

The Nikon Coolpix Floating Wrist Strap is made from durable materials and provides the ultimate in security and comfort, giving you peace of mind while carrying your waterproof camera in water. It has been tested to float cameras up to 6.2 oz. (178g). Use only with digital cameras designed for underwater use.

Key Features:

Bright Highlights:
Make it easy for you to spot your camera floating in water.

Durable Material:
Made from soft, durable materials; providing a secure, stylish solution for carrying your waterproof camera.

Soft Lining:
Stays comfortable even when wet.

Easy-Snap Button:
Ensures a snug, secure fit around your wrist.

Quick Disconnect:
Allows you to quickly and easily disconnect your camera from the strap.
0 accessories found for Nikon Coolpix Floating Wrist Strap