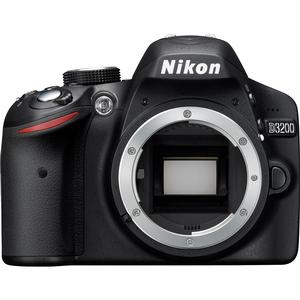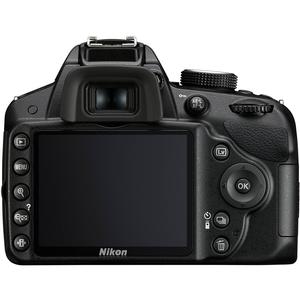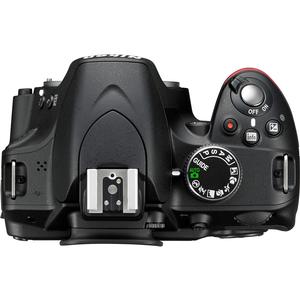 ITEM INCLUDES

Nikon D3200 Digital SLR Camera Body (Black) - Factory Refurbished with:

EN-EL14 Li-ion Battery
Charger
Cable
Strap
Body Cap

Nikon D3200 Digital SLR Camera Body (Black)

A new level of image quality, a familiar way of sharing.

Don't let the Nikon D3200's compact size and price fool you -- packed inside this easy to use HD-SLR is serious Nikon power: a 24.2 MP DX-format CMOS sensor that excels in any light, EXPEED 3 image-processing for fast operation and creative in-camera effects, Full HD (1080p) movie recording, in-camera tutorials and much more. What does this mean for you? Simply stunning photos and videos in any setting. And now, with Nikon's optional Wireless Mobile Adapter, you can share those masterpieces instantly with your smartphone or tablet!

Key Features:

24.2 effective megapixels. Nikon-developed DX-format CMOS image sensor
Featuring 24.2 effective megapixels, the D3200 employs a Nikon-developed DX-format CMOS image sensor. It achieves high-resolution rendering and rich tonal gradation that smoothly reproduces human skin texture and gradation of sky. Also, utilizing the large sensor of a D-SLR, high-quality still images and movies can be taken with beautiful background blur. The high pixel count of the D3200 is also effective when images are printed. Even when taken still images are trimmed and enlarged, high-resolution image quality is realized with the least degradation.

EXPEED 3 image-processing engine
To process 24.2-megapixel data at high speed, an image-processing engine EXPEED 3, the same as that used by the Nikon D4, that is optimized for DSLRs is incorporated. EXPEED 3 realizes faithful reproduction of human skin, expanded dynamic range and improved color rendering in Active D-Lighting. With its high-performance noise-reduction function, rich gradation with less noise is achieved even at a high sensitivity range, for both still images and movies.

Also, with high-speed readout from the image sensor integrated with superior image-processing capability, Full HD D-Movie at 1,920 x 1,080/30p is supported.

Wide sensitivity range up to ISO 6400, Expandable to ISO 12800
Wide sensitivity range from ISO 100 to 6400 is provided. Superior high-sensitivity performance is offered even with high pixel count. The range can be increased up to Hi 1 (ISO 12800 equivalent). Even at high ISO setting, sharp images are delivered with minimized noise while maintaining resolution. Setting high ISO sensitivity enables you to shoot at faster shutter speeds and capture pictures without worrying about image degradation caused by camera shake even when shooting at night or in dark interiors, or when shooting a moving subject such as children or pets. Furthermore, this superior high-sensitivity performance is effective for D-Movie and you can shoot beautiful movies without large-scale lighting equipment even in low-light conditions.

Auto White Balance
The D3200 analyzes color and brightness information of the scene utilizing the light source identification function of Scene Recognition System and detects the light source precisely by referencing the in-camera database for auto white balance. In this way, it can determine the ideal white balance even with difficult light sources.

Active D-Lighting
It is difficult to reproduce the brightness of subjects as it appears in such scenes as a dark room including outside scenery seen through a window, high-contrast scenes such as at the seaside under strong sunlight, and backlit situations. The D3200 employs Active D-Lighting that preserves details in both highlights and shadowy areas in such situations, maintaining moderate contrast. You can reproduce brightness as you see it in both bright and dark situations.

Image Sensor Cleaning function and Airflow Control System
With DSLRs, it sometimes occurs that dust becomes attached to the OLPF (optical low-pass filter) located in front of the image sensor when exchanging lenses, and is photographed in taken images. To prevent dust from degrading images, the D3200 employs the Image Sensor Cleaning function and Airflow Control System. These double measures effectively reduce the possibility of dust being photographed in the frame, ensuring beautiful images.

Image Sensor Cleaning Function: Vibrations at multiple different resonant frequencies are used to reduce dust on the low-pass filter. This function is automatically activated each time the camera is turned on and off. It can also be activated from the menu.

Airflow Control System: This controls the flow of air using small ducts near the lens mount, preventing internal dust from sticking to the low-pass filter in front of the image sensor.

Easier-to-use Guide Mode
The D3200 employs Guide Mode that enables you to take pictures and movies the way you want, even if you are a first-time user of a D-SLR. By just following the guides displayed in the monitor, a variety of image expression is realized easily, such as "Soften background" to emphasize the subject, "Capture reds in sunsets", or "Take bright/dark photos".

11-point AF system
The D3200 incorporates a high-speed and highly accurate 11-point AF system. A cross-type sensor covers the most frequently used center area to deliver superior subject-acquisition and focusing performance. With Scene Recognition System, the D3200 shows enhanced subject identification and composition change detection. In Auto-area AF mode, the D3200 achieves focus at the appropriate focus point by detecting background, foreground and subject. In 3D-tracking (11 points) mode, the focus point automatically changes to track the subject even if it moves or composition is changed while the shutter-release button is pressed halfway. Also, the camera employs superimposed indicators for bright and easy-to-see viewfinder information. Focus points are displayed clearly.

Superior durability, accuracy and operability - highly reliable shutter
The D3200's shutter unit is tested for 100,000 cycles with the shutter actually loaded to prove its high durability. The release mode button/Self-timer button/Remote control button on the camera back enables selection of release modes from Single frame, Continuous, Self-timer, Delayed Remote (2 s), Quick-response remote and Quiet shutter release. The Quiet shutter release mode is convenient when you want to shoot with reduced shutter-release sound for occasions such as a school play or when taking pictures of wildlife, insects, or a sleeping child. It also contributes to high-speed continuous shooting at 4 fps.

Approx. 4 fps high-speed continuous shooting ensures you don't miss the moment.

Comfortable live view shooting using a large LCD monitor
Live view shooting using an LCD monitor feels more like shooting with a compact digital camera. This is convenient when it is difficult to use the viewfinder to take high-angle or low-angle shots, or when you want to determine composition using approx. 100% frame coverage in landscape or portrait photography. You can shoot while confirming your subject with the large, easy-to-view, 7.5-cm (3-in.) VGA (approx. 921k-dot), LCD monitor. The desired AF area can be selected by moving a focus point with the multi selector. For close-up shooting of flowers and other small subjects using a tripod, you can magnify images up to approx. 9.4 times to check the exact focus.

Shooting using viewfinder
Optical viewfinder shooting is convenient in high-speed continuous shooting or when tracking a moving subject. The D3200 features approx. 95% frame coverage and approx. 0.8x magnification. The clear and easy-to-see viewfinder supports comfortable shooting with minimal time lag.

Three focus modes - selectable according to your subject:

Single-servo AF (AF-S)
Suitable for a stationary subject such as landscapes, architecture or flowers.

Full-time-servo AF (AF-F)
Convenient for shooting a moving subject which is usually difficult to focus on, such as a child or pet. Available in both live view mode and movie recording. Camera focuses continuously as the subject moves.

Manual focus (MF)
Manual focusing. Suitable for a subject for which autofocus is difficult, such as an animal in a cage or a person in the shade with the sun in the background.

Scene Recognition System
Utilizing a 420-pixel RGB sensor, the camera detects brightness and colors finely, and identifies the situation of the subject accurately before shooting. The results are reflected in autofocus, auto exposure, i-TTL flash control and auto white balance for accurate auto control. Moreover, the D3200 detects human faces utilizing the Face Detection System, and applies the information to autofocus, auto exposure, auto white balance and playback zoom of face.

Four AF-area modes - automatically focus on someone's face or a moving subject:


Face-priority AF
Ideal for focusing on someone's face such as for a commemorative photo.

Wide-area AF
Suitable for handheld shooting such as for a landscape. AF area can be moved to a desired point within the frame.

Normal-area AF
Convenient for shooting with pin-point focus for a designated position such as for a close-up of a flower. Using a tripod is recommended for more precise focusing.

Subject-tracking AF
After focusing is activated, AF area tracks the subject. Ideal for capturing a moving subject such as a child or pet.

Six Scene Modes and Scene Auto Selector
Experienced photographers optimize their camera settings for the scene they're shooting. With the D3200, optimizing your camera settings is as easy as turning a dial. Choose from six common Scene Modes like Portrait, Night Portrait, Landscape, Close up and more, for flawless results even in demanding circumstances. When using Live View, Scene Auto Selector automatically sets the D3200 for the most suitable Scene Mode for the situation. A highly accurate 420-pixel RGB sensor powers Nikon's Scene Recognition System, which compares scene data against an extensive database to optimize the shot accordingly.

| | | | | |
| --- | --- | --- | --- | --- |
| | | | | |
| Sports | | Close Up | | Night Portrait |

Simple and slim styling with reliable holding and superior operability
A compact and lightweight design is employed to ensure comfortable carrying and holding. The indented area of the grip on the front and thumb rest space on the back have been widened as much as possible to achieve reliable holding. Because the camera is held securely, sharp pictures with minimal camera shake can be captured. The D3200 also has a refined layout of buttons and dials. The mode dial is moderately inclined for natural operation, while button layout around the shutter-release button ensures comfortable operation.

Info display - selectable according to the body color
Various kinds of shooting information can be shown in the information display. For the display design, you can choose from two options - Classic or Graphic. Furthermore, the background color of the display can be selected from blue, black or orange (Classic) or white, black or brown (Graphic) according to the body color.

Information edit button
Pressing the information edit button when shooting information is displayed gives you direct access to the menu of the setting you would like to adjust.

Long-life battery due to energy-saving design - EN-EL14 Rechargeable Li-ion Battery
The D3200's efficient energy-saving design allows you to shoot approx. 540 shots per charge with the EN-EL14 Rechargeable Li-ion Battery.

Records movies more beautifully and easily with a D-SLR - Full HD D-Movie
The D3200 offers Full HD movie recording at 1,920 x 1,080/30p. You can shoot beautiful movies utilizing 24.2 effective megapixels. It is possible to record movies with expanded image expression utilizing beautiful blur that only DSLRs can offer, a variety of perspectives with a wide interchangeable lens lineup, and superior high-sensitivity performance. When subject-tracking AF is used, even a moving subject is kept focused.

The movie-record button is located next to the shutter-release button to enable instant movie recording start. You can record movies as if using a video camcorder. With the D3200, manual setting for movie recording is possible (only when exposure mode is set to M). You can set shutter speed and ISO sensitivity before starting recording*. Furthermore, a flicker reduction function is employed to enable you to select flicker frequency (50Hz/60Hz) or choose automatic.
*Set shutter speed depends on movie frame rate; ISO sensitivity can be set within the range from ISO 200 to 6400 and ISO 12800 equivalent (Hi 1).

In-camera movie editing functions
You can edit your movie easily without a PC. It is possible to delete unwanted parts by choosing the start or end point in single frame units, and save a selected frame as a JPEG image with the same image size as that of the selected movie frame.

Adding creativity in-camera after shooting - Retouch menu
The D3200 comes equipped with various in-camera image-editing functions. These in-camera functions let you retouch images easily. There are a variety of options such as Selective color that creates a black-and-white image except for the color(s) you want to emphasize, Miniature effect for a diorama-like image, or Color sketch for a sketch-style image. In each case, a duplicate image is created, leaving the original securely intact.

Retouch menu options: In-camera editing
Captured images and movies can be altered and edited in-camera and on the fly if required, all without the need to resort to a computer. Retouch menus include an array of useful features such as NEF (RAW) processing, resize, distortion control, fisheye, miniature effect, red-eye correction, filter effects and image overlay, as well as the ability to designate the start and end point of movie clips all at once, in order to save them more efficiently.

Retouch menus incorporated in the D3200:

D-Lighting
Red-eye correction
Trim (3:2, 4:3, 5:4, 16:9 and 1:1)
Monochrome (Black-and-white, Sepia and Cyanotype)
Filter effects (Skylight, Warm filter, Red/Green/Blue intensifier, Cross screen and Soft)
Color balance
Image overlay
NEF (RAW) processing
Resize

Quick retouch
Straighten
Distortion control
Fisheye
Color outline
Color sketch
Perspective control
Miniature effect
Selective color
Edit movie

Exclusive Nikon software - expand your creativity
This simple and intuitive software helps you get the most out of your images and movies. ViewNX 2 provides importing and browsing capability while also incorporating image-editing functions such as Resize, Brightness, Crop, Straighten and NEF (RAW) image processing. High-definition and high-quality RAW processing is achieved by utilizing the same processing algorithm as Capture NX 2 that faithfully reproduces Nikon image quality. Its movie-editing functions help you create your own original movies quickly and easily, and Nikon's smart photo sharing and storage service, my Picturetown, works smoothly with ViewNX 2, allowing you to log in directly from the software for easy uploading without activating a browser.

Enables playback of still images and movies on High-Definition TV – HDMI supported
The D3200 supports HDMI (High-Definition Multimedia Interface) that allows you to play back still images and movies with High-Definition TV*. HDMI mini connector (Type C) is employed as the interface. Also, the D3200 is compatible with HDMI-CEC (Consumer Electric Control) that enables remote operation of the camera using a TV remote control**.
* Requires optional HDMI connection for playback.
** Remote control of HDMI-CEC supported TV.

Wirelessly transmit images to your smart devices (optional)
When the optional WU-1a Wireless Mobile Adapter is connected to the D3200, it is possible to transmit images to a smart device such as a smartphone or tablet PC wirelessly. Beautiful images that only DSLRs can capture are now available for SNS or email. Moreover, a remote shooting function that enables shutter release from a distant place is employed. You can take shots from a wide shooting angle, while confirming an image to be taken, with a smart device as a live view display. Android OS smart devices are supported.

Extensive playback functions selectable according to your applications
The D3200 gives you a variety of playback display options that take advantage of the large 7.5-cm (3-in.) monitor. The number of images displayed at one time can be selected from 1, 4, 9 and 72, and calendar display arranges images in chronological order. Playback zoom of face function is also available that is convenient when checking the focus of a subject accurately.
38 accessories found for Nikon D3200 Digital SLR Camera Body (Black) - Factory Refurbished
Nikon D3200 Digital SLR Camera Body
– TECHNICAL SPECIFICATIONS –
---
Camera Type:
Single-lens reflex digital camera
Effective Pixels:
24.2 million
Total Pixels:
24.7 million
Sensor Type:
CMOS
Sensor Size:
23.2 x 15.4mm
Image Sizes:
DX-format
(L) 6,016 × 4,000
(M) 4,512 × 3,000
(S) 3,008 × 2,000
Image Formats:
Compressed 12-bit NEF (RAW)
JPEG: JPEG-Baseline Compliant with fine (approx 1:4), Normal (approx 1:8) or Basic (approx 1:16) Compression
NEF (RAW) + JPEG: Single Photograph Recorded in both NEF (RAW) and JPEG Formats
Movie:
Movie with sound (mono audio)
HD 1,920x1,080 / 30 fps
HD 1,920x1,080 / 25 fps
HD 1,920x1,080 / 24 fps
HD 1,280x720 / 60 fps
HD 1,280x720 / 50 fps
VGA 640x424 / 30 fps
VGA 640x424 / 25 fps
Lens Mount:
Nikon F bayonet mount
Image Stabilization:
Vibration Reduction (VR) available in lenses
Autofocus Type:
Nikon Multi-CAM 1000 autofocus sensor module with TTL phase detection
Focus Modes:
Auto AF-S/AF-C selection (AF-A), Continuous-servo (AF-C), Face-Priority AF available in Live View only and D-Movie only, Full-time Servo (AF-A) available in Live View only, Manual (M) with electronic rangefinder, Normal area available in Live View and D-Movie only, Predictive focus tracking activated automatically according to subject status, Single-servo AF (AF-S), Wide area available in Live View and D-Movie only
ISO Sensitivity:
ISO 100 - 6400
Hi-1 (ISO 12,800)
Shutter Type:
Electronically controlled vertical-travel focal-plane
Shutter Speeds:
1/4000 to 30 sec. in steps of 1/3 EV
Bulb
Continuous/Burst Shooting:
4 frames per second continuous shooting
Self-Timer:
2, 5, 10, 20 sec. Timer duration electronically controlled
Exposure Metering System:
TTL exposure metering using 420-pixel RGB sensor
Exposure Modes:
Aperture-Priority Auto (A), Auto, Auto (flash off), Manual (M), Programmed Auto with flexible Program (P), Shutter-Priority Auto (S)
Exposure Compensation:
±5 EV in increments of 1/3EV
Exposure Lock:
Luminosity locked at detected value with AE-L/AF-L button
Exposure Bracketing:
None
White Balance:
Auto, Incandescent, Fluorescent (7 types), Direct Sunlight, Flash, Cloudy, Shade, Preset Manual
Shooting Modes:
Auto, Portrait, Landscape, Close-up, Sports, Night Portrait, Child
Flash:
Built-in, Hotshoe
Flash Control:
TTL: i-TTL flash control using 420-pixel RGB sensor is available with built-in flash and SB-910, SB-900, SB-800, SB-700, SB-600, or SB-400; i-TTL balanced fill-flash for digital SLR is used with matrix and center-weighted
Flash Sync Modes:
Front-curtain sync (normal), Slow sync, Rear-curtain sync, Red-eye reduction, Red-eye reduction with slow sync
Flash Accessory Shoe:
Yes
Flash Sync Terminal:
Sync Terminal ADapter AS-15 (available separately)
Flash Compensation:
-3 to +1 EV in increments of 1/3 EV
Viewfinder:
Eye-level pentamirror single-lens reflex viewfinder
Monitor Type:
160-degree wide-viewing angle
Monitor Size:
3.0 in. diagonal
Monitor Resolution:
921,000 Dots
Live View:
Yes
Playback:
Full frame, Calendar, Thumbnail (4, 9 or 72 images), Zoom, Movie Playback, Slideshow, Histogram display, Highlights, Auto image rotation, Image Comment, Highlight point display
Storage:
SD, SDHC, SDXC
Power Source:
EN-EL14 Rechargeable Li-ion Battery
Interface:
Hi-speed USB
Video output: NTSC, PAL
HDMI output: Type C mini-pin HDMI connector
Audio input: Stereo mini-pin jack (3.5-mm diameter)
Accessory terminal: Remote cord: MC-DC2 (available separately); GPS unit: GP-1 (available separately)
Languages:
Chinese (Simplified and Traditional), Czech, Danish, Dutch, English, Finnish, French, German, Greek, Hindi, Hungarian, Indonesian, Italian, Japanese, Korean, Norwegian, Polish, Portuguese, Romanian, Russian, Spanish, Swedish, Thai, Turkish, Ukrainian
Dimensions (WxHxD):
5.0 x 3.8 x 3.1 in. (125 x 96 x 76.5mm)
Weight:
16 oz. (455g)