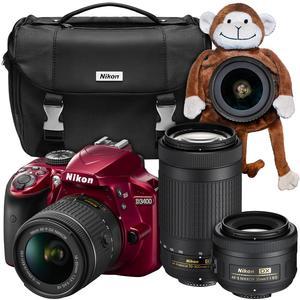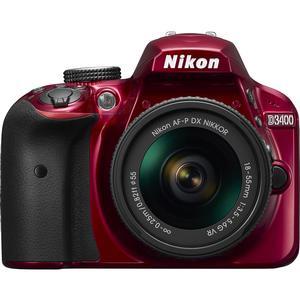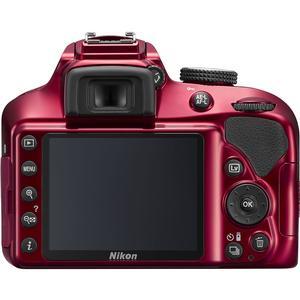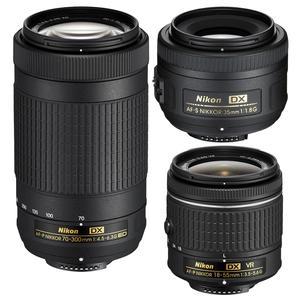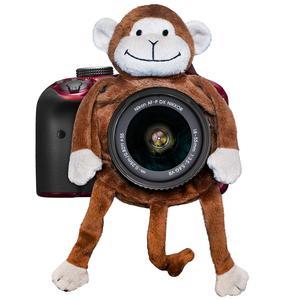 Nikon D3400 Digital SLR Camera & 18-55mm VR, 70-300mm DX AF-P, 35mm f/1.8G Lenses (Red)
Parent's Kit includes Nikon Case, Shutter Huggers Monkey & Online Class

ITEM INCLUDES

Nikon D3400 Digital SLR Camera & 18-55mm VR, 70-300mm DX AF-P, 35mm f/1.8G Lenses (Red) with:

EN-EL14a Li-ion Battery
Charger
Rubber Eyecup
Strap
Body Cap
3x Front & Rear Lens Caps
Camera Bag
$30 off $50 MPIX Photo Album
Nikon School Online Class
Shutter Huggers Creature (Monkey)

Nikon D3400 DSLR Camera (Red)
with 18-55mm VR, 70-300mm &
35mm f/1.8G Lenses

Inspired by the proud parent in you.

We all know the routine... round up the kids, ask them to stand still and smile as you try to take a picture with your smartphone, only to have the picture ruined by the slightest bit of motion or bad lighting. This isn't the picture you want to post on your social media page for all the world to see. It's also not the kind of photo you will cherish for many years.

Now imagine taking that same photo with the Nikon D3400 Digital SLR Camera & 18-55mm VR, 70-300mm DX AF-P, 35mm f/1.8G Lenses Triple Lens Parent's Kit. With three powerful lenses included, you can cover all the angles and create heirloom photos that your whole family will enjoy. Fast, responsive, simple to use and great in low-light, the D3400 delivers beautiful photos with far less effort. Why should you use a DSLR camera? Because your family's memories deserve to be preserved in the best quality possible.

The D3400 has a 24.2MP sensor that captures pictures with amazing clarity. Now, you can get all the high speed action with 5 frames per second continuous shooting. The 100-25600 ISO sensitivity is perfect for low-light shooting and fast moving subjects. Record family movies or dramatic films thanks to the 1080p Full HD capabilities.

This bundle includes the following lenses:

AF-P DX NIKKOR 18-55mm f/3.5-5.6G VR
With the Vibration Reduction (VR) equipped AF-P DX NIKKOR 18-55mm f/3.5-5.6G VR on your DX-format DSLR, you'll be ready for anything. It uses a pulse motor (utilizing stepping motors) for ultra-fast, near silent autofocus and two Aspherical lens elements for outstanding optical performance. Capture wide landscapes and group photos one moment, then tight portraits, family sporting events and smooth HD video the next. VR image stabilization enhances your camera's low-light capabilities and keeps your videos steady.

AF-P DX NIKKOR 70-300mm f/4.5-6.3G ED
Conquer distance with this powerful, lightweight super-telephoto zoom lens. Optimized for high-resolution DX-format DSLRs, it picks up where an 18-55mm kit lens leaves off and brings faraway subjects into close focus. Capture sports, wildlife, concerts, landmarks and more with phenomenal clarity and precision. Its superb optics and telephoto field of view produce beautiful portraits with softly blurred backgrounds, and its near-silent autofocus pulse motor (utilizing stepping motors) makes it a great choice for HD video recording.

AF-S DX NIKKOR 35MM f/1.8G
Fall in love with the all-around capabilities of the AF-S DX NIKKOR 35mm f/1.8G. A must have for any DX-format DSLR shooter, this compact, lightweight prime lens will help you get great images at any skill level. The 35mm focal length is ideal for a classic "natural" angle of view. With a fast f/1.8 aperture, you can focus sharply on your subjects in low light and create beautifully blurred backgrounds.

Also includes:

Nikon Gadget Bag
Protect your valuable photography equipment with this sturdy, water-repellent carrying case from Nikon. Constructed from durable, ballistic nylon, this compact system case is ideal for storing your digital SLR camera, plus lenses and accessories. The interior of this case is well-padded to protect against impacts and scratches, and features several adjustable velcro dividers, allowing you to customize the fit.

Key Features:

Stunning simplicity:
With D3400's great autofocus system and fast burst shooting, you can take photos and video of the kids just being kids; running, jumping, riding their bike, etc. Take pictures of infants in extremely low light without a problem. Freeze fast-action in its tracks. Create portraits with rich, natural skin tones and beautifully blurred backgrounds. The photos you share will amaze everyone -- even yourself.

Connectivity, built-in:
Better photos, transferred automatically to your compatible smart device. With the built-in Bluetooth connectivity options of the Nikon D3400, you can easily capture beautiful photos and share them with the whole family via the Nikon SnapBridge app. The SnapBridge app works seamlessly with NIKON IMAGE SPACE, a cloud storage and sharing site, to back-up your photos and help you create and share albums with your friends and family. The future of connectivity and sharing is here, and your D3400 is ready to help you share your great photos with the world.

The gateway to better photography:
The D3400 makes photography easy and fun, freeing you to focus on your kid's natural talents -- framing great shots, anticipating special moments and finding unique perspectives in everyday scenes. As your abilities grow (and they will grow) you can take complete creative control of the D3400.

Home videos done right:
Does the device you use to capture video allow you to zoom in close for a tight shot of your son during his baseball game or do you have to record the entire field and the backs of other peoples' heads in the stands? And does it do a good job recording your daughter's dance recital from your seat in a dimly lit theater? The D3400 records superior quality 1080/60p Full HD video with the flexibility you need to capture those special moments beautifully. The D3400's flexibility will empower you to create spectacular videos of your loved ones that you will cherish for years to come.

A camera that keeps up with your kids:
Press and hold the D3400's shutter button and capture at a speed of 5 frames per second (fps) continuously with full autofocus performance -- this means you can freeze the action while knowing your images will remain tack sharp. Transform a moment of fast action into a thrilling photo sequence, then share it through SnapBridge for all to see on your favorite social media sites.

The beauty of changing lenses:
Your family is dynamic, shouldn't your photos be? With three great NIKKOR lenses you have enough versatility and choice to capture all of the great moments as they unfold. This kit includes the AF-P DX NIKKOR 18-55mm f/3.5-5.6G VR lens for everyday shooting, the AF-P DX NIKKOR 70-300mm f/4.5-6.3G ED VR super-zoom for getting in closer to your subjects and the ultra-sharp AF-S DX NIKKOR 35mm f/1.8G prime that you'll love to use when capturing gorgeous portraits of your kids. NIKKOR lenses have long been the benchmark of optical excellence, and every lens offers an inspiring new view of your world -- see for yourself how NIKKOR lenses can help you better capture your world.

No need to say "cheese!":
No more chasing toddlers, making silly animal noises, or bribing your kids in an attempt to get them to look at your camera and smile. Get natural smiles from your loved ones with this adorable Shutter Huggers monkey around your lens. Works great for getting your pet's attention, too!

Get started on that brag book:
As an exclusive offer, Nikon has teamed up with premium quality photo lab MPIX to offer purchasers of the D3400 Triple Lens Parent's Camera Kit, a $30 discount voucher for the purchase of a photo album of $50 value or more.

Photographing children and pets:
Learn the secrets to taking portraits that will be cherished for a lifetime from renowned lifestyle photographer and Nikon Ambassador, Tamara Lackey. Included in the D3400 Triple Lens Parent's Kit is access to the "Photographing Children & Pets" online video class (available until 6/30/21) -- in this class you'll learn how to get genuine expressions from children and pets, how to create poses that look and feel natural, how to softly blur the backgrounds, which lenses are best and more.
77 accessories found for Nikon D3400 Digital SLR Camera & 18-55mm VR, 70-300mm DX AF-P, 35mm f/1.8G Lenses (Red)
Nikon D3400 Digital SLR Camera
– TECHNICAL SPECIFICATIONS –
---
Camera Type:
Digital SLR
Effective Pixels:
24.2MP
Total Pixels:
24.7MP
Sensor Type:
CMOS
Sensor Size:
6000 x 4000
Image Sizes:
6,000 x 4,000
4,496 x 3,000
2,992 x 2,000
Image Formats:
JPEG, RAW
Movie:
MOV, MPEG-4 AVC/H.264
Lens Mount:
F-mount
Focus Modes:
Automatic (A), Continuous-servo AF (C), Manual Focus (M), Single-servo AF (S)
ISO Sensitivity:
Auto, 100-25600
Shutter Type:
Electronically controlled vertical-travel focal-plane
Shutter Speeds:
1/4000 to 30 sec.
Continuous/Burst Shooting:
up to 5 frames per second
Self-Timer:
2, 5, 10, 20 sec.
Exposure Metering System:
Center-weighted average metering, Matrix, Spot metering
Exposure Modes:
Aperture Priority, Auto, Manual, Programmed Auto, Shutter Priority
Exposure Compensation:
-5 EV to +5 EV (in 1/3 EV steps)
Exposure Lock:
Yes
Bluetooth:
Yes
White Balance:
Auto, Cloudy, Direct Sunlight, Flash, Fluorescent, Incandescent, Preset Manual, Shade
Flash:
Built-in pop-up
Flash Control:
iTTL
Flash Sync Terminal:
Hot Shoe
Flash Compensation:
-3 EV to +1 EV (in 1/3 EV steps)
Viewfinder:
Pentamirror
Monitor Type:
LCD
Monitor Size:
3.0"
Monitor Resolution:
921,000
Live View:
Yes
Wi-Fi:
Eye-Fi compatible
Playback:
Auto Image Rotation / Full-Frame and Thumbnail (4, 9, or 72 images or calendar ) / Highlights / Histogram Display / Image Comment / Location Display / Movie Playback / Photo Information / Picture Rating / Playback Face Zoom / Playback with Zoom / Playback Zoom Cropping / Slideshow
Storage:
SD / SDHC / SDXC memory cards
Power Source:
EN-EL14A Rechargeable Lithium-ion Battery Pack, 7.2 VDC, 1230 mAh
Interface:
HDMI C (Mini)
USB 2.0
Dimensions (WxHxD):
4.9 x 3.9 x 3 in. (124 x 98 x 75.5mm)
Weight:
13.9 oz. (395g)
AF-P DX NIKKOR 18-55mm f/3.5-5.6G VR Lens
– TECHNICAL SPECIFICATIONS –
---
| | |
| --- | --- |
| Lens Mount: | Nikon F |
| Focal Length: | 18-55mm |
| Maximum Aperture: | f/ 3.5-5.6 |
| Minimum Aperture: | f/ 22-38 |
| Maximum Magnification: | 0.38x |
| Minimum Focus Distance: | 9.8 in. (25cm) |
| Lens Construction: | 12 elements / 9 groups |
| Diaphragm Blades: | 7 |
| Focus Type: | Auto / Manual |
| Image Stabilization: | Yes |
| Filter Size: | 55mm |
| Dimensions (Diam. x Length): | 2.5 x 2.5 in. (64.5 x 62.5mm) |
| Weight: | 7.2 oz. (205g) |
AF-P DX NIKKOR 70-300mm f/4.5-6.3G ED Lens
– TECHNICAL SPECIFICATIONS –
---
| | |
| --- | --- |
| Lens Mount: | Nikon F |
| Focal Length: | 70-300mm |
| Maximum Aperture: | f/ 4.5-6.3 |
| Minimum Aperture: | f/32 |
| Maximum Magnification: | 0.22x |
| Minimum Focus Distance: | 3.6 ft. (1.1m) |
| Lens Construction: | 14 elements / 10 groups |
| Diaphragm Blades: | 7 |
| Focus Type: | Auto / Manual |
| Image Stabilization: | No |
| Filter Size: | 58mm |
| Dimensions (Diam. x Length): | 2.8 x 4.9 in. (72 x 125mm) |
| Weight: | 14.1 oz. (400g) |
Nikon 35mm f/1.8 G DX AF-S Nikkor Lens
– TECHNICAL SPECIFICATIONS –
---
Lens Mount:
Nikon F-Bayonet
Focal Length:
35mm
Maximum Aperture:
f/1.8
Minimum Aperture:
f/22
Maximum Magnification:
0.16x
Minimum Focus Distance:
0.98 ft. (0.3m)
Lens Construction:
8 Elements / 6 Groups
Diaphragm Blades:
7
Focus Type:
Auto / Manual
Image Stabilization:
None
Filter Size:
52mm
Dimensions (Diam. x Length):
2.8 x 2.1 in. (70 x 52.5mm)
Weight:
7 oz. (200g)
Additional Features:
• Aspherical Element
• Super Integrated Coating