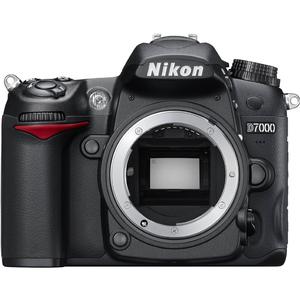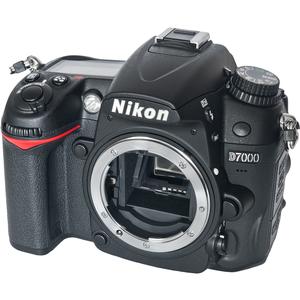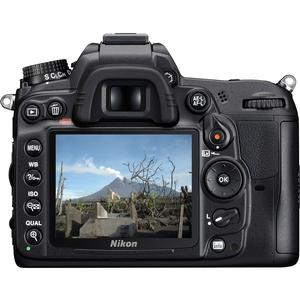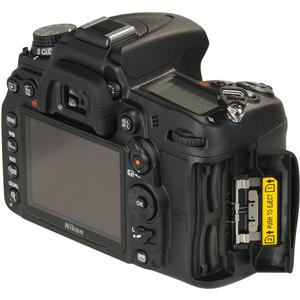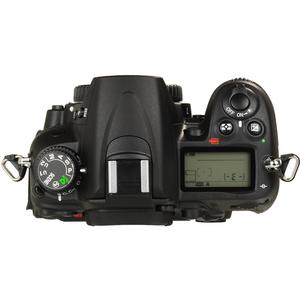 ITEM INCLUDES

Nikon D7000 Digital SLR Camera Body - Factory Refurbished with:

EN-EL15 Li-ion Battery
Charger
Cable
Strap
Body Cap

Nikon D7000 Digital SLR
Camera Body

Power to Astonish. Features to Inspire.

As the digital SLR market expands, DSLR users are becoming more diverse to include those who demand the ability to capture images with greater definition and image quality, those looking for more advanced shooting functions, and those looking for the ability to record movies with the rich power of expression that is only possible with SLR cameras.

The Nikon D7000 is a high-quality mid-class DSLR that responds to user demands with a variety of the latest camera technologies and functions for high-quality, high-definition shooting, all in a durable, high-performance, yet compact body. Among its features are a DX-format CMOS image sensor, Nikon's latest image-processing engine, EXPEED 2, a 2,016-pixel metering sensor, an AF system that utilizes 39 focus points, and the D-Movie function that enables recording of full HD movies.

Key Features:

Nikon DX-format CMOS sensor
At the heart of the D7000 is a DX-format CMOS image sensor with 16.2 effective megapixels, optimally engineered to gather more quality light through sharp NIKKOR lenses. With 14-bit A/D conversion (12-bit selectable) operating within the sensor, the D7000 realizes stunning images that are richer in tone and detail than previously possible in DX format without sacrificing shooting speed or energy efficiency. Combine these with the agility of the DX format and its signature 1.5x focal length telephoto potential and you can begin to see where this kind of shooting power can take you.

"EXPEED 2" image-processing engine
The D7000 employs the image-processing engine "EXPEED 2". This achieves higher-performance noise reduction, improved color reproduction, high-speed image processing and enhanced movie-processing performance and efficient energy saving with a smaller engine chip than that of the D90. And there is no reduction in continuous shooting frame rate even when high ISO noise reduction or Active D-Lighting is activated.

High-speed continuous shooting at approx. 6 fps, for up to approx. 100 shots
The D7000 incorporates newly developed shutter, aperture and mirror driving mechanisms. Combining with higher image-processing speed, high-speed continuous shooting at approx. 6 fps, for up to approx. 100 shots is achieved. Start-up time is only approx. 0.13 s and release time lag is approx. 0.052 s. All this gives you stress-free, comfortable shooting, helping you to capture the decisive moment.

Wide sensitivity range of ISO 100 to 6400
The ISO sensitivity range of the D7000 is wide, from ISO 100 to 6400 at normal setting, and it can be raised up to Hi 2 (ISO 25600 equivalent). It delivers sharp images with minimized noise while maintaining resolution even at high ISO setting. The D7000 lets you select a faster shutter speed and expands creative possibilities in low-light situations and sports scenes without worrying about image-degrading noise.

Full HD movie-recording function: D-Movie with enhanced operability and image quality
The D7000 offers high-image-quality full HD movie recording of 1,920 x 1,080/24p. You can shoot creative and beautiful movies taking advantage of shallow depth of field and a variety of interchangeable NIKKOR lenses. As with Live View, contrast-detect AF is possible. And if you set full-time-servo AF (AF-F) for AF servo mode and subject-tracking AF for AF-area mode, AF area tracks even a moving subject continuously and three-dimensionally.

External stereo microphone compatible
During movie shooting, the D7000 lets you record not only monaural sound with the built-in microphone, but also stereo recording using an optional external microphone. You can also select the sensitivity level for either the built-in or external microphone, choosing from auto, high, medium or low. Select low for scenes in louder environments, such as a concert hall; high for quieter environments, with more delicate sounds, such as a murmuring stream. An external microphone also allows you distance it from any sound generated by the camera such as lens movement during autofocus shooting, or VR operation when the VR function is activated.

In-camera movie editing functions
Easy in-camera movie editing is possible without a PC. You can delete unwanted parts by choosing the start or end point by frame, and save a selected frame as a JPEG image.

Active D-Lighting with refined image processing
Nikon's exclusive Active D-Lighting offers the ability to preserve details in the highlights and shadowy areas of images shot in high-contrast scenes such as those that are backlit. ADL levels are selectable from "Auto", "Extra high", "High", "Normal", "Low" and "Off". The D7000 employs an image-processing system that produces less color phase shift even when the ADL level is increased. Furthermore, it realizes high-speed, real-time processing with high accuracy within image-processing pipelines. The D7000 also allows you to bracket for up to 3 frames.

Scene Recognition System utilizing 2,016-pixel RGB sensor and image sensor
Scene Recognition System precisely reads the situation of the subject before shooting and delivers highly accurate auto control. It utilizes a newly developed 2,016-pixel RGB sensor to analyze brightness and color information of a scene and applies this to autofocus, auto exposure, i-TTL flash control and auto white balance for accurate control. Also, the D7000 detects up to 35 human faces utilizing image sensor when using face-priority AF during Live View and movie recording, and playback zoom of people's faces of still images.

AF system featuring 39 high-density focus points
The D7000 incorporates Multi-CAM 4800DX autofocus sensor module. It detects and tracks the subject precisely with 39 focus points. Nine cross-type sensors cover the most frequently used center area to deliver higher subject-acquisition and focusing performance. There are selectable AF area modes according to the scene - single-point AF, dynamic-area AF (9 points, 21 points and 39 points), 3D-tracking and auto-area AF. You can also choose to shoot with 11 focus points. With Scene Recognition System that recognizes more detailed information utilizing finer-segment 2,016-pixel RGB sensor, the D7000 shows higher subject-tracking and subject-identification performance.

Viewfinder with 100% frame coverage and approx. 0.94x high-magnification
With approximately 100% frame coverage in the viewfinder, you see what the D7000's image sensor sees. The specially coated glass pentagonal prism offers not only a bright viewfinder image, but it also enables you to easily confirm a subject.

Magnesium alloy employed for the body, and superior weather-resistant and anti-dust capabilities
In a compact size of approx. 132 (W) x 105 (H) x 77 (D) mm (5.2 x 4.1 x 3.0 in.), the D7000 employs light and rugged magnesium alloy for top and rear covers for high durability. Furthermore, connected parts and various points are securely sealed, achieving superior weather-resistant and dust prevention performance.

Extremely accurate, highly durable shutter unit
The D7000 has a shutter speed range of 1/8,000 to 30 s, with a top flash synchronization speed of 1/250 s. The newly developed shutter unit, that has an equivalent performance to that of the D300S, is tested for 150,000 cycles with the shutter actually loaded to prove its high durability. Furthermore, it employs a self-diagnostic system to ensure precise exposure. This system accurately monitors how long the shutter curtain is open, and if a variance between the designated shutter speed and the actual shutter timing is detected, the camera will automatically maintain shutter speed precision by gradually shifting the timing of the rear curtain movement. If a large variance is detected, the monitor recognizes this as shutter failure and flashes an error message in the viewfinder.

Double SD card slots, SDXC compatible
The D7000 adopts double SD card slots, enabling you to select from options: "Overflow" recording lets you use the memory capacity of the secondary card when the primary card is full, automatically; "Backup" recording stores the same images on both cards; and "RAW primary, JPEG secondary" recording lets you record RAW data and JPEG data separately to each card. You can also copy images between the two memory cards. Furthermore, when shooting D-Movie clips, it allows you to select the slot according to the remaining capacity. Compatible with SDXC.

Quiet shutter-release mode
You can reduce the sound of mirror-up and mirror-down during shooting by selecting "Q" on the release mode dial. This improved quiet shutter-release mode is a convenient function for scenes such as a school play, or when shooting wildlife insects or a sleeping child.

Mode dial with improved usability
You can set frequently used options, for example, Picture Control, exposure compensation, etc. on user setting modes "U1" and "U2" on the mode dial, coaxially located with the release mode dial. Nineteen options of scene modes, such as silhouette, high key and low key that are selectable by setting the mode dial to SCENE, enable you to shoot more easily.

Easier-to-use Live View
The D7000 offers smooth switching from regular shooting to Live View shooting with the dedicated Live View switch. Large, easy-to-view 7.5 cm (3-in.) VGA wide-viewing-angle (170°), approx. 921k-dot TFT LCD monitor with reinforced glass realizes comfortable Live View shooting. The D7000 also allows contrast-detect AF. By selecting AF-F (full-time-servo AF), the camera automatically tracks the subject continuously even if it moves during Live View shooting. There are selectable AF-area modes according to the subject; face-priority AF, wide-area AF, normal-area AF and subject-tracking AF.

Virtual Horizon
You can display Virtual Horizon that enables instant confirmation of your camera's position relative to horizontal level. During Live View, the virtual horizon is superimposed on the monitor image. Also, a virtual horizon indicator is displayed in the viewfinder to show horizontal inclination of the camera.

Nikon Integrated Dust Reduction System
The D7000 employs Nikon's Integrated Dust Reduction System, which includes the Image Sensor Cleaning function that vibrates the optical low-pass filter with four different resonant frequencies to reduce dust. It prevents unwanted spots from appearing on your images. This function can be set to operate automatically when the camera is turned on or off, or to manual.

Picture Control System for customizing colors and tones to your preferences
Nikon's Picture Control System allows you to customize sharpness, saturation and other parameters to match your preferences. Picture Control can be adjusted and saved, and also shared with other cameras compatible with Picture Control System.

HDMI supported — enables playback on High-Definition TV
The D7000 supports HDMI (High-Definition Multimedia Interface), that enables direct connection to a High-Definition TV for viewing of still images and movies. Type C connector (mini size) is employed and also HDMI-CEC (Consumer Electronics Control) is supported for operation of the D7000 using TV remote control.
35 accessories found for Nikon D7000 Digital SLR Camera Body - Factory Refurbished
Nikon D7000 Digital SLR Camera
– TECHNICAL SPECIFICATIONS –
---
Camera Type:
DX-format Digital SLR Camera
Effective Pixels:
16.2 million
Total Pixels:
16.9 million
Sensor Type:
CMOS
Sensor Size:
23.6 x 15.6mm
Image Sizes:
DX-format
(L) 4928 x 3264
(M) 3696 x 2448
(S) 2464 x 1632
Image Formats:
NEF (RAW): lossless compressed or compressed 12 or 14 bit
JPEG: JPEG-baseline-compliant; can be selected from Size Priority and Optimal Quality
Movie:
HD 1,920×1,080 / 24 fps
HD 1,280×720 / 30 fps
HD 1,280×720 / 24 fps
VGA 640×424 / 30 fps
Movie with sound
Lens Mount:
Nikon F bayonet mount
Image Stabilization:
None (VR available in lenses)
Autofocus Type:
39 focus points (including 9 cross-type sensors)
AF-assist illuminator (range approx. 1 ft. 8in.-9 ft. 10 in.)
Finetuning
Nikon Multi-CAM 4800DX autofocus sensor module with TTL phase detection
Focus Modes:
Auto AF-S/AF-C selection (AF-A); Continuous-servo (AF-C); Face-Priority AF; Full-time Servo (AF-A) available in Live View only; Normal area; Single-servo AF (AF-S); Wide area
ISO Sensitivity:
ISO 100 - 6400
Hi-1 (ISO 12,800)
Hi-2 (ISO 25,600)
Shutter Type:
Electronically controlled vertical-travel focal-plane
Shutter Speeds:
Fastest: 1/8000 sec. in steps of 1/3
Slowest: 30 sec. in steps of 1/3
Continuous/Burst Shooting:
DX-format
CH: Up to 6 frames per second
CL: Up to 5 frames per second
Self-Timer:
2, 5, 10, 20 sec. Timer duration electronically controlled
Exposure Metering System:
TTL exposure metering using 2,016-pixel RGB sensor
Exposure Modes:
Advanced Scene Modes; Aperture-Priority Auto (A); Auto; Auto (flash off); Manual (M); Programmed Auto with flexible Program (P); Shutter-Priority Auto (S); U1 (user setting 1); U2 (user setting 2)
Exposure Compensation:
±5 EV in increments of 1/3 or 1/2 EV
Exposure Lock:
Yes
Exposure Bracketing:
2 to 3 frames in steps of 1/3, 1/2, 2/3, 1 or 2 EV
White Balance:
Auto (2 types); Auto (TTL white balance with 2,016-pixel RGB sensor); Cloudy; Direct Sunlight; Fine Tune by Kelvin color temperature setting (2,500 K to 10,000K); Flash; Fluorescent (7 types); Incandescent; Preset manual (up to 5 values can be stored); Seven manual modes with fine-tuning; Shade
Shooting Modes:
Single frame shooting (S) mode
Continuous shooting (CH) mode: approx. 6.0 frames per second
Continuous shooting (CL) mode: selectable from 1-5 frames per second
Self-timer
Quick-Response Remote
Delayed Remote
Flash:
Built-in flash
External Speedlight
Flash Control:
i-TTL Balanced fill-flash, standard i-TTL flash for digital SLR
Flash Sync Terminal:
None (hot shoe only)
Flash Compensation:
-3 to +1 EV in increments of 1/3 or 1/2 EV
Viewfinder:
Eye-level pentaprism single-lens reflex viewfinder
100% coverage
0.95x magnification
Monitor Type:
Super Density
Wide Viewing Angle TFT-LCD
Monitor Size:
3.0 in. diagonal
Monitor Resolution:
921,000 Dots
Live View:
Yes
Playback:
Auto image rotation; Calendar; Full frame; Highlight point display; Histogram display; Movie Playback; Shooting data; Slideshow; Sound playback; Thumbnail (4, 9 or 72 segments); Zoom
Storage:
SD, SDHC, SDXC
Power Source:
EN-EL15 Lithium-ion Battery
EH-5a AC Adapter
Interface:
USB 2.0 (Hi-Speed)
Mass storage / PTP selectable
A/V out
HDMI out
Languages:
Arabic, Chinese (Simplified and Traditional), Danish, Dutch, English, Spanish, Finnish, French, Italian, German, Indonesian, Japanese, Korean, Polish, Portuguese, Russian, Swedish, Czech, Norweigan, Thai, Turkish
Dimensions (WxHxD):
5.2 x 4.1 x 3.0 in. (132 x 103 x 77mm)
Weight:
24.3 oz. (690g)