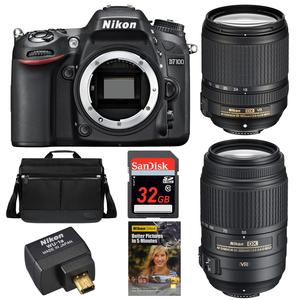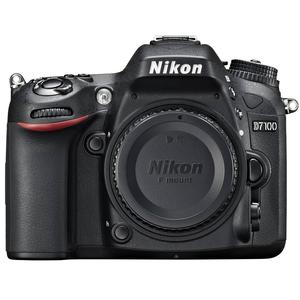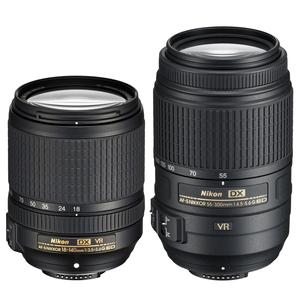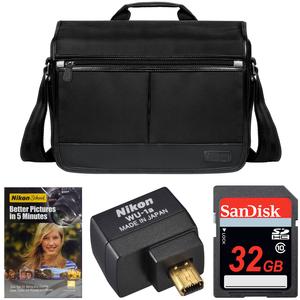 Nikon D7100 Digital SLR Camera with 18-140mm & 55-300mm VR Lenses, WU-1a, Bag & 32GB Card

Availability:
Out Of Stock
ITEM INCLUDES

Nikon D7100 Digital SLR Camera with 18-140mm & 55-300mm VR Lenses, WU-1a, Bag & 32GB Card with:

Nikon WU-1a Wireless Mobile Adapter
Nikon Pro Messenger Shoulder Bag
SanDisk 32GB SDHC Card
Nikon School DVD - Better Pictures in 5 Minutes
HB-57 Lens Hood (for 55-300mm lens)
CL-1020 Soft Lens Case(for 55-300mm lens)
Front & Rear Lens Caps
EN-EL15 Li-ion Battery
Quick Charger
USB Cable
Strap
Eyepiece Cap
Rubber Eyecup
Body Cap
Accessory Shoe Cap
NikonView NX2 CD-ROM
Instructions

Nikon D7100 Digital SLR Camera with 18-140mm & 55-300mm VR Lenses, WU-1a, Bag & 32GB Card

Ultimate image quality. Create without limitation.

Meet the new flagship of Nikon's outstanding DX-format HD-SLR line-up: the Nikon D7100. Incorporating recent advancements in HD-SLR technology, the D7100 brings a thrilling new level of image quality, speed, connectivity and creative capabilities -- a specially designed 24.1-megapixel DX-format image sensor, superior low-light performance, ultra-precise autofocus and metering, advanced video recording features, built-in HDR, mobile connectivity and much, much more. Enjoy speed, precision and convenience at every step, from shooting up to 6 fps to instantly sharing your shots with the WU-1a Wireless Mobile Adapter. Create dazzling Full HD 1080p videos and ultra-smooth slow-motion or time-lapse sequences. Pair it with any of Nikon's superb NIKKOR DX- and FX-format lenses, versatile Speedlights and accessories, and the D7100 will be the centerpiece of your creativity for years to come.

This D7100 bundle comes with the AF-S DX NIKKOR 18-140mm f/3.5-5.6G ED VR zoom lens, the AF-S DX NIKKOR 55-300mm f/4.5-5.6G ED VR zoom lens, the Nikon WU-1a Wireless Mobile Adapter, the Better Pictures in 5 Minutes Nikon School DVD, a Nikon DSLR Pro Messenger Bag, and a SanDisk 32GB SDHC Card (see descriptions below).

Key Features:

Nikon DX-format CMOS sensor
The D7100 employs a Nikon DX-format CMOS sensor with approx. 24.1 effective megapixels. It adopts an image sensor unit designed without an optical low-pass filter to take full advantage of the high resolving power only realized by utilizing a high pixel count. This allows the camera to bring out the true resolving power of 24.1 megapixels combined with NIKKOR lenses to deliver an amazingly sharp rendering of details. Even if trimmed or enlarged, the images retain exquisite detail reproduction.

"EXPEED 3" image-processing engine
EXPEED 3 processes multiple tasks in parallel while maintaining high precision to bring out the full potential of the 24.1 megapixels. It excels at color reproduction, gradation processing and image quality at high sensitivity. It reproduces human skin tone, hair and eye lashes more faithfully. Furthermore, from image processing and card recording to image playback and image transfer, EXPEED 3 manages massive amounts of data at high speed. Even with Active D-Lighting and high ISO noise reduction, continuous shooting speed is not sacrificed, realizing relaxed shooting. It also contributes to saving energy in the camera.

Spot White Balance -- allows preset of white balance during live view shooting
The D7100 comes equipped with a Spot White Balance function that allows you to easily acquire preset manual data based on a specific area of the frame you select during live view. This means that you can effectively achieve pinpoint white balance setting according to the selected subject or a part of it during live view. The selected Spot White Balance area can be moved around with the multi selector in the frame. This eliminates the need to use a gray card, so that you can quickly acquire preset data without changing lenses even with a super-telephoto lens attached. This can come in handy when shooting sports indoors or in stadiums where various types of lights are mixed, as it allows you to quickly preset the white balance to avoid missing decisive moments.

Active D-Lighting for enhanced image quality
Even when shooting high-contrast scenes in backlit situations, Active D-Lighting preserves details in both highlight areas with varied brightness (e.g. gradation of the sky) and shadowy areas, maintaining moderate contrast to reproduce brightness as you see it. The D7100 employs a new image-processing system that delivers superior reproduction without shifting color phase even when the strength level is increased. Image-processing time is reduced by high-speed and highly accurate, real-time processing within pipelines. Furthermore, color reproduction is largely improved thanks to the image-processing engine EXPEED 3. Active D-Lighting is suitable for moving subjects, as it does not involve combining two images like HDR (High Dynamic Range).

HDR (High Dynamic Range) produces a single image with a wider dynamic range
High Dynamic Range (HDR) function takes two images of different exposures with one shutter release and automatically combines them to produce a single image that has a wider dynamic range. This achieves images with less noise and rich tonal gradation including shadows and highlights, even for high-contrast shooting scenes. The smoothness of the area where the two exposures meet is automatically set. HDR is ideal for stationary subjects such as high-contrast landscapes and still lifes.

Picture Control System that creates an ideal image by fine-tuning color and tone
The D7100 incorporates six types of Picture Control, selectable according to your subjects and scenes. Selected Picture Control lets you fine-tune sharpening, contrast, etc. to match your own image creating ideas. These adjusted Picture Controls can then be stored in the camera and used in image-browsing/editing software ViewNX 2 (supplied) and image-editing software Capture NX 2 (optional).

Edge-to-edge sharpness achieved by lateral chromatic aberration reduction/automatic distortion control
Unlike other correction methods that simply eliminate the colors of chromatic aberration, Nikon's lateral chromatic aberration reduction compensates for the differences in the resolving sizes of each color. This proves especially effective for reducing image distortion at the edges of a frame and for improving image quality throughout the entire frame, regardless of the NIKKOR lenses used. If you set "On" for "Auto distortion control" when using G or D lenses, barrel distortion caused by a wide-angle lens or pin-cushion distortion caused by a telephoto lens can be compensated.

Special Effects bring more creative expression with simple operation
The D7100 comes equipped with seven options of Special Effects, delivering visual expression only available with digital photography. Whether stills or movies, you can produce creative images using simple steps by applying the effects that best reflect your intention, without editing software. As the result of an effect is displayed on the LCD monitor in real time, you can set the effects while confirming the appearance of your picture. Whether you are a beginner or an advanced photographer, this wide range of effects meets creative demands and greatly expands your range of expression.

Special Effects incorporated in the D7100:

Night vision -- Expands your shooting range with super-high sensitivity
Easily shoot at super-high sensitivity in extremely low-light conditions. It is possible to utilize this mode in night shooting for photojournalism or observing nocturnal wild animals. This mode records monochrome (black and white) images.


Color sketch -- For sketch-style images
The camera detects and colors subjects' outlines to create sketch-style images. Vividness of colors and density of outlines are adjustable. Beneficial for shooting architecture with delicate features and photographing landscape or flowers with details.


Miniature effect -- Turn a landscape photo into a portrayal of a diorama
Easily shoot at super-high sensitivity in extremely low-light conditions. It is possible to utilize this mode in night shooting for photojournalism or observing nocturnal wild animals. This mode records monochrome (black and white) images.


Selective color -- Creates a cinematic or commercial-like impression
All colors other than the colors you want to emphasize are recorded in black and white. Up to three colors are selectable and the color range can be adjusted in values from 1 to 7.


Silhouette -- Bestows a dramatic effect on subjects
Easily shoot at super-high sensitivity in extremely low-light conditions. It is possible to utilize this mode in night shooting for photojournalism or observing nocturnal wild animals. This mode records monochrome (black and white) images.


High key -- Creates images full of light
Easily shoot at super-high sensitivity in extremely low-light conditions. It is possible to utilize this mode in night shooting for photojournalism or observing nocturnal wild animals. This mode records monochrome (black and white) images.


Low key -- For dignified, somber images, suitable for hard subjects like metal and machinery
Produces beautiful bright images filled with light by intentional overexposure. This is particularly effective when shooting subjects in white, such as flowers or subjects in white clothes.

16 options of Scene Modes that let the camera automatically select the best settings for the scene
Choose a mode according to the scene, and the D7100 automatically selects the most appropriate settings to deliver a beautiful image. You can view the currently selected Scene Mode by rotating the mode dial to "SCENE" and pressing the Info button. To choose another Scene Mode, rotate the main command dial. Scene Modes enable you to easily create beautifully effective pictures of scenes which previously have been difficult to achieve.

High-density 51-point AF system that includes compatibility up to f/8
With the newly developed Advanced Multi-CAM 3500DX autofocus sensor module, the densely located 51 focus points, supported by an algorithm equivalent to that of the D4, deliver amazing capturing power. AF detection is available down to an impressive -2 EV (ISO 100, 20°C/68°F), which is the brightness equivalent to a subject illuminated by moonlight.

Fifteen cross-type sensors cover the most frequently used center area. The center point performs as a cross-type sensor even at f/8. This enables AF shooting, with the effective aperture value slower than f/5.6 and at f/8 or faster when an AF-S teleconverter is attached to the lens. For example, accurate autofocus is possible with the effective aperture value of f/8 by attaching a 2.0x teleconverter to a telephoto lens with maximum aperture of f/4. By combining a teleconverter with compact and lightweight DX-format system, you can enjoy supertelephoto AF shooting without bulky equipment and expand the photographic opportunities.

Furthermore, when the image area of 1.3x crop of DX is selected, the angle of view becomes equivalent to that of a lens with about double the focal length in 35mm format. As the cropped frame is almost entirely covered by the focus points, the camera demonstrates even more powerful capturing capability. Of the 51 focus points, 11 can be chosen to shoot with, for quicker focus-point selection. Not only phase-detection AF but also contrast-detect AF, which employs image sensor data, during live view shooting or movie recording has become significantly faster than that of the D300S. Whether in still-image shooting or recording movies, the AF system supports accurate and comfortable focusing.

1.3x crop of DX that enables shooting distant subjects without bulky equipment, for both stills and movies
The D7100 features two image areas for still images -- DX format (23.5 x 15.6mm) and 1.3x crop of DX (18.8 x 12.5mm). The format in use can be easily confirmed in the viewfinder. For videos, the D7100 also employs DX-based movie format and movie image area based on 1.3x crop of DX.

In DX format, the angle of view becomes equivalent to that of a lens with approx. 1.5 times longer focal length. In the newly employed 1.3x crop of DX mode, the angle of view becomes equivalent to that of a lens with approx. 1.3 times longer focal length than in DX format. As a result, the image area becomes equivalent to that of a lens with about double the focal length. With this camera, you can get closer to distant subjects even though it employs a relatively lightweight, compact lens system. In the 1.3x crop of DX mode, the 51 focus points cover nearly the entire frame, attaining extremely high capturing power even when shooting moving subjects.

The 1.3x crop of DX achieves an image size of approx. 15.4 megapixels, a sufficiently high pixel count for general use, which delivers high-resolution images. Combined with high-speed continuous shooting at up to approx. 7 fps enabled in this mode, this camera reliably captures moving subjects. With the D7100's compact, lightweight body that can only be realized by a DX-format DSLR, combined with compact, lightweight lens system, you can travel light but still depend on it to capture decisive moments in high-speed continuous shooting, while precisely acquiring distant subjects with its high-performance AF system.

Never miss the moment, with high-speed continuous shooting up to approx. 6 fps
The D7100 incorporates a high-speed and high-precision sequential mechanism, that drives mirror and aperture independently. Combined with the faster image-processing capability of EXPEED 3 and the CMOS image sensor compatible with high-speed readout, the camera achieves high-speed continuous shooting at a maximum of approx. 6 fps (1.3x crop mode 7 fps) 2 for up to 100 frames. The release time lag is approx. 0.052 s. This camera enables light-equipment shooting and increases your chances of capturing decisive moments.

Continuous shooting up to 6 frames per second

Faster initial AF detection for quicker focusing, realized by the new algorithm developed for the D4
The D7100 achieves faster initial AF detection by employing the algorithm developed for the D4. The speed you need to effectively capture decisive moments has been radically boosted.

Scene Recognition System, utilizing the 2016-pixel RGB sensor
Precisely determining the situation of the subject prior to shooting, Scene Recognition System delivers highly accurate auto control. With the D7100, it utilizes information from the 2016-pixel RGB sensor and image sensor to analyze brightness and color of the scene accurately and applies this to autofocus, auto exposure, i-TTL flash control and auto white balance control. Especially in phase-detection AF using the viewfinder, the high precision of auto-area AF is supported using subject identification, while that of 3D-tracking is supported utilizing subject tracking. Also, face-priority AF is available using face detection information from the image sensor during live view or movie recording. In playback zoom of a face in still images, the face can be zoomed in on, allowing easy confirmation of the focus.

High-quality viewfinder optics with approx. 100% frame coverage and glass pentaprism
As the D7100's viewfinder optics deliver comfortable viewing, supported by other measures not listed in the specifications, including eyepiece lens coating, it helps you concentrate on your subjects. The approx. 0.94x magnification ratio allows you to comfortably recognize all the visual elements including the viewfinder information display.

Setting information becomes easier to view, on the newly employed organic EL viewfinder display element
The D7100 newly employs a high-intensity, high-contrast and energy-saving organic EL display element for the viewfinder information display beneath the image area. While it ensures high visibility under bright light, it also contributes to faster response in low-temperature conditions. Grid lines can also be displayed in the viewfinder (in DX format), a feature that is convenient for composition in landscape or architectural shooting.

Virtual horizon makes you aware of horizontal tilting, for vertical shooting too
The D7100 comes equipped with a virtual horizon, which shows horizontal tilting. When using the viewfinder, you can choose displaying the indicator either for horizontal shooting or vertical shooting. During live view or movie shooting, the indicator is displayed superimposed on the monitor image.

Wide-viewing-angle, approx. 1229k-dot, 8-cm/3.2-in. LCD monitor
The D7100 incorporates a newly employed wide-viewing-angle, 8-cm/3.2-in., high-resolution LCD monitor (approx. 1229k dots). The monitor employs a newly developed RGBW alignment for increased brightness. Combined with the integrated glass-and-panel structure, it greatly enhances visibility of the monitor under bright conditions. The color reproduction range is now equivalent to that of the D4 and D800 series. The clear, beautiful display images bring more comfort to live view, movie recording and image confirmation. The ability to magnify playback images up to approx. 38x (large-size images in DX (24 x 16) format), is a boon for quick and accurate focus confirmation.

Enjoy more creative expression easily with the built-in flash incorporating a commander function
The D7100 has a built-in flash with a guide number of approx. 12/39 (m/ft, ISO 100, 20°C/68°F) which covers the same angle of view as a wide-angle 16mm lens. The superior flash control accuracy only Nikon can provide is highly praised by professionals and realizes flash shooting with natural light. Featuring a commander function compatible with Advanced Wireless Lighting, it has an ability to control up to two groups of optional Speedlights (auxiliary lights) wirelessly. With this feature, you can illuminate your subjects from various directions and obtain a wide range of creative expression; from shooting flowers vividly, sharply rendering people's facial features and other details to effectively reproducing the subtle texture of subjects.

Compact, lightweight body with superb agility -- lighter than the D7000
The D7100 weighs only an approx. 675 g/1 lb 7.8 oz (body only) in dimensions of approx. 135.5 (W) x 106.5 (H) x 76 (D) mm/5.3 x 4.2 x 3.0 in. While inheriting specifications and functions equivalent to the D4, D800 series and D600, it realizes a compact, lightweight body which is 15 g/0.5 oz lighter than the D7000. Prioritizing ease of use, it employs a form and texture that secures stable holding, despite its compactness. The D7100's elegant, practical design with its sophisticated details lets you focus your attention on your subjects.

Lightweight, magnesium alloy body and weather and dust sealing
The magnesium alloy employed for the top and rear covers endows the camera with high robustness and durability, despite its compact, lightweight body. The body is effectively sealed at various locations, ensuring weather-resistance and dust-prevention performance

Highly durable and precise shutter mechanism tested for 150,000 cycles
The D7100 achieves shutter speeds, ranging from a high-speed 1/8000 s to 30 s, equivalent to those of the professional model D4. The flash synchronization shutter speed can be elevated up to 1/250 s. The shutter unit of the D7100 achieves high durability as it has endured release testing over 150,000 cycles, with the shutter unit actually loaded on the camera.

Sequential mechanism that contributes to high-speed operation
The D7100 employs a high-speed and highly precise sequential mechanism that drives mirror and aperture independently. It achieves maximum high-speed continuous shooting of approx. 7 fps (in 1.3x crop of DX shooting) and a release time lag of 0.052 s. This sequential mechanism enables shutter release at the mirror-up position during live view. As a result, smooth and comfortable shooting is possible even during live view. The mirror balancer installed contributes to briefer image blackout time by minimizing unwanted bounce of the mirror, providing a stable viewfinder image during high-speed continuous shooting.

SD memory card double slots compatible with the the high-speed SDXC UHS-I standard
The D7100 supports the SDXC UHS-I standard. Combined with the increased speed of the image-processing engine EXPEED 3, it processes and writes image data of 24.1 megapixels at an incredible speed. A variety of recording options is available: "Overflow," "Backup" and "RAW primary, JPEG secondary" recording that lets you record RAW data and JPEG data separately to each card. You can also copy images between the two memory cards. When shooting D-Movie clips, you can select the slot according to the remaining capacity.

i button for quick and direct access to various functions
The newly employed i button, which allows direct access to menu settings, is located on the back of the body. By just pressing this button, you can change settings and modes during optical viewfinder or live view shooting without pressing the menu button. During playback, pressing this button prompts the retouch menu to appear on the monitor, allowing you to edit images immediately after shooting.

Coaxially located mode dial and release mode dial with dial lock release
The mode dial and release mode dial are coaxially located to improve operability, making quick mode switch possible. The mode dial, as well as the release mode dial, is equipped with a lock function to prevent misoperation. As the mode dial lock release releases the lock when pressed down and is easy to use, it allows you to smoothly operate the camera.

Quiet shutter-release mode
The quiet shutter-release mode is created for moments when you want to shoot with less mirror movement sound. The mirror-down sound itself is quieter in this mode than in single frame mode. In addition, the mirror does not click back into place while the shutter-release button is fully pressed; but it does when the button goes back to the half-pressed position. This allows you to delay the timing of the click and muffle the sound by covering the camera with cloth, for example. Simply select "Q" on the release mode dial to use this mode. It's ideal for occasions such as a ceremonies, school plays or when taking pictures of wildlife, insects, or a sleeping child.

Select live view photography or movie live view with the live view selector
The D7100 offers two live view options: live view photography and movie live view, each providing display and operation optimized for stills or movies. This can be switched smoothly using the live view selector with the coaxially located live view button. Live view photography is dedicated to still image shooting with the same aspect ratio as the viewfinder. The contrast-detect AF speed is equivalent to that of the D4 and D800 series. During live view shooting, you can magnify images up to approx. 19x to achieve the exact focus. Metering is adjusted to match the live view display, producing photographs with exposure close to what is seen in the monitor.

Independent control of the mirror delivers smooth shooting with the mirror in the up position in live view. For movie live view, the D7100 incorporates dedicated exposure controls that enable smooth exposure transitions even if the brightness of the scene varies drastically. The setting information display is switched to either that for still images or movies according to the selected live view. You can shoot still images in 16:9 aspect ratio by pressing the shutter-release button during movie live view or movie recording (Movie recording will end and the footage recorded up to that point will be saved).

Wide variety of playback options
Taking full advantage of the 8-cm/3.2-in. LCD monitor, the D7100 offers a variety of playback display options. The number of images displayed at one time can be selected from 1, 4, 9 and 72. The calendar playback arranges images by the date on which the image was taken. Other features include displaying histograms of a magnified area of an image and playback zoom of a face, which is useful for checking the focus. In full-frame playback, you can select to display shooting data, RGB histogram, highlights or an overview of this information. You can also display an image only, to check composition and details of the subjects on a large monitor.

Interface cover enhances dust-prevention, weather-resistance
The interface cover for the external microphone connector/USB connector, HDMI connector and headphone connector/accessory terminal is divided into three for improved dust-prevention and weather-resistance.

Comfortable operation supported by the superior GUI
The D7100 employs a GUI that enables you to quickly recognize and confirm necessary information. It further supports smooth operation of the camera, as it employs a font optimized for displaying numbers and adds new indicators such as exposure compensation and the selected ISO setting value (when the auto ISO sensitivity control is on).

Full HD video available up to 1920 x 1080 at 30p/60i/50i
With optimum processing of the vast amount of data from the image sensor unit, designed without an optical low-pass filter, performed by the high-performance engine EXPEED 3, the D7100 delivers Full HD videos up to 1920 x 1080; 30p with exquisite detail reproduction. You can create beautiful blur only achievable with DSLRs and a variety of movie expression utilizing a wide range of NIKKOR lenses. For smooth rendering of fast-moving subjects, select 1280 x 720; 60p. In movie image area based on 1.3x crop of DX, you can also choose 1920 x 1080; 60i/50i. When combining full-time-servo AF (AF-F) and subject-tracking AF, the camera automatically tracks a moving subject within the frame and continues focusing. With the movie-record button located next to the shutter-release button, you can smoothly start and stop movie recording while ensuring stable holding. This can be done just like shooting still images, with minimum blur from camera shake. Recorded movies are compressed in the H.264/MPEG-4 AVC format. The maximum recording time is 29 min. 59 s.

| | |
| --- | --- |
| | |

Get incredibly close to distant subjects with the 1.3x crop of DX in Multi-area mode Full HD D-Movie
The D7100's Full HD video has two movie image areas based on DX and 1.3x crop of DX. The DX-based movie format produces high-definition movies, maximizing the advantage of the 24.1 megapixels. In movie image area based on 1.3x crop of DX, the angle of view becomes equivalent to approx. 2.0x lens focal length, which is an amazing amount of reach to the subject. Also helped by the agility of the compact, lightweight DX-format system, you can boldly get closer to even smaller, more distant subjects.

Versatile sound control with a built-in stereo microphone and headphone compatibility
The D7100 has a built-in stereo microphone, which provides rich, high-quality sound recording. It also comes equipped with a headphone connector, which enables you to check simultaneously if any unwanted noise is being recorded by attaching a stereo headphone (available on the market). The LCD monitor has a sound level indicator, with which you can visually check the quality, allowing you to change the microphone sensitivity settings if necessary during movie live view. Microphone sensitivity can be controlled in 20 incremental steps.

Compatible with ME-1 Stereo Microphone (optional)
The optional ME-1 Stereo Microphone is available for recording higher-quality stereo sound. Using this microphone reduces noise caused by lens vibration recorded during autofocus shooting. You can adjust microphone sensitivity just as with the built-in stereo microphone.

Diverse movie-editing menus
Movie editing by trimming off unwanted scenes can be completed all in-camera. The start and end points can be set by adjusting frame by frame, conveniently on one screen. You can also select a frame to save as a JPEG still image.

Simultaneous display of movie and movie live view output on external monitors via HDMI
As the D7100 employs an HDMI mini connector (Type C), simultaneous display on an LCD monitor and external monitor is available. During movie live view, you can output the movie at the same resolution as the live-view image (max. 1920 x 1080). During movie recording or movie live view, you can opt not to display the setting information which appears on the LCD, on the connected equipment via HDMI. This is convenient for viewing the entire frame, when you want to check the image on a large monitor connected via HDMI simultaneously while shooting. Also, it is possible to record uncompressed movie live view data directly to an external storage device (HDMI-input video recorder). This allows professionals to edit uncompressed, high-quality movie footage on connected equipment. Furthermore, if the camera is connected to a TV compatible with HDMI-CEC, remote playback operation of the camera using a TV remote control is available.

Nikon 18-140mm f/3.5-5.6G VR DX ED AF-S Nikkor-Zoom Lens

Nikon's most powerful all-in-one zoom lens ever.

If you're looking for an outstanding grab-and-go lens -- the kind you'll keep on your camera for nearly every situation -- check out the AF-S DX NIKKOR 18-140mm f/3.5-5.6G ED VR. Optimized to draw full potential from Nikon's high-resolution DX-format image sensors, it delivers beautiful ultra-sharp photos and videos with softly blurred backgrounds. Its versatile 7.8x zoom range (18mm to 140mm) lets you shoot everything from wide-angle family portraits to telephoto close-ups on the sports field.

Developed with high pixel count DSLRs in mind, the NIKKOR 18-140mmVR delivers vibrant, detail-rich photos and videos across its entire zoom range. Zoom out for an 18mm wide-angle view that's great for group shots, landscapes or any time you need to fit more into the frame. Zoom in for 140mm of telephoto reach -- enough zoom to capture close-ups of your favorite player from the sidelines. In between, you have standard views similar to what you see with your eyes and medium telephoto views ideal for portraits. Whatever shot comes your way, you'll be ready to catch it.

The NIKKOR 18-140mm VR versatility is strengthened by 4 stops of VR image stabilization. Capture sharp, shake-free handheld photos and videos in low-light situations, when you want to use slower shutter speeds, and at telephoto distances, when even the smallest amount of camera shake can ruin a shot.

4 stops of VR image stabilization means sharper handheld photos and video, especially when shooting in low light or at maximum focal length. You can even get as close as 1.48 feet from your subject for macro-style close-ups! In addition to VR image stabilization, it uses ED (Extra-low Dispersion) glass, which virtually eliminates reflections and lens flare for better contrast and Aspherical (AS) lens elements for minimizing aberration and improving image integrity and color. Nikon's remarkable Silent Wave Motor (SWM) provides ultra-fast, ultra-quiet autofocusing, a major advantage when recording video. And, of course, the NIKKOR 18-140mm VR has NIKKOR's renowned quality of construction and outstanding optics.

| | | |
| --- | --- | --- |
| | | |
| Wide-angle (1x) | Telephoto (7.8x) | Low-light |

Key Features:

ED (Extra low Dispersion) and Super ED Glass
ED Glass is an optical glass developed by Nikon that is used with normal optical glass in telephoto lenses to obtain optimum correction of chromatic aberrations. Super ED glass exhibits an even lower refractive index and lower light dispersion than ED glass, while excelling at eliminating secondary spectrum and correcting chromatic aberration.

Vibration Reduction (VR)
A Nikon in-lens technology that improves image stability by automatically compensating for camera shake. Lenses that offer VR will feature the abbreviation VR on the lens barrel.

Silent Wave Motor (SWM)
This lens features Nikon's Silent Wave Motor (SWM), which represents a significant advance in AF lens technology. SWM uses ultrasonic vibrations -- rather than a gear system -- to focus the lens, providing incredibly smooth, silent and precise autofocus operation.

IF Lens
A NIKKOR lens in which only the internal lens group shifts during focusing. Thus, IF NIKKORS do not change in size during AF operation, allowing for compact, lightweight lenses capable of closer focusing distances. These lenses will be designated with the abbreviation IF on the lens barrel.

Auto-Manual Mode (A-M)
Thanks to a mechanism incorporated in the lens barrel, smooth focusing operation in Manual focus mode is realized in the same way as users have become accustomed to with conventional manual-focus lenses by adding an appropriate torque to the focus ring.

Super Integrated Coating (SIC)
Nikon Super Integrated Coating is Nikon's term for its multilayer coating of the optical elements in NIKKOR lenses.

Aspherical lens elements (AS)
Enhances light transmission and offers superior color consistency and reduced flare.

Rounded 7-blade diaphragm
Renders more natural appearance of out-of-focus image elements.

Nikon 55-300mm f/4.5-5.6G ED VR AF-S DX NIKKOR Zoom Lens

A DX-format super-telephoto zoom lens with built-in vibration reduction for simple, enjoyable 5.5X super-telephoto shooting.

The Nikon 55-300mm f/4.5-5.6G VR DX AF-S ED Zoom-Nikkor is a compact 5.5X DX-format telephoto zoom lens with a High Refractive Index lens element and ED glass is Ideal for capturing distant subjects at athletic events, family pictures, dramatic sunsets, travel and more. VR II image stabilization for handheld shooting at up to 4 shutter speeds slower than would otherwise be possible, assuring dramatically sharper still images and stable video capture.

Key Features:

Compact DX-format zoom lens with High Refractive Index element, ED glass and VR II image stabilization
Expanded photo and video opportunities that's designed to bring the action closer to the photographer.

5.5X Telephoto Zoom lens
Ideal for capturing distant subjects at athletic events, family pictures, dramatic sunsets, travel and more. Angle of view equivalent to a focal length of 82.5 to 450mm in FX/35mm format D-SLR.

Nikon VR II Image Stabilization
Vibration Reduction, engineered specifically for each VR NIKKOR lens, enables handheld shooting at up to 4 shutter speeds slower than would otherwise be possible, assuring dramatically sharper still images and video capture.

HRI (High Refractive Index) Lens Element
HRI lens element is essential to keeping the lens compact while offering high contrast even at maximum aperture.

Tripod Detection Mode
Reduces vibration that may occur due to shutter release when mounted on a tripod.

2 Extra-low Dispersion (ED) Elements
Effectively minimizes chromatic aberration, even at the widest aperture settings.

Exclusive Nikon Silent Wave Motor (SWM)
Enables fast, accurate and quiet autofocus.

Nikon Super Integrated Coating (SIC)
Enhances light transmission efficiency and offers superior color consistency and reduces flare.

Rounded 9-Blade Diaphragm
Renders more natural appearance of out-of-focus image areas.

Minimum focus distance to 4.6 feet at all focal lengths

Nikon WU-1a Wireless Mobile Adapter for D3200 DSLR Camera

Wi-Fi connectivity -- now you can get
GREAT pictures on your smartphone.

Using the Nikon WU-1a optional wireless mobile adapter you can now automatically send great images to your smartphone and even use your smartphone to remotely capture images from your D3200. With an easy to use app, now when you can't wait to share that great shot you don't have to. Share it to your smartphone in a instant.

Key Features:

Easy Transfer
Images from the D3200 can be downloaded to a compatible smart device as they are taken or download existing images from the camera's SD memory card.
Note: Images from the D3200 can be downloaded to a compatible smart device as they are taken or download existing images from the camera's SD memory card.

Easy Sharing
Single images or groups of images can be shared using apps stored on the smart device via email, text messaging, or by uploading to a blog or social networking site – just like any other image on your smartphone or tablet.
Note: Movies can not be viewed using the Wireless Mobile Adapter utility (app) but can be played back by tapping the movie or playback icon to display a list of movie apps and choosing an app from the list.

Wi-Fi Shooting
Images can be taken remotely using a compatible smart device using the camera's Live View preview on the smart device to frame and compose the subject.
Note: Smart device is used to remotely fire the camera, maximum distance is up to 49 feet and the smart device can not be used to adjust settings on the camera.

Nikon DSLR Camera/Laptop Shoulder Bag

Protect your DSLR camera, lenses, tablet and accessories.

Safely store and protect your Nikon Digital SLR Camera, lenses and accessories in this premium Nikon shoulder bag. This bag is constructed from water-resistant, durable, ballistic nylon and features a stylish, professional design with leather accents, brushed metal adjustable clips/buckles and loops, plus chrome zippers and buttons.

This bag can be comfortably carried via the padded, adjustable shoulder strap or the leather-wrapped carry handle. The exterior features two side pockets and front zippered compartment to store small accessories and personal belongings. The rear has a flat open pocket that can be converted to a luggage pass-through via the zippered bottom opening. A thick plastic buckle and magnetic snaps on the underside of the front flap keep the bag tightly closed and your items safely secured inside. Under the flap is a zippered compartment with two open pockets, a velcro pocket, and a zippered mesh pocket to store even more accessories. Store your DSLR, lenses, and other important equipment in the padded interior, which features velcro dividers that allow for customized compartments for personalized and efficient storage, as well as an isolated padded pocket specifically designed for a tablet/iPad.

Fits: 1 DSLR with a lens attached, a flash, and 1 to 2 additional lenses, a tablet, and accessories

Key Features:

Made from durable, water-resistant, ballistic nylon
Thoroughly padded for impact protection
Numerous accessory pockets and zippered compartments for batteries, memory cards and more
Luggage pass-through
Magnetic snaps and secure buckle
Padded, adjustable shoulder strap and leather-wrapped carry handle
Accommodates 1 DSLR with a lens attached, a flash, and 1 to 2 additional lenses, a tablet, and accessories
External Dimensions (WxHxD): 14 x 9.5 x 6.5 in. (35.6 x 24.1 x 16.5cm)
Camera Compartment (WxHxD): 14 x 9.5 x 5 in. (35.6 x 24.1 x 12.7cm)
Tablet Compartment can hold up to a 10 in. tablet/iPad
Weight: 2.3 lbs. (1.04kg)

Sandisk 32GB SecureDigital (SDHC)
Class 10 Memory Card

Shoot and store more pictures at blazing-fast Class 10 speed!

More memory means more pictures, and you'll be able to store hundreds of high-quality photos and videos with this super-fast 32GB Class 10 SecureDigital High-Capacity (SDHC) memory card. SDHC features high data transfer speeds, allowing you to capture images and video faster than with a standard SD card. Now you can shoot faster, capture super-smooth digital video, and take full advantage of your camera's maximum image quality and resolution settings.

Approximate Storage Capacity (32GB):

6,552 photos




(10MP JPG)

480 minutes of video




(9Mbps)

8,000 songs




(4MB MP3)

Nikon School DVD - Better Pictures in 5 Minutes

Easy tips for taking and sharing great pictures and movies.

The Nikon School DVD - Better Pictures in 5 Minutes features Nikon DSLR cameras and legendary NIKKOR lenses and is full of valuable tips on how to take better pictures, quickly and easily. These simple home set-ups will allow you to practice some basic photography techniques that will help you enhance your picture taking experience.

Key Features:

Share your best images, anytime, anywhere:
Half the fun of taking pictures is sharing. Using the Nikon DSLR Wireless Mobile Adapter lets you share high-quality images no matter where you are. You can upload images taken with your Nikon DSLR to your mobile device, tablet, your favorite social site or email them like any other picture on your device.

Make movies easily:
By following a few basic tips such as proper camera bracing, steady camera movement, use of VR and basic composition techniques, video clips can be more enjoyable to shoot and share.

Focus on what's important:
Learn how to easily use the various focus controls to ensure that your image will convey the meaning you want it to. Careful control of your focus can guide the viewer of your images to "focus" on what you want them to see in your images.

Draw attention to your subject:
Learn now to select the appropriate (aperture) setting that will help isolate your subject and create a dynamic image when you're photographing a subject with elements in the foreground or background. You can decide which elements remain sharp or are blurred for effect.

Shooting moving subjects:
Don't miss the moment. Learn the basics of how shutter speed selection can let you freeze the action to capture sharp images or create more blur to add to the creativity and bring a sense of motion to your still images.

Accessorize your picture taking experience:
Add a whole new level of creativity to your picture taking. By choosing additional NIKKOR lenses for close ups, zoom or wide angles, or a Speedlight for diverse lighting situations, see how you can expand your picture taking creativity.
51 accessories found for Nikon D7100 Digital SLR Camera with 18-140mm & 55-300mm VR Lenses, WU-1a, Bag & 32GB Card
Nikon D7100 Digital SLR Camera
– TECHNICAL SPECIFICATIONS –
---
Camera Type:
Single-lens reflex digital camera
Effective Pixels:
24.1 million
Total Pixels:
24.71 million
Sensor Type:
CMOS
Sensor Size:
23.5 x 15.6mm
Image Sizes:
DX-format
(L) 6,000 × 4,000
(M) 4,496 × 3,000
(S) 2,992 × 2,000
Image Formats:
Compressed 14-bit NEF (RAW)
JPEG: JPEG-Baseline Compliant with fine (approx 1:4), Normal (approx 1:8) or Basic (approx 1:16) Compression
NEF (RAW) + JPEG: Single Photograph Recorded in both NEF (RAW) and JPEG Formats
Movie:
Movie with sound (mono audio)
HD 1,920x1,080 / 30 fps
HD 1,920x1,080 / 25 fps
HD 1,920x1,080 / 24 fps
HD 1,280x720 / 60 fps
HD 1,280x720 / 50 fps
VGA 640x424 / 30 fps
VGA 640x424 / 25 fps
Lens Mount:
Nikon F bayonet mount
Image Stabilization:
Vibration Reduction (VR) available in lenses
Autofocus Type:
Nikon Multi-CAM 1000 autofocus sensor module with TTL phase detection
Focus Modes:
Auto AF-S/AF-C selection (AF-A), Continuous-servo (AF-C), Face-Priority AF available in Live View only and D-Movie only, Full-time Servo (AF-A) available in Live View only, Manual (M) with electronic rangefinder, Normal area, Single-servo AF (AF-S), Wide area
ISO Sensitivity:
ISO 100 - 6400
Hi-1 (ISO 12,800)
Hi-2 (ISO 25,600)
Shutter Type:
Electronically controlled vertical-travel focal-plane
Shutter Speeds:
1/4000 to 30 sec. in steps of 1/3 EV
Bulb
Continuous/Burst Shooting:
6 frames per second continuous shooting
Self-Timer:
2, 5, 10, 20 sec.; 1 to 9 exposures Timer duration electronically controlled
Exposure Metering System:
TTL exposure metering using 2,016-pixel RGB sensor
Exposure Modes:
Aperture-Priority Auto (A), Auto, Auto (flash off), Manual (M), Programmed Auto with flexible Program (P), Shutter-Priority Auto (S)
Exposure Compensation:
±5 EV in increments of 1/3 or 1/2 EV
Exposure Lock:
Focus can be locked by pressing AE-L/AF-L button, Focus can be locked by pressing shutter-release button halfway (single-servo AF)
Exposure Bracketing:
None
White Balance:
Auto, Incandescent, Fluorescent (7 types), Direct Sunlight, Flash, Cloudy, Shade, Preset Manual
Shooting Modes:
Autumn Colors, Beach / Snow, Blossom, Candlelight, Child, Close-up, Dusk / Dawn, Food, Landscape, Night, Landscape, Night Portrait, Party / Indoor, Pet Portrait, Portrait, Sports, Sunset
Flash:
Built-in, Hotshoe
Flash Control:
TTL: i-TTL flash control using 2,016-pixel RGB sensor is available with built-in flash and SB-910, SB-900, SB-800, SB-700, SB-600, or SB-400; i-TTL balanced fill-flash for digital SLR is used with matrix and center-weighted metering, standard i-TTL flash for digital SLR with spot metering
Flash Sync Modes:
Front-curtain sync (normal), Slow sync, Rear-curtain sync, Red-eye reduction, Red-eye reduction with slow sync
Flash Accessory Shoe:
Yes
Flash Sync Terminal:
Sync Terminal ADapter AS-15 (available separately)
Flash Compensation:
-3 to +1 EV in increments of 1/3 EV
Viewfinder:
Eye-level pentamirror single-lens reflex viewfinder
Monitor Type:
170-degree wide-viewing angle
Wide Viewing Angle TFT-LCD
Monitor Size:
3.2 in. diagonal
Monitor Resolution:
1,228,800 Dots
Live View:
Yes
Playback:
Full frame, Calendar, Thumbnail (4, 9 or 72 images), Zoom, Movie Playback, Slideshow, Histogram display, Highlights, Auto image rotation, Image Comment , Highlight point display
Storage:
SD, SDHC, SDXC
Power Source:
EN-EL15 Rechargeable Li-ion Battery
Interface:
Hi-speed USB,
Stereo Microphone Input,
HDMI output: Type C mini-pin HDMI connector,
WR-R10 wireless remote controller (available separately),
Accessory Terminal: Remote Cord: MC-DC2 (available separately); GPS unit: GP-1 (available separately)
Languages:
Chinese (Simplified and Traditional), Czech, Danish, Dutch, English, Finnish, French, German, Greek, Hindi, Hungarian, Indonesian, Italian, Japanese, Korean, Norwegian, Polish, Portuguese, Romanian, Russian, Spanish, Swedish, Thai, Turkish, Ukrainian
Dimensions (WxHxD):
5.3 x 4.2 x 3.0 in. (135.5 x 106.5 x 76mm)
Weight:
23.8 oz. (675g)
Nikon 18-140mm f/3.5-5.6G VR DX ED AF-S Nikkor-Zoom Lens
– TECHNICAL SPECIFICATIONS –
---
Lens Mount:
Nikon AF-S
Focal Length:
18-140mm
Maximum Aperture:
f/3.5-5.6
Minimum Aperture:
f/22-38
Maximum Magnification:
0.23x
Minimum Focus Distance:
1.48 ft. (0.45m)
Lens Construction:
17 elements / 12 groups
ED Glass Element
Aspherical Element
Diaphragm Blades:
7
Focus Type:
Auto / Manual
Image Stabilization:
Yes (VR)
Filter Size:
67mm
Dimensions (Diam. x Length):
3.0 x 3.8 in. (78 x 97mm)
Weight:
17.3 oz. (490g)
Nikon 55-300mm f/4.5-5.6G ED VR AF-S DX NIKKOR Zoom Lens
– TECHNICAL SPECIFICATIONS –
---
| | |
| --- | --- |
| Lens Mount: | Nikon F-Bayonet |
| Focal Length: | 55-300mm |
| Maximum Aperture: | f/4.5-5.6 |
| Minimum Aperture: | f/22-29 |
| Maximum Magnification: | 0.28x |
| Minimum Focus Distance: | 1.4m / 4.59 ft. (throughout the entire zoom range) |
| Lens Construction: | 17 elements in 11 groups (with two ED glass elements and one HRI lens element) |
| Diaphragm Blades: | 9 (rounded) |
| Focus Type: | Auto / Manual |
| Image Stabilization: | Yes (VR II) |
| Filter Size: | 58mm |
| Dimensions (Diam. x Length): | 3.0 x 4.8 in. (76.5 x 123mm) |
| Weight: | 18.7 oz. (530g) |