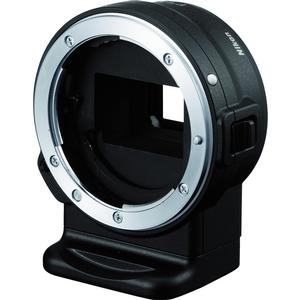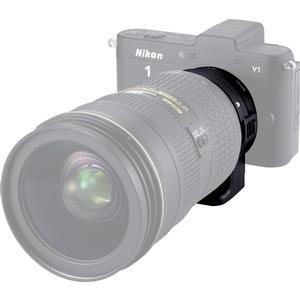 ITEM INCLUDES

Nikon FT1 F-mount Lens Adapter for 1 J1, J2, J3, J4, J5, S1, S2, V1, V2, V3 AW1 Cameras with:

Body Cap BF-1B
Rear Lens Cap LF-N1000

Nikon FT1 F-mount Lens Adapter
for Nikon 1 Digital Cameras

Attach F-mount Nikkor lenses to your Series 1 camera
and enjoy continuous AF for both stills and video.

The Nikon FT1 Mount Adapter allows you to use certain legacy F-mount NIKKOR lenses (those designed for use with Nikon DSLR/SLR cameras) on Nikon 1 Series cameras. The Mount Adapter is attached to the camera body, and the F-mount NIKKOR lens is then attached to the adapter. The FT1 will add an angle of view of 2.7 times that of the F-mount NIKKOR lens' focal length.

Key Features:

2.7x Crop Factor
F-mount lenses mounted on the FT1 have a crop factor of 2.7x. Enjoy an angle of view equivalent to that of a super telephoto lens when a telephoto lens is used. (Example: When using a 300mm lens, the equivalent angle of view is that of an 800mm lens.)

FT1 and compatible AF-S NIKKOR F-Mount lens
Users can take full advantage of the Nikon 1's high-speed continuous shooting of 10/30/60 fps. (*When an AF-S lens is used. However, focus is locked with the first shot with continuous shooting.)

Vibration Reduction (VR)
Vibration reduction functions when VR lenses are used. Enable vibration reduction, or specify a setting, using switches on the lens. NORMAL/ACTIVE modes are supported when lenses equipped with these modes are used. VR functions in NORMAL mode when lenses not equipped with the NORMAL/ACTIVE modes are used.

Autofocusing / Auto Exposure
AF/AE supported with AF-S lenses only. Autofocusing is possible when AF-S lenses are used. However, focus mode must be set to AF-S (Single AF) and AF-area mode is fixed at Single-point with only the center focus point used.

Other Features:

Supports dozens of existing F-mount NIKKOR lenses.
[P], [S], [A], and [M] exposure modes can be used with CPU lenses.
The focus indicator (rangefinder) can be used with CPU lenses.
[A] and [M] exposure modes can be used with non-CPU lenses. Aperture is specified using the aperture ring on the lens.
Shooting in Motion Snapshot mode is possible when focus has been acquired with an AF-S lens.
0 accessories found for Nikon FT1 F-mount Lens Adapter for 1 J1, J2, J3, J4, J5, S1, S2, V1, V2, V3 AW1 Cameras
Compatible with any Nikon digital camera, including:
1 AW1
1 J1
1 J2
1 J3
1 J4
1 J5
1 S1
1 S2
1 V1
1 V2
1 V3
Compatible Nikkor F Mount Lenses (As of December 2011):
AF-S DX 10-24mm f/3.5-4.5G ED
AF-S DX 12-24mm f/4G IF-ED
AF-S 14-24mm f/2.8G ED
AF-S 16-35mm f/4G ED VR
AF-S 17-35mm f/2.8D IF-ED
AF 18-35mm f/3.5-4.5D IF-ED
AF-S DX 16-85mm f/3.5-5.6G ED VR
AF-S DX 17-55mm f/2.8G IF-ED
AF-S DX 18-55mm f/3.5-5.6G VR
AF-S DX 18-55mm f/3.5-5.6G ED II
AF-S DX 18-105mm f/3.5-5.6G ED VR
AF-S DX 18-200mm f/3.5-5.6G ED VR II
AF-S 24-70mm f/2.8G ED
AF 24-85mm f/2.8-4D IF
AF-S 24-120mm f/4G ED VR
AF-S 28-300mm f/3.5-5.6G ED VR
AF-S DX 55-200mm f/4-5.6G IF-ED VR
AF-S DX 55-200mm f/4-5.6G ED
AF-S DX 55-300mm f/4.5-5.6G ED VR
AF-S 70-200mm f/2.8G ED VR II
AF-S 70-300mm f/4.5-5.6G IF-ED VR
AF 70-300mm f/4-5.6G
AF 80-200mm f/2.8D ED
AF 80-400mm f/4.5-5.6D ED VR
AF-S 200-400mm f/4G ED VR II
AF DX 10.5mm f/2.8G ED Fisheye
AF 16mm f/2.8D Fisheye
AF 14mm f/2.8D ED
AF 20mm f/2.8D
AF-S 24mm f/1.4G ED
AF 24mm f/2.8D
AF 28mm f/2.8D
AF-S 35mm f/1.4G
AF-S DX 35mm f/1.8G
AF 35mm f/2D
AF-S 50mm f/1.4G
AF 50mm f/1.4D
AF-S 50mm f/1.8G
AF 50mm f/1.8D
AF-S 85mm f/1.4G
AF 85mm f/1.4D IF
AF 85mm f/1.8D
AF DC-NIKKOR 105mm f/2D
AF DC-NIKKOR 135mm f/2D
AF 180mm f/2.8D IF-ED
AF-S 200mm f/2G ED VR II
AF-S 300mm f/2.8G ED VR II
AF-S 300mm f/4D IF-ED
AF-S 400mm f/2.8G ED VR
AF-S 500mm f/4G ED VR
AF-S 600mm f/4G ED VR
AF-S DX 40mm f/2.8G Micro
AF-S Micro 60mm f/2.8G ED
AF Micro 60mm f/2.8D
AF-S DX Micro 85mm f/3.5G ED VR
AF-S VR Micro 105mm f/2.8G IF-ED
AF Micro 200mm f/4D IF-ED
PC-E Micro 45mm f/2.8D ED
PC-E Micro 85mm f/2.8D
AI NIKKOR 28mm f/2.8
AI NIKKOR 35mm f/1.4
AI NIKKOR 50mm f/1.2
AI NIKKOR 50mm f/1.4
AI Micro NIKKOR 55mm f/2.8
AI Micro NIKKOR 105mm f/2.8