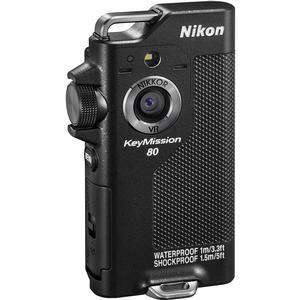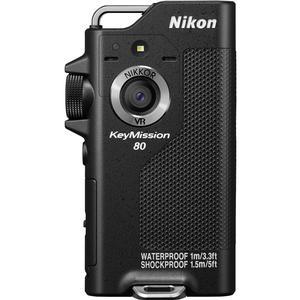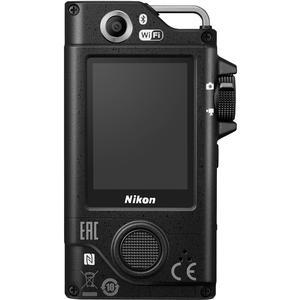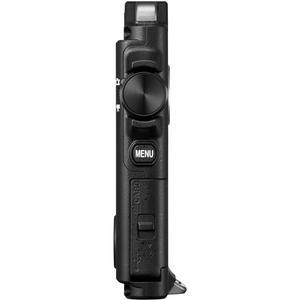 ITEM INCLUDES

Nikon KeyMission 80 Wi-Fi Shock & Waterproof Digital Camera with:

Built-in Rechargeable Battery
Charging AC Adapter
AA-4 Camera Holder
USB Cable
Instruction Manual

Nikon KeyMission 80 Wi-Fi Shock & Waterproof Digital Camera

Live in the moment, and capture it.

The interesting moments of our lives are as elusive as they are beautiful. The quick-shooting Nikon KeyMission 80 effortlessly captures them all to preserve, share and enjoy for a lifetime. Lightweight and wearable, it's always on the ready, even in rain and extreme cold, as it is waterproof down to 3.4-feet, freezeproof to 14°F and shockproof from drops up to 4.9-feet. Clip it on and record outstanding 1080p videos and 12-megapixel photos. Use time-lapse or interval timer and document an entire day in your life, while each shot is automatically transferred to your smartphone through Wi-Fi and Bluetooth low energy. Get out from behind the camera and start living in the moment.

Key Features:

NIKKOR optics, 12 MP CMOS sensor and Optical Vibration Reduction:
KeyMission 80 features an exclusively designed compact NIKKOR lens. This outstanding 25mm f/2.0 equivalent lens captures spectacular details and textures, even in low light situations. Optical Vibration Reduction (VR) image stabilization counteracts camera movement for sharp photos and steady videos, crucial for a wearable camera. KeyMission 80's image-processing power also allows you to capture vivid, high-contrast landscape images.

TAKE SWEEPING PANORAMA SHOTS WITH EASE

Effortless, elegant recording:
KeyMission 80 is always at the ready. The camera turns on immediately when it's unclipped from the supplied AA-4 Camera Holder. Its large shutter release button and fast shooting speeds let you start recording without interrupting your enjoyment of the experience. When the decisive moment strikes, you'll be ready to capture it, effortlessly.

Wearable and always ready:
KeyMission 80's small, lightweight design and single-handed operation means you can finally enjoy the moment and capture it. The supplied holder clips nearly anywhere and is ideally positioned for quick access when interesting moments happen. And despite being as small as a smartphone, KeyMission 80 delivers photo and video quality in a class of its own.

Built for the outdoors:
Some of the most interesting, beautiful moments happen outdoors in conditions that aren't ideal for a conventional camera or smartphone. KeyMission 80 goes where the action is. It's waterproof down to 3.4-feet, freezeproof to 14°F and shockproof from drops up to 4.9-feet, making it ideal for trips to the pool and the beach, fishing, kayaking, camping and hiking, jogging, walking, cycling and so much more.

Always connected with built-in Wi-Fi and Bluetooth:
With the SnapBridge app installed, KeyMission 80 is always connected to your compatible smart device. Photos are automatically transferred to your smart device as they're taken, making it easy to review, edit and share your photos in the moment. SnapBridge also adds GPS and time/date information to your photos, so you can retrace your day or trip. You can even add your own captions, comments and SnapBridge logos to your photos.

Second camera and touchscreen display for selfies:
In addition to the main camera, KeyMission 80 includes a second 4.9-megapixel camera on the back for self-portraits. The LCD monitor faces you, so composing your shot is easy. Take center stage with the whole wide landscape spread out around you. A relatively large 1.75" touchscreen display on the rear allows you to set up and monitor your shots in real time as well as play them back for instant review.

Pack it, Shoot it:
The KeyMission 80 is designed to have the same intuitive functions of a smart device. Built to be wearable, it is light and portable enough for you to operate with just one hand, or strapped to a backpack for hands-free shooting. Weighing approximately 74g and measuring approximately 44.8 (W) x 86.5 (H) x 15.0 (D) mm, the KeyMission 80 is perfect for those on the go.

| | | |
| --- | --- | --- |
| | | |
| ANGLED VIEW | BACK VIEW | SIDE VIEW |

Take your pick:
When it comes to finding the right accessories to complement your KeyMission 80, you will be spoilt for choice. Take your pick from a Tripod Adapter, Backpack Mount Clip, Base Adapter and many more. When adventure presents itself, you will always be prepared.

Stay in the moment:
Capture your experiences as they unfold with Route Shooting. Set KeyMission 80 to capture either 100 stills or 10 three-second movies within a specified period, and then go about your day. The 10 three-second movies are combined into a single movie, approx. 30 seconds long.

SnapBridge app:
This camera's built-in Wi-Fi capability can only be used with a compatible iPhone, iPad, and/or iPod touch or smart devices running on the Android operating system. The Nikon SnapBridge application must be installed on the device before it can be used with this camera.
23 accessories found for Nikon KeyMission 80 Wi-Fi Shock & Waterproof Digital Camera
Nikon KeyMission 80 Wi-Fi Shock & Waterproof Digital Camera
– TECHNICAL SPECIFICATIONS –
---
Effective Pixels:
Front: 12.4 MP
Rear: 4.9 MP
Total Pixels:
Front: 12.35 MP
Rear: 5.2 MP
Sensor Type:
2x CMOS sensors
Sensor Size:
Front: 1/2.3-in.
Rear: 1/5-in.
Image Sizes:
Camera 1:
4:3 - 3968 x 2976 12MP
4:3 - 1920 x 1440 2MP
16:9 - 3968 x 2232 9MP
16:9 - 1920 x 1080 2MP
1:1 2976 x 2976 9MP
1:1 1440 x 1440 2MP
Camera 2:
4:3 - 2528 x 1896 5MP
Movie:
MOV, MPEG-4 AVC/H.264
Lens Type:
Front: NIKKOR 4.5 mm (angle of view equivalent to that of 25 mm lens in 35mm [135] format)
Rear: NIKKOR 1.8 mm (angle of view equivalent to that of 22 mm lens in 35mm [135] format)
Optical Zoom:
Fixed single focal length Front/Back
Digital Zoom:
4x
Image Stabilization:
Electronic VR Image Stabilization
Focus Range:
Front: 4 in. (10 cm.) to infinity from the center of the front surface of the lens
Rear: 1 ft. 2 in. (35 cm) to infinity from the center of the front surface of the lens
ISO Sensitivity:
Auto, 100-1600
Aperture Range:
Front: f/2.0
Rear: f/2.2
Monitor Type:
TFT LCD (touchscreen) with 5-level brightness adjustment
Monitor Size:
1.75"
Monitor Resolution:
230,000 pixels
Flash:
Built-in
Storage:
Micro SD/SDHC/SDXC
Power Source:
Built-in Rechargeable Lithium-Ion Battery
Wi-Fi Functionality:
Yes
Bluetooth:
Yes
Interface:
HDMI D (Micro)
Micro-USB
USB 2.0
Waterproof:
3.3 ft. (1m)
Shockproof:
4.9 ft. (1.4m)
Freezeproof:
14°F (-10°C)
Dimensions (WxHxD):
1.8 x 3.5 x 0.6 in. (44.8 x 86.5 x 15 mm)
Weight:
2.7 oz. (74g)
Action Mounts / Accessories:
• ET-AA1 Tripod Adapter
• KeyMission Extension Arm (with tripod adapter)
• KeyMission Mini Tripod (with tripod adapter)
• AA-10 Backpack Mount Clip
• AA-12 Base Mount Set