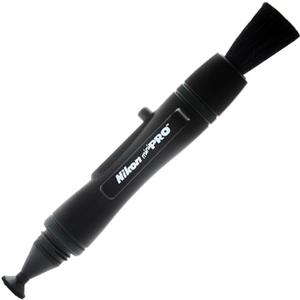 ITEM INCLUDES

Nikon LensPen Mini Pro II Compact Lens Pen Cleaning System with:

Nikon LensPen MiniPro II Lens Cleaning System

The Superior Lens Cleaning System for compact fine optics

The Nikon LensPen MiniPro II is one of the most invaluable accessories a photographer can own. Its unique design makes cleaning your compact lens fast, simple and effective. On one end, a retractable soft brush sweeps dust and loose particles away from the glass. On the other end, a special dry cleaning compound is used to remove fingerprints and spots. The result is a crystal clear lens surface and better pictures in seconds, a feat that other cleaning items just can't match.

The Nikon LensPen MiniPro II is absolutely 100% safe for all LCD screens, and its unique, self-replenishing cleaning compound will never spill or dry out like other cleaning systems. It is environmentally friendly and non-toxic, and because it is no bigger than a highlighter, the Nikon LensPen MiniPro II stows easily in any bag or slips right in your pocket. No sprays, no chemicals, no residue, all in a convenient, portable, environmentally safe package. Best of all, it's very affordable, and will endure hundreds of cleanings without losing any of its effectiveness.
0 accessories found for Nikon LensPen Mini Pro II Compact Lens Pen Cleaning System