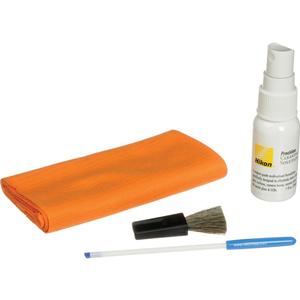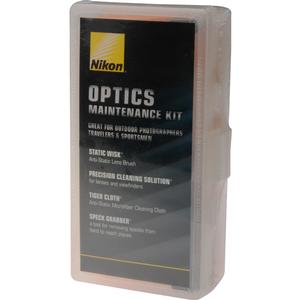 ITEM INCLUDES

Nikon Optics Maintenance Cleaning Kit (Brush, Solution, Cloth, Grabber) with:

Nikon Optics Maintenance Cleaning Kit

Whether you're on safari, on the water or in the field, pack the Nikon Optics Maintenance Kit to make sure your optics stay clear and sharp. Designed with the outdoor enthusiast in mind, this kit is ideal for keeping a wide variety of lenses free from dust, smudges and other stubborn particles that get in the way of quality images.

This kit comes complete with a soft, electrically conductive "static wisk" brush, precision cleaning solution, static-free microfiber cleaning cloth, and the unique SpeckGRABBER tool for ultra-precise cleaning.

Key Features:

Static Wisk




This soft, fine-bristled brush is electrically conductive, which prevents a dust-attracting static charge from developing on the surface being cleaned.

Precision Cleaning Solution




This is a specially-formulated neutral solvent solution that is capable of dissolving ionic and non-ionic residues without affecting lens coatings, and contains no appreciable impurities that would add any contamination.

Tiger Cloth




This is a soft, lint-free, electrically conductive absorbent microfiber cloth that provides static-free cleanings time after time.

SpeckGRABBER




The SpeckGRABBER particle remover is a special tool that allows a single particle of contaminant to be removed from a surface by merely touching the particulate with the tool. The contaminant (such as a grain of sand or a tiny hair) will adhere to the SpeckGRABBER -- not the optical surface -- allowing it to be completely removed rather than moved around the surface. This tool can even be used to remove stubborn particles from CCD arrays when air blowers or other tools are ineffective.
0 accessories found for Nikon Optics Maintenance Cleaning Kit (Brush, Solution, Cloth, Grabber)