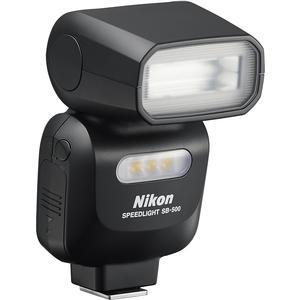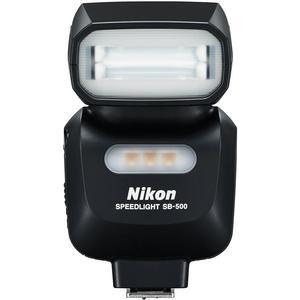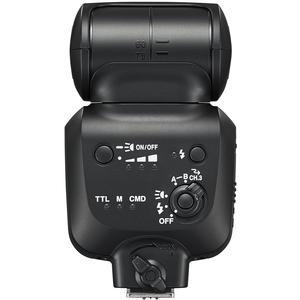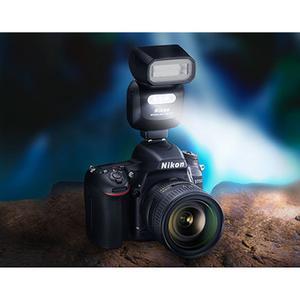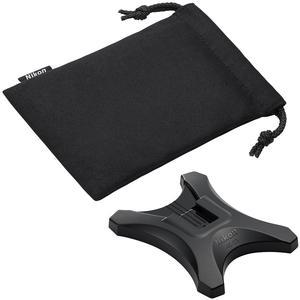 ITEM INCLUDES

Nikon SB-500 AF Speedlight Flash & LED Video Light - Factory Refurbished with:

Nikon SB-500 AF Speedlight Flash
& LED Video Light

Take control of the lighting in your stills and HD videos.

Portable and easy-to-use, the Nikon SB-500 AF Speedlight Flash & LED Video Light is compatible with Nikon DSLRs as well as specific COOLPIX cameras. With a compact, lightweight build, this flash unit makes it simple to manage the quality and direction of light. In a first for Nikon, this Speedlight features a high-intensity LED light on the front of the unit that is ideal for shooting movies, or capturing close-up still images. Compatible with the Nikon Creative Lighting System, the SB-500 also enables wireless control of multiple flash units.

Key Features:

Compact, lightweight and multifunctional
The SB-500 AF Speedlight has simple controls -- just a few buttons -- yet, it offers the performance of an advanced Speedlight. Its powerful and has wide coverage with a guide number of 24/78.7 (ISO 100, m/ft) with 24mm coverage in FX-format and 16mm coverage in DX-format. Its head rotates 180° left and right and tilts 90° upward allowing you to bounce light off nearby surfaces to soften the light and shadows, creating more flattering portraits. If your camera has a Commander Mode, it can even be used wirelessly off-camera along with your camera's built-in flash for greater illumination power from interesting angles.

High-performance LED for video recording
The SB-500 AF Speedlight is also a versatile video light especially well suited for recording interviews up close. It has a built-in high-intensity LED light (approx. 100 lux) that provides steady, uniform daylight-balanced illumination. It can be used at three output levels -- quarter, half or full power -- making it practical for low-light video shooting and close up still photography. And when used with the D810 or D750, the SB-500 AF Speedlight communicates LED color information (along with that of the flash) to the camera for optimal white balance.

Nikon i-TTL technology
Nikon's i-TTL technology (intelligent Through-The-Lens) tailors the characteristics of the flash to each shot you take, so you get optimal results every time. With that intelligence and more illumination power than a camera's pop-up flash, the SB-500 AF Speedlight is excellent as a fill-light outdoors (brightening shadowy areas on your subject) or for soft bounce lighting indoors. Use it off-camera wirelessly as a second flash controlled by either your camera's built-in flash (if your camera has a Commander Mode), another Speedlight or the SU-800 Wireless Speedlight Commander. If you're using D810 or D750 in Commander Mode, the SB-500 AF Speedlight will also work as a master flash in Advanced Wireless Lighting.

SAMPLE IMAGES SHOT WITH SB-500

Additional Features:

Compatible with FX- and DX- format DSLRs, COOLPIX cameras equipped with a hot shoe, and the Nikon Creative Lighting System.
Superior ergonomics matched with easy-to-understand controls on the rear of the unit.
Additional functions and flash mode can be set via a camera menu, which activates automatically when the SB-500 is attached to the camera.
Powered by just 2 AA-size batteries.
Flash head tilts up to 90° and rotates horizontally through 180°.
Works as a master flash for multiple off-camera flash set-ups, when used with cameras featuring a built-in flash commander mode.
20 accessories found for Nikon SB-500 AF Speedlight Flash & LED Video Light - Factory Refurbished
Nikon SB-500 AF Speedlight Flash & LED Video Light
– TECHNICAL SPECIFICATIONS –
---
Commander Function:
Yes
Remote Function:
Yes
Guide Number:
24m / 78.7 ft. (at ISO 100)
Electronic Construction:
Automatic Insulated Gate Bipolar Transistor (IGBT) and series circuitry
Flash Exposure Control:
i-TTL Balanced Fill-Flash with CLS compatible cameras
Lens Coverage:
24mm lens (FX format) or 16mm lens (DX format)
Other Available Functions:
Test Firing
Monitor Pre-flashes
Modeling flash (LED)
Bounce Function (Tilt):
Flash head tilts up to 90° with click-stops at 0°, 60°, 75°, 90°
Bounce Function (Rotate):
Flash head rotates horizontally 180° to the left and right with click-stops at 0°, 30°, 60°, 75°, 90°, 120°, 150°, 180°
Minimum Recycling Time:
3.5 sec. (approx.) with Ni-MH batteries
4.0 sec. (approx.) with Alkaline-manganese (1.5V) batteries
Flash Duration:
1/1100 sec. at M 1/1 (full) output
Required Power Source:
2 AA-size batteries of the same brand from any of the following types:
1.5V LR6 (AA-size) alkaline batteries
1.2V HR6 (AA-size) rechargeable Ni-MH batteries
Flash-ready Indicator:
Fully recycled: lights up
Warning indication: flashes slowly
Ready Light:
Back
Flash Compensation:
Available via camera settings
Minimum Number of Flashes / Recycling Time:
100/4.0-30 sec. (Alkaline-manganese batteries)
140/3.5-30 sec. (Ni-MH batteries)
Wireless Flash Modes:
Commander / Remote
Wireless Communication Channels:
4 channels for Commander mode; 1 channel for Remote mode
Wireless Groups:
Two: A, B
Other Functions:
Firmware update
Thermal cut-out
LED light with three level brightness for close-up photography, modeling light or recording movies - maximum output: approx. 100 lx at 1 m (3.3 ft.), high power
Dimensions:
2.6 x 4.5 x 2.8 in. (67 x 114.5 x 70.8mm) (Approx.)
Weight (Approx. without batteries):
8 oz. (226g)
Compatible with the following Nikon digital cameras, including:
D3200
D3300
D3400
D5200
D5300
D5500
D5600
D7000
D7100
D7200
D7500
D300
D300s
D500
D600
D610
D700
D750
D800
D800E
D810
D810A
D850
D3
D3s
D3x
D4
D4s
D5
Df
COOLPIX A
COOLPIX P7100
COOLPIX P7700
COOLPIX P7800