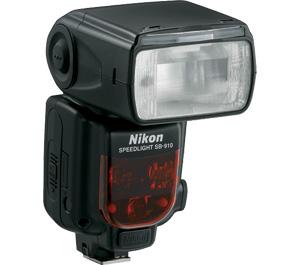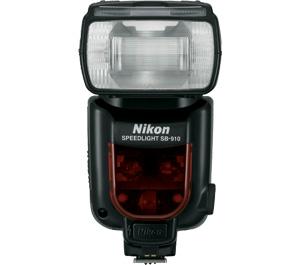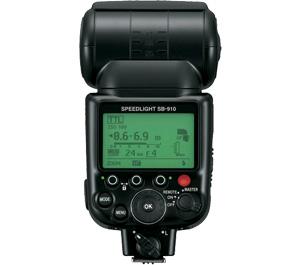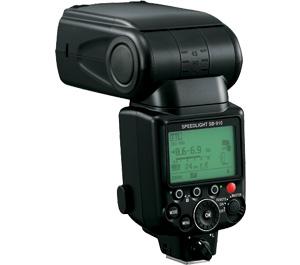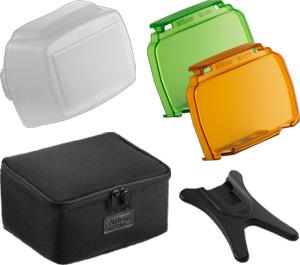 ITEM INCLUDES

Nikon SB-910 AF Speedlight Flash - Factory Refurbished with:

Soft Case (SS-910)
Diffusion Dome (SW-13H)
Incandescent Filter (SZ-2TN)
Fluorescent Filter (SZ-2FL)
Speedlight Stand (AS-21)
Instruction Booklet

Nikon SB-910 AF Speedlight Flash - Factory Demo

Bring dramatic photos to life with Nikon's
Creative Lighting System Speedlight.

The SB-910 offers power, versatility and a system integration that will help deliver studio quality photographs virtually anywhere. Several exciting enhancements over the SB-900 include improved flash tube overheat protection, illuminated buttons for easier viewing in low light, streamlined controls and menus, and automatic detection of hard type color filters for white balance control. The freedom to experiment with flash settings in any lighting situation is now in your hands. Improved interface, with a dedicated menu button to make the selection of critical features more convenient, and illuminated function buttons for controlling the SB-910 when shooting in low light.

The SB-910 Speedlight operates as a hot shoe mounted Speedlight, remote unit or wireless Commander (with up to four channel options) capable of controlling as many as three remote groups (A, B and C) and an unlimited number of Speedlight units. With a host of pro flash features including precision i-TTL flash control, Manual with Power Ratio, three illumination patterns for specific shooting environments and a wide zoom range from 17-200mm--it's no wonder that Nikon is the number one choice when it comes to flash photography.

Additionally, hard type color correction filters are now used, providing durability and convenience when used with a camera set for auto white balance. Also, to prevent the flash tube from overheating in certain shooting situations (such as shooting in rapid sequence), an improved thermal cut out protection has been adopted that slows recycling time.

Key Features:

Portable, Versatile Speedlight Unit
i-TTL Speedlight optimized for use with Nikon's Creative Lighting System (CLS).

Streamlined controls and menus
Rotary Select Dial easily sets key flash functions quickly and a prominent Master and Remote control switch simplifies wireless operation.

Nikon's Precision i-TTL Flash Control
The SB-910 delivers precise flash exposures and a natural balance between foreground and background--even in challenging lighting situations.

Hot Shoe Operation
Use on-camera with bounce or swivel operation to soften shadows or eliminate annoying red eye effect.

Wireless Flash Control: Control up to 3 remote Speedlight groups and an unlimited number of compatible Speedlights
Wireless Commander mode offers wireless control at the Master Speedlight position, controlling up to 3 remote Speedlight groups and an unlimited number of compatible Speedlights. Four wireless channel options help manage wireless conflicts in multi-photographer environments.

Expanded Auto Power Zoom Coverage from 17-200mm in FX-format
Smoothly covers lenses as wide as 17mm and up to 200mm in FX-format. In DX-format, covers lenses as wide as 12mm and up to 200mm.

Choose from 3 light distribution patterns
Improve light quality by selecting Standard for general illumination, Center-weighted for portraits, or Even for groups or interiors.

INCLUDES DIFFUSER,
FILTERS, STAND & CASE

Color filter identification
When using the supplied SZ-2FL and SZ-2TN color correction filters, the SB-910 Speedlight automatically identifies mounted hard type color filters, adjusting the camera's automatic white balance setting.

Multi-Point AF Assist Illuminator
Multi-AF point coverage in low light covers a broad 17-135mm range with D3 series, D300S and 24-135mm with D7000.

FX/DX format identification
The angle of view is different with FX or DX image sensors and the SB-910 is equipped with automatic FX/DX switching, optimizing light distribution and power consumption.

Complete Flash Head Positioning Freedom
Bouncing 90° up and -7° down with 360° rotation elevates creative lighting freedom.

Improved Flash Tube Overheat Protection
To meet professional demands, the SB-910 delays its recycle time when flashes are fired rapidly to allow time for the flash tube to cool down.

User-updateable firmware
Allows uploading of performance enhancement developments, with select Nikon Digital SLR models.
0 accessories found for Nikon SB-910 AF Speedlight Flash - Factory Refurbished
Nikon SB-910 AF Speedlight Flash
– TECHNICAL SPECIFICATIONS –
---
Type:
Shoe Mount
Guide Number:
34/111.5 (ISO 100, m/ft.), 48/157.5 (ISO 200, m/ft.)
Coverage:
8 to 11mm (DX-format, Automatic mode with built-in wide-angle panel deployed)
12 to 17mm (FX-format, Automatic mode with built-in wide-angle panel deployed)
12 to 200mm (DX-format, Automatic mode)
17 to 200mm (FX-format, Automatic mode)
Exposure Control:
i-TTL Balanced Fill-Flash with CLS compatible cameras
Manual Flash (with Nikon Creative Lighting System digital and 35mm SLR cameras)
Distance-priority manual flash
Flash Compensation:
-3.0 EV to +3.0 EV in increments of 1/3 steps in i-TTL auto flash, Auto Aperture flash, Non-TTL auto flash and Distance-priority manual flash modes
Bounce Head:
Flash head tilts down to -7° or up to 90° with click-stops at -7°, 0°, 45°, 60°, 75°, 90°
Swivel Head:
Flash head rotates horizontally 180° to the left and right with click-stops at 0°, 30°, 60°, 75°, 90°, 120°, 150°, 180°
Recycling Time:
2.3 sec. (approx.) with Ni-MH (2600 mAh) batteries
3.0 sec. (approx.) with Oxyride (1.5V) batteries
4.0 sec. (approx.) with Alkaline-manganese (1.5V) batteries
4.5 sec. (approx.) with Lithium (1.5V) batteries
Wireless Flash Modes:
Master
Master (RPT)
Off
Remote
SU-4
Wireless Communication Channels:
Four: 1, 2, 3 and 4 Channels
Wireless Groups :
Three: A, B and C
Power Source:
Four AA-type alkaline (1.5V), lithium (1.5V) or Ni-MH (1.2V) batteries
Display:
LCD segment type
Dimensions:
Approx. 3.1 x 5.7 x 4.4 in. (78.5 x 145 x 113mm)
Weight:
Approx. 14.8 oz. (420g)
Other:
• Firmware update
• ISO sensitivity setting
• Key lock
• Recalling the underexposure value in the TTL auto flash mode
• Resetting the settings
• Improved Thermal Cut-out
Compatible with the following Nikon digital cameras, including:
D3200
D3300
D3400
D5200
D5300
D5500
D5600
D7000
D7100
D7200
D7500
D300
D300s
D500
D600
D610
D700
D750
D800
D800E
D810
D810A
D850
D3
D3s
D3x
D4
D4s
D5
Df
COOLPIX A
COOLPIX P7100
COOLPIX P7700
COOLPIX P7800