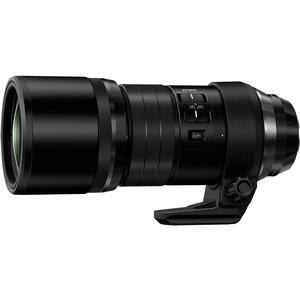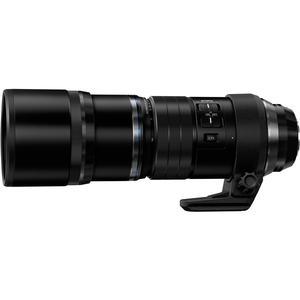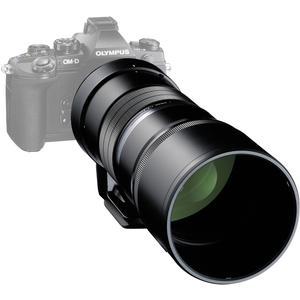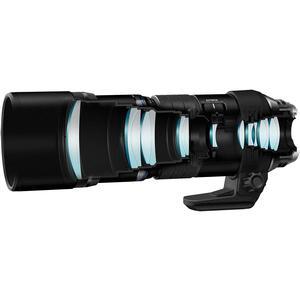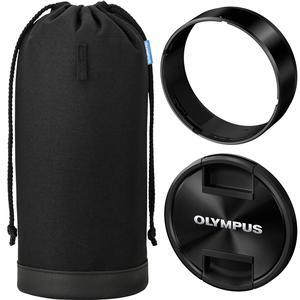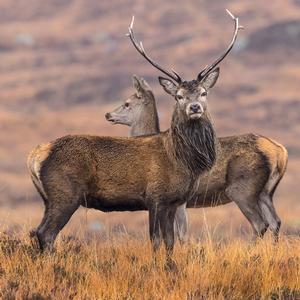 ITEM INCLUDES

Olympus M.Zuiko 300mm f/4.0 ED PRO Digital Lens with:

Lens Case
Front Lens Cap
Rear Lens Cap
Decoration Ring
Instruction Manual

Olympus M.Zuiko 300mm f/4.0
PRO ED Digital Zoom Lens

Super telephoto power in a rugged, compact,
lightweight, dustproof, weatherproof package.

With excellent optical performance packed in a compact, lightweight, dustproof, splashproof, and freezeproof construction, this M.Zuiko PRO 300mm f/4.0 PRO ED Super-telephoto Lens lets you shoot outstanding-quality images even in the harshest environments. This is the first Olympus interchangeable lens to be equipped with in-lens image stabilization. 5-axis Sync IS, a collaboration of in-lens IS and in-body 5-axis IS, achieves the world's most powerful image stabilization equivalent to 6 shutter speed steps. With excellent mobility, these features make previously difficult hand-held super-telephoto shooting possible. When combined with the MC-14 1.4x Teleconverter (sold separately), the lens can be used as an 840mm super-telephoto lens.

Key Features:

OPTIMAL OPTICS

The M.Zuiko 300mm f4.0 IS PRO's lavish design features 3 Super ED lenses, 3 HR lenses and 1 E-HR lens to dramatically reduce the occurrence of color bleeding and chromatic aberrations that tend to occur on super-telephoto lenses. The addition of a new coating technology, Z Coating Nano, significantly reduces ghosts and flares and provides sharp, clear image quality.

READY FOR THE LONG HAUL

The M.Zuiko 300mm f4.0 IS PRO lens is right at home in harsh environments like dust and rain thanks to hermetical sealing in 17 locations. Combined with weather sealed OM-D camera bodies, you'll never have to worry about weather or environmental conditions wherever your photographic pursuits take you. And because this lens is so compact, you can easily fit it in your carry-on luggage to ensure your gear arrives when you do and not tire out if you're using it all day long!

SYNCHRONIZED IMAGE STABILIZATION

The in-lens stabilization on the M.Zuiko 300mm f4.0 IS PRO lens works in complete harmony with the 5-Axis Image Stabilization in OM-D cameras to deliver an astounding 6 shutter steps of performance, ensuring crisp, clear telephoto images, even off tripod. Explore unique angles like low-to-the-ground macros and overhead nature shots. Sync IS also enables the fastest, most high-precision AF in its class, which includes 600mm equivalent DSLR lenses.

BIG SHOTS OF SMALL SUBJECTS

With a minimum focusing distance of just 4.5 feet (1.4m) and a maximum magnification of 0.48x (35mm equivalent), this super telephoto lens is equally adept in close quarters, delivering stunning, high magnification macros. With the addition of the MC-14 1.4x Digital Teleconverter, the maximum magnification jumps to 0.67x, while maintaining the same minimum focus distance.

SHHHHHH, AMAZING PHOTOGRAPHY IN PROGRESS

The inclusion of the Movie & Still Compatible (MSC) mechanism makes AF operations completely silent. In combination with the OM-D's Silent Mode (electronic shutter), you can photograph skittish nature subjects as well as indoor events that require complete silence like musical performances. The size and weight of the OM-D system and these silent features open up a whole new world of shooting possibilities!

Combining the silent shooting mode with this super-telephoto lens let you shoot silently in environments where it is difficult to approach the subject, such as concerts, presentations, sporting events, etc.

MAXIMUM CONTROL OPTIONS

The M.Zuiko 300mm f4.0 IS PRO is equipped with a Manual Focus Clutch mechanism which makes switching from auto to manual focus extremely quick.

The side of the lens barrel also features a Focus Limit switch (4m to infinity, full range, and 1.4 to 4m) as well as an IS On/Off switch and L-Fn button which can be programmed to perform one of 27 different functions.

A built-in, retractable lens hood offers additional protection from stray light and the removable tripod base plate features a quick shoe compatible rail.
29 accessories found for Olympus M.Zuiko 300mm f/4.0 ED PRO Digital Lens
Olympus M.Zuiko 300mm f/4.0 PRO ED Digital Lens
– TECHNICAL SPECIFICATIONS –
---
Lens Mount:
Micro Four Thirds
Focal Length:
300mm (35mm equivalent focal length 600mm)
Maximum Aperture:
f/4.0
Minimum Aperture:
f/22
Maximum Magnification:
0.24x (With the MC-14: 0.34x)
Minimum Focus Distance:
1.4m
Lens Construction:
17 elements / 10 groups (3 Super ED lens, 2 HR lenses and 1 E-HR lenses)
Diaphragm Blades:
9
Focus Type:
Auto / Manual
Image Stabilization:
Yes
Filter Size:
77mm
Dimensions (Diam. x Length):
3.6 x 8.9 in. / 92.5 x 227mm (with hood retracted)
3.6 x 11.0 in. / 92.5 x 280mm (with hood extended)
Weight:
3 lbs. 4 oz. / 1475g (with the tripod collar)
2 lbs. 7 oz. / 1270g (without the tripod collar)
Compatible with the following Olympus or Panasonic micro 4/3 digital cameras, including:
Olympus
OM-D E-M1
OM-D E-M1 II
OM-D E-M5
OM-D E-M5 II
OM-D E-M10
OM-D E-M10 II
PEN E-P5
PEN E-PL5
PEN E-PL6
PEN E-PL7
PEN E-PL8
PEN E-PM2
PEN-F
Panasonic
Lumix DMC-G5
Lumix DMC-G6
Lumix DMC-G85
Lumix DMC-GF5
Lumix DMC-GF6
Lumix DMC-GF7
Lumix DMC-GF8
Lumix DMC-GH3
Lumix DMC-GH4
Lumix DMC-GH5
Lumix DMC-GM1
Lumix DMC-GM5
Lumix DMC-GX7
Lumix DMC-GX8
Lumix DMC-GX85
Lumix DMC-GX850